Bernal Heights in San Francisco: 10 Fun Things to Do & See in this SF Neighborhood

by Jill Loeffler  •

Updated: January 16, 2023
Bernal Heights in San Francisco is a family-friendly neighborhood on the south east side of town. The district offers fun things to do including several parks with hilltop views, an award-winning brewery, and some heart-pumping stairways.

It's most famous attraction is Bernal Heights Park. My other top picks include the Alemany Farmer's Market, Esmeralda Slide Park and Barebottle Brewing Company.
It borders the Mission District and offers easy access to Glen Park, Noe Valley, and Potrero Hill.
Disclaimer: I receive a small commission from some of the links on this page.

Things to See & Do in Bernal Heights in San Francisco

1. Bernal Heights Park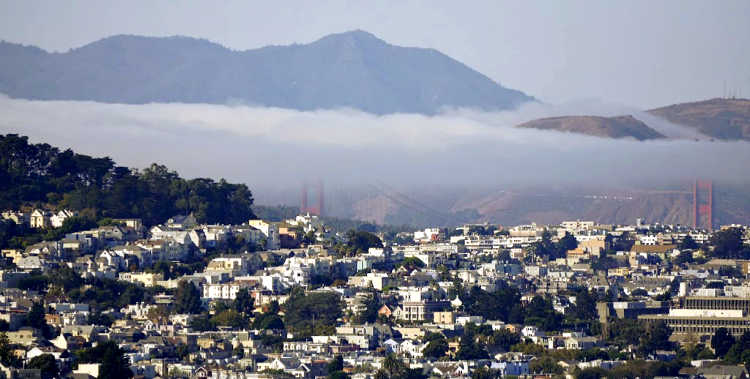 This is a favorite park for me since it gives 360 degree views of San Francisco, the Golden Gate Bridge, Alcatraz, East Bay and more.
You can see lots of wildlife, including red tail hawks, alligator lizards, pocket gophers, and so much more. There are several trails that allow you access to the summit. Many are steep, but well traveled. It takes about 15 to 20 minutes to reach the summit.

2. Alemany Farmers Market

Known as the "People's market," this farmer's market is affordable, full of friendly merchants, and where residents of SF go to shop. This was the first farmer's market when it opened in 1947 and started the locally grown and sourced movement that is so popular now.
It is open every Saturday from sunrise and most food sells out around 1 pm so get there as early as possible.
100 Alemany Blvd.
NOTE: Parking is quite difficult because it is so popular, so I highly recommend taking public transit.

3. Street Art

Art lovers will want to visit since there are numerous murals and other pieces of art all around here. Many of them represent the colorful history of San Francisco, the struggle for equality and freedom, while others are just humorous and joyful.
There are over 10 different murals throughout the neighborhood, and most are easy to find. You will find a large one on the library and several around Precita Park.

4. Holly Park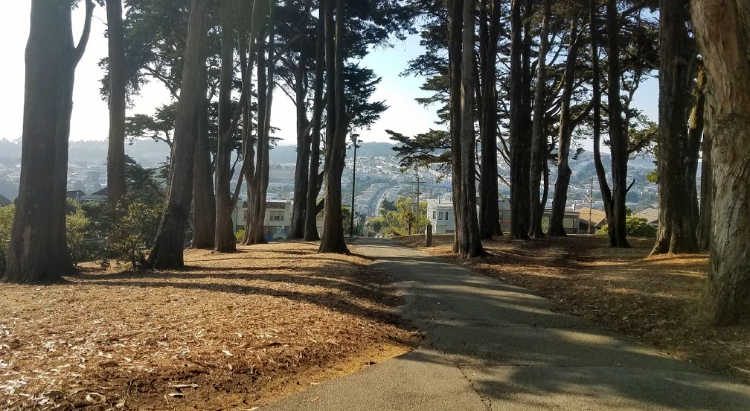 Holly Park has great views. In addition, you will find a baseball field, tennis courts, a gated playground, picnic tables and grills, and more. There is even a basketball court if you want to play a game or two.
This park has been newly renovated and has a gorgeous grove of Eucalyptus trees at the top of it. Many locals like it as it is less busy than many others in the city. Bocana Street and Highland Avenue.

5. Esmeralda Slide Park

If you like slides, then you've come to the right place. This park is tucked away in the Bernal Heights in San Francisco neighborhood, so it is a bit of a hidden gem. The side-by-side slides here are metal and are quite long.
There are two recycling bins at the top, and people leave cardboard in them so that when you slide down, you can ride them and not ruin your pants since you can get going pretty fast on them. Winfield Street and Esmeralda Avenue.

6. Saint Mary's Playground

Most locals don't even know about this wonderful little park in Bernal Heights in San Francisco. Being that it has a large playground for kids, this is where you'll want to take your little ones.
Since the playground is padded, it is very safe. It also has hopscotch, four square courts, and basketball courts. It is one of the easiest parks to access for handicapped patrons. 145 Justin Drive at Benton Avenue.

7. Precita Park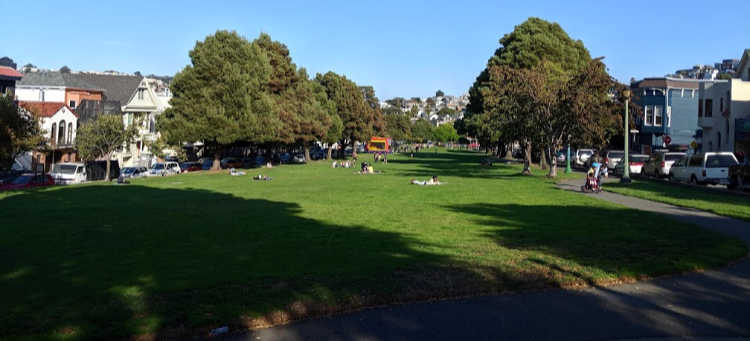 This three-block long and one-block wide park is a perfect place to relax with a picnic, have fun with the kids at the gated playground, or give your dog a place to roam.
I really like this park located in Bernal Heights in San Francisco because it is very close to the light rail and mass transit. It sits on the northern end of this beautiful neighborhood with some fun bars and restaurants close by it.
There are also several interesting murals on the buildings nearby. Precita Avenue between Folsom and Alabama Streets
8. Fiesta on the Hill

This street fair is dedicated to celebrating everything about Bernal Heights in San Francisco. There is live music, a petting zoo, live music and loads of food. You will also find more than 100 booths featuring local arts and crafts.
The crazy costume parade with a marching band is a can't miss. The Fiesta is near the end of October from 10 am to 4 pm. Cortland Avenue.

9. Bernal Heights Outdoor Cinema

This outdoor event only happens for 3 days in September and includes a film "crawl", a movie projected onto an outdoor screen at Precita Park, and a retrospective of the best movies.
The festival highlights the best of local filmmakers from all around the bay area. Each film has to be under 20 minutes, so you'll be able to experience a lot in a very short amount of time.
The event is free and there are different locations depending on the day.

10. Tompkins Stairway Garden

One of the newer additions to Bernal Heights in San Francisco is Tomkins Stairway Garden. While the stairs have been here for years, this block of Tompkins was full of garbage and was not something you would want to visit.
Today, it features a lovely garden with several colorful drought resistant plants. They have also added quite a bit of color to the staircase itself. You will find it on Tomkins between Nevada and Putnam.

More Top Tours and Activities Around San Francisco

Restaurants & Bars

You will find plenty of places to eat and drink in Bernal Heights in San Francisco. Here are a few of my favorites.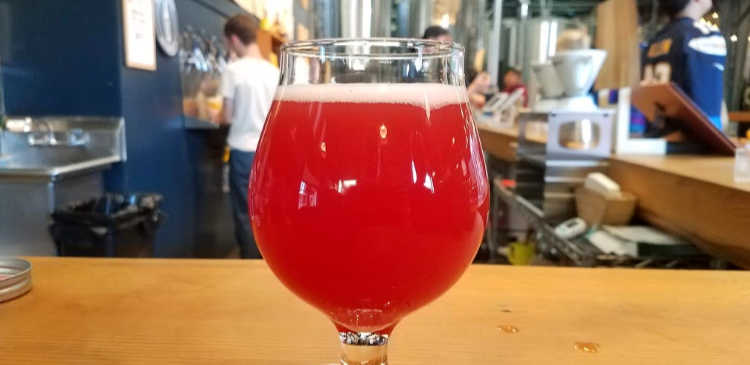 Barebottle Brewing Company
What makes Barebottle so special? A very large beer list, ping pong, video games, and food trucks. This brewery tries to make sure that everyone find a beer they enjoy with more than 20 of their brews available any time that you visit it.
The large space features long tables so you can mingle with the locals and get to know some of your neighbors. It is definitely one of my favorite breweries in San Francisco.
1525 Cortland Avenue.
More great breweries around SF.
Cellarmaker House of Pizza
You will also find tasty beers as well as some of the best pizza in the area at Cellarmaker on Mission Street. This new addition to the area offers locally crafted Cellarmaker brews.
My favorites here include the Big Dipster (Pilsner), Dark Senses (Spiced Porter) and the Chaos is a Friend of Mine (Lambic). They make Detroit style, square pizza and you will not go home hungry.
They are open 3 pm to 9 pm from Sunday through Thursday. On Friday and Saturday, they are open from 3 pm to 10 pm.
3193 Mission St
Mitchell's Ice Cream
This old school ice cream shop is a must visit. They offer up more than a dozen flavors with standard and seasonal flavors. My go-to flavors here include Chocolate Caramel Crackle, Espresso Toffee Crunch (Summer), and Peanut Butter Indulgence.
I also love their Peppermint Candy (winter) and Chocolate Raspberry (spring) flavors.
They are open daily from 11 am to 11 pm.
688 San Jose Avenue
Bernal Star
If you are craving some American comfort food, then head over to Bernal Star. They have some tasty burgers, sandwiches and pizza.
I love their fish tacos, the fried chicken sandwich, and the ahi tartare dish. They also make a wonderful weekend brunch.
410 Cortland Ave
Vega
Another great spot on Cortland Avenue is Vega. This trendy Italian restaurant features dishes made with fresh ingredients.
Top picks here include the pizza broccoli e salsiccia (broccoli and sausage), their gnocchi and the spaghetti carbonara.
Open daily from 4 pm to 9:45 pm.
419 Cortland Ave

Bernal Heights Weather

Like most of San Francisco, the temperature in Bernal Heights in San Francisco is moderate most of the year. During the summer months, you will have temps that range from high 60s to low 70s during the day and low to mid 50s at night.

During the winter months, it cools with day averages around the low 60s while night drops down to the mid 40s. It is generally fairly sunny as the fog usually doesn't come down to this neighborhood very often.Here are more details by month.
Things to Do Nearby

Billy Goat Swing: This is the perfect place for people who love to ride a swing and see amazing views of San Francisco. When you ride this rope swing, with a small seat at the bottom of it, you will feel like you are swinging out over the city and into space. Note: Sometimes the swing has been removed so you may not be able to ride it. However, if you can't, or don't want to ride the swing, the views from Billy Goat Hill is definitely worth the trip. 30th & Castro Street
Glen Canyon Park: Just beyond this park's recreation center is 60 acres of wilderness unlike any other near Bernal Heights in San Francisco. Depending on the time of the year, you can see springtime wildflowers, Islais Creek which is one of the last free-flowing creeks in the city, many varieties of wildlife, and more. There are many hiking trails for you to explore when you come to Glen Canyon Park in the Glen Park District. Elk Street & Cherney Street.
Mission District: The Mission District is famous for the historic Mission San Francisco de Asis, more murals than you can count, incredible food, and much more. This district is one of my go-tos when I want delicious Mexican food as it is loaded with them. The Latin culture is all around you and you will enjoy all the best of it. Make sure to visit Mission Dolores Park for a great view of SF and people watching. Depending on the time you are there, you could see the colorful Carnaval Parade or possibly experience Dia de Los Muertos (Day of the Dead).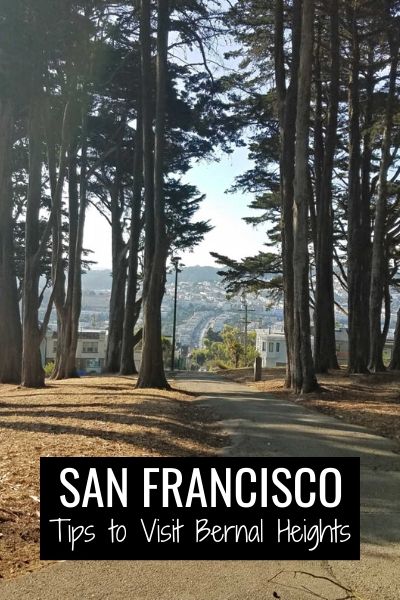 Comments? Questions? Suggestions?
I would love for you join me in my private Facebook group! 
It's a great place to interact with me and others that know the area well.
You can ask questions, get advice for your upcoming stay, and then share your photos and advice with others when you return home. It's a great community and the fastest way to get answers to those nagging questions about your visit!