Potrero Hill in San Francisco: Things to See and Do in this Classic SF District

by Jill Loeffler  •

Updated: July 13, 2023
Potrero Hill in San Francisco is located on the south east side of town. It runs from Highway 101 to the waterfront. Its northern border is 16th Street and the southern border is Cesar Chavez.

You will find more of a family-friendly feel on the western end of the district. This area has steep hills and lots of great views all around SF. You will also find some great places to eat along 18th Street.
The eastern side of the district is where you will find the Dogpatch. This old warehouse neighborhood sits along the waterfront. It is mostly flat and is one of the hottest new areas in town.
Here you will find several newer breweries, a winery, a few places to check out modern art, and some great restaurants.
Most of this is centered along the 3rd Street corridor.
Read on for more about what to see and do here, where to eat, where to find great beers, and so much more.
Disclaimer: I receive a small commission from some of the links on this page.

Things to Do & See in Potrero Hill in San Francisco

1. Bottom of the Hill
This is one of the best live music venues in all of the city. It is known for having all kinds of up-and-coming bands and some more well-known bands too. The musical styles range from alternative, to punk, to folk, and funk.

They have a full bar and a kitchen if you want to grab a drink or bite to eat. Doors usually open at 8:30 pm and it has a maximum capacity of 350 people. 1233 17th Street.
Here are just a few of their top upcoming shows.
2. Museum of Craft and Design
Highlighting the skills of designers, artists, and producers of art, the museum opened in 2004. Some of the types of materials used in the artwork here include painting, sculpture, lighting, mechanical devices, and more.
Being that it is a non-collective, you will almost always see something new when you visit here.
The Museum of Craft and Design is closed on Monday and Tuesday. 2569 Third Street.
3. Minnesota Street Project
Dedicated to showing San Francisco's contemporary art, this three-warehouse space holds numerous galleries inside each one. If you want to have some food or drinks, the on-site restaurant Besharam serves Indian food and the menu changes often.

Only two warehouses are open to the public and all of their exhibitions are free to the public. Their addresses are 1275 Minnesota Street and 1150 25th Street.
4. CCA Wattis Institute
The Wattis Institute is an exhibition center and research center focusing on contemporary art by today's groundbreaking young artists from all over the world. You can view the shows and see presentations about the art. You can also learn more about the work that the institute supports.
There are free guided tours on Saturdays.
They are closed Sunday and Monday. 360 Kansas Street.
5. Free Walking Tours
SF City Guides, which is part of the San Francisco Public Library, offers some great free walking tours of this area. The first is called "Potrero Hill."
It's mostly about the western side of the district and includes stories about its history, famous events, and how it because so popular.
The second tour is called "Dogpatch and Potrero Point." This is mostly in the flatter area on the eastern end of the district.
You will learn all about how this area transitioned into a vibrant community from its early warehouse days. Visit their site for details.
6. Potrero Stage
This theater is dedicated to showing some of the most avant-garde plays and performances from local performers, writers, and directors. It has a capacity of 99-people, so every seat is close to the stage.
The equipment is state of the art so you can experience each moment intimately. Performances range from sci-fi, to comedy, to musicals, and much more.
1695 18th Street.
7. Vermont Street
Most people think that Lombard Street is the crookedest street in the world. In reality, Vermont Street in Potrero Hill in San Francisco is where you will find one that is even more crooked.

This street is not as long as Lombard Street, and not nearly as famous, but it is a fun place to visit and take a few photos. Clint Eastwood fans will remember this street from a scene in his Dirty Harry movie, "Magnum Force".
Between 20th and 22nd Street on Vermont Street.
8. McKinley Square Park
This gorgeous little park sits high on the hill in Potrero Hill in San Francisco. If offers amazing view of San Francisco including Twin Peaks, Sutro Tower, and the Golden Gate Bridge.
There is a lot of room to relax either on the grass or on the benches. Your kids will enjoy the small play area with slides and other playground equipment. You can also grab a picnic lunch and soak in the views as you have a little lunch.
20th Street & Vermont Street.
9. San Francisco Center for the Book
This center is focused on everything related to printing, binding, and producing books. You can see how books were printed and made in the past and how people are using those skills and adapting them to today's world.
There are exhibitions, displays, and much more. It's the perfect stop for anyone who is interested in books and the printed word.
375 Rhode Island Street
10. Potrero Hill Festival
This family-friendly festival is usually every October. During this event, you can listen to live music, mingle with the locals, and entertain the kiddies.
All events take place on 20th Street between Missouri and Wisconsin Streets from 11 a.m. to 4 p.m.
Visit the October calendar for this year's date.

Top Activities and Tours in San Francisco

18th Street Corridor

You will find plenty of restaurants and small local shops along the 18th Street Corridor. Here are just a few of my favorites.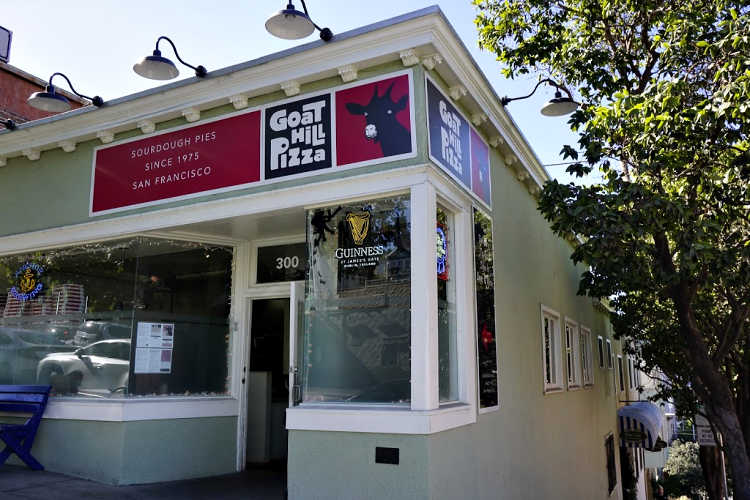 Goat Hill Pizza
One of my favorite places in Potrero Hill in San Francisco is Goat Hill Pizza. They have some of the best pizza in town.
Their secret is that they use sourdough to create their crusts. My favorites include their Meat Lovers, Porky Pie and the Chicken Florentine.
300 Connecticut Street

Ganim's
Another go-to spot here is Ganim's. This is a low-key, less expensive option that opened its doors in 1974.
They serve up Middle Eastern dishes as well as some American favorites including burger. They are open for lunch and dinner.
1135 18th Street
Plow
This is a great breakfast, brunch, and lunch spot. They offer farm-to-table dishes with menu changes with the season.
I love their buttermilk biscuits, custard French toast, and the chorizo with eggs. They also have a couple of great salads as well as a tasty olive oil poached tuna sandwich.
1299 18th Street
Chez Maman East
This cute French restaurant is open for lunch and dinner every day of the week.
My favorites here include their croque madame panini, the French onion soup, and their salads (they have a great selection).
1401 18th Street

3rd Street Corridor

The 3rd Street Corridor is in the Dogpatch section of Potrero Hill in San Francisco. Here are a few of my favorites on this side of the neighborhood.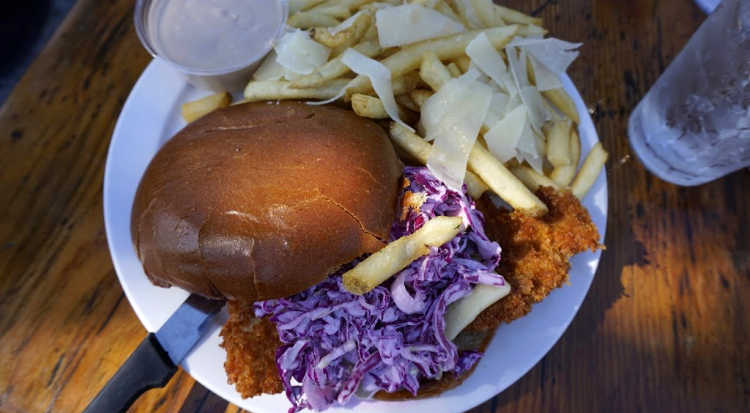 The Ramp
This is an old school gem right on the waterfront. They offer outdoor patio seating, so you can enjoy the view as you eat.
They serve up comfort food including my favorite which are their fried chicken sandwich (pictured above), the ramp burger, and their fish tacos. They also have a great selection of salads and some tasty appetizers.
855 Terry A Francois Blvd.
Hard Knox Cafe
If you love Southern comfort food, then head over to the Hard Knox Cafe. It's another old school restaurant that has some of the best fried chicken in town.
Other top dishes here include their oxtails, BBQ pork spareribs, and the blackened catfish. They are open for lunch and dinner every day of the week.
2526 3rd St.
Harmonic Brewing
A little more off the beaten path is where you will find Harmonic Brewery. They are located a couple of blocks off 3rd Street, but easily within walking distance.
Located in an old warehouse, this brewery is open 7 days a week. They serve up tasty brews with a good rotation of new options.
They also have food trucks on site most nights of the week.
1050 26th Street.
Find additional top breweries around SF.

How to Get to Potrero Hill in San Francisco
There are several options to get to Potrero Hill in San Francisco.

Public Transit
If you are coming here from Union Square, downtown or the Financial District, your best option is to hop on the K/T light rail from one of its stops along Market Street. It will take you into the heart of the Dogpatch District.
If you plan to head over to the hillier western side, you can then transfer over to the 22 so you don't have to climb the hilly streets. You will exit the K or T light rail train at the UCSF Medical Center (Mariposa) stop. It's one stop after the UCSF/Chase Center stop. You will then walk one block to 22nd Street to catch the bus.
For those coming from Fisherman's Wharf, you can take the E Streetcar to the stop at Embarcadero and Harrison. This is where you will transfer over to the K. This will take you all the way into Potrero Hill in San Francisco.
Parking
If you decide to drive over to this district, you have a few parking options. You will sometimes find street parking on the steep neighborhood streets on the western side of the district. You will also find some street parking to the western side of 3rd Street or on the southern end of the district in the Dogpatch area.
If it's a busy day or you prefer to park in a garage, you will find a few options just north in the Mission Bay District. Here are a few of those options.
Owens Street Garage at 1835 Owens St
3rd Street Garage at 1630 3rd St
901 Illinois - Lot #85: This is a flat lot with outdoor parking.
Make sure to also double check the schedule for the Chase Center before you arrive. This area has limited parking and on a game day or the night of a concert it can be nearly impossible to find a spot either on the street or in a garage.
Where to Stay Nearby

You won't find any large hotels in this district, but you can easily get here from several districts nearby.
China Basin is just north of this district on the K and T lines. It's where you will find Oracle Stadium where the SF Giants play. It's an easy walk or train ride from here. Check out my China Basin page for some hotel recommendations.
Other options include hotels in Union Square, downtown San Francisco, and around the South of Market (SoMA) area.
You can also visit here for pricing, availability, and read recent reviews for hotels all around town.
Comments? Questions? Suggestions?
I would love for you to join me in my private Facebook group! 
It's a great place to interact with me and others who know the area well.
You can ask questions, get advice for your upcoming stay, and then share your photos and advice with others when you return home. It's a great community and the fastest way to get answers to those nagging questions about your visit!