Breastfest Beer Festival 2020
Sample Craft Beers While Raising Money for a Great Cause
NOTE: On December 6, San Francisco (and a few surrounding counties) will once again be on a stay-at-home order. This will last indefinitely. Click here for more information.
The 2019 Breastfest Beer Festival is on Saturday, July 18 from 1pm to 5pm. This year, the event will be in the North Bay at the Marin Center in San Rafael.
This annual fundraiser helps raise money for low-income women diagnosed with breast cancer. It supports the Charlotte Maxwell Complimentary Clinic with locations in both San Francisco and Oakland.
This year's festival features dozens of breweries. You can also enjoy food samples from several local restaurants, live music, a raffle, and a great time!
More Festival Details
List of Breweries
This year's Breastfest Beer Festival features several local breweries from the Bay Area, as well as from around the US and beyond.
Your ticket includes as many pours as you want from 1pm to 5pm.
The breweries signed up to pour this year include:
Marin Brewing Company
Moylan's Brewery
Lost Coast Brewery
Moonlight Beer & Ale
Beach Chalet Brewery & Restaurant
Cellarmaker
Half Moon Bay Brewing Company
Iron Springs Pub & Brewery
Russian River Brewing Company
Third Street Aleworks Brewery & Eatery
Berryessa Brewing Co.
Drake's Brewing
HenHouse Brewing Company
Magnolia Brewing
Fogbelt Brewing Company
Firestone Walker Brewing Company
Benoit Casper Brewing Co.
High Water Brewing
Faction Brewing
Sonoma Springs Brewing Co.
Heretic Brewing Co.
Altamont Beer Works
Dempsey's Restaurant & Brewery
Oakland United Beerworks
Prizes for Raffle
The Breastfest Beer Festival also does an amazing job with their raffles each year. You must be present to win.
Grand prize: a bike from Marin Bikes
Gift certificates and retail items from Marin Brewing Company
Gift certificates and retail items from Moylan's Brewery & Restaurant
T-shirts and other items from the Breastfest Beer Festival
Ticketing Info
Tickets are already on sale. You can buy them in advance for $50 (for a a limited time), then it's $65 per person for general admission.
Click here to purchase tickets today.
More About the Charlotte Maxwell Complimentary Clinic
The Breastfest Beer Festival is unique as it is run by volunteers. This means that all proceeds from the event go directly to the Charlotte Maxwell Complimentary Clinic.
This clinic offers free services to low-income families dealing with breast cancer, including surgery, chemotherapy, and radiation. They also offer alternative treatments to help relieve the patient's pain. These include free acupuncture, herbs, massage, therapeutic imagery, and social services.
More Great Festivals in SF
Disclaimer: I receive a small commission from some of the links on this page.
Other Great SF Events in July
Salsa Festival: One of the largest Latin music festivals in California is the Salsa Festival on the Fillmore. This fun event allows you to show off your salsa skills as well as improve them. This year, it's the same weekend as the Breastfest Beer Festival. Click here for details.
Stern Grove: A local favorite during the summer is the Stern Grove Festival. Every Sunday from mid-June to mid-August, you can see free live music in the park. It's a fun way to spend the afternoon outdoors. Click here for this year's lineup.
Discounts: I love checking out the ticket discounts on Goldstar. They offer tickets for up to 200 SF and Bay Area events at up to half-off. Tickets include SF cruises, wine tasting events, and more. Click here to check them out today.
Frozen Film Festival: One of the largest film festivals every July is the Frozen Film Festival. It features dozens of independent films from artists in underserved communities. Click here for details.
All SF Events in July: Are you still looking for more fun events this month? If so, then check out my entire July calendar. It's full of additional festivals and other recommendations to make the most out of your time in SF. Click here for details.

Follow SFTourismTips on Facebook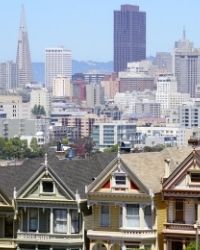 On my Facebook page, you will find more great information about planning your San Francisco vacation.
It includes tips, must see attractions, and other fun details.
Click the link below to check it out. If you enjoy the page, give us a like.

More Great Pages for You