Union Square Live: Free Performances in SF's Union Square Plaza
Union Square Live offers free dance, music, circus, theater, movies, and other entertainment in the heart of San Francisco. From April through October, you can find performances in the plaza every Wednesday at 6pm and on Sundays at 2pm

Events range from free salsa and tango dance lessons to musical performances from local artists. Other popular shows include the Taiko Dojo drumming group and the Duniya Dance & Drum Company.

You can find the full list of events for the entire season on their website. Click here for this year's line-up.

More Union Square Live Event Details

The Union Square Live events are set up in the center of Union Square Plaza. There is very little seating, so bring along a blanket or a small chair if you plan to stay for a while and watch the performance.
The streets that border Union Square Plaza are Geary, Post, Stockton and Powell.
Public Transit to Union Square

If you are coming from Fisherman's Wharf, you have a variety of public transit options. Your best bet is to either take the Powell/Hyde or Powell/Mason cable cars. You can also take the F street car.

Hop On/Hop Off Tour Bus

Another easy way to get around San Francisco, especially if it's your first time here, is to take the Hop On/Hop Off Bus. This easily takes you to all of SF's most popular attractions including Union Square.
You can select either a 24-hour or 48-hour ticket. Both offer you plenty of time to see the city, as well as stop by Union Square Live for some free entertainment.
The tour includes 17 stops around the city, live narration on your double decker bus and departures from each stop every 15 to 20 minutes. Learn more and book your tickets today!
Driving & Parking

If you plan to drive to Union Square, you can park in the garage directly below the plaza. You enter the garage from either Post or Geary Streets. The entrance to the garage is in the middle of the block.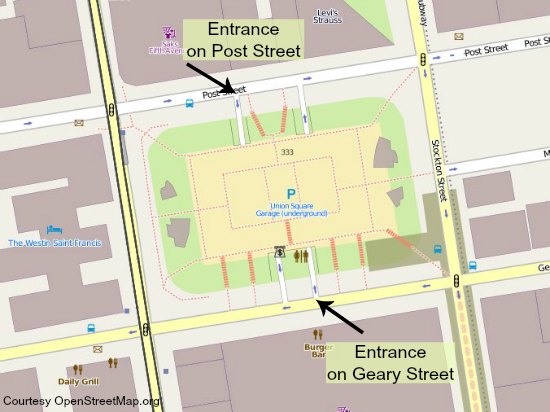 The disadvantage of parking right at Union Square is that it can get pricey. The average cost to park here ranges from $2.50 to $6.00 an hour. The maximum daily rate is around $36. 
Best Places to Stay Nearby

If you want to stay in or near the Union Square Live events, I recommend checking out the hotels in Union Square. It's the heart of San Francisco and the best place to stay (in my opinion)!
The hotels in this area range from high end hotels such as the Four Seasons to more budget friendly options such as the Mosser. Click here for my recommendations on where to stay in this district.
More Pages You Might Enjoy

Film Festivals: SF is home to more than 50 film festivals every year. You will find small, dedicate festivals such as the Greek Film Festival every May all the way up to one of the largest in the US, the International Film Festival each April. Click here for a full list and detailed schedules (where available).
Wine Tasting Festivals: In addition to SF's Film Festivals, the city hosts several large wine tasting festivals each year. You can sample local wines as well as the top wines from around world. There is one almost every month. Click here for a full list by month.
Yerba Buena Festival: Another free festival in SF that lasts all summer long is held in the Yerba Buena Gardens. The event features a variety of performances from free live music by local artists to family-friendly events. It's just a few blocks from the Union Square Live event and another great way to see several fun local acts. Click here for details.