San Francisco Fringe Festival 2019
Enjoy Indie Productions at the EXIT Theater
NOTE: Click here to stay up-to-date with what's open and opening soon.
The San Francisco Fringe Festival is the largest grassroots theater festival in SF. It's held every September and offers dozens of unique performances.
The 2019 festival will be held from September 5 thorugh 14, and will consist of more than 100 performances by more than 20 indie theater companies.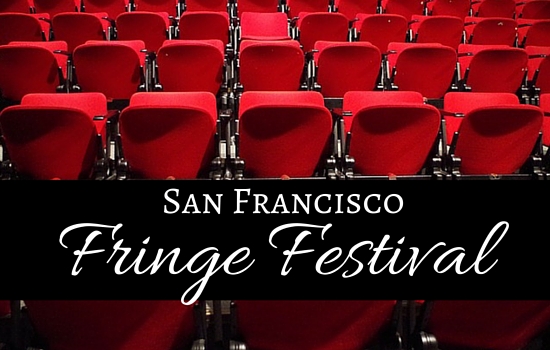 All shows will present at the EXIT Theatreplex in downtown San Francisco, which contains of three intimate venues that seat between 36 and 80 people each.
This independent festival thrives on making their shows open to as many people as possible. This is why tickets for all shows cost no more than $12 (or $14.99 online in advance).
If you love the theater, but are looking for something more local or a little different, then I highly recommend checking out some of these shows.
Click here to see this year's schedule and get tickets.
Tips to Get the to EXIT Theatre
The EXIT Theater is in SF's Tenderloin District at 156 Eddy Street. It's close to Union Square and Market Street, which gives you plenty of options for public transit.
BART: The EXIT Theatre is less than two blocks from the Powell Street BART Station. This is the best option for those coming from the East Bay, the South Bay, or the Mission District.
Bus: Several Muni buses drop off near the Powell Street BART Station. Take the 6, 8, 9, 16, 21, 27, 30, 31, 45 or the 71.
Light Rail: You can also take any of the light rail trains to the Powell Street Station.
This maps shows the location of the theater in relationship to the Powell Street BART and Light Rail Station.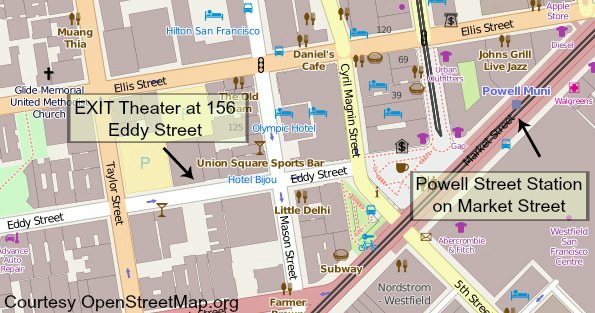 Hotel Recommendations
Are you looking for places to stay near the San Francisco Fringe Festival? The EXIT Theatre is steps from Union Square, so I recommend starting your search there. Click here to check out my recommendations in this district.
You can also start your search by checking out the great deals on TripAdvisor.com. There you can save on your room rate or get a free breakfast. Click here to check out their current deals in San Francisco and beyond.
Other Events this Month That You Might Enjoy
Comedy Day in Golden Gate Park: Another fun event this month is Comedy Day in Golden Gate Park. This free event is a thank-you from local comedians to their faithful fans. Find more details here.
SF Theater: All year round, you will find a variety of theater productions in San Francisco. The most popular are the large Broadway musicals like Hamilton at the Orpheum Theater. However, you can also enjoy small performances at intimate theaters all around town, including La Cage Aux Folles and Zenith at the SF Playhouse this month. Click here for this month's theater calendar.
SF Giants Baseball: September is the last full month of regular season games for the SF Giants. Stop by Oracle Park (formerly AT&T Park) to check them out and enjoy all the other fun activities in and around this area. Click here for their full September calendar.
Savings Tip: The best way to save money on all activities in San Francisco and the Bay Area is to buy your tickets through Goldstar. They offer tickets for up to 200 events at any given time. You will often find tickets for cruises around the SF Bay, theater performances, comedy shows, and more. Click here to check out their current selection of tickets.
Other Top Annual Festivals
In addition to the San Francisco Fringe Festival, you might also enjoy these other top events in SF each year.
SF International Film Festival: One of the biggest film festivals each year in San Francisco is the International Film Festival. It's held toward the end of April/early May. It features more than 150 films created by independent filmmakers from around the world. Click here for more details.
SF Sketchfest: Another fun annual festival is SF Sketchfest. It's one of the largest comedy festivals in the world. During this two-week event, you can enjoy performances from international starts, as well as popular local comedians. Click here to learn more.
Food Festivals: Visiting SF is not complete until you've had a chance to attend one of our famous food festivals. You will find one almost every month. They include the Street Food Festival, Oysterfest, and Eat Drink SF. Click here for a list of the top food festivals each year.

Follow SFTourismTips on Facebook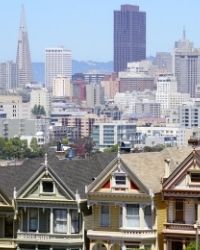 On my Facebook page, you will find more great information about planning your San Francisco vacation.
It includes tips, must see attractions, and other fun details.
Click the link below to check it out. If you enjoy the page, give us a like.

Other Pages for You