Polk Street Blues Festival
Details for this 2018 Street Fair
NOTE: Click here to stay up-to-date with what's open and opening soon.
The Polk Street Blues Festival is back in its original home in the heart of San Francisco. This will be the festival's 9th year.
The 2018 event will be on Polk Street between California and Sutter Streets. It is on August 17 & 18, 2018.
Cancelled for 2019. I can't confirm that this is happening in 2019. Links to the official site are dead and no one is commenting to confirm. I'll update this for 2020 if it returns.
You will find live music, gourmet food, and more each day from 10am to 6pm.
You will also find community booths, hands-on kids activities, and a Farmer's Market. Other highlights include bistro-style seating areas, craft beer and fine wine tasting, and chalk art with a blues theme.
Admission is free.
Live Music Schedule
The Polk Street Blues Festival includes two stages.
Gourmet Food Vendors
I love the yummy gourmet foods at these festivals. Here are just a few of the vendors you can expect again this year (subject to change):
Aroma Concessions: BBQ oysters, catfish & chips, smoked turkey legs, tri-tip sandwiches, chicken kabobs, garlic fries, tea, soda, lemonade and water


Aunt Betty's Corn Dogs: Corn dogs, soda, water


Kama United LLC: Indian sandwiches, ice cream, Indian dessert


Peter's Kettle Corn: Kettle corn, lemonade


Saigon BBQ: Spring rolls, BBQ stick chicken and pork, combo plate, Vietnamese sandwiches, garlic noodle with BBQ chicken


Sonoma Teriyaki: Teriyaki chicken, gyros, tacos, chow mein, garlic fries


Thai Kebob BBQ: Chicken and pork kebobs, meat combos with rice, noodles, veggie tempura, sausages, BBQ corn, lemonade, Thai ice tea, soft drinks
Tips to Get to the Festival
The Polk Street Blues Festival is in the Nob Hill district. All event will be on Polk Street between California and Sutter.
From Union Square: The best way to get here from Union Square is to take the 2 Sutter or the 3 California + Presidio. Both stop at the southern end of the event near Polk and Sutter.
From Fisherman's Wharf: Your best bet from Fisherman's Wharf is to take either the 19 Polk or 47 Van Ness bus. You will get off just a block away from the Polk Street Blues Festival near California Street.
Parking Nearby: If you plan to drive, you will find a few parking options that are a short walk from the festival. Here are a few options.
Holiday Inn Golden Gateway Garage: This one is at 1500 Van Ness Street and just a block away from the Polk Street Blues Festival. Rates can vary but start at $3 per 20 minutes, $20 for up to 12 hours, and up to $45 for the entire day.


Polk & Bush Garage: This one is also close by at 1399 Bush Street.


Old First Garage: You will find this one just a block to the north of the festival at 1725 Sacramento Street.
More Activities this Weekend
Other Fun Bay Area Festivals this Summer
Film Festivals: The city of San Francisco plays host to almost 50 film festivals every year. They range from the small Jewish Film Festival in July to the largest International Film Festival in April. My favorite is Doc Fest, an all documentary film festival, in June. Click here for the current schedule.
Wine Festivals: SF also hosts a number of wine festivals every year. Highlights include the Uncorked Wine Festival at Ghirardelli Square in May and the Noe Valley Wine Walk in August. Click here for the full list of this year's wine tasting festivals.
Stern Grove: A local favorite is the Stern Grove Festival. It starts each year in mid-June and lasts until mid-August. All concerts are free and feature top artists from around the SF Bay. You will also get a chance to see a handful of international stars. Click here for this year's schedule.

Follow SFTourismTips on Facebook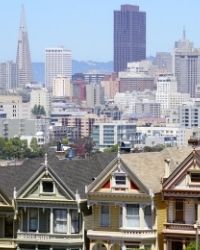 On my Facebook page, you will find more great information about planning your San Francisco vacation.
It includes tips, must see attractions, and other fun details.
Click the link below to check it out. If you enjoy the page, give us a like.