Craft Fairs in San Francisco: 6 Annual Events to Purchase Crafts & Gifts in SF
Each year, you can explore several interesting craft fairs in San Francisco. You will find a few in the summer months, but most of them are during the holidays, around Thanksgiving and Christmas.

Many of these craft fairs last for three to four days and feature a selection of goods from jewelry to furniture. It's the perfect place to pick up a nice piece for yourself and a gift for a friend.
Some only feature local, Bay Area artists. Others bring in unique artisans from around the world. 
Most are free to enter, so you can spend all of your money buying great items all around the festival.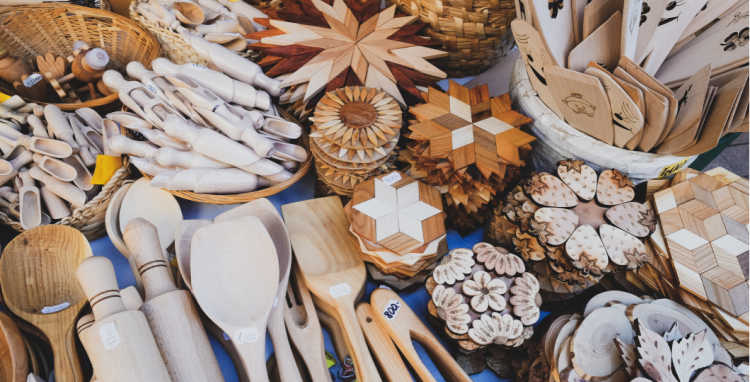 Disclaimer: I receive a small commission from some of the links on this page.

1. Renegade Craft Fair

The Renegade Craft Fair comes to town twice a year. Their summer event is in the month of July, and their holiday event is usually the third weekend in November.
This fair has wonderful pieces from more than 200 hand-selected artists. It's tough to be chosen to exhibit at this event, which means you will find some of the best handcrafted pieces on the market.
The artists here offer everything from clothing to jewelry to items for your home.
Location: Festival Pavilion in the Fort Mason Center
Date: April & November
2. Urban Air Market

The Urban Air Market is a marketplace for sustainable design. They have several events every year, featuring independent artists in different districts and venues throughout SF.
This is one of the largest events of its kind in the US.
The designers' showcase features vendors with items such as accessories, home decor, body products, and art. Each event offers a different experience with new and established vendors.
Location: Several places in SF
Dates: Several dates each year
Learn More: Visit the Urban Air Market site for additional details & event dates
3. Pleasanton Quilt, Craft, and Sewing Festival

This three-day fair is free for all ages. Here, you'll find dozens of vendors of high-quality materials for your quilting, sewing, needle-arts, and crafts projects. The booths sell both domestic and foreign products, and offer some great deals.
In addition to purchasing materials, you can also attend free classes to kickstart your new creative projects.
Pleasanton is located about 50 minutes east of San Francisco.
Location: Alameda County Fairgrounds in Pleasanton
Dates: September
4. Pacific International Quilt Festival

During this four-day quilt festival, you'll have lots of opportunities to admire work, show off your own work, and browse the variety of fabrics available for purchase at the show.
There are workshops and lectures for learning new techniques, as well as quilt and wearable art competitions.
Don't miss the special exhibits and your chance to mingle with other passionate quilters!
Santa Clara is located about 50 minutes south of San Francisco in the heart of Silicon Valley. 
Location: Santa Clara Convention Center
Date: October
5. Great Dickens Fair

The Great Dickens Fair will take you back in time to Victorian London. During this event, you can enjoy music, food, and a shopping area with plenty of crafts and gifts for the holiday season.
It starts in November and runs every weekend day until the weekend before Christmas. It's also open the day after Thanksgiving.
Location: Cow Palace
Date: November & December
6. West Coast Craft Fair

The West Coast Craft Fair is an event that features artists inspired by the mood and aesthetics of the West Coast lifestyle. It's free and open to the public. More than 250 artists will showcase their work during this two-day event.
In addition to crafts for sale, they also offer workshops on both days. It's a great place to sharpen your art skills and learn how to make something new.
Location: Fort Mason Center
Date: Varies by year
Other Top Annual Events, Festivals, & Fairs

Art Fairs: Discover a list of annual art fairs in SF. This list includes everything from high-end antique fairs to local artists' open studios events. 
North Beach Festival: You will also find plenty of arts and crafts at this annual festival in North Beach. Along the streets of this lovely district, you will find unique pieces from dozens of local and national artists. The event is in June every year.
Union Street Festival: Another event that features arts and crafts is the Union Street Festival. Also held in June, this event invites artists from all around the US. Here you will find paintings, photography, jewelry, clothing, and more.
Comments? Questions? Suggestions?
I would love for you to join me in my private Facebook group! 
It's a great place to interact with me and others who know the area well.
You can ask questions, get advice for your upcoming stay, and then share your photos and advice with others when you return home. It's a great community and the fastest way to get answers to those nagging questions about your visit!