Craft Fairs in San Francisco: Top Annual Events to Purchase Crafts & Gifts in SF
Each year, you can explore several interesting craft fairs in San Francisco. You will find a few in the summer months, but most of them are during the holidays, around Thanksgiving and Christmas.

Many of these craft fairs last for three to four days and feature a selection of goods from jewelry to furniture. It's the perfect place to pick up a nice piece for yourself and a gift for a friend.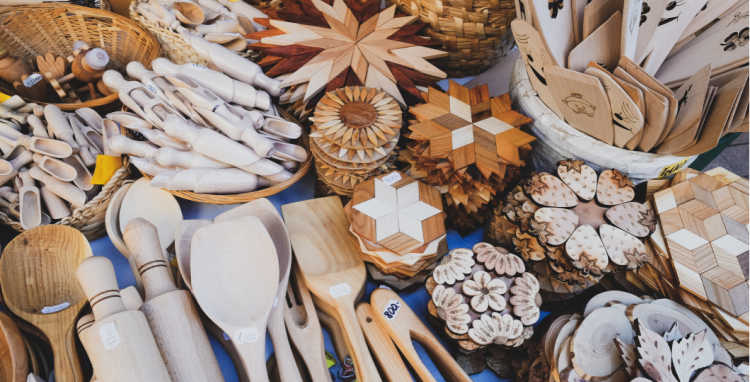 Disclaimer: I receive a small commission from some of the links on this page.

1. Renegade Craft Fair

The Renegade Craft Fair comes to town twice a year. Their summer event is in the month of July, and their holiday event is usually the third weekend in November.
This fair has wonderful pieces from more than 200 hand-selected artists. It's tough to be chosen to exhibit at this event, which means you will find some of the best handcrafted pieces on the market. The artists here offer everything from clothing to jewelry to items for your home.
Location: Festival Pavilion in the Fort Mason Center
Date: April & November
2. Urban Air Market

The Urban Air Market is a marketplace for sustainable design. They have several events every year, featuring independent artists in different districts and venues throughout SF. This is one of the largest events of its kind in the US.
The designers' showcase features vendors with items such as accessories, home decor, body products, and art. Each event offers a different experience with new and established vendors.
Location: Several places in SF
Dates: Several dates each year
Learn More: Visit the Urban Air Market site for additional details & event dates
3. San Francisco Bazaar

One of the largest and most well-known craft fairs in San Francisco is the SF Bazaar. They hold one or two craft fairs a year in SF, with the focus on the holidays. It's a great place to find a variety of holiday gifts.
Location: Fort Mason Center
Dates: Largest event is usually in November
4. Celebration of Craftswomen

This annual event first started in 1976 with around 22 artists and a few local food vendors. It's exploded into one of the largest craft fairs in San Francisco every year. The event now features more than 150 artists that are hand-selected to participate.
This event benefits the Women's Building in the Mission, a female-owned community center that helps women and girls become self-sufficient and follow their dreams.
Location: Fort Mason Center
Dates: November
5. Etsy Holiday Fair

The Etsy Holiday Fair is a time when Etsy artists can step away from the computer and show their goods in person to their faithful followers. It's held at Pier 35, which offers more than 200,000 square feet of retail space.
This event offers crafts, food, music, and an afternoon of fun. It's free to enter.
Location: Pier 35
Date: November or December
6. Great Dickens Fair

The Great Dickens Fair will take you back in time to Victorian London. During this event, you can enjoy music, food, and a shopping area with plenty of crafts and gifts for the holiday season. It starts in November and runs every weekend day until the weekend before Christmas. It's also open the day after Thanksgiving.
Location: Cow Palace
Date: November & December
7. West Coast Craft Fair

The West Coast Craft Fair is an event that features artists inspired by the mood and aesthetics of the West Coast lifestyle. It's free and open to the public. More than 250 artists will showcase their work during this two-day event.
In addition to crafts for sale, they also offer workshops on both days. It's a great place to sharpen your art skills and learn how to make something new.
Location: Fort Mason Center
Date: Varies by year
8. SFMade

SFMade is a local organization that works with San Francisco-based businesses or those that make at least one product within SF. It's a great organization that has a holiday craft fair every year. Exhibitors at this event must be SFMade members, so you know all products are locally made and/or sold by companies conducting business locally.
Location: Different locations each year
Date: December
Find additional details for the November and December events above by checking out each month's calendar.
Other Top Annual Events, Festivals, & Fairs

Art Fairs: Discover a list of annual art fairs in SF. This list includes everything from high-end antique fairs to local artists' open studios events.
North Beach Festival: You will also find plenty of arts and crafts at this annual festival in North Beach. Along the streets of this lovely district, you will find unique pieces from dozens of local and national artists. The event is in June every year.
Union Street Festival: Another event that features arts and crafts is the Union Street Festival. Also held in June, this event invites artists from all around the US. Here you will find paintings, photography, jewelry, clothing, and more.