San Francisco Public Transportation Guide: Most Popular SF Bus, Train, Cable Car and Light Rail Transit
San Francisco public transportation is the best way to get around the city. There are many transit options here including cable cars, historic street cars, buses, trains and more.

San Francisco Muni is the main transit system within the city. They manage most of the transit options within the city and are easy to spot with their big red M on all of their vehicles.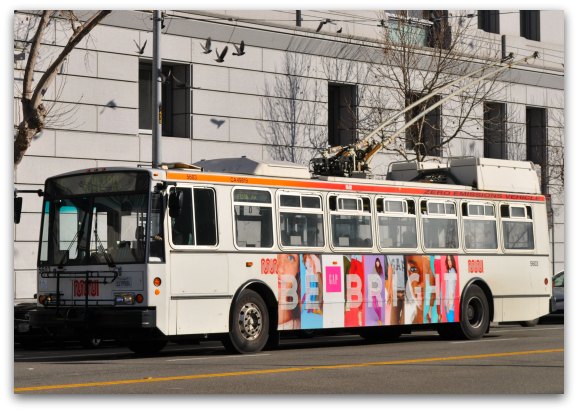 Many of the buses in the city run off electric lines. You will see these lines above many streets. It's one of only a few cities throughout the world with these types of 'green' buses.
Cable Cars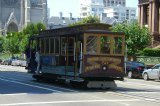 One of the most popular San Francisco public transportation options are the cable cars. Even if you aren't heading to a specific destination, I'd highly recommend taking a cable can while you are here.
Two of the three lines run between two of our most popular districts: Fisherman's Wharf and Union Square.
Learn More: Cable Cars
Light Rail Trains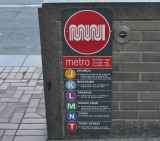 The next of the San Francisco public transportation options are the Muni light rail trains. There are 6 different train lines that take passengers to and from locations along Market, south of Market to Oracle Park (formerly AT&T Park) or west of downtown to the Civic Center and the Castro district.
These run mostly underground along the busier, downtown areas of San Francisco. However, they then come above ground once the trains get closer to Oracle Park and on the western side of the city.
Here is a quick recap of each line:
J-Church: This line goes along Market Street to the Castro. It then continues on to Noe Valley.
KT-Ingleside & Third Street: Two trains run about the same route, so they call this line the KT line. However, on the trains, it will either say K or T. This line runs along Market Street. It's a good option for those heading from Market Street to Oracle Park (formerly AT&T Park). It also services Balboa Park and West Portal.
L-Taraval: This runs along Market Street and heads all the way to the San Francisco Zoo - near the Pacific Ocean.
M-Ocean View: This one heads from Market Street to Balboa Park, West Portal and San Francisco State.
N-Judah: This train takes you to Haight Asbury, Cole Valley and both the Inner and Outer Sunset.
Street Cars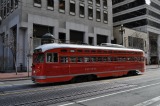 The F & E lines are the only two lines with street cars in the San Francisco public transportation system. The F street cars run along Market Street from the Castro, through Union Square and then down the Embarcadero to Pier 39. This line also stops across from Pier 33, which is where the ferries leave for your trip to visit Alcatraz.
The E line runs along the Embarcadero from Fisherman's Wharf to Oracle Park near King & 2nd Streets.
Although it's just two lines, there are several different street cars running. All of the street cars are remodeled, above ground street cars from several different cities around the world. The ride is a little jerky at times, but it is a fun way to see the city as you head to your destination.
Oh...and the seats are usually small, so get ready to cozy up with your neighbors.
Learn More: Street Cars
Buses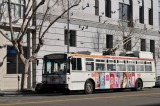 The most used option for San Francisco public transportation is the bus. There are over 50 different bus lines that take people throughout the city. This is a popular option for locals, so some of the buses can get pretty crowded.
However, this is a great option to help you save a little money while you are here. Here are some of the most popular San Francisco public transportation buses for those visiting the popular San Francisco attractions:
1 California: This bus line starts in downtown and heads through Nob Hill. You can use this bus to get you up the steep hill to visit Grace Cathedral, the Fairmont Hotel or some of the other historical sites in Nob Hill. It also heads through Chinatown, so you can stop on your way up or on the way down to visit this fun San Francisco neighborhood.
7 Haight-Noriega: This San Francisco public transportation bus also runs along Market Street and heads to the famed Haight Ashbury district. You will drive through a few neighborhoods along the way, but it's an easy and safe option to get you over to the SF neighborhood that was a hub of activity during the 60s and 70s.
14 Mission: This transit bus goes along Market Street. It will take you to the Mission District to visit the historic Mission Dolores or for some great food.
30 Stockton: This is a really popular and really busy bus. It runs through Union Square, then through Chinatown, through North Beach, stops just a few blocks away from Pier 39 and Fisherman's Wharf and finally ends up in the Marina District
39 Coit: This bus runs from North Beach up the hill to Coit Tower. This bus line is really short but is a great option if you don't want to trek up the large hill to visit Coit Tower San Francisco.
San Francisco Ferries

In addition to these great land options, you will also find several San Francisco public transportation options that will take you over the water to popular destinations in Sausalito, Tiburon, and the East Bay.

Sausalito | Tiburon | Angel Island | All SF Ferries

Costs for SF Public Transportation

The cost to ride all SF Muni transportation options is $3 except for the cable cars. You can then ride any SF Muni bus, train or streetcar for an hour and a half on the same fare. After that hour and a half, you then need to pay another $3. Make sure you take a transfer ticket when you board and pay for your first ride.
The cable car lines are a little pricier. It is $8 for a one-way ride and you do not get a transfer with the cable cars. They are smaller and more popular, so this allows everyone a chance to ride them around the city.
These are the main San Francisco public transportation options. It is easy to get around the city with any of these options mentioned above.
SF Muni Passport

If you plan to use San Francisco public transportation quite a bit, then I recommend checking out the SF Muni Passport. With this pass, you will have unlimited rides on SF Muni including the cable cars, buses, street cars and light rail.
You can buy the passes for 1, 3, and 7 days. These are great because you don't have to dig for change each time you want to ride Muni. You also don't have to worry about transfers and spending quite a bit of money to get around town.
The current prices are:
1-Day: $13
3-Day: $31
7-Day: $41
You can either buy them online on the Muni site or at a designated station when you arrive in SF. You can also get a Muni Mobile Passport for $5 a day. The difference with this one is that is doesn't include the cable cars. You could buy the pricier one for one day, ride the cable cars, and then buy this less expensive one for the remaining days.
You will also get a 3-day Muni passport as part of the San Francisco Citypass. This discount card also includes admission to the California Academy of Sciences, the Aquarium of the Bay, and the Exploratorium.
The SF City Pass also includes a ticket on the popular 60-minute bay cruise.
Overall, you will save more than 40% vs. buying all of the tickets individually or at the door.