Free Things to Do in San Francisco in September: Attractions, Museums, Street Fairs, & More

by Jill Loeffler  •

Updated: April 6, 2023
My 25 favorite free things to do in San Francisco in September 2023 include Shakespeare in the Park, Comedy Day, and A Taste of Greece.
Other highlights this month include other top free attractions such as visiting the Maritime Museum in Fisherman's Wharf, strolling through the Japanese Tea Garden, and exploring the Painted Ladies of Alamo Square.

In September, you will also get some great views from the top of Twin Peaks, enjoying some relaxing time at Stow Lake, and catch three free innings of SF Giants baseball. Read on for more of the best free activities this month in SF.

Part of one of the Diego Rivera fresco in San Francisco.
Disclaimer: I receive a small commission from some of the links on this page.

1. A Taste of Greece

If you love Greek food, you are in for a delicious treat. Every September, the Annunciation Cathedral in the Mission District serves up some of the best Greek food in town. You can sample everything from spanakopita, to baklava, to Greek wines. In addition to food and drinks, you can also enjoy music and entertainment all weekend long.
This festival is free to enter, but you must pay to enjoy some of their tasty treats!
>> Full list of SF festivals this month

2. Chinatown Autumn Moon Festival

One of the most popular free things to do in San Francisco in September is the Chinatown Autumn Moon Festival. It's a celebration during a specific time of the lunar calendar when the moon is bright and full.
The event includes a colorful parade, lots of entertainment, food & drinks, and so much more. Don't miss your chance to participate in this lively celebration during your stay in September.
>> What to expect during this year's event
>> More SF events this September
3. Walking Tours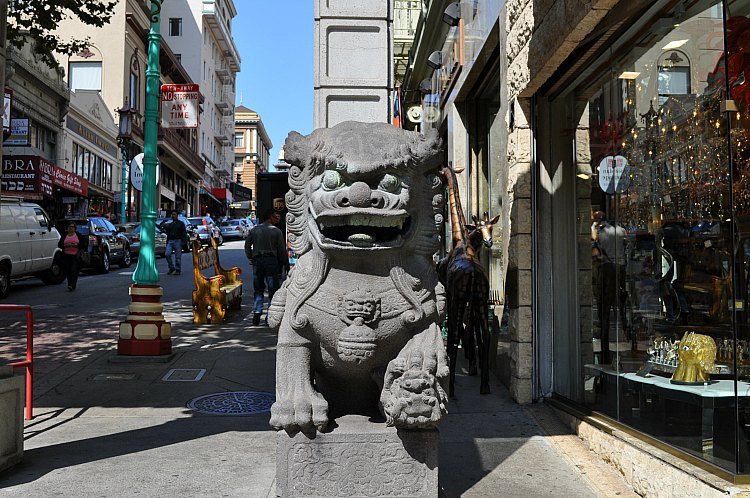 Next on my list of the most popular free things to do in San Francisco in September is the free walking tours offered by SF City Guide. Since they are free, you might think that they are low quality. If so, then you will be surprised and very glad you are wrong!
The volunteers that give the tours are locals that know so much about SF's history and our secret past. You can learn about SF before, during, and after the days of the Gold Rush, find the top spots in our unique districts, and walk down dark alleys to learn about their interesting past.
>> My favorites and details on the daily schedule
4. Museum Free Days

San Francisco is a world class museum city. We have several internationally recognized museums that people come from all around the world to visit.
Once a month, you get your chance to step inside for free. Several museums including the de Young, the Legion of Honor, and the Conservatory of Flowers participate in monthly free days when they open their doors to the public and offer everyone a peak at their amazing exhibits.
In addition, a handful of our other museums including the California Academy of Sciences and the Exploratorium offer several free days throughout the year. Make sure to check out the schedule before your stay.
>> Dates for this month's free days
5. Comedy Day

Comedy Day is a full day of free comedy in Golden Gate Park. It's a big THANK YOU from our large comedy community to the public that support them all year long.
The event runs during the afternoon and features about a dozen comedians. You just never know who might show up to entertain you for free since big time comedians sometime drop by for a set.
>> Where to see the best local comedians for free
6. Shakespeare in the Park

The next event on my list of the best free things to do in San Francisco in September is Shakespeare in the Park. Each year, the San Francisco Shakespeare Festival offers several free performances in the park.
They select one classic play and offer performances all around town. The San Francisco shows start over Labor Day Weekend and are offered for several weekends through the end of the month/early October. If you miss these performances, you might be in luck since the show also moves to different locations throughout the bay area.
>> Check out this year's schedule of shows
>> More fun things to do this Labor Day Weekend
7. Folsom Street Fair

One of the largest, adult only free things to do in San Francisco in September is the Folsom Street Fair. Called the "World's Largest Leather Event," this B. D. S. M. festival offers free entertainment, more than 200 vendors selling fetish gear and toys, and a large dance party of Saturday night.

The event is held on Folsom Street every September between 8th and 13th Streets.
8. Opera in the Park

The next item on my list of the best things to do in San Francisco in September is a show by the SF Opera. Every September, they offer one free show in Golden Gate Park. It's part of their opening weekend and it gives the community a look at their upcoming season.
This event is very popular so make sure to arrive early to grab your spot on the lawn.
>> More about this and other SF Opera shows
9. San Francisco Beaches

While San Francisco "summer" may feel to some like the "coldest winter," this city by the bay tends to get its warmest days in September and October. At this time of the year, the days are still long and the region is less foggy, making for the perfect opportunity to visit SF's free beaches.
Two of the most popular places to visit are Ocean Beach along the Pacific Coast and Crissy Field on the bay side of the Golden Gate Bridge. The water is probably too chilly for most to take a dip, but people still love to visit the beaches to have a picnic or take photos.
>> Check out photos and more details about the beaches
10. Yerba Buena Gardens Festival

Just a few blocks away is the chance to enjoy another one of the fun free things to do in San Francisco in September. The Yerba Buena Gardens Festival is an annual event with free shows from May to October.
These outdoor performances include local artists, kids' entertainers, and more. Their shows are offered several times a week. Check my page for details about this year's schedule.
>> Where to catch this year's shows
11. San Francisco Street Murals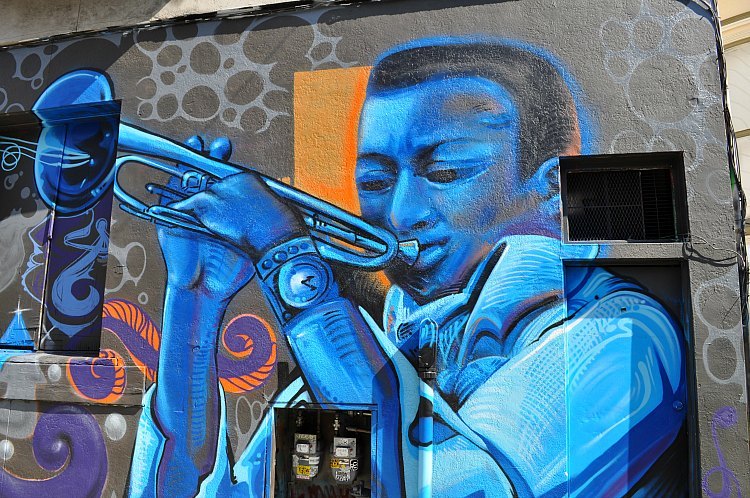 San Francisco is a colorful place for many reasons. One of those is our amazing collection of street art and murals. At any given time, there are more than 1,000 murals around town and many of them are outdoor and free for the public to enjoy.
Some of the largest concentrations are in the Mission, North Beach, and Chinatown. You can spot them on your own or use my handy guide to find some of the most beautiful pieces.
>> Where to find some of my favorites
12. Lombard Street

Your September visit to San Francisco offers you the chance to walk or drive down one of the crookedest streets in the world. Lombard Street is a brick covered street with 8 hairpins turns. It was originally built to allow residents at the top of the hill to arrive safely at the bottom of it.
There were a few of these streets around the city in the late 1800s/early 1900.
Today, you will find only one block still in place and it's a fun site to see! It's open 24 hours a day, 7 days a week. I recommend arriving early to get some great photos before the crowds roll in.
>> Where to find it and how to get here
13. Maritime Museum

The interesting history of SF's Fisherman's Wharf is what you will find inside the Maritime Museum. This free museum offers several interactive displays that showcase the story line behind The Wharf's past and how it became the popular district it is today.
You will see exhibits that take you back to the time before the Gold Rush and how this monumental event shaped this district and the SF, we all know today. My favorite stop is at the lighthouse display. Here you can see a working lighthouse light and get a close-up view of it in action.
>> What to expect from this history museum
14. Golden Gate Bridge

A visit here is not complete without a stop at #14 on my list of the best free things to do in San Francisco in September. The Golden Gate Bridge is one of the most recognized bridges in the world and your visit here is one you will never forget.
This 1.7-mile bridge welcomes visitors to stroll across its eastern walk way. Make sure to also spend time in its outdoor museum or to pick up some souvenirs at its dedicated gift shop.
>> Tips to visit the Golden Gate Bridge
15. Pier 24

If you love photography, then make sure to stop at Pier 24. This free museum offers three to four traveling photography exhibits. Since they don't have their own personal collection, each visit here offers visitors a unique experience.
The only catch is that you must register in advance to visit. They have just a handful of spots each day, so grab your spot as soon as you finalize your plans to visit.
>> How to book your reservations and pics from my last visit
16. Hike the Coastal Trail

One of the best active free things to do in San Francisco in September is to hike the Coastal Trail. This trail runs from Ocean Beach to the Presidio and you can start on either end.
The most popular part of the trail is at Land's End. This is where the trail takes you along the seaside cliffs with amazing views of the Marin Headlands, the Golden Gate Bridge, and the Pacific Ocean.
>> More things to do in the Presidio
17. Hearts in SF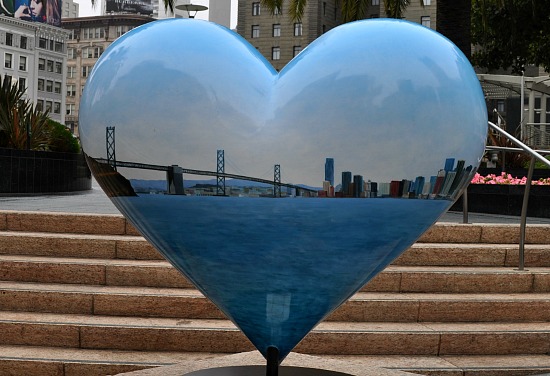 One citywide art exhibition that's always free is the Hearts in SF project which began in 2004. You'll find dazzling and unique 5-foot-tall, 400-pound heart sculptures sitting in plazas and parks, posted on street corners, and tucked in downtown lobbies.
While the hearts are always auctioned to raise money for the SF General Hospital Foundation and make room for new pieces, there is one that is permanently on display at Powell and Post Streets in Union Square: the heart left in San Francisco and painted by Tony Bennett himself.
18. Twin Peaks

Another one of the must-see free things to do in San Francisco in September is Twin Peaks. These two hills sit high above the city and the SF Bay. From their summits, you get some of the best views you can find of the whole bay area.
From the top, you can see the Golden Gate Bridge, City Hall, Alcatraz Island, and downtown SF. You can also see all the way from the SF Bay to the Pacific Ocean.
This is a must see on your stay in SF.
>> Read my insider's guide for more visiting tips
19. Diego Rivera Frescos

One of my favorite hidden gems on my list of the best free things to do in San Francisco in September is our collection of Diego Rivera frescos. We are honored by the fact that this talented (and controversial) artist spent quite a bit of time here.
During his stays, he created three frescos that are all still open to the public.
All three are well maintained and are found indoors. Two offer specific viewing hours and one is inside the Art Institute which is open most of the time.
>> Tips to find all three and when you can visit
Ideas to Help You Plan Your Stay

Hop On Hop Off Bus Tour: The best way to get around San Francisco is on the Hop On Hop Off Bus Tour. It runs from 9 am to 6 pm and takes you directly from one attraction to the next. You can select from their 24- or 48-hour tour. They also have a cool night tour. The Big Bus Tour Company is the most popular and highly rated option. Visit this site to learn more.
VRBO: Want to experience San Francisco like a local? Use VRBO to book a condo, room, or other local accommodation for your stay. Visit VRBO to find places to stay throughout SF and the SF Bay Area.
CityPass: Save up to 44% on 4 of San Francisco's top attractions with the CityPass. This discount card includes admission to the California Academy of Sciences and a Blue & Gold Fleet Cruise. In addition, you can visit two other attractions of your choice from the following four options: Aquarium of the Bay, SF Zoo, Walt Disney Museum, and the Exploratorium. Visit this site to learn more.
20. 3 Innings of SF Giants Baseball

If you love baseball, but are on a tight budget, then make sure to head to Oracle Park for your chance to see three innings for free. When they built Oracle Park, they created a small viewing area just beyond the outfield. This is where they allow visitors to watch three innings for free.
You do need to arrive early as the line starts to form an hour or two before the game. If you don't make it inside for the first three innings, you will have two more chances during the game. Visit my SF Giants page for more details and to find out where to line up for some free SF Giants baseball!
>> This year's home schedule and tips to get to Oracle Park
21. Baker Beach

The next item on my list of the best free things to do in San Francisco in September is a visit to Baker Beach. I recommend this in September as its one of the warmest months here. It's also the best time to head to the beach in SF because it can be pretty chilly at other times.
Baker Beach is a large beach on the northern side of SF in the Presidio. From its sandy shore, you get great views of the Golden Gate Bridge and the Pacific Ocean. There aren't really any services here, so make sure to pack a picnic lunch or bring along anything else you might need.
>> Pictures from the beach and tips to get here
22. Stow Lake

A visit to Stow Lake is the next on my list of 25 top free things to do in San Francisco in September. You will find this serene attraction on the eastern end of Golden Gate Park.
The lake welcomes visitors daily to walk along the water's edge, climb to the top of Strawberry Hill or even rent a paddle boat to cruise around the water. It's a lovely oasis in the heart of the park.
>> What there is to see and do at Stow Lake
23. Japanese Tea Garden

Step inside another top attraction in Golden Gate Park, the Japanese Tea Garden. Not too far away from the park's top museums, you will find this colorful gem.
Most people don't realize that you can visit the park for free if you enter during the first hour of the day on Monday, Wednesday, and Friday. You are then welcome to stay for as long as you like as you check out all the different spaces within the garden. If you visit at any other times, you will have to pay to enter, so get there early and save some bucks.
>> Pictures and what you will see, and how to get here
24. Alamo Square Painted Ladies

Even though it's toward the bottom, another top option on my list of the best free things to do in San Francisco in September is a stop at the Painted Ladies of Alamo Square. The 1800s Victorians are colorfully painted in some of their most stunning original colors of the time.
You can walk past them and spend some time admiring them from the outside. They are not open to look at the interiors, but their beautiful glow is sure to delight.
>> Tips to find the most colorful Painted Ladies
25. Palace of Fine Arts

The last, but certainly not least, free things to do in San Francisco in September is a visit to the Palace of Fine Arts. This lovely building was created for the 1915 Panama Pacific Exposition.
After an almost complete rebuild and several renovations over the years, today you can still visit it for free. You can walk through the walkways that go underneath the building and you can also admire it from across the lake.
It's also a fun place to stop for lunch or spend some time relaxing.
>> History of the building and visiting tips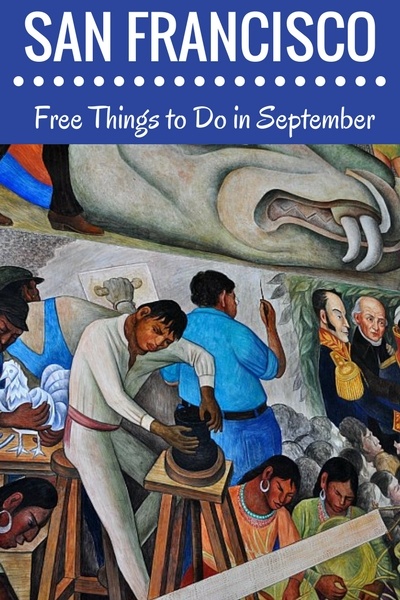 More Free Things to Do in San Francisco in September

Comments? Questions? Suggestions?
I would love for you join me in my private Facebook group! 
It's a great place to interact with me and others that know the area well.
You can ask questions, get advice for your upcoming stay, and then share your photos and advice with others when you return home. It's a great community and the fastest way to get answers to those nagging questions about your visit!