Free Things to Do in San Francisco in November

Are you looking for the best free things to do in San Francisco in November? If so, check out this list of my 25 favorites. They include street fairs, events, attractions, and a few special hidden gems.

Highlights include a visit to the Golden Gate Bridge, a stroll up some of our colorful mosaic stairs, and a chance to see how fortune cookies are made. You can also visit with Santa, enjoy the city decked out in lights, or check out this year's sugar creation at the Westin St. Francis.
Read on for details about the best options this month in SF.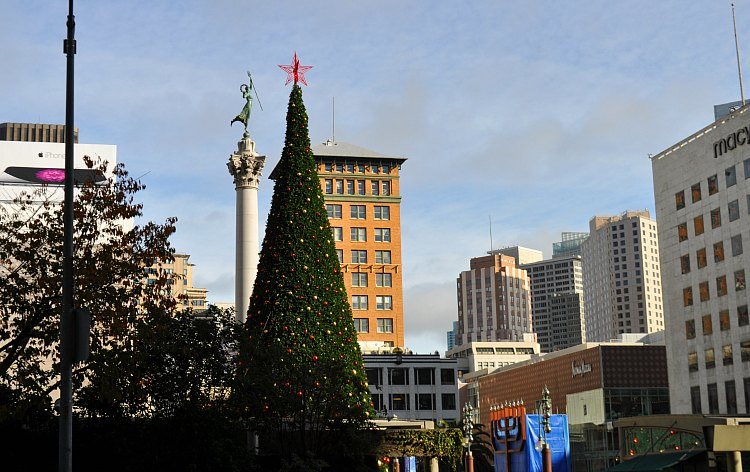 Disclaimer: I receive a small commission from some of the links on this page.

1. Day of the Dead (Dia de Los Muertos)

You will find the Day of the Dead event on November 2nd in the Mission District. Its official name is "Dia de Los Muertos" and it's a time to honor both the dead and the circle of life. 
During the celebration, you will find altars lined up side-by-side at Potrero del Sol Park from Noon to 11 pm on the day of the celebration. The ceremony is from 12 pm to 5 pm that afternoon.
From 5 pm to 6pm, is the Ritual Circle. It's a time to honor, grieve and heal.
You can also spend a little time walking around the neighborhood where you will see additional altars outside several houses.
>> Additional events this November

2. Hang Out in Dolores Park

Dolores Park is set high on a hill with great views of downtown San Francisco and the bay. It's the perfect place to sit back and relax while enjoying your Mexican takeout from a local taqueria or a sweet treat from one of the ice cream shops down the block. 
The neighborhood is full of colorful murals, and on the corner of the park you'll find the city's oldest intact building: Mission Dolores, or Mission San Francisco de Asis.
This park happens to be in one of the warmest, sunniest spots in the city, so even on a November afternoon, you'll find lots of locals (and their dogs) hanging out on the sloping lawn. 
>> Find out more about the attractions in this area
3. Pier 39 Lights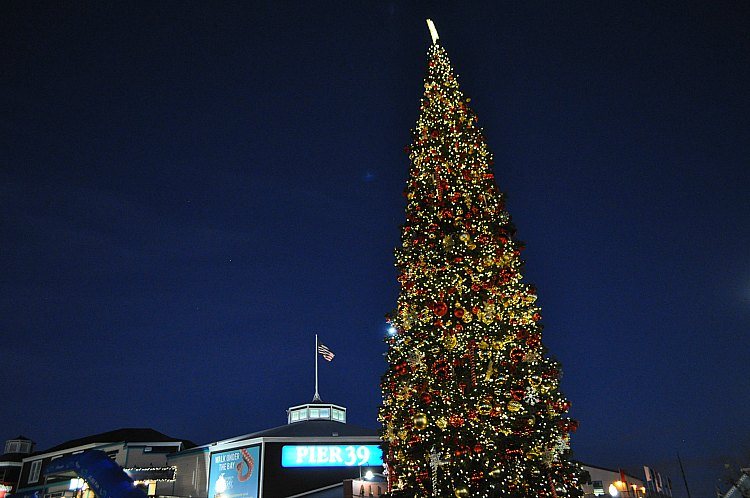 Start your holiday celebrations off this year at Pier 39 in Fisherman's Wharf. This is one of the top free things to do in San Francisco in November, as the hugely popular pier becomes completely decked out for Christmas. 
Usually the Tuesday before Thanksgiving, Pier 39 lights up its giant Christmas tree for the public to enjoy. The tree will continue to be lit each night through early January.
Before or after taking your photos with the massive tree, you'll want to browse the shops for unique local holiday gifts and tasty holiday treats.
>> Additional fun things to do on Pier 39

4. Free Admission to Local Museums

If you are looking to save on your budget, make sure to check out my calendar of free museum admission days for November. Each month, several top museums open their doors and invite the public in to see their permanent collection (there is sometime a small fee to see traveling exhibits).
Others offer quarterly or specific free days throughout the year.
>> This month's calendar of free days
5. Union Square Lights

Another one of the popular free things to do in San Francisco in November is enjoying the holiday lights at Union Square.
Starting around Thanksgiving, the impressive 83-foot tree lights up the downtown area, becoming the perfect centerpiece for the surrounding holiday activities, such as ice skating in the square. 
The tree will be lit each night through the beginning of the new year, giving you lots of opportunities to admire the festive setting, which includes the decked out cable cars and store fronts in the area. 
>> More fun things to do in Union Square

6. Westin St. Francis Castle Unveiling

The Westin St. Francis Sugar Castle is another treat for visitors this holiday season. Head across the street from Union Square and step inside their lobby. Shortly after you enter, you will see their Sugar Castle creation of the year.
The unveiling kicks off the day before Thanksgiving. Join in on the celebration with some complimentary hot chocolate and cookies during the unveiling. 
The Sugar Tree is then open to the public every day through the end of the holiday season.
>> More info on this and other holiday events

7. Free Walking Tours 

One of the things I love to do when I travel is learn all about the history and secrets of each city. It's easy to do that in San Francisco with our free, daily walking tours.
Offered by SF City Guides, these walking tours cover topics from the Gold Rush to modern day architecture. You can also join a tour about the Golden Gate Bridge, the mansions of Pacific Heights, or the Painted Ladies of Alamo Square.
You will find around 5 to 6 tours during the week and almost a dozen each day of the weekend. It's one of the very popular free things to do in San Francisco in November.

>> More details on the top tours and where to find the daily schedule

8. Alamo Square Painted Ladies

Speaking of the Painted Ladies of Alamo Square, a visit to them is #8 on my list of the top free things to do in San Francisco in November. These lovely and colorful Victorians were built in the late 1800s. Many have been revitalized to their original beauty.
The famous "Seven Sisters" sit on Steiner Street across from Alamo Square. However, you will find dozens of other beautiful historic Victorians all around the district. Use my guide to find where you can see the largest concentration of remodeled homes.
>> More on visiting the Painted Ladies
>> More about their history and other Painted Ladies around SF
9. Cable Car Museum

Every wondered how the cable cars in San Francisco work? If so, then step inside this free museum.
The Cable Car Museum in San Francisco offers you the chance to learn all about the history of the cable cars, how the current lines stayed in operation throughout the years, and what happened during the 1906 Earthquake and Fire.
You can also step inside a cable car to take a closer look at how they work. 
My favorite part is watching the live cables spin as they pull the cars around San Francisco.

>> What to expect from the museum

>> Tips to riding the cable cars

10. Fort Point National Historic Site

The Fort Point National Historic Site is one of the oldest buildings still standing in San Francisco. It was originally built in the 1800s as a military fort and was used to protect the opening of the strait of the Golden Gate.
It's changed hands many times and today is a museum that is free and open to the public. It's a quick stop, but chock full of interesting information. You can learn about the fort and history of the Golden Gate Bridge. 
During your visit, don't miss a trip to the top of the building where you get some of the most amazing pictures of the bridge. 

>> Opening hours and more details to visit

11. Golden Gate Bridge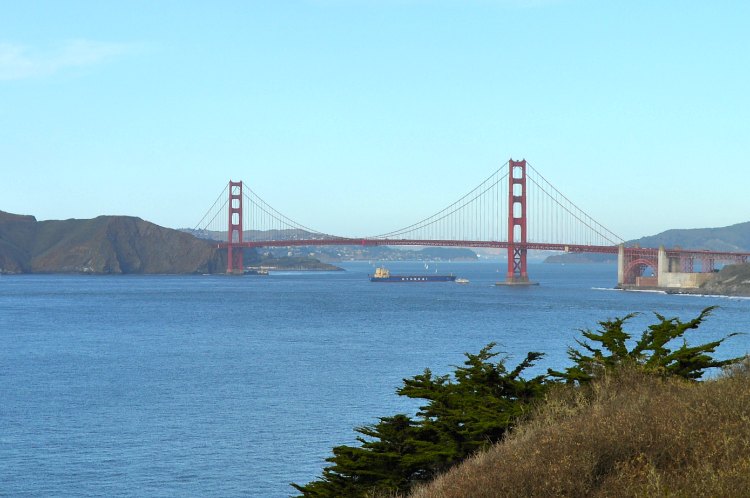 It's not possible to visit San Francisco without spending some time admiring the Golden Gate Bridge. However, don't just gaze at it from far away, get over to it, and make sure to spend a little time at the bridge itself.
You are allowed to walk on the bridge's eastern walkway from sunrise to sunset every day of the year. You can also learn more about this top SF attraction at the outdoor mini museum. 
On cold days, you can also step inside their grab and go food stores to warm up a bit with some hot cocoa or coffee. No matter when you visit, this is one of the free things to do in San Francisco in November that you will never forget!

>> What to expect when you visit

More Fun Ways to See the Golden Gate Bridge
12. Musée Mécanique

It's fun to walk around Fisherman's Wharf, but in the winter months, it can get a little chilly. For a fun, free place to duck in and get warm, check out the Musée Mécanique at Pier 45.
As soon as you walk into the giant warehouse, you'll discover a special collection of over 300 antique arcade games dating back as far as the 1920s. These include pinball, fortune tellers, penny machines, player pianos, and relics from San Francisco's once-famous Playland at the Beach.
They are all in working condition, and most of them cost just a quarter to interact with. 
13. Lombard Street

You can either walk or drive down #13 on my list of the top free things to do in San Francisco in November. Lombard Street features 8 hairpin turns and is a favorite of visitors from around the world.
The street was originally used as a safe passage down the hill for horses and residents that lived at the top. All of these windy streets in San Francisco have been destroyed except for this one block long section.
I love walking down the street as it's a great way to see it up close. It's also fun to watch the cars try to navigate the tight turns.

>> More on one of our crookedest streets

14. Mission Murals

This Mission District is a colorful, eclectic Latino neighborhood in the heart of the city. It's home to a large collection on murals. You will find them on buildings, garage doors, down alleys, and on many other places throughout the district.
Some of them have a political theme, others are about religion, and some tell the stories of the lives of locals. They are amazing to see. 
Two top spots where you will find a large concentration are Clarion and Balmy Alleys. Use my guide to help you find these and other interesting pieces.

>> Where to find the most colorful works of art

15. Palace of Fine Arts

The Palace of Fine Arts finds a spot at #15 on my list of the best free things to do in San Francisco in November. This historic building was originally created as a temporary structure for the Panama Pacific Exposition and it opened to the public in 1915.
Due to its appeal, the structure was almost completely rebuilt so locals and visitors could continue to enjoy it for years to come.
Today, you can walk along the pathways under the building, take in the beauty of its large dome, and have a picnic on the grass surrounding the building. It's a quick stop, but you will enjoy your time here.

>> Additional history on this attraction and tips to visit

16. Golden Gate Fortune Cookie Company

Did you know that the fortune cookie was invented in the US? Makoto Hagiwara, a San Francisco resident, was the first person to make this popular treat and he started serving it in his tea house in the late 1800s.
Today, San Francisco still has one working factory in the Chinatown district, and you can visit for free! The Golden Gate Fortune Cookie Company allows you to step inside the doors to see how these interesting cookies are created. A visit here will answer the question on how they get the message inside.
You are welcome to visit for free and watch them at work. You will also find a small area where you can buy these fresh creations.

>> More about this hidden gem in Chinatown

>> Additional things to do in the Chinatown district

17. Bakers at Boudin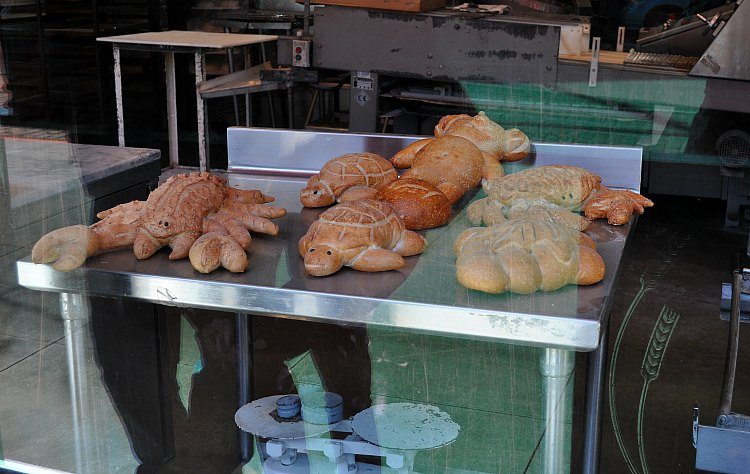 Another one of the unique free things to do in San Francisco in November is to watch the bakers at Boudin in action. The sourdough bread company has created a floor to ceiling window of their bakery so you can watch the bakers in action.
Sometimes, one of the bakers will also have a microphone and will walk the audience through the process to make their famous sourdough bread. Once you are done with the presentation, make sure to step inside to enjoy one of their delicious treats!
18. Twin Peaks 

If you want the best views of San Francisco and the Bay Area, then head to the top of Twin Peaks. These two treeless hills are some of the highest spots and give you unobstructed views of downtown, Alcatraz, and most of the city.
You can also see the Golden Gate Bridge, Sausalito, and Oakland. Walk around to the different viewing spots to see all the way from the Pacific Ocean to the San Francisco Bay.
>> Additional information and visiting tips
19. Diego Rivera Frescos

If you have never heard of Diego Rivera, now is your chance to learn more about him and see at least one of his three masterpieces. Rivera was a controversial and talented fresco artist from Mexico. He spent quite a bit of time here and was commissioned to create three pieces during his stays.
All three were created in the 1930s and 1940s. Their intricate design tells you the story (in the eyes of Diego) of what was going on in the world at the time. I can admire them for hours and I always discover something new.
All three are open to the public. They are indoors and all three have visiting hours. Use my guide to learn more.

Hotels for Your Visit

Click the links below to find deals for your November visit. You can find discounts on your room rate and also check out recent guest reviews. 

Booking: Find great deals all around San Francisco for your upcoming stay! 

TripAdvisor: What's the #1 hotel in San Francisco? Read reviews & find hotel deals on TripAdvisor!
VRBO: In addition to hotels, you'll also find some great places to stay locally through VRBO. Book an apartment or a room and feel more like a local. Find some great places to stay on VRBO here. 
20. City Hall

The next on my list of free things to do in San Francisco in November is City Hall. So many people stop to admire its exterior, specifically its lovely golden dome. However, you will find even more of its beauty inside.
City Hall is open to the public from Monday through Friday during business hours. You are free to walk around the explore any area of the building that has open doors. Some of the favorites here include the marble staircase, the mini museum on the first level, and the temporary exhibits on their lower level.
Spend some time looking around and don't be afraid to talk up the stairs to explore the second level.
>> Info to visit during your stay

21. National Cemetery

Another gem in San Francisco is the National Cemetery in the Presidio. This military cemetery is one of the largest on the west coast with more than 30,000 soldiers buried here. 
Its gates are open to visitors everyday between 6am and 6pm. 
>> Where to find the cemetery and what to see here

>> More things to do in the Presidio

22. Japanese Tea Garden

The Japanese Tea Garden is another one of the lesser known free things to do in San Francisco in November. You usually need to pay to visit, but you can enter for free on the first hour of opening three days a week.
Enter early on Monday, Wednesday, and Friday to get in free for the day.
The garden is amazing and there are quite a few things to see and do inside. I love ending my trip by spending some time in the tea house enjoying a creamy green tea and soaking in views of the garden.
>> What to see nearby in Golden Gate Park

23. Rincon Murals

The historic Rincon Murals are another one of the free things to do in San Francisco in November. Set inside an old art deco post office, the murals here create a story line of the history of the San Francisco area.
They were created in the 1940s with money from the federal government. The works had to undergo several revisions during the project as they were very controversial for their time.
Read more about the history of the murals, why they were controversial, and tips to visit them on my guide.

>> Pictures from my last visit and tips to visit

24. Mosaic Stairs

The very first mosaic stairway in San Francisco was finished in 2005. Since that time, SF and local residents have created three more. All four are gorgeous and open to the public.
The most famous is the very first one, the 16th and Moraga staircase. The next one I like to visit is just a few blocks away and is called the Hidden Garden Stairs. You will find two others around town and a few more are in the design phase. 
Make sure to spend some time checking these out during your stay.

25. Visit with Santa

The final item on my list of the top free things to do in San Francisco in November is to visit with good old St. Nick, better known as Santa Claus. He makes his way to several location every November and December and welcomes kids of all ages with open arms.
You will find him at holiday parties, at shopping malls, and many different stops around town. Use my guide to find out where he plans to visit again this year.
>> Where to find Santa this year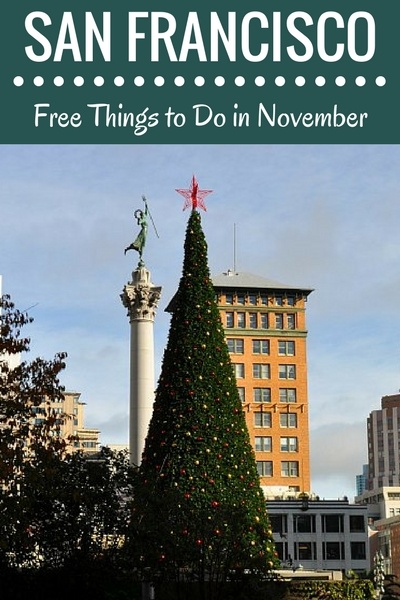 Comments? Questions? Suggestions?
I would love for you to join me in my private Facebook group! 
It's a great place to interact with me and others who know the area well.
You can ask questions, get advice for your upcoming stay, and then share your photos and advice with others when you return home. It's a great community and the fastest way to get answers to those nagging questions about your visit!