Free Things to Do in San Francisco in July 2023: 25 Attractions, Activities, & Kid Friendly Activities

by Jill Loeffler  •

Updated: March 8, 2023
Discover my 25 favorite free things to do in San Francisco in July. Each year, you can enjoy top events such as the Fillmore Jazz Festival, Stern Grove concerts in the park, and our large Fourth of July fireworks display.
It's also a fun time to visit the Golden Gate Bridge, stroll around the Palace of Fine Arts, and hike to the top of Twin Peaks. Get more details on these and other top free activities this month in SF.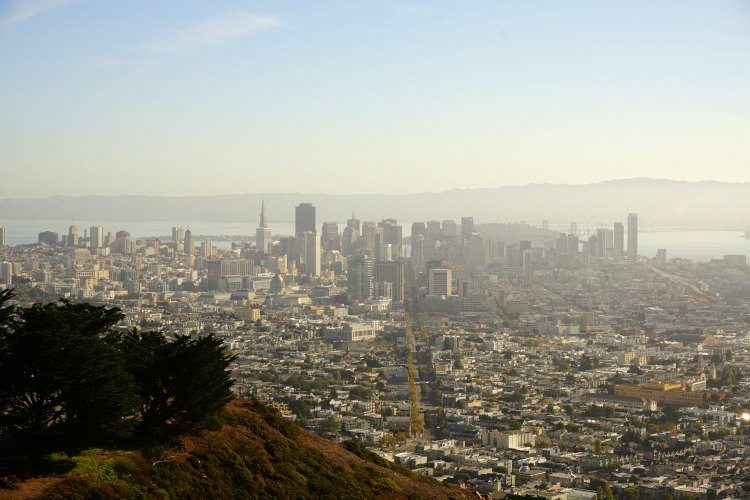 Disclaimer: I receive a small commission from some of the links on this page.

1. Fourth of July Fireworks

By far the largest of the free things to do in San Francisco in July is our free fireworks display over the SF bay on the Fourth of July.
Every year, this event draws in thousands from all around the world. The show is along the waterfront in Fisherman's Wharf and starts when it is dark on the evening of July 4th.
>> More details on watching this year's show
2. Fourth of July Activities Around Fisherman's Wharf

Before the fireworks show, make sure to spend some time in and around Fisherman's Wharf for the annual waterfront celebration.
You will find live music and family-friendly activities all day long. They will last until right before the fireworks. 
>> Tips for visiting Fisherman's Wharf
3. Visit SF's Top Museums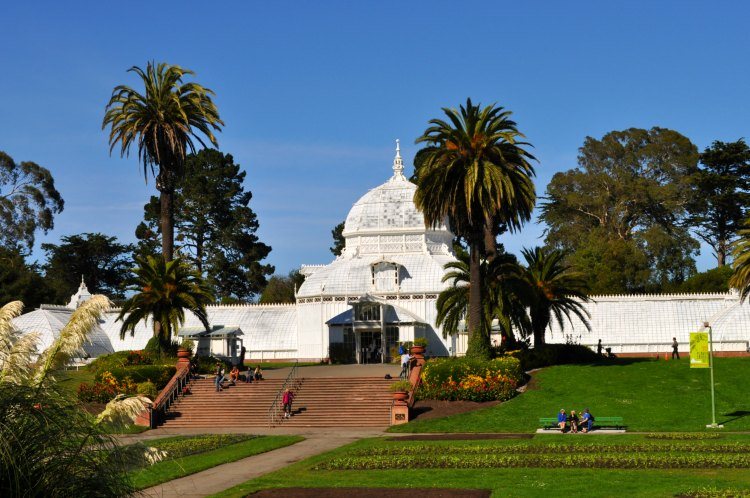 One of the most popular free things to do in San Francisco in July is to take advantage of our free museum admission days. Each month, several of our top museums allow the public to visit without having to pay admission.
Some of the top museums include the Conservatory of Flowers, the SF Botanical Gardens, and the Asian Art Museum.
>> Find this month's calendar of free days
4. Free Walking Tours of SF

Another one of my favorite free things to do in San Francisco in July is our free walking tours. They are given every day by SF City Guides. This non-profit organization will tell you all about our top districts and attractions.
The local guides are knowledgeable and will take you on tours of places such as the Japanese Tea Garden, the Golden Gate Bridge, and the Haight Asbury district.
>> Get more information on participating in one of these free tours
5. Fillmore Jazz Festival 2023
One of the largest jazz festivals on the west coast is the Fillmore Jazz Festival. This free event is always the first weekend in July. You will find it on Fillmore Street in SF's Pacific Heights district.
On Saturday and Sunday, you can enjoy live music, visit arts & crafts booths, and purchase local gourmet goodies.
>> Details on this year's Fillmore Jazz Festival
>> More top festivals this month in SF
6. Ghirardelli Square

A pleasant place to visit along San Francisco's waterfront is the historic Ghirardelli Square, founded by an Italian chocolatier in the late 1800s. This was once the factory of the US's oldest continuously operating chocolate company.
Oftentimes, visitors are surprised by the city's cold, foggy climate in July (this is our version of summer!) but you can easily warm up with a chocolate treat and specialty coffee drink at one of the boutique shops or cafes here. 
There is also a free walking tour that meets at the plaza's mermaid fountain and takes you to Fisherman's Wharf and Musee Mecanique.
>> More tips for visiting Ghirardelli Square
7. LaborFest

LaborFest is an annual event in SF that hosts dozens of activities, talks, workshops, and film screenings that address labor struggles in the US.
The free event was founded to commemorate the San Francisco General Strike in 1934, in which workers were killed. Today, this type of community gathering seems more relevant than ever, in light of pandemic-induced stress on the job market, recent social strife, questions regarding big tech companies, and more.
This event lasts all month long with several activities each week at venues all around SF.
8. Fire Department Museum

For history buffs, one of the more unusual free things to do in San Francisco is to visit the SF Fire Department Museum. There, you'll find ancient fire engines, artifacts from the 1906 earthquake and fire, and more memorabilia. 
You'll find this small, unique museum in the Pacific Heights district. Just check their schedule before you go, as it's run by volunteers and not open every day.
>> More tips to visit the Fire Department Museum
9. Stern Grove Concert Series

Every Sunday at 2 pm in July, you are invited to another one of the top free things to do in San Francisco in July. The Stern Grove Concert Series offers free concerts in the park.
They feature music from top local and international acts such as Kool & The Gang, the SF Symphony, and others. Make sure to arrive early to grab your space on the grass.
>> Stern Grove calendar for this year
10. Alamo Square & the Painted Ladies

I'm sure you've seen the photos of the six identical Victorian houses with the amazing view of downtown San Francisco behind them. These houses are called the Painted Ladies of Alamo Square.
While they don't offer tours (they are all private houses), you can visit Alamo Square for a picture-perfect view of these beauties. You can visit them all day, every day in July (and throughout the year).
>> What to expect when visiting the Painted Ladies
11. Golden Gate Bridge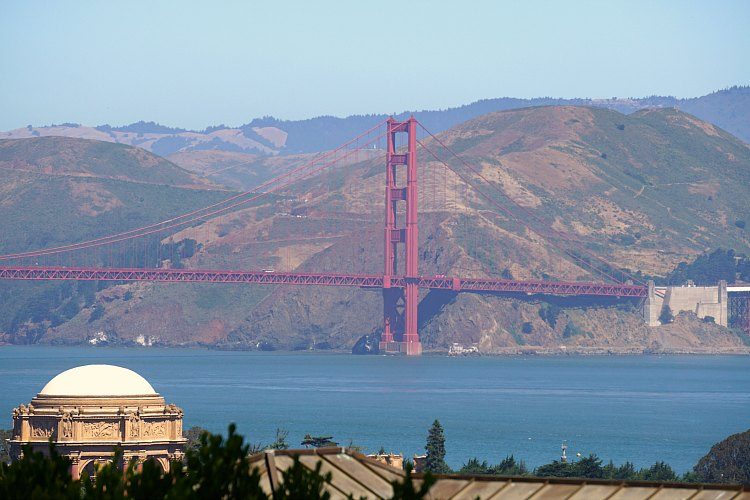 One of the must see free things to do in San Francisco in July is the world famous Golden Gate Bridge. This beautiful structure opens its walkways every morning to visitors.
You can stroll along the walkway for a short distance or walk all the way to the end (1.7 miles). Make sure to also stop by their little outdoor museum to learn more about this gorgeous bridge.
>> Additional visiting tips for the Golden Gate Bridge
>> Tips for walking across the bridge
12. Lombard Street

Another local free attraction that I'm sure you've seen in pictures is Lombard Street. It's one of the most crooked streets in the world and is an amazing place to see.
In July, the flowers all along this one-block attraction are in bloom and it's absolutely gorgeous. I recommend arriving in the morning when the sun is in the best position to offer the perfect light for photos.
>> Pics of and tips to visit this top attraction
13. Mission Street Murals

Did you know that SF is home to almost 1,000 murals? The largest number of them are concentrated in the Mission District. Here you will find a variety of colorful murals with themes such as religion, politics, and more.
You can't go wrong as you walk around this eclectic district in search of its beautiful street art.
>> Where to find some of the best murals in the Mission
14. Palace of Fine Arts

Another one of the free things to do in San Francisco in July is the Palace of Fine Arts. You can't miss the beautiful domed structure that sits about a block from the waterfront in the Marina District.
It was built for the 1915 Panama Pacific Exposition and is a historic gem. It's best to visit it on the day you plan to visit the Golden Gate Bridge.
>> Pictures of what it looks like and tips to visit
15. Golden Gate Fortune Cookie Company

Have you ever seen how fortune cookies are made? If not, then this is your chance. This little factory is located in a small alley in Chinatown. They welcome visitors to step inside for a peek at their production.
It's free to enter, but they do request $1 if you want to take a picture.
>> More about visiting this factory in Chinatown
16. Twin Peaks

If you are looking to get your heart pumping or want some of the best views of downtown San Francisco, then make sure to visit Twin Peaks. You can get here on foot by climbing its steep trails or drive to the top.
From high up on Twin Peaks, you can see downtown SF, the Golden Gate Bridge, and the Pacific Ocean.
17. Mosaic Stairs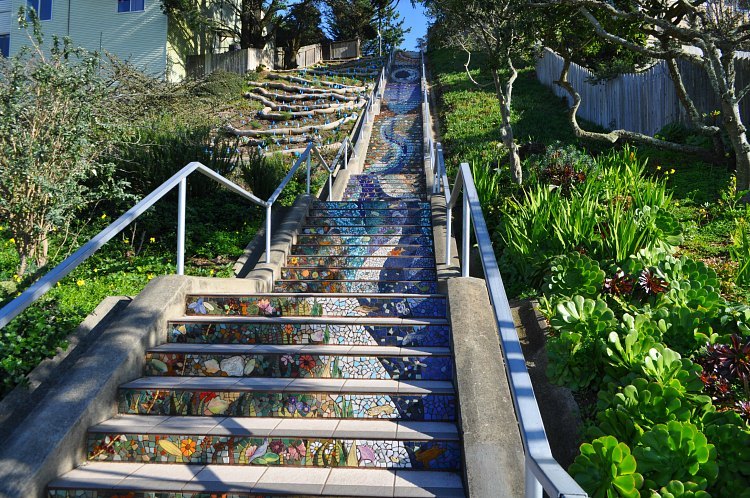 Did you know that SF has several gorgeous sets of mosaic stairs? I'm sure you've seen pictures of those at 16th and Moraga. However, there are a few others that are also a treat to visit.
Don't miss out on the chance to visit these beautiful, handcrafted creations.
>> Where to find out mosaic stairs and other fun staircases around SF
18. Diego Rivera Frescos

As you can probably tell, we love our art here in San Francisco. One of my absolute favorite free things to do in San Francisco in July is to take a close look at the three historic Diego Rivera frescos.
He visited our city many times and was commissioned to create three large pieces that are still on display today. All three are free to visit, but many have specific hours that you can see them.
>> Where to find the 3 SF Diego Rivera frescos
19. 3 Innings of SF Giants Baseball

One of the unique free things to do in San Francisco in July is to see three free innings of SF Giants baseball. In the outfield area of the stadium, there is a small viewing area where you can stand and watch the game.
It's a popular activity and managed closely by the Giants, so make sure to arrive early for your chance to see part of the game. Those managing the crowds will switch viewers at the end of the third and the sixth innings.
This gives plenty of people a chance to see the action.
>> SF Giants July schedule and tips for seeing part of the game for free
Hotel Savings

Get great deals on your hotel rooms in San Francisco. Click the links below for more information.

Booking: Find great deals all around San Francisco for your upcoming stay! 

TripAdvisor: What's the #1 hotel in San Francisco? Read reviews & find hotel deals on TripAdvisor!
VRBO: In addition to hotels, you'll also find some great places to stay locally through VRBO. Book an apartment or a room and feel more like a local. Find some great places to stay on VRBO here. 
20. Stow Lake: Free Things to Do in San Francisco in July

Walk, run or boat around this man-made lake in Golden Gate Park. In July, Stow Lake is a fun place to spend a few hours or an entire day. You can see the entire area including the attractions on its island at no cost.
You can also rent a boat to cruise around the lake. In the summer, their small snack stand is also open.
>> What you will see at Stow Lake
21. Japanese Tea Garden

Most of the time, there is a cost to visit the Japanese Tea Garden in Golden Gate Park. However, if you enter between 9am and 10am on Monday, Wednesday or Friday, you can visit for free.
It's a fun place to walk around, admire the colorful structures, and see what a true Japanese garden looks like.
>> More of what you will see when you visit
22. Rincon Murals

If you love history and art, then stop by the Rincon Murals in SF's South of Market District. These murals are inside an old post office and tell the story of the history of SF and California.
They were controversial when originally painted but are now loved by everyone.
One of the most fascinating things to me about them is that the artist selected to complete the murals had never visited the area first, but his murals won the contest at the time.
>> More about the history and pictures of these interesting pieces
23. Cable Car Museum

If you've heard all about SF's cable cars yet want to learn more, make sure to stop by this dedicated museum. Inside, you will learn about the cable car history of SF, why they were installed, and what happened to many of the lines after the 1906 Earthquake and Fire.
You will also get to see the actual cables in action as they pull the cars all around town.
>> More about visiting this museum
24. Octagon House

Another unique San Francisco attraction is the Octagon House. This historic house was built in the 1800s and is one of only a few still standing in SF. This one is now a museum and you can walk inside to take a look.
In addition to checking out the house, you can also visit their museum.
The first-floor features items such as antique furniture and china. The second floor has a variety of items on display including a document with signatures of most of the men that signed the Declaration of Independence.
>> More about what you will see when visiting
25. City Hall

One of the free things to do in San Francisco in July is a visit to SF's gorgeous City Hall. Your visit will start outside with a view of its bright gold dome.
You are then welcome to step inside. Make sure to spend time checking out the marble staircase and the small museum (just to the left of the staircase).
You are also free to wander around City Hall as you like. It's still a working City Hall, so make sure to be respectful during your stop.
>> More of what you will see inside plus a history of the building
More Top Things to See & Do in San Francisco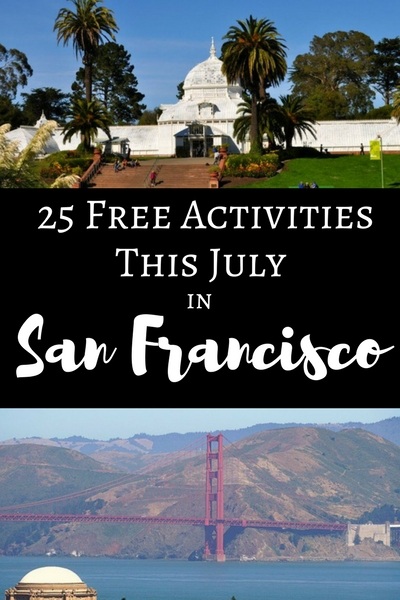 Comments? Questions? Suggestions?
I would love for you to join me in my private Facebook group! 
It's a great place to interact with me and others who know the area well.
You can ask questions, get advice for your upcoming stay, and then share your photos and advice with others when you return home. It's a great community and the fastest way to get answers to those nagging questions about your visit!