Free Things to Do in San Francisco in January: 25 Events, Museums, & Other Top Activities

by Jill Loeffler  •

Updated: September 4, 2023
Free things to do in San Francisco in January include a visit to the Botanical Gardens, a reading at City Lights Bookstore, and a walk through the murals in Coit Tower. Other highlights include our free museum admission days, the MLK March & Festival, and walking tours.

Read on for my list of the top things to do this month that won't break your bank.

Disclaimer: I receive a small commission from some of the links on this page.

1. Martin Luther King, Jr. March and Festival

The MLK holiday, commemorating the life and accomplishments of civil rights leader Dr. Martin Luther King Jr. is always celebrated in January. Each year the weekend is full of interesting talks and events and the parade is always a highlight since much of the community comes out and shows their love for Dr. King.
You can watch the parade/march along the 1.5-mile route from Oracle Park starting at 11am. It ends at Yerba Buena Gardens, where it will be followed by a free music, poetry, and wellness festival.
Some of the top free things to do in San Francisco in January at this event include a lecture series, the Black Comix Arts Festival, and the Liberation Film Festival.
>> Additional details on this year's event
2. Hike to San Francisco's Highest Peak

Though seldom talked about, Mt. Davidson in the southwestern part of the city is actually the tallest natural point in San Francisco, standing at 928 feet above sea level.
It's marked by a towering 103-foot concrete cross. While you can't access the cross itself, which is surrounded by forest, a hike up the mountain will lead you to a lookout point with stunning views of downtown, Twin Peaks, and more. 
There are multiple trails and entrances to this 40-acre park, some with wooden or stone steps to help your ascent. This is a great place for nature lovers to come without leaving the city, as the diverse vegetation found here hosts dozens of species of local and migrating birds and insects. 
>> Get more details and tips for making the hike
>> More great peaks and hills to check out in SF
3. Free Museum Admission Days

This month in SF, you can visit several top arts and science museums for free! On designated free admission days, head over to Golden Gate Park to check out the Conservatory of Flowers, the de Young Museum of Fine Arts, and the Botanical Gardens.
In addition, the Contemporary Jewish Museum, Legion of Honor, Museum of Craft & Design, and Exploratorium all have usually have free days in January. Click the link below to see the exact schedule.
>> January free museum days in SF
4. Free Walking Tours

One of the best free things to do in San Francisco in January is to join the interesting and informative walking tours offered by the SF Public Library. Every day of the week, you'll find a variety of options offered. All you have to do is show up at the meeting place at the scheduled time!
Get to know the landmarks, culture, and flavors of neighborhoods like North Beach, Chinatown, or Fisherman's Wharf. Or, explore a theme like "Gold Rush City," "Art Deco Marina," or "City Scapes and Public Spaces." I often give a tip, but you don't have to if you don't want to.
>> Additional info on this month's tours
5. Book Readings at City Lights

The City Lights Bookstore in North Beach is a local favorite with a fabulous selection of literature and is open every day from 10am to midnight. Every week, they host great free events, including readings, discussions, and releases of new books by the authors.
Some of the famous writers include San Francisco locals such as Lawrence Ferlinghetti or Ellen Ullman. Other writers, such as Daniel Alarcon or Amy and David Sedaris may be making appearances. Make sure to check their website to see who will be presenting and what discussions you can attend.
>> Visit the City Lights website for a list of upcoming dates
6. Cable Car Museum

Learn all about San Francisco's signature cable cars at the free Cable Car Museum, which is also the site from where the three cable car routes throughout the city.
You'll see live cables, running on giant spinning wheels, doing the behind-the-scenes work which keep the cars going along the tracks of SF's famous hills. In addition, you'll find a variety of cool artifacts, including retired historic cars, old photos, and cable car paraphernalia.
7. Performances at Pier 39

You can enjoy free live entertainment for the whole family at the stage next to the carousel at Pier 39 every single day. The shows are presented between noon and 9 pm by San Francisco's world-famous street performers.
You'll see comedians, magicians, jugglers, acrobats, funny waiters, sword swallowers, and more! In addition, there is free live music every day at the Entrance Plaza.
8. Alamo Square Painted Ladies

Another one of the best free things to do in San Francisco in January is to enjoy the gorgeous view from Alamo Square Park. This is the place to hang out if you are looking for a relaxing afternoon picnic and great photo ops.
The Painted Ladies are the pastel-colored Victorian homes lined up across from the park with the city skyline in the background. You'll recognize this image from postcards and maybe from the TV show Full House.
>> Details on how to see these historic gems
9. Coit Tower Murals

Coit Tower is another one of SF's famous landmarks and one of my favorite free things to do in San Francisco in January. It sits atop Telegraph Hill overlooking the bay.
Many visitors come here and then pay a small fee to go up the observation tower, but you can actually enter the main floor for free to view the stunning murals.
The historic murals inside Coit Tower were commissioned by the US Government's Public Works Art Project to depict the stories and lives of Californians in the early 20th century.
They are controversial because they pay homage to the painting style of Diego Rivera, a famous Mexican communist who also produced great works in San Francisco (which you can learn more about as they are #24 in this list).
10. Fort Point National Historic Site

For history buffs, Fort Point National Historic Site is a must-see free attraction. Thousands of tourists pass by it every day without even realizing it, as it sits just below the south end of the Golden Gate Bridge.
Here you'll find a US Army building dating back to 1861. You can wander around the building and courtyard yourself or take a free guided tour. The rangers sometimes show visitors demonstrations of the cannons.
On Saturday nights this month until February, you can join a special candlelight tour (by reservation only).
>> Info on visiting Fort Point
11. Golden Gate Bridge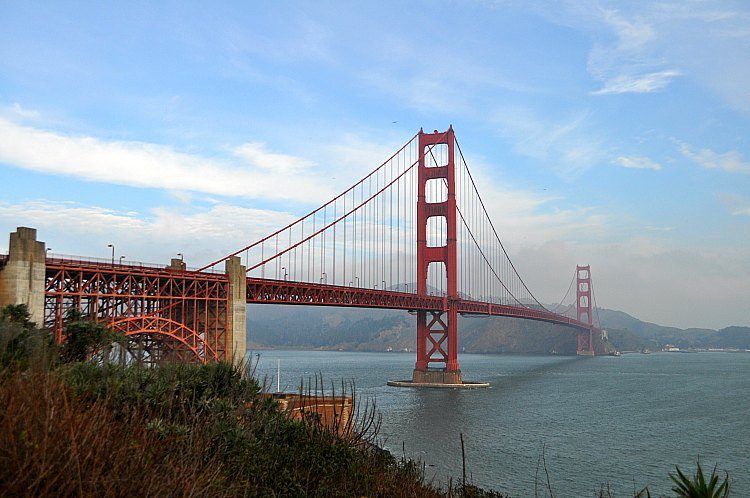 Perhaps the city's most well-known attraction, the Golden Gate Bridge is open every day and visiting it is one of the most popular free things to do in San Francisco in January.
Most people don't realize this, but January is a lovely time to take photos at the vista points or walk across the Golden Gate. The reason for this is the weather at this time of year is not as foggy as the summer months, so you can observe the towering "international orange" painted masterpiece clearly.
12. Maritime Museum

Among the many things to do in San Francisco's Fisherman's Wharf neighborhood, you can learn more about the waterfront's history at the free Maritime Museum. Here, you can admire the WPA murals and enjoy the interactive exhibits that educate the public about the region's naval legacy, original populations, and wildlife.
There are two parts to this museum: the historic Bathhouse (a white building designed to look like an ocean liner), and the Visitor's Center on the ground floor of the Argonaut Hotel. 

>> More details about this museum

13. Lombard Street

There's a stretch of SF's Lombard Street that appears on lots of postcards and it is also a very popular free attraction for tourists. This is the segment between Hyde and Leavenworth Streets, where the incline is so steep that the road zigzags back and forth eight times in just that one block.
This picturesque crooked street is one of the best free things to do in San Francisco in January as its a slower time when you can enjoy its brick-lined road with gardens woven throughout.
You can walk down along the sides while watching the cars traverse downhill, and snap great photos from down below. I recommend going early to get the best photos.
>> Tips to see our crooked street
14. Fire Department Museum

The SF Fire Department Museum is one of the city's hidden gems, tucked in the Pacific Heights neighborhood next door to a working fire station. This is a treat for people interested in San Francisco history.
Inside this small free museum, you'll find a historic fire truck and hose dating back to the 19th century, as well as lots of great old photos and other memorabilia. You'll also see artifacts from the devastating 1906 earthquake and fire.
>> What you will see when you visit
15. Historic Walking Tour of Japantown

The country's oldest Japanese community deserves a thorough walk-through to better understand its historical significance and how it came to be.
SF Japantown has done an excellent job of outlining a self-guided walking tour that starts at the Japan Center Malls and leads to you the next historical marker, which will lead you to the next and so on. At each location, you'll find out what happened there and when.
As you explore the district, you'll pass by many Japanese shops and restaurants, the kabuki theater, and other features like the five-story Peace Pagoda. Depending on when you go, there may also be a cultural event happening.
>> Discover more about this and other self-guided walks
16. Octagon House

Have you ever seen or been inside a perfectly octagonal house? Back in 1861, when this now SF Historical Landmark and Museum was built, this architectural style was popular for the great airflow and light it allowed throughout the house.
Now when you visit, you not only get to admire the house itself, but the historical artifacts inside, including period furniture, china, paintings, and important documents. Head over to the Marina District to enjoy this little gem.
>> See this historic house in the Marina District
17. Pier 24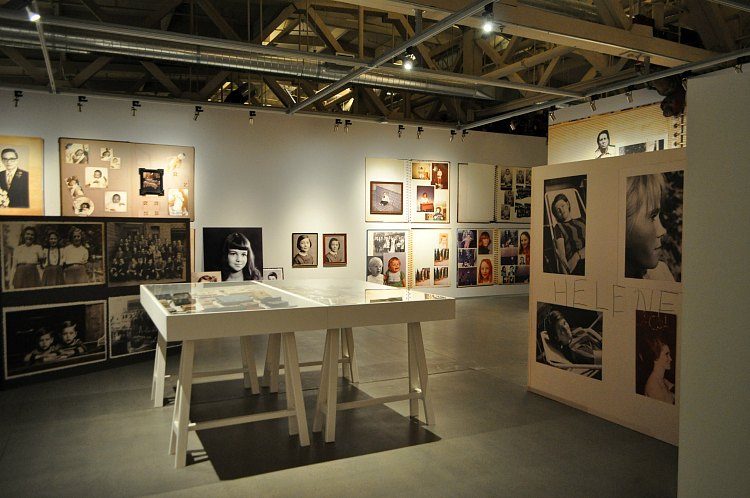 If you were to just walk by Pier 24 near the Bay Bridge, you would see the same arched doorway as all the other piers. But now that you know there's actually a sizeable free photography museum behind that facade, you'll want to make your reservation and visit this little-known museum.
Inside, you'll get a map of the 20 photography galleries and information about all the work on display, which spans from the early 1900s to the present day.
>> Details on booking an appointment
18. Randall Museum

S.F.'s Randall Museum is a wonderful arts and science resource for creative kids and their families. The exhibits encourage us to discover, interact with, and appreciate the natural world around us.
Officially part of the SF Recreation and Parks Department, this facility combines the best aspects of a museum, workshop, science lab, theater, and garden to provide a safe learning environment that is fun to explore. They even have a live animals exhibit.
>> Head to their site for visiting tips
19. Golden Gate Fortune Cookie Company

You've just had a traditional Chinese meal at a local restaurant, and you topped it off by snapping open your fortune cookie and pulling out the message about your future. Did you know that, just steps away, you can see how these fun treats are made?
While in Chinatown absorbing all the colorful sights, tastes, and sounds, wander into the Golden Gate Fortune Cookie Factory for a few minutes to see for yourself how those iconic treats are produced and try one if you want.
>> Where to find this Chinatown attraction
Where to Stay in San Francisco: Deals!

If you plan to stay for a night or two as you enjoy these free things to do in San Francisco in January, you will find plenty of great deals this time of year. Discover discounts on hotels in Fisherman's Wharf, Union Square and all-around town. Click the links below for details.

Booking: Find great deals all around San Francisco for your upcoming stay! 

TripAdvisor: What's the #1 hotel in San Francisco? Read reviews & find hotel deals on TripAdvisor!
VRBO: In addition to hotels, you'll also find some great places to stay locally through VRBO. Book an apartment or a room and feel more like a local. Find some great places to stay on VRBO here. 
20. Musée Mécanique

No matter how old you are, one of the top free things to do in San Francisco in January is visiting the Musée Mécanique, a collection of over 300 antique arcade games that date back to the 1920s.
Folks who remember these classic machines will get a blast of nostalgia, while kids will also get a kick out of seeing how these vintage games worked before the digital age. You'll find penny machines, fortune tellers, pinball, player pianos, and more. One of the favorites is Laughing Sal from San Francisco's famous Playland at the Beach.
Now located at Fisherman's Wharf, the museum is a fun place to pop into and walk around for free. If you want to try out the machines yourself, most of them cost just a quarter. 
21. Bakers at Boudin Bakery

The fresh, tasty, artfully baked sourdough bread is what makes the Boudin Bakery in Fisherman's Wharf a popular tourist destination. You can actually look right in a huge window as bakers create their famous loaves shaped like turtles, lobsters, crocodiles, and more.
Boudin Bakery is a fun place to visit and observe for free. But you're probably going to want to buy and eat those delicious creations, perhaps in the classic form of a soup bowl with a little bit of famous SF clam chowder? That won't be free, but it will be worth it.
>> Where to find the bakers and sample their tasty treats
22. Twin Peaks

The second highest point in San Francisco, not surprisingly, offers some of the best views around. Either walk, drive, or take a bus up to the parking lot near the 922-foot summit, and then hike the rest of the way to the top to take in the whole SF Bay.
In addition to fantastic photos and a breeze through your hair, you'll also get to see plenty of natural beauty as you stroll through the home of the endangered Mission Blue Butterfly, where a great variety of birds, rabbits, and coyotes also live. Don't worry about the coyotes, they won't come near humans.
>> How to get here and what to see when you arrive
23. 16th Avenue Steps & Other Mosaic Staircases

We in San Francisco love artwork in public spaces, and sometimes that comes in the form of mosaic staircases. Seen from afar, the colorful tiles carefully placed on each step come together to form popping images of gardens and sea life.
When you get closer and walk up each step, you have the opportunity to appreciate the detail in the art, and also get a little exercise! If you like exploring urban beauty, this is one of the best free things to do in San Francisco in January.
>> Tips to visit the 16th Avenue steps
>> Tips to find all of SF's colorful mosaic staircases
24. Diego Rivera Murals

You may know the name Diego Rivera as the husband of painter Freida Kahlo, or a controversial Mexican communist muralist. But did you know that San Francisco is home to some of his best works?
Luckily for us, there are three large, vibrant frescos on display in three different, completely free public spaces so we can continue admiring his dedicated work decades later. Visit them at the City Club, the SF Art Institute, and City College.
>> Info to visit all three of his SF frescos
25. City Hall

Last but not least, San Francisco City Hall is free to visit and not only interesting politically, but full of architectural beauty. There is so much to admire about this building, from its enormous staircase under the rotunda to its impressive Roman columns and the towering golden dome.
City Hall boasts the tallest dome in the country, counting that of the Capitol Building. Wander inside this inspiring place where SF history is constantly in the making and where many couples choose to get married.
>> Pics of this lovely attraction and tips to see it
I hope you enjoy this list of the 25 best free things to do in San Francisco in January!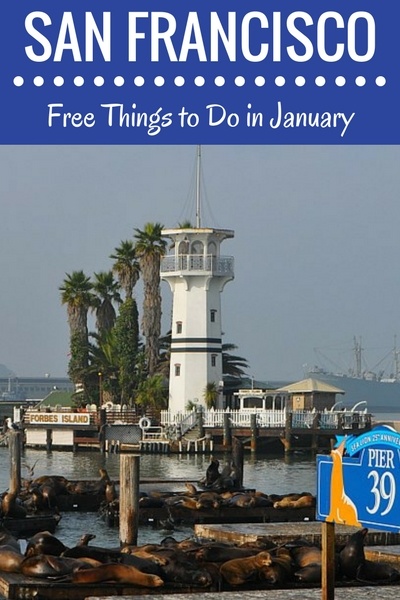 Comments? Questions? Suggestions?
I would love for you to join me in my private Facebook group! 
It's a great place to interact with me and others who know the area well.
You can ask questions, get advice for your upcoming stay, and then share your photos and advice with others when you return home. It's a great community and the fastest way to get answers to those nagging questions about your visit!