Free Things to Do in San Francisco in December: Holiday Parties, Christmas Lights, Festivals, & More
The 25 top free things to do in San Francisco in December include a variety of holiday and Christmas events, parties and tree lighting ceremonies. You can also visit some of our top museums and attractions all month long for free.

Highlights include seeing City Hall lit up in the red and green Christmas colors and brightly lit trees in both Pier 39 and Union Square. Other top options include the Randall Museum, the Golden Gate Bridge, and Lombard Street.
Read on for the best ideas to stay within budget during your stay.
Disclaimer: I receive a small commission from some of the links on this page.

1. Free Museum Admission Days

Toward the beginning of the month, you will find several museums opening their doors to the public for free. These include the Asian Art Museum, the de Young, and the Legion of Honor.
In addition, you will find a few others that offer free admission days throughout the month of December. The Botanic Gardens has a couple of free days this month and it's a great time to visit. If you plan out your visit, you can most likely see more than one.
>> Find the December calendar here
2. SantaCon
Break out your Santa gear and head to Union Square for the annual SantaCon event. Founded in SF, this event brings santas of all ages together to spread holiday cheer.

It begins with a gathering in Union Square where local organizations gather toys to distribute to children in need. The group then separates and begins an all-day long bar crawl in different districts around town. It's fun, but can get a little crazy, so don't forget your camera!
3. Christmas Lights at City Hall

Our gorgeous City Hall shines bright every night, but it's even more beautiful in December. This is when they turn on the red and green lights for the holidays. It's a quick stop to see it and worth the trip.
The lights turn on around sunset and stay on throughout the night, so you'll have a lot of time to see its beauty and enjoy the holidays.
>> Additional places to enjoy Christmas lights around SF
4. Bill Graham Menorah Lighting

Another one of the top free things to do in San Francisco in December is the Bill Graham Menorah Lighting ceremony. The menorah makes its home in Union Square every year and there are several celebrations throughout December.
Make sure to check the schedule for this year's key lighting dates.
>> More things to do in Union Square
5. Cable Car Museum

See these powerful cables in action as they pull our historic cable cars all around town at this dedicated cable car museum. The museum also houses the history of these popular attractions that travel through the streets of San Francisco.
You can learn about when the first cable cars were put into action, how many lines ran at the time, and the changes that occurred to the system after the 1906 Earthquake and Fire. In the downstairs area, you can also step inside a cable car to learn more about its inner workings.
>> Best ways to experience the SF cable cars
6. Free Walking Tours

Discover some of SF's top attractions and districts on these free walking tours. These free things to do in San Francisco in December are given daily by SF City Guides. You will find 5 or 6 each weekday with a few more on the weekends.
Each walk is around 2 hours long and they often cover a mile or two of distance. Outside of the stairway tours, they are usually an easy walk. The first tours start around 10am and the final tours typically start around 2pm.
>> Info on the top tours and a schedule of upcoming walks
7. Lighted Boat Parade

Head down to Fisherman's Wharf for the annual Lighted Boat Parade. This fun and free event is easy to see from the shores of The Wharf.
Dozens of local decorate their vessels to participate and take a lot of pride in doing their best every year. The parade starts around sunset and lasts for just under an hour.
8. New Year's Eve Fireworks

The city invites you to attend one of the largest events and free things to do in San Francisco this December. The NYE fireworks display near the Ferry Building always draws in a few hundred thousand people each year.
It's a gorgeous display that starts at 11:59 and brings you into the new year. Make sure to arrive early to get the best spot for the show.
>> Details on this year's display
>> More fun things to do in New Year's Eve
9. Parol Lantern Festival & Parade

Celebrate the Filipino-American community with this annual parade and festival in December. The event starts with the annual parol lantern making workshop. You can then show off your creations with the local community during their annual parade.
You can also just attend the parade to enjoy this fest and colorful event.
10. Presidio Tree Lighting

The first Friday of the month is when you can enjoy another one of the top community free things to do in San Francisco in December. This Presidio Tree Lighting ceremony is held at the Main Post.
This event starts at 5 pm and they will light the tree at 6 pm. 
They tree will be lit throughout the holiday season.
>> More things to do in the Presidio
11. Alamo Square Painted Ladies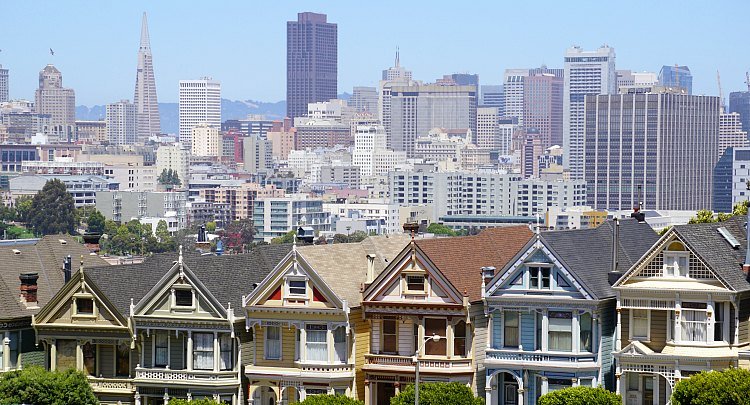 The Painted Ladies are historic Victorians built in the late 1800s that have been painted at least three or more colors, and the best place to see them is in the Alamo Square district. The most talked about ones include a group along Steiner Street called the "Seven Sisters."
Even those these are the most famous of the Victorians, they are not the only ones in the neighborhood. Use my guide to help you make the most out of your visit to the Seven Sisters and to find other colorful gems nearby.
>> Additional tips to visit and where to get the best photos
12. Rainbow World Tree of Hope Lighting at Grace Cathedral
Head over to Grace Cathedral this December for their annual Rainbow World Tree of Hope Lighting Ceremony. The festival includes live music from local artists such as the San Francisco Boys Choir and the Lesbian/Gay Chorus of SF. 
It's usually the first or second Monday in December.
>> Full list of tree lighting events and holiday parties this year
13. Gingerbread House at the Fairmont in Nob Hill

Step into the historic Fairmont Hotel on Nob Hill for a wonderful holiday treat. Every year, the set up a 2-story adobe Gingerbread house in their lobby.
It's usually open from Thanksgiving Weekend through the end of the year.
14. Golden Gate Bridge

As you could probably guess, one of our top attractions and one of the best free things to do in San Francisco in December is to visit the Golden Gate Bridge. The bridge towers high above the SF Bay and is a sight to see!
You can walk along its 1.7-mile eastern walkway, learn more about it in its outdoor museum, or grab come hot cocoa to warm up in their two eating establishments. If you do want to spend a few bucks, there is a nice souvenir shop there. Make sure to dress warm as it gets a bit chilly on the bridge this time of year.
>> Where to get the best pics of the bridge
15. Mission Street Murals

You will find colorful murals all around the Mission District. Even though you will find murals and street art all around town, this district has the largest collection.
Some feature religious scenes, some tell stories about the locals that live here, and others have a definite political nature. Exploring them is one of the best free things to do in San Francisco in December as there is a surprise around almost every corner.
16. Lombard Street

Lombard Street is another one of the best free things to do in San Francisco in December. It's our most famous crooked street (yes, we have more than one) with 8 hairpin turns.
The street itself is made of brick which makes the street even more interesting. You can walk or drive down. You can also jump on a Segway and try your hand at making it down without falling off!
Lombard Street is open to visitors 24-hours a day, 7-days a week. However, it gets really packed during the day, so I suggest getting there as early as possible.
>> How to get here and what to expect
>> More about taking a ride on a Segway
17. Historic Ferry Building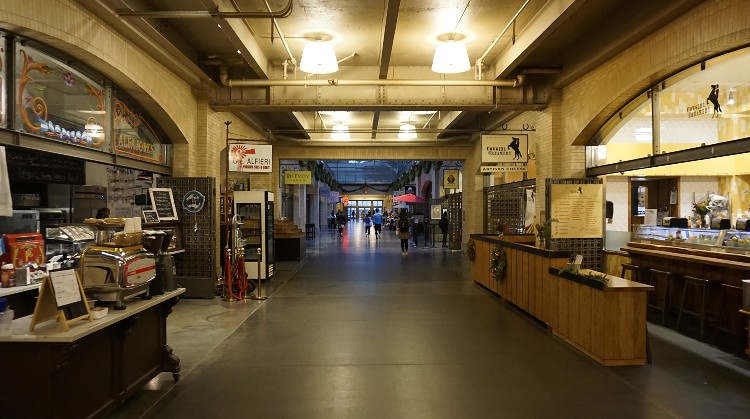 Along the Embarcadero of San Francisco's Financial District, the turn-of-the-century Ferry Building stands out as a haven for office workers breaking for lunch, bay commuters stopping for coffee, or tourists taking in the views of the towering Bay Bridge.
The structure was built in 1898, with a historic clocktower that withstood the 1906 earthquake. Inside its large, lofty corridor, you'll find rows of cafes, restaurants, and shops with artisan crafts and gourmet treats.
It's a lovely place to visit during the holidays, decked out with Christmas greens and brimming with local gifts. 

18. Palace of Fine Arts

Another one of the must-see free things to do in San Francisco in December is the Palace of Fine Arts. It's stunning rose dome can be seen from many locations around town and it's a fun place to explore.
It won't take too long to check out. You can walk under its famous dome, walk on the sidewalks that take you under parts of it and get some great photos from the other side of the pond. If you like to take some time to sit back and relax during your vacations, this is one of the best places to do it. Bring along a picnic lunch too as there is plenty of room to spread out on the lawn as you soak in the views of this amazing structure.
>> History of the building and pictures
19. Pier 39 Christmas Tree

Each night in December, the Pier 39 Christmas Tree sparkles with holiday joy. The tree is lit all month long and Pier 39 invites everyone to come and enjoy its magic.
You will find the tree at the entrance, but I find I get the best pictures from the second-floor walkways at Pier 39.
>> Additional things to do on Pier 39
Get a Great Deal on Your Hotel Stay

Booking: Find great deals all around San Francisco for your upcoming stay! 

TripAdvisor: What's the #1 hotel in San Francisco? Read reviews & find hotel deals on TripAdvisor!
VRBO: In addition to hotels, you'll also find some great places to stay locally through VRBO. Book an apartment or a room and feel more like a local. Find some great places to stay on VRBO here. 
20. Union Square Christmas Tree

Another one of the fun holiday free things to do in San Francisco in December is to admire the Christmas Tree in Union Square. The 83-foot-tall tree is lit Thanksgiving Weekend in November, but stays bright through the end of the year.
The best time to see it a few hours after sunset when its lights are sparkling bright against the dark SF sky.
21. Randall Museum

Grab the entire family and head over to the Randall Museum in Corona Heights Park. This gem features a small animal petting zoo with local animals that have been rescued. You can also spend time playing with the trains, learning about the ocean and more.
>> Additional kids museums in SF
22. Twin Peaks

Get the most spectacular view of the city from the top of Twin Peaks. It's not only one of the best free things to do in San Francisco in December, but it's also one of our most popular attractions.
There are several ways to get to the top. You can hike up, take a bus part way and then walk the rest of the way, or drive to the top. Once you are there, you can see everything including the Golden Gate Bridge, Alcatraz, and even as far as Oakland and beyond.
It's definitely one of the best spots for Instagram pictures. Weather can be tough to gauge so make sure to layer your clothes to stay warm.
>> Tips to visit, tour options and pics from my most recent visit
23. Diego Rivera Frescos

One of my favorite free things to do in San Francisco in December is to take a close look at our three Diego Rivera frescos. All three were created by this politically controversial artist in the 1930s and 40s.
They are open to the public, but are indoors, so make sure to check the hours before you arrive. I could spend all day admiring his work and, if you love art or history, I'm sure you will enjoy them too!
>> Where to find all three and tips to enjoy them
24. Japanese Tea Gardens

Most of the time, you have to pay to visit #24 on my list of the top free things to do in San Francisco in December. But...I have a secret for you. You can visit this gem for free only if you enter during the first hour it opens on Monday, Wednesday, and Friday.
Even if you don't make it to the free entrance times, it's not too pricey to visit, but free is always better! Inside, you will find several different gardens, historic Japanese structures, and plenty of plants and flowers to keep your camera busy. You can stay until closing even though you didn't have to pay to enter.
>> Pictures of the garden and tips to visit
25. Chinese Temples

The final item on my list of the 25 best free things to do in San Francisco in December is our Chinese temples. You will find them all over Chinatown, but I've created a list of the three best ones to see.
Two of them have the most amazing ancient pieces inside. The final one is a more modern temple that is full of bright yellow, orange, and pink decorations.
When you visit, don't forget it's a place for locals to pray, so please be respectful of those that are there for religious devotion.
>> How to find them and visiting tips
>> More things to do in San Francisco's Chinatown district
Comments? Questions? Suggestions?
I would love for you to join me in my private Facebook group! 
It's a great place to interact with me and others who know the area well.
You can ask questions, get advice for your upcoming stay, and then share your photos and advice with others when you return home. It's a great community and the fastest way to get answers to those nagging questions about your visit!