Youth Hostels in San Francisco: Six Top Hostels in SF
The best youth hostels in San Francisco are centrally located in the city. Many have both shared and private accommodations.

I love the hostel experience because you can quickly meet other travelers and share stories. You can also save quite a bit of money on your lodging.
Below are the six best hostels in San Francisco. I've chosen them based on location, overall cleanliness, atmosphere, and recent guest reviews.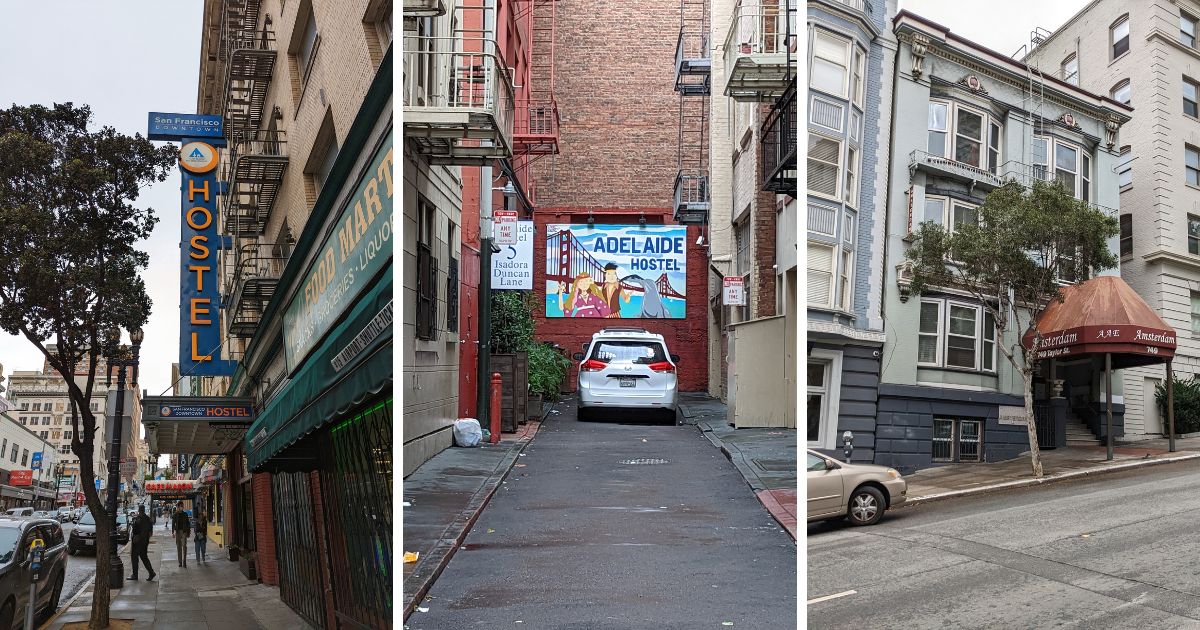 Disclaimer: I receive a small commission from some of the links on this page.

1. Pacific Tradewinds Hostel

Address: 680 Sacramento Street
Price Per Night: Ranges from $57 - $119
This true backpackers hostel is one of the best in the city. It is in the heart of downtown and close to Union Square, North Beach, and Fisherman's Wharf. It's a small hostel where the staff and guests can easily mingle and get to know each other. If you don't want to share with others, they have a "Micro-Private Double" for you and a friend.
Here are just some of the amenities at this home-away-from-home hostel:
24-hour hot showers
Credit cards accepted
Self-catering facilities
Free WiFi
Luggage room
Linens and towels included
They want to reward "gifting" and pass it on to others. Sometimes this includes being super friendly, caring about the environment, or other reasons. So, if you are lucky, you might just get a free stay, depending on the circumstances.
>> Find a fun place to stay at the Pacific Tradewinds Hostel
2. Green Tortoise Hostel - San Francisco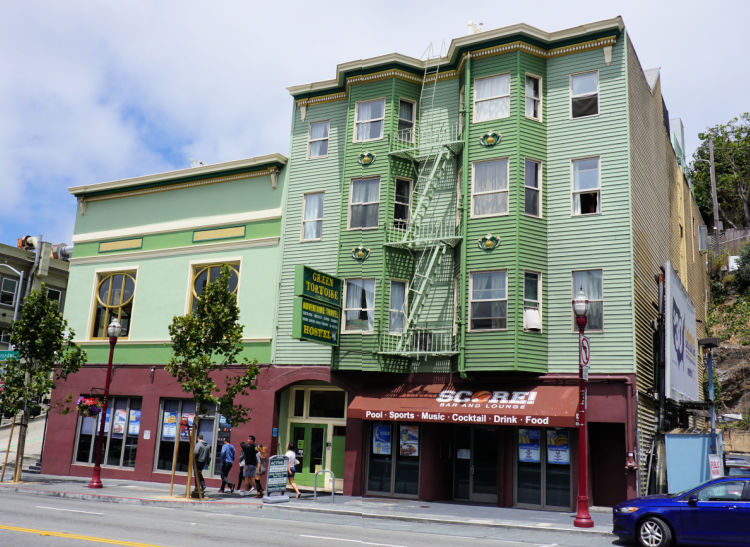 Address: 494 Broadway Street
Price Per Night: Between $51 - $183
The Green Tortoise Hostel in North Beach is number two on the list. This is another one of the youth hostels in San Francisco that offers mixed and female-only dorm rooms. There are also a few private rooms available with a shared bath.
You are in the heart of the action and just steps from many of SF's main attractions. You can walk to Chinatown, Union Square, and Fisherman's Wharf. You are also close to many great restaurants and bars in North Beach.
Here are just a few of the amenities at the Green Tortoise Hostel:
Breakfast included
Free dinner 3 times a week
Free high speed internet
Laundry service
Linens included
Towels available
Security lockers & luggage storage
No curfew or lockout
Credit cards accepted
3. Samesun San Francisco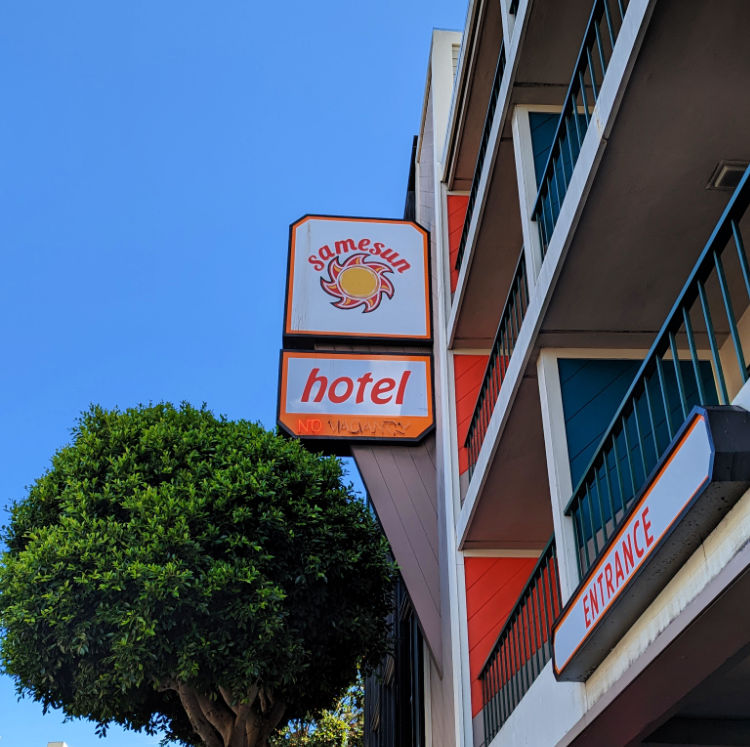 Address: 1475 Lombard Street
Price Per Night: From $47 to $179
Just a short walk to the always bustling Fisherman's Wharf, the Samesun hostel is about as perfectly located as any place you could hope for in the city. They have shared rooms, with up to 6 people, or you could do private suites. The private suites also have private bathrooms so you won't have to share with anyone else. Many of the rooms even have balconies!
One of the reasons I love this hostel is that it is also just blocks away from the curvy part of Lombard Street where you can get great photos and views of the city.
The hostel also has an elevator, free parking, free internet and key card access. Samesun has really figured out how to make your stay as easy as possible and this hostel is specifically known for the incredibly friendly staff and cleanliness.
Here is a list of a few more amenities for your stay here:
Free WiFi
Free Parking
Key Card Access
Air Conditioning
Security Lockers
Luggage Storage
24-hour Security
Wheel-chair Friendly
>> Find out all you need to know about the Samesun Hostel and book your rooms here
4. Music City Hotel - Home of SF Music Hall of Fame

Address: 1353 Bush Street
Price Per Night: From $36 - $287
The San Francisco City Center Hostel is another of the top youth hostels in San Francisco. You'll find this fun, funky hostel in the Lower Nob Hill District, a rough-around-the-edges neighborhood that is centrally located and just steps from public transportation.
Since this hostel is based around the Music Hall of Fame, each room is decorated with a beloved San Francisco musician's style. These include Janis Joplin, The Grateful Dead, and Metallica, among others.
Here are just a few of the top amenities offered:
Free WiFi
Mini-fridge in each room
Free breakfast
Musical instruments are free to loan
Shared and private bathrooms depending on your selection
Fully equipped kitchen
Keycard security
Shampoo, conditioner, soap and towels provided
>> Find a room and rock on at the Music City Motel
5. Adelaide Hostel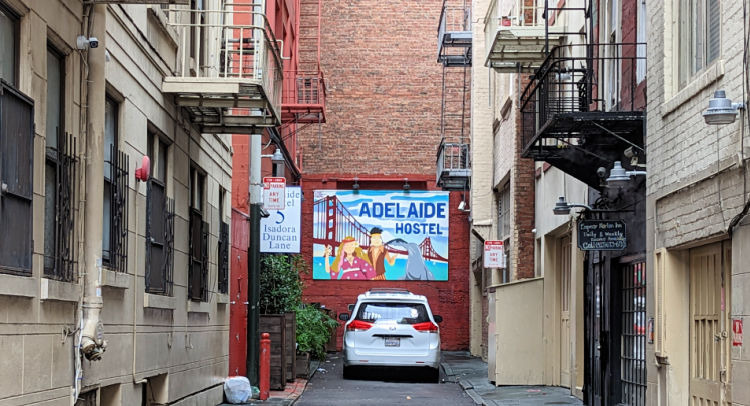 Address: 5 Isadora Duncan Lane
Price Per Night: From $44 - 194
Located just off of Union Square, you will love going down this little lane and finding this magical hostel at the end of it. The offer a large amount of rooms, including dorms with curtains for privacy, female-only rooms, and private rooms for up to four people. The private rooms all come with bathrooms attached to them.
Some of the benefits of staying here include bike rentals so you can cruise around the city on two wheels. And, since the location is so central, it you don't feel like walking around, they are a perfect mode of transportation.
It was voted one of the best hostels in SF for 2021, so you can be sure you'll be staying in a hostel that is clean and where the staff is fantastic.
Some of the amenities here include:
Free Breakfast
Free WiFi
Free Luggage Storage
Privacy Curtains and power for electronics for all beds
No Curfew
Child Friendly
Reception is open 24-hours
>> Find out more information and everything about booking a room here
6. Hostelling International - San Francisco/Downtown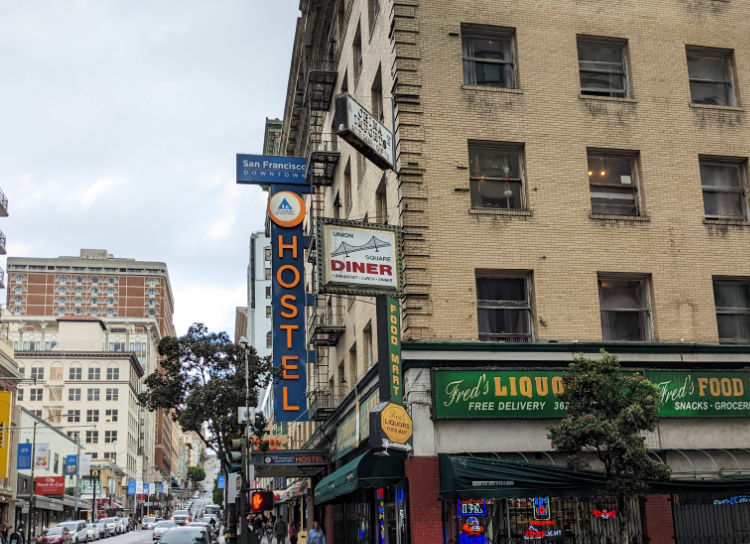 Address: 312 Mason Street
Price Per Night: From $59 - $429
Hostelling International - San Francisco/Downtown is just steps from Union Square. They offer male- and female-only dorms as well as private rooms. You can also book a triple or double private room with a shared bath. They even have a private six-bedroom with a private bathroom.
This hostel was completely renovated in 2008/2009. You'll find plenty of common space to hang out and meet other travelers. You also have access to the newly remodeled kitchen and the theater-style media lounge with satellite TV and surround sound.
One thing to note before booking is that Hostelling International - San Francisco/Downtown is part of a not-for-profit membership hostel group. Non-members are allowed to stay at an additional $3 per night.
Here are just a few of the top amenities offered:
Free WiFi
Free breakfast
Free linens and towels
On-site laundry
Secure lockers
Luggage and bicycle storage
No curfew
*Taxes are not included in all prices above.

Other Things to Do in San Francisco
Free San Francisco Attractions: Find a list of my favorite FREE attractions in San Francisco, from the Golden Gate Bridge to the Mission District Murals.
Cheap Hotels in San Francisco: Are you looking for private accommodations instead of youth hostels in San Francisco? This list includes some of the best cheap hotels in San Francisco. All are centrally located, clean, and budget friendly.
Motels in San Francisco: If you are looking to save a little money, you might want to check out these low-cost motels. Many offer free parking and accept pets.
More Suggestions on What to Do in SF
Discount Flights: Click through to find tips on how to save on your flights to SFO.
Self-Guided Walking Tours: Do you want to see it all without buying expensive tours? Here you will find a list of the top self-guided walking tours. You can choose from a list of audio or map guided tours.
Best Bars: San Francisco's nightlife is diverse with hundreds of bars. Discover a list of my favorites all around town.
Top Dance Clubs: Dance clubs are also popular in San Francisco. Again, there are so many that, at times, it's hard to choose just one. Here you can find a list of my favorite dance clubs in the city!
Comments? Questions? Suggestions?
I would love for you to join me in my private Facebook group! 
It's a great place to interact with me and others who know the area well.
You can ask questions, get advice for your upcoming stay, and then share your photos and advice with others when you return home. It's a great community and the fastest way to get answers to those nagging questions about your visit!