Sunnyside in San Francisco: Views of Downtown SF, Conservatory, and More Things to Do
Sunnyside in San Francisco is a quaint, sub-district within the Outer Mission neighborhood. This small, local area offers a wonderful little conservatory and some great views of downtown.

It's just to the south of Glen Park and an easy walk from Bernal Heights. It's also easy to access via I-280, two BART stations and the J-Church light rail.
Read on to learn more about what to see and do here.
Disclaimer: I receive a small commission from some of the links on this page.

Things to See & Do in Sunnyside in San Francisco

1. Sunnyside Conservatory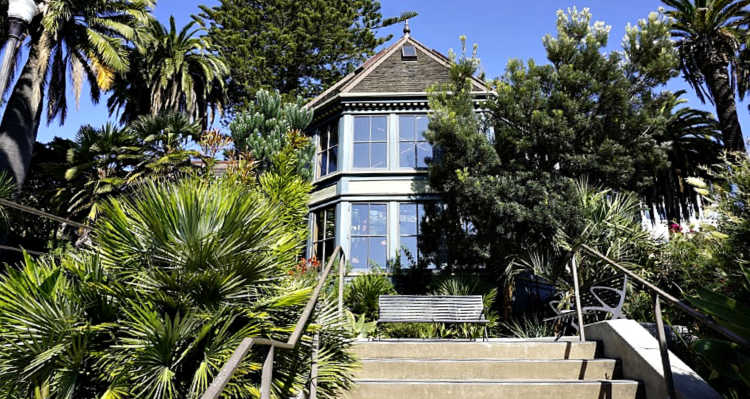 This hidden gem is well worth a visit. The gardens are gorgeous, with many different species of plants and animals throughout. It's small, only one fourth of an acre, so it won't take more than 15 minutes to explore.
One of the highlights of this park is the completely renovated octagonal redwood conservatory which was originally built in 1898. If you are lucky, you might see a wedding happening since many people choose to get married in this lovely, historic building.
501 Stanyan Street

2. Sunnyside Playground

This playground was recently renovated and is now a wonderful place to spend a few hours while relaxing and enjoying the city. One of the reasons I love it is that it is perfect for the whole family. You will find modern play structures, a massive sandbox, a fountain, basketball courts, a space for dogs, and more for everyone to enjoy.
There is also a nice sized lawn which is perfect for a picnic when you are in the Sunnyside in San Francisco Neighborhood. Teresita Avenue & Melrose Avenue
3. Melrose/Detroit Botanical Garden

Unlike most parks in the city, this cute like garden is managed by the local community. There are pathways that give great views of the city and a few benches if you want to have a picnic and enjoy the sights.
It is definitely a place only locals who live in the Sunnyside in San Francisco, and now you, will know about so you will probably have it all to yourself depending on the day of the week that you go there.
North Detroit Street and Melrose Avenue
4. Dorothy W Erskine Park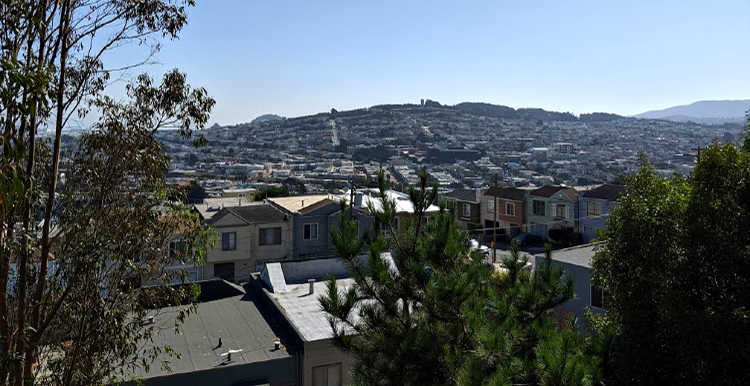 This park is a bit difficult to get to as there are dirt paths that are quite steep that take you to the top. Even though they are steep, the climb on these well-maintained trails is worth it for the views. The park is small and doesn't have any amenities like benches or tables, but it is still worth visiting when here.
There is also a rope swing that affords you the chance to feel like you are flying right out over the city. The swing isn't always there, but if it is, you really should try it out. For nature lovers, there is a wonderful grove of Eucalyptus trees. 7 Martha Street & Baden Street

More Fun Hidden Gems in San Francisco

Sunnyside in San Francisco is a less visited district. If you love the idea of checking out some of our off the beaten path attractions, here are a few more you might enjoy.
Hua Zang Si Buddhist Temple: Many people (even the locals) don't realize there is a very important Buddhist Temple in San Francisco. The reason many don't know about it is that it's hidden inside an old Lutheran Church in the Mission. The reason it's important is that it's the only Buddhist Temple in the US with holy objects. Learn more about where it is and tips to visit.
Hidden Garden Steps: San Francisco is known for its lovely staircases. One of the most beautiful is a set in the Inner Sunset called the Hidden Garden Steps. It often takes a backseat to the more popular 16th Avenue Stairs, but these are just as inviting and colorful. Learn more about them here.
Columbarium: The Columbarium is a place of rest for many of SF's departed. Even if you don't know anyone here, you are still welcome to visit. Inside, you will find small cubes that includes urns with the ashes of the departed as well as person effects that show the life they led. Learn more about visiting and who is buried here.
More Hidden Gems Around SF: Check out my full list of hidden gems here. You will find additional fun things to do all around the city.
Things to See & Do Nearby

Glen Park District: This quaint district is wonderful to visit when you want to escape the hustle and bustle of other districts around the city. This area has a number of parks, festivals, and a few wonderful restaurants and places to shop. If you happen to be in the City by the Bay during April, you have to check out the Glen Park Festival. Learn more here.
Glen Park Canyon: This park has a large recreation center with basketball and tennis courts and more, but I like to pass those by and head up into the hills and walk around its 60 acres with wonderful plants and wildlife. There are also some free-flowing creeks where you might see fish swimming around depending on the season. Elk Street & Chenery Street
Bernal Heights: This area has become home to some of the best small markets, cafes, restaurants, and yet very few people know about it. And that is exactly why I like going there as it is quiet but still full of life with parks with amazing views and great places to shop. If you are there on a clear day, you'll see the Golden Gate Bridge, downtown SF, and even over to the hills of Oakland and Berkeley. More about visiting Bernal Heights.
How to Get Here

Sunnyside in San Francisco is easy to get to from downtown SF, Union Square and all around the city.
Just to the north, you will find the Glen Park BART station. Just to the south of the district is the Balboa Park Station. Both offer stops all along Market Street and in the Mission, which will get you really close to this district and all of its attractions.
You can also take the J-Church light rail. The best stops for this district are the San Jose Avenue at Glen Park Station (northern end), San Jose Avenue at Santa Rosa (central), and Balboa Park (southern end).
Comments? Questions? Suggestions?
I would love for you to join me in my private Facebook group! 
It's a great place to interact with me and others who know the area well.
You can ask questions, get advice for your upcoming stay, and then share your photos and advice with others when you return home. It's a great community and the fastest way to get answers to those nagging questions about your visit!