San Francisco Theater District: Where to Stay, Shows to See & More

The San Francisco theater district is in the heart of the city. This small area has a large concentration of stage theaters. It sits between Union Square and the Tenderloin District.

Inside this area you will find top theaters such as the Orpheum, Golden Gate, Curran, ACT, and others. More than two dozen theaters are located within or nearby this neighborhood.
This area is a great place to stay if you plan to catch several shows during your visit. It's also centrally located, which makes it easy to get to other top districts around SF.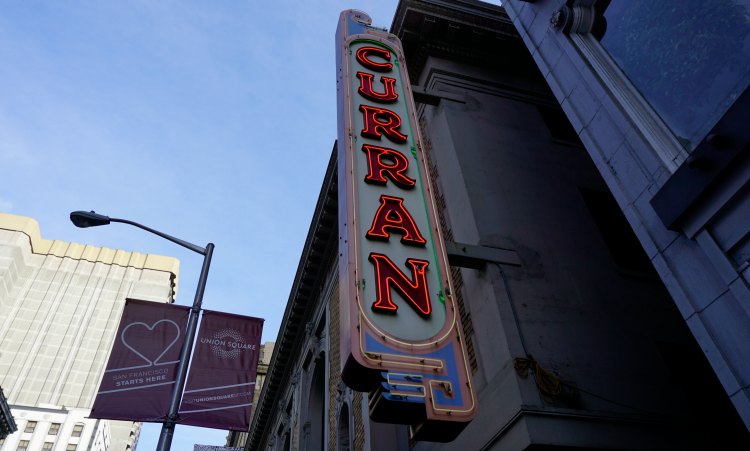 Disclaimer: I receive a small commission from some of the links on this page.

San Francisco Theater Calendar

San Francisco has a thriving theater scene, with several venues all over town offering a variety of shows, from dramas and comedies to hit Broadway musicals and original works by emerging playwrights.
In this vibrant and diverse city, you will find lots of local talent to fill just about every role.
SF also attracts some of the hottest Broadway shows out there, some visiting straight from New York, and others stopping by on world tours. SF has hosted long runs of very popular plays, such as Phantom of the Opera, The Lion King, and Wicked.
All year long, you'll find large shows at the Orpheum as well as small works at intimate playhouses.
>> Click here for a current calendar of upcoming shows.

About the San Francisco Theater District

The original location for the San Francisco theater district was a small two-block by two-block area bordered by Geary, Powell, Sutter, and Taylor Streets. However, the definition these days includes a broader area that includes around 10 blocks.

Top Theaters in the District

Read the descriptions below to find out more about just a few of the top theaters in this district.
Geary: The American Conservatory Theater (ACT's) historic Geary Theater rose from the rubble of the devastating 1906 earthquake and was dubbed a "splendid temple of drama" by the local press. The large, classical, three-tiered venue is located in the Union Square district at 415 Geary Street.
Strand: While the Geary Theater has been ACT's home since the beginning, the smaller Strand Theater has become an important alternative space, especially for new work, cabaret, and theater performances by MFA Program and Young Conservatory students. The Strand is located in the Civic Center District at 1127 Market Street.
Curran: Since 1922 the 1,600-seat Curran has hosted some of the largest productions in theater history, and the nearly century-old building is undergoing major renovation until January 2017. The theater was built by accomplished pianist Homer Curran just two blocks west of Union Square at 445 Geary Street. Learn more here.
Golden Gate: Originally opened as a vaudeville house in 1922, the space later served as a movie theater and was finally restored and opened as a performing arts venue in the 1970s. This is one of the two major SHN theaters in SF which hosts several large Broadway musicals. It is located at 1 Taylor Street at Market and 6th. Click here to learn more about this theater.
Orpheum: Built in 1926, the very large Orpheum Theater (also owned by SHN) is a San Francisco Historical Landmark. It seats more than 2,200 guests and hosts some of the most popular musicals and plays. The Orpheum is located in the Civic Center district at 1192 Market Street. Click here for more on the Orpheum.
Where to Stay

If you are looking for the perfect place to stay in the San Francisco theater district, here are just a few of my recommendations. You can easily walk to most of the theaters in this district from each of these hotels.
Best Places to Grab a Meal Nearby

Here are just a few of my favorite places to eat in or near the San Francisco theater district.
Bartlett Hall: Gastropub with a great selection of beers on tap and cocktails, American cuisine, 242 O'Farrell Street

Jasper's Corner Tap & Kitchen: American gastropub with a large selection of beers and cocktails, lower level of the Hotel Spero, 401 Taylor Street
Johnny Foley's Irish House: Irish bar with tasty traditional dishes such as bangers and mash, corned beef and cabbage, and fish and chips, 243 O'Farrell St
Pinecrest Diner: Old school diner that is open 24/7, 401 Geary Street
How to Get to the District

The central location of the San Francisco theater district makes it easy to get to from many locations around the city and the Bay Area. I recommend taking public transit if you can because parking in the area is tight.

SF Public Transit

The San Francisco theater district is just off Market Street, the corridor for many public transit options. To get here, you can take one of the following.
Buses: 5, 7, 8, 9, 30, 45, 91
Light Rail: K, L, M, N
Streetcar: F
BART: If you are coming to the district from the Peninsula or the East Bay, BART is a great option. Take it to the Powell Street Station, which is just southeast of the theaters.
From Fisherman's Wharf

If you plan to visit the district from Fisherman's Wharf, you have two great options. You can take the Powell/Hyde or the Powell/Mason cable cars. You can also take the F Streetcar. Both drop you within a block or two of the theater district.

Caltrain

If you are coming from San Jose, the South Bay, or the Peninsula, Caltrain is also an option. When you arrive in SF, you will need to grab a bus to reach the theater district.
Head to the corner of 4th and Townsend Streets and take the 30 or the 45 toward Market Street. If you aren't sure you are on the right bus, just confirm with the driver. You will need to cross Townsend Street to get to the bus stop.
Driving & Parking

As I mentioned above, I don't recommend driving, as the streets are busy and crowded. Plus, parking is expensive. However, if you do decide to drive, here are a few places you will find parking.
Ace Parking: Parking garage close to the Geary Theater and Curran, 415 Taylor Street
Turquoise Parking LLC: Parking garage close to the Golden Gate, 64 Golden Gate Avenue
City Park: Garage close to the Orpheum, Essex Fox Plaza, 50 8th Street
More Performing Arts Calendars

SF Symphony: Head over to the Civic Center District to catch a show with the SF Symphony. They perform several shows each month at Davies Symphony Hall. Click here for their detailed schedule by month.
SF Opera: The SF Opera has two seasons. Their longer season is September through December with a shorter summer season in June and early July. Click here to learn more about attending an SF Opera show.
SF Ballet: Another renowned performing arts company is the SF Ballet. Every year, their Nutcracker performances in late November and December sell out. They also have several programs from January to May every year. Click here for this season's schedule.
Comments? Questions? Suggestions?
I would love for you to join me in my private Facebook group! 
It's a great place to interact with me and others who know the area well.
You can ask questions, get advice for your upcoming stay, and then share your photos and advice with others when you return home. It's a great community and the fastest way to get answers to those nagging questions about your visit!