San Francisco Luxury Hotels
The 7 Best High-End Accommodations in SF
NOTE: Here is the latest on what's open and not open in San Francisco.
Are you looking for the best San Francisco luxury hotels? There are a number of options, but which ones really stand out?
Here you will find the top guest-rated high-end accommodations in the best SF neighborhoods, including downtown, Nob Hill, and Union Square.
1. Fairmont Heritage Place, Ghirardelli Square
Address: 900 North Point Street, Suite D100
Neighborhood: Fisherman's Wharf
Star Rating: 5-star
The Fairmont Heritage Place is the first of the San Francisco luxury hotels on my list. It set inside Ghirardelli Square and a favorite among travelers.
This hotel offers one-, two- and three-bedroom apartments or suites, giving you quite a bit of additional living space and privacy for your visit.
The views of the waterfront also make this place special. Most rooms have an outdoor terrace with a fire pit and breathtaking views of the gorgeous SF Bay.
Each suite also has a kitchenette, so you can easily make your own meals or entertain guests. Other key amenities here include:
24-hour butler and concierge services
Pets allowed with a small pet deposit
Chauffeured luxury house car service that takes guests within a few miles of the hotels
Continental breakfast each morning
Daily afternoon wine and cheese reception
Twice-daily housekeeping
Pre-arrival grocery shopping for a small fee
Laundry service
Babysitting
Free Wifi
Find the best deals for the Fairmont Heritage Place on Booking.com.
2. The St. Regis San Francisco
Address: 125 Third Street
Neighborhood: South of Market (SOMA)
Star Rating: 5-star
The St. Regis is one of the newer options on the scene. This is one of the San Francisco luxury hotels that is well situated near the Yerba Buena Gardens, the Museum of Modern Art, and other cultural museums in downtown San Francisco.
The top 20 floors of this 40-story building are dedicated to St. Regis guests. You get an amazing view of the city from just about any room.
Some other amenities at the St. Regis include:
On-site spa
Complimentary fitness center with a lap pool
Butlers on staff to provide packing and unpacking assistance as well as making restaurant reservations for your stay
Vitrine, a restaurant serving both breakfast and lunch
Ame, the other on-site restaurant, serving American cuisine with one of the best wine selections in the city
Pets allowed with a small pet deposit
Find recent guest reviews and the most competitive prices for the St. Regis on Booking.com.
Find More: Additional five-star hotels in SF
3. Omni San Francisco Hotel
Address: 500 California Street
Neighborhood: Financial District
Star Rating: 4.5-star
The Omni is the best of the San Francisco luxury hotels in the Financial District, making it perfect for business travelers. It's also great for tourists, as it's within walking distance to the Ferry Building, Chinatown, and Union Square.
Once you enter the lobby, you will notice this place's modern feel. You'll find the rooms spotless and up-to-date. Make sure you ask for a courtyard-facing room for the best views.
The staff here will make you feel at home. If you have any questions about SF, the knowledgeable concierge staff will be more than happy to help.
Other amenities here include:
Restaurant and bar/lounge on site
Fitness center
Room service
Business center
Free high-speed internet
Suites available
Pets allowed
Read guest reviews and compare prices for the Omni Hotel on Booking.com.
4. InterContinental Mark Hopkins San Francisco
Address: 1 Nob Hill
Neighborhood: Nob Hill
Star Rating: 4-star
Another one of my favorite San Francisco luxury hotels is the Mark Hopkins. This gorgeous hotel was built in 1926 and sits on top of the hill in the famed Nob Hill neighborhood.
This hotel has 16 floors of beautiful rooms and suites. Here are a few of their amenities:
Premium TV channels, video games, and high-speed internet access in each room
On-site child-care
24-hour fitness center
Business center
Room service available 24 hours a day
The Top of the Mark restaurant and lounge is located on the 19th floor, where you can sip on your choice of 100 martinis on the menu as you gaze out at the beautiful skyline. The restaurant area serves up fresh California cuisine and has an impressive wine list.
Compare prices and find the best deal on the Mark Hopkins on Booking.com.
5. Fairmont San Francisco
Address: 950 Mason Street
Neighborhood: Nob Hill
Star Rating: 5-star
Right across the street from the Mark Hopkins is another one of the popular San Francisco luxury hotels, the historic Fairmont San Francisco. It opened in 1907 and was remodeled in 2001.
Even if you don't get a chance to stay here, I'd highly recommend taking a peek inside at their beautiful lobby. The decor is gorgeous from floor to ceiling. The entire lobby is decorated in gold tones and other warm colors.
The flags outside the front entrance celebrate this hotel as the location where the United Nations charter was drafted in 1945. The staff is also more than happy to point out other key pieces of this hotel's remarkable history.
The Fairmont features 592 gorgeous rooms and suites. Some of the amenities here include:
Marble bathrooms, pillow-top mattresses, and luxurious linens in every room
Flat-screen TVs and high-speed internet access
Full on-site spa
In-room massages
Complimentary car service to the Financial District every weekday morning
Pet-friendly (accepts both dogs and cats)
See pics and read more about this hotel.
Find reviews and competitive prices for the Fairmont San Francisco on Booking.com.
6. Hotel Vitale
Address: 8 Mission Street
Neighborhood: Embarcadero
Star Rating: 4-star
One of the newer San Francisco luxury hotels is the Hotel Vitale. This hotel is set along the beautiful Embarcadero waterfront near both the Ferry Building and the Bay Bridge.
Located about a mile from Union Square, the hotel is 8 stories high and has 200 rooms. Some of the amenities here include:
Fitness room and complimentary yoga classes
Rooftop spa and outdoor terraces
Premium linens and limestone bathrooms in all rooms
Complimentary wireless internet access
Housekeeping twice a day
The on-site restaurant has a great bar with outdoor seating that is covered and heated for those chilly San Francisco nights.
Discover the more competitive nightly rates for the Hotel Vitale through Booking.com.
7. Huntington Hotel
Address: 1075 California Street
Neighborhood: Nob Hill
Star Rating: 4-star
Heading back up to the famed Nob Hill neighborhood, you will find another one of the great San Francisco luxury hotels, the Huntington Hotel.
This gorgeous hotel is located about a half a mile from Union Square. It's also just a few blocks from the Financial District and Chinatown.
The hotel sits right along the California cable car line. The hotel has a number of amenities including:
Complimentary car service daily from 8am to 4pm
On-site spa
Indoor pool
Yoga studio
Free Wifi
The Big Four restaurant is located in the hotel lobby. The large guest rooms feature a king bed and premium television channels.
Uncover the best nightly rates for the Huntington Hotel on Booking.
Other Top Hotels

Follow SFTourismTips on Facebook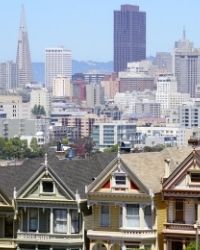 On my Facebook page, you will find more great information about planning your San Francisco vacation.
It includes tips, must see attractions, and other fun details.
Click the link below to check it out. If you enjoy the page, give us a like.