Potrero Hill Festival
Enjoy Family-Friendly Fun on October 19
NOTE: Click here to stay up-to-date with what's open and opening soon.
Enjoy the views from above at the Potrero Hill Festival. This family-friendly event draws more than 6,000 people every fall.
During this event, you can listen to live music, mingle with the locals, and entertain the kiddies. All events take place on 20th Street between Missouri and Wisconsin Streets on Saturday, October 19, 2019.
The 30th Annual event will kick off at 11am and run until 4pm.
This year, you will find two stages of entertainment and a kids area with bouncy houses, a petting zoo, pony rides, and more. You will also find Snack on the Hill which features food from a variety of Potrero Hill restaurants.
This event also includes arts and crafts displays by more than 100 artists, merchants, and non-profit organizations.
Entry into the Potrero Hill Festival is free, but there is a small charge for some activities.
How to Get to the Potrero Hill Festival
Bus: The only bus that reaches the heights of Potrero Hill near the festival is the #10 Muni bus. It will be rerouted during the festival and will drop you about a block away.
Caltrain: The 22nd Street Caltrain stop is also just a few blocks away. However, it's a climb uphill from the stop to get to the festival.
Light Rail: The KT Muni Metro light rail train will take you from Union Square to the corner of 3rd and 20th Streets. From there, you can head directly west (away from the water) to the festival. It's a good walk from this station as it's almost all up hill. However, if you don't mind climbing the hill, this gets you close to the Potrero Hill Festival.
Driving/Parking: This is a good option if you don't mind parking on steep hills. All of the streets near the festival are steep and it requires a little maneuvering to get parked. However, you can also head down to the bottom of the hill, park, and then make your way up the hills on foot.
Other Great Events this Month
Fiesta on the Hill: This October, head over to Bernal Heights for their family-friendly Fiesta on the Hill. Activities start at 10am on Cortland Avenue. More details here.
Wharf Fest: Head down to Fisherman's Wharf for their large annual Wharf Fest. This fun event includes a chowder cook-off, other competitions, film screening, fireworks and more. Learn more here.
Savings Tips: Discover a wide variety of discounted tickets on Goldstar. Instead of paying full price, this is where you can save on your tours and event tickets. I use them when I go to the theater, on bay cruises and more. Click here to check out their ticket selection.
Kids Halloween Events: Don't miss out on this year's Halloween activities for kids. All over the city you will find trick-or-treating, pumpkin carvings, costume contests, and more. Click here for a full schedule of events.
Ghost Tours: Do you love a good ghost story? If you enjoy learning all about San Francisco's dark past, then check out some of these great ghost tours. Some are offered all year long. However, a few are offered only around Halloween each year. You can learn more about what really happened at City Hall, the spooks that roam the halls of the Palace Hotel, and more. Click here to check out SF's top ghost tours.
More Fun SF Information
Free SF Walking Tours: Did you know the public library offers up to 10 free walking tours a day? Each day, volunteers for the library set out on guided walking tours all over the city. You can walk the Golden Gate Bridge, learn more about the Palace of Fine Arts, or even the history of the 1906 Earthquake and Fire. Click here for a full calendar by day.
Self-Guided Walking Itineraries: If you prefer to venture out on your own, make sure to check out my self-guided walking itineraries. Each itinerary is a one-day walk to hit the hot spots in SF's top districts. You can stroll through Fisherman's Wharf, climb the hills of Pacific Heights, and see the colorful Victorians all around Alamo Square. Click here to learn more.
San Francisco Film Festivals: One of the many things I love about San Francisco is the variety and quantity of film festivals. Each year, the city hosts around 50 film festivals. They range from the large International Film Festival in April to the smaller Arab Film Festival in October. Click here for a full list and details on each one.

Follow SFTourismTips on Facebook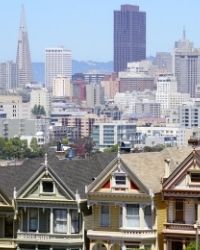 On my Facebook page, you will find more great information about planning your San Francisco vacation.
It includes tips, must see attractions, and other fun details.
Click the link below to check it out. If you enjoy the page, give us a like.