Noe Valley in San Francisco: Shopping, Restaurants & More Tips to Visit this SF Neighborhood

by Jill Loeffler  •

Updated: January 17, 2023
Noe Valley in San Francisco is a family-friendly district with fun shops, restaurants, and a few nightlife options. It's just south of the Castro and on the western side of the Mission.

People love living in this district as they get a decent amount of sun here. They are protected from the cool fog by Twin Peaks which is near its western border.
Read on for more about what to see and do in this small, laid-back neighborhood.
Disclaimer: I receive a small commission from some of the links on this page.

24th & Church Street Corridors

The 24th Street Corridor is where you will find the commercial district for Noe Valley in San Francisco. You will also find a handful of shops on streets nearby, but this is the heart of the action.
Here you will find shopping, restaurants, and a few local bars.
In addition to 24th Street, you will also find some great places to eat and hang out along the Church Street Corridor. Most of the options are south of 24th to 30th Street.
Noe Valley Shopping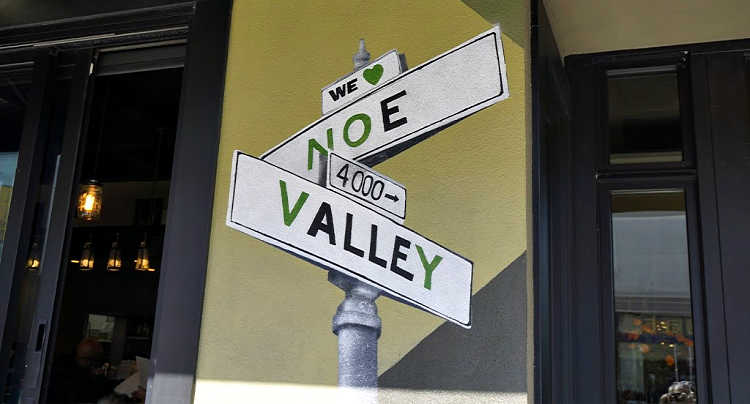 Just For Fun & Scribbledoodles / Artsake: This little gift shop is a local gem. It's the perfect place to buy some presents for your family, friends or even yourself. Inside, you will find cards, books, and season items. You will also find a good selection of art supplies and some fun things for kids. 3982 24th Street
Ambiance: This boutique store is one of my favorites. Inside, you will find everything from comfy designer jeans to the perfect dress for a night out on the town. I love the colorful variety of items in their store and the racks are sorted by color to make things easier to find. They also sell some shoes, jewelry and other accessories. 3979 24th Street.

Xela Imports: Here you will find an assortment of unique items from around the world. Xela imports clothing, decorative wall art such as masks, and other interesting items from far off places. It's one of my favorite places to pick up some gifts or colorful items for my home. 3925 24th Street

Omnivore Books on Food: This small, locally owned bookstore focuses on cookbooks. The feature some signed, vintage and popular used books. They also have a good selection of new cookbooks. If you happen to be in the area during one of their author or cooking events, then make sure to stop by. They are usually free. Here is where you will find their upcoming schedule. 3885a Cesar Chavez Street, find other great bookstores around SF.
Lehr's German Specialties: This gourmet, specialty food shop is the best place to find German goodies. You'll find everything from fresh baked breads and sweets to gifts. You will also find some traditional German candy. 1581 Church Street.
>> Find some additional places to go shopping around San Francisco
Noe Valley Restaurants

Barney's Gourmet Burgers: This is my go-to spot for a tasty, gourmet burger. Barney's is famous for their selection of burgers and delicious fries. They have both an indoor area and an area out front that is partially outdoors. Come hungry as their burgers are filling. 4138 24th Street. Find some of my other recommendations for burgers in SF.
Lupa Trattoria: A cozy spot for an Italian dinner is Lupa Trattoria. They offer traditional Roman dishes including handmade pasta (the BEST) and a good selection of non-pasta dishes such as grilled rack of lamb, grilled new york steak, and veal scaloppine. Dinner only. 4109 24th Street.

Hi-Way Burger & Fry: If you are looking for something quick, easy and tasty, then head to Hi-Way. Set on the corner of 24th and Vicksburg Streets, has burgers, hotdogs, fries, and creamy shakes. They also have some affordable kids combo menus and fresh salads. 3853 24th Street.
Chloe's Cafe: My favorite place for brunch in Noe Valley in San Francisco is Chloe's. On any weekend morning, you will find a line down the block. They serve traditional American comfort food and breakfast fare with scrambled eggs, buttermilk biscuits, and cinnamon croissant french toast. For lunch, you can order a sandwich, salad, or just stick to the breakfast menu. My all-time favorite here is the BLT with avocado. It's only open for breakfast, brunch and lunch. The crowds tend to die down a little mid-morning and aren't as bad during the week. 1399 Church Street.
Oki Sushi: The best sushi spot in Noe Valley in San Francisco is Oki Sushi. They offer a good selection of rolls, sashimi, and other tasty dishes. Their sushi is fresh and will leave you wanting to come back for more. They are open daily for dinner starting at 4:30pm. 1740 Church Street.
Inle Burmese Cuisine: Want to try something different? If so, then head over to this Burmese restaurant just off Church Street. Some of the menu items to take a close look at when you get here include their Paratha with Coconut Curry Dip, Garlic Noodle (you can add chicken, pork, or tofu), and their Nan Pya Noodle Salad. 1298 Church Street.
Lovejoy's Tea Room: Your kids will love this cute, quirky tearoom at Church and Clipper Street. The decor is mismatched and so are some of the tea sets, but their service and food are worth a visit. If you prefer something a little heartier, they also serve up some English pub fare including Shepherd's Pie, Sausage Rolls, and Quiche. They are open Wednesday - Sunday from 11am to 6pm. Closed on Monday and Tuesday.
Noe Valley Bars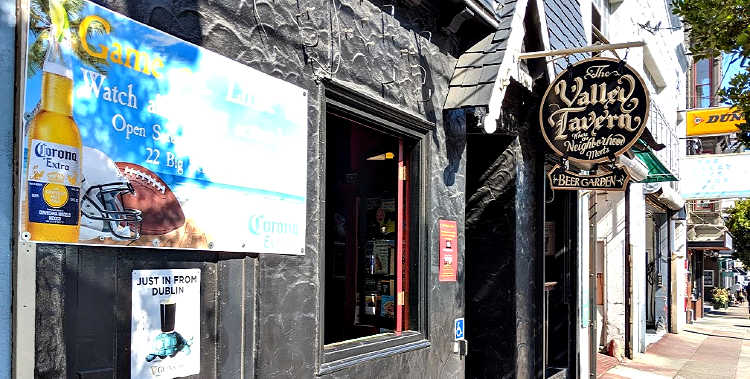 Valley Tavern: The Valley Tavern is a local sports bar with games on TV and cold beer on tap. They have a large selection of draught beers including IPAs, Ales, Ciders and Wheat beers. You will also find some specialty drinks as well as wines by the glass. 4054 24th Street.
The Dubliner: This laid-back Irish Pub is also a great place to come and watch a game. It's a friendly and welcoming atmosphere with pub quiz nights, happy hour specials, and several TVs so you can catch your favorite team in action. 3838 24th Street.
The Peaks: This is a fun, old school bar that is a favorite with the locals. They offer drink specials and you can play both darts and pool. It's laid back and a fun place to get away from the chaos of the city. 1316 Castro Street.
More Fun Things to Do Nearby

Staying in Noe Valley in San Francisco

You won't find any hotels in Noe Valley in San Francisco, but you will find some comfy options on house sharing sites such as AirBnB.
Should you stay here? I think it's a great spot for those traveling with families. It's a little out of the way, you can find some street parking, and you can easily walk to local restaurant for dinner without the hassles of a lot of foot traffic on the streets.
It's nice and quiet, which is also perfect for those planning to stay for a longer visit or if you just want to say a little off the beaten path.
If you are looking for a lively district with lots of things to do at all hours right outside your door, then I'd recommend heading closer to the heart of the city to places such as Union Square, South of Market, or Nob Hill.
Things to Do Nearby

Castro District: Just to the north of Noe Valley in San Francisco is the colorful Castro District. In this SF district, you will find a large concentration of the local LGBTQ community. I love it here as there are lots of bars, restaurants, and beautiful artwork to admire. Find out more about visiting the Castro.
Mission District: The Mission District is an eclectic mix of Central and South American culture with some high-end food options. It's one of the best places for nightlife. It's also home to our largest collection of street art and murals. Find out more about the Mission.
Glen Park: Another local, family-friendly and quiet district is Glen Park. Here you will find some great outdoor adventures, hiking trails, and a handful of locally owned bars and restaurants. Find out more about what there is to see and do in Glen Park.
Twin Peaks: Just to the west of Noe Valley in San Francisco is Twin Peaks. It's one of our most popular attractions as you get unobstructed views of downtown SF as well as all around the bay from its two summits. It's a great addition to your visit here. Find out more about Twin Peaks.
How to Get to Noe Valley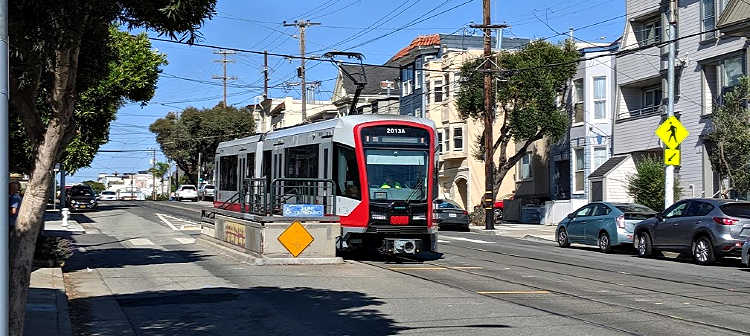 The best way to get to Noe Valley in San Francisco is via the J-Church light rail. This train line runs from the Embarcadero Station, through the Castro, over to Noe Valley, and then on to the Outer Mission.
You will find several stops along Market Street for the train. It's your best bet from Union Square.
If you are coming over from Fisherman's Wharf, you can take the F-Streetcar to the Embarcadero Station and then transfer to the J-Church light rail.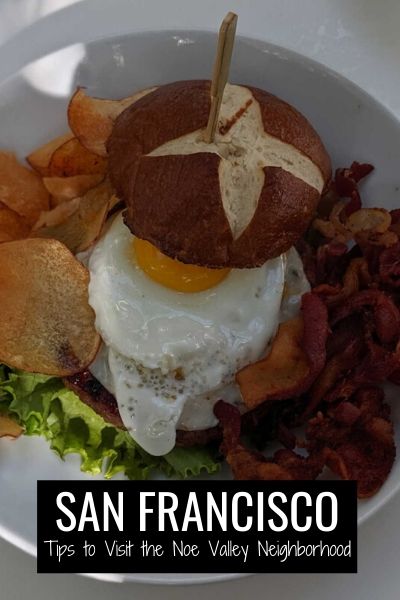 Comments? Questions? Suggestions?
I would love for you join me in my private Facebook group! 
It's a great place to interact with me and others that know the area well.
You can ask questions, get advice for your upcoming stay, and then share your photos and advice with others when you return home. It's a great community and the fastest way to get answers to those nagging questions about your visit!