Mission Dolores in San Francisco: Enjoy Nightlife, Relaxing in the Park, Historic Attractions & More

by Jill Loeffler  •

Updated: January 17, 2023
Mission Dolores in San Francisco is a small, sub-district of the larger Mission District. Here you will find one of our most popular parks, places to sample sweet goodies, and the oldest building in the city.

You will also find some colorful and interesting street art and murals. Other fun things to do here include heading to the theater, sampling food at top restaurants, and relaxing with a cold drink.

Disclaimer: I receive a small commission from some of the links on this page.

Things to Do & See in Mission Dolores in San Francisco

1. Mission Dolores Park

You will find this lovely park on a hillside in the Mission Dolores in this San Francisco district. It slopes downhill to the east, giving you amazing views of downtown SF.

This spot is a popular retreat on a sunny day in the city. You will find anywhere from a few dozen to sometimes hundreds of people enjoying the park. I highly recommend grabbing some lunch to go and coming here for a relaxing hour or two to enjoy it.

2. Tartine Bakery

If you love pastries and other baked good (like me!), you must make a stop at Tartine Bakery. This is where you will find some of the best pasties, breads, and cookies around.
You can grab and go or stay for breakfast or lunch. I have too many favorites to name them all, but some of my go-to options here include the Pain au Chocolat, their savory scones, and the Brioche Bread Pudding. Their tarts are also tasty as well as their hot pressed sandwiches (for lunch only).
Keep in mind that it's a popular spot and there is often a line, but the wait is SO worth it. 600 Guerrero St.

3. Mission San Francisco de Asis

One of the most important attractions in the Mission Dolores in San Francisco is its historic mission. The Mission San Francisco de Asis is the oldest, fully intact building in the city. It was built in 1791.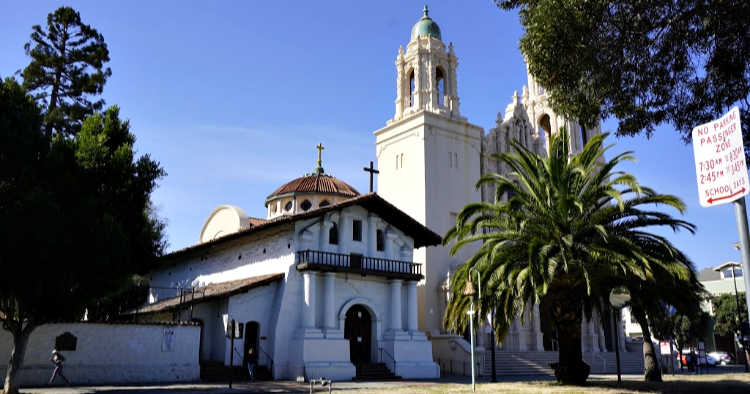 It's next door neighbor is the a basilica that was built in 1918 (the original collapsed during the 1906 earthquake). During a visit to this attraction, you can step inside both. You can also visit the cemetery outback, which is where many important people in SF's history are buried. More about visiting this local treasure.

4. Dandelion Chocolate

Another fun place for sweet treats is Dandelion Chocolate. This place is a chocolate lovers dream with hot chocolate, pastries, and several types of chocolates for sale. Their café is at 740 Valencia St.
You can also watch them make chocolate. Their production facility is behind glass and you can often see the chocolate makers in action. Their factory is in the Mission District at 2600 16th Street.
5. Mission Murals

One of the attractions that draws people to the Mission Dolores in San Francisco district are its murals. There are two locations in this sub-district to see them.

The first is the Woman's Building at 3543 18th St (pictured above). This building is covered in wonderful art.
The second place to check out is Clarion Alley (between Valencia and Mission). This alleyway is also covered in street art. You will find many political statements in these works from a variety of talented artists.
6. Stage Werx Theatre

This small theater is home to small productions including musicals, plays, improv, films and so much more. It holds about 70 people, so each event is an intimate experience. Visit their site for a list of upcoming performances. 446 Valencia St.

7. Roxie Theater

The Roxie Theater is another historic gem in the Mission Dolores in San Francisco neighborhood. It's a non-profit cinema with two screens.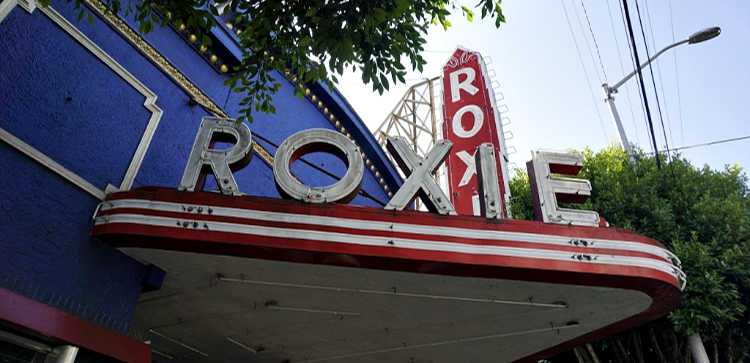 The Big Roxie seats 234 people. The Little Roxie seats 49. Both show thought provoking films and are home to some shows from our best annual film festivals. 3117 16th Street

More Fun Things to See & Do Around SF

Restaurants in the Mission Dolores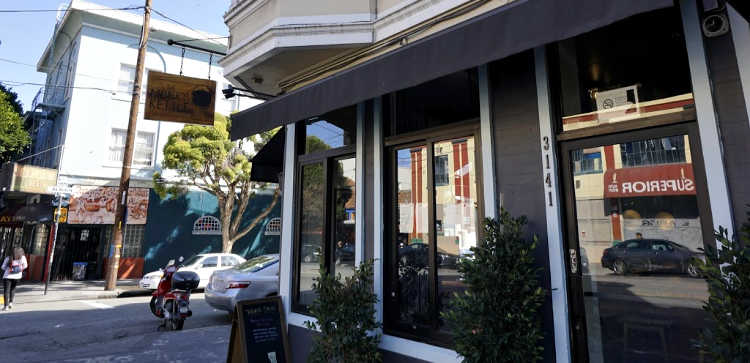 Monk's Kettle: The Monk's Kettle (pictured above) is one of my favorites stops in the Mission Dolores in San Francisco. They offer American cuisine including sandwiches, salads, and some great appetizers. Some of the items on their menu that I highly recommend are the Mission Fried Chicken (with chili lime flavoring...YUM!), the Buffalo Chicken Sandwich, and the Monk's Burger. You will also find a few vegetarian options on the menu.
They also have some great beers on taps and some wonderful wines by the glass. They are open for lunch and dinner. Their kitchen is also open late--midnight during the week and 1am on Friday and Saturday nights. 3141 16th Street.
Little Star Pizza: One of my favorite places for pizza in SF is Little Star. They have both deep dish and thin crust options. Both are fantastic.
My recommendations here include the Deep Dish Old School, the Thin Crust Pesto Chicken, and the Deep Dish Meatball. You will also find some great salads and starters. They are open daily for lunch and dinner. 400 Valencia Street.
Shizen Vegan Sushi Bar and Izakaya: This is a perfect find for vegans, vegetarians and those that want to try something a little different. This vegan sushi bars used a variety of vegetables to create hardy and satisfying dishes. They use ingredients such as tapioca, mountain yam, konjac, and bean curd. 370 15th Street.
Taqueria El Buen Sabor: This local taqueria is my favorite in this district. It's inexpensive and a local staple. You will find tacos, burritos, and other Mexican dishes. I also love their homemade salsa. It's a friendly family establishment and you can't go wrong with any of their menu items. 699 Valencia Street.
Bars & Nightlife in the Mission Dolores in San Francisco

You will also find a wonderful nightlife scene in the Mission Dolores in San Francisco. These are just a few of my favorites.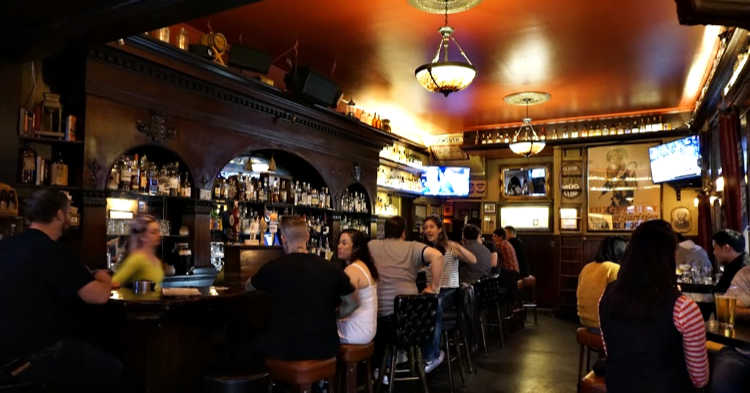 Elixir: This old school bar (pictured above) is one of my favorites. When I say "Old School," I mean it. It's the second longest running bar in San Francisco and it hasn't changed much over the years. You will find some great beers on tap as well as a decent wine selection. Make sure to check out the old advertisements on the walls. They are hilarious! 3200 16th Street.
The 500 Club: This dive bar is another local favorite. The drinks are reasonable, and the crowd is diverse. You can also count on a friendly-staff and a great time all around. They are open daily. 500 Guerrero Street.
El Techno: This is one of the best rooftop bars in town. They serve up Latin street dishes and tasty cocktails with views around the district and beyond. Make sure to bring along a jacket as it can get a little chilly outside. 2516 Mission Street.
Zeitgeist: This is another popular spot for locals and travelers. They have a large beer selection, but what draws people in is their outdoor seating. They have community seating outback and on any weekend day in SF, this place is full of fun loving beer drinkers. Grab a seat next to someone you don't know and enjoy a lively conversation. 199 Valencia Street.
>> Find more of my nightlife recommendations around town
How to Get to the Mission Dolores in San Francisco

You have several options to get to Mission Dolores in San Francisco.
J-Church Light Rail: The J-Church light rail line has stops on the western end of this district. It drops off just to the south and on the northern end of Mission Dolores Park. From there, you can easily talk to anything in the district.
16th Street BART: The 16th Street BART stop is another great choice. It drops you off on the eastern end and is perfect if you are heading to the Roxie Theater, Elixir or Clarion Alley. It runs from Union Square to this stop in about 10 minutes.
F-Streetcar: The F-Streetcar runs along Market Street. It is the best option if you want to head to the northern end of the district including Zeitgeist.
>> More tips for getting around SF
Weather in the Mission Dolores

The weather in the Mission Dolores in San Francisco is mild most of the year. In the summer, you will find temperatures in the mid-60s during the day and in the mid-50s at night. The weather in the spring and fall is a little warmer with highs in the upper 60s to lower 70s.
Winter is the cool time of year with temperatures in the 50s during the day and in the 40s at night.
Click the links below for more information about each month of the year and tips on how to pack.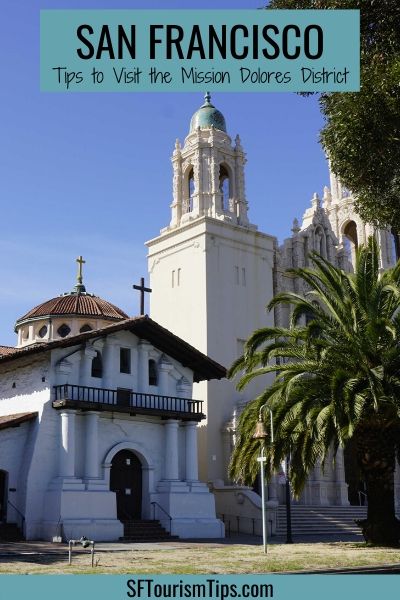 Comments? Questions? Suggestions?
I would love for you to join me in my private Facebook group! 
It's a great place to interact with me and others who know the area well.
You can ask questions, get advice for your upcoming stay, and then share your photos and advice with others when you return home. It's a great community and the fastest way to get answers to those nagging questions about your visit!