Minnesota Street Project: Hidden Gem in San Francisco's Dogpatch District

by Jill Loeffler  •

Updated: January 19, 2023
The Minnesota Street Project in San Francisco offers you the chance to see colorful and thought-provoking modern art. They offer both full-time dedicated spaces and short-term gallery spaces, so you get a variety of art to look at during each visit.
They also host a number of events from gallery openings to live entertainment to VIP dinners. Something I love about it is that they also have a restaurant on-site that is open most days for lunch and dinner plus weekend brunch.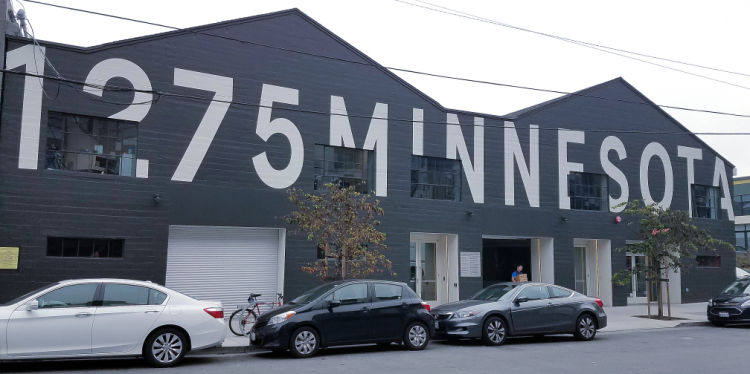 Disclaimer: I receive a small commission from some of the links on this page.

More About the Minnesota Street Project
Located in the Dogpatch District, the Minnesota Street Project is a great stop for modern art lovers. It includes original pieces in three buildings all on Minnesota Street.
The three buildings are 1275 Minnesota Street. This is the largest of the three. It's where most of the events are held and where you will find the restaurant.
1150 25th Street includes both Building A & B. Both of these buildings are smaller spaces, but worth a stop. They are about a 5 minute walk from the larger 1275 Minnesota Street Building.
Most of the space in these three buildings is dedicated to local art galleries. It features the following permanent galleries:
Casemore Kirkeby
Nancy Toomey
Jack Fischer
Eleanor Harwood
Rena Bransten
Anglim Gilbert
Bass & Reiner
Ever Gold Projects
In addition, you will find several spaces with short-term exhibits. There are four spaces and they feature art from galleries, art organizations and independent curators.
Admission to the Minnesota Street Project is free and you can visit all of the galleries at no cost.
It takes about two hours to get through all of the galleries. Add in more time if you plan to stop for a bite to eat while you are here.
Visiting Hours
They are open every Tuesday through Saturday from 11 am to 6 pm.
Each gallery offers slightly different hours, but most fall within these hours. If you have a specific gallery you want to visit, make sure to double check their hours before you arrive.
Also, a few are only open by appointment and you will need to make your appointment before you arrive to make sure they have staff on hand.
Brief History

This important San Francisco space for artists was opened in 2015 by Deborah and Andy Rappaport. As the prices in SF rise, these two entrepreneurs and collectors wanted to preserve economically sustainable spaces for the local art community.

With more than 100,000 square feet of space, and below market rents, this project is one that will help ensure the artist community stays in San Francisco and is able to continue to create their unique and interesting art for both the public and collectors.

How to Get Here
You will find several transit options that will get you within a block or two of the Minnesota Street Project.
Light Rail: Your best option is the light rail. The K and T lines drop off about two blocks away. Get off at the Third and 23rd Street stop. From here, walk south to 24th Street. Take a right and walk 2 blocks and you will see it on the right. This is the best option if you are coming from Union Square or Fisherman's Wharf.
Buses: There are several buses that stop in the Dogpatch District also. They include the 22 and 48. Both stop about three blocks away and it's an easy walk over to the galleries.
Driving & Parking: If you plan to drive, you will find parking is tight in this area. The good news is that it isn't as bad as other parts of San Francisco. You can sometimes find street parking along Indiana Street near the Muni bus terminal and also south of the galleries. As you head a few blocks south, you might also find spots on 26th Street. There aren't any great parking garages nearby, so you will need to be patient to find parking on the street.
Other Things to See Nearby

Museum of Craft & Design: Another great modern art experience nearby the Minnesota Street Project is the Museum of Craft and Design. They feature a rotating mix of exhibits from both local and international artists. Learn more about visiting.
The Midway: Check out the live shows at The Midway and the Envelop at The Midway. They feature several shows and entertainment options each month. They are located at 900 Marin Street on the southern end of the Dogpatch District. Here are some upcoming shows around SF.
Breweries: This old warehouse district also features several top-rated breweries. Discover more great breweries all around SF here.

>> More things to see and do in the Dogpatch

More Fun Things to Do in San Francisco
Comments? Questions? Suggestions?
I would love for you to join me in my private Facebook group! 
It's a great place to interact with me and others who know the area well.
You can ask questions, get advice for your upcoming stay, and then share your photos and advice with others when you return home. It's a great community and the fastest way to get answers to those nagging questions about your visit!