Lower Nob Hill in San Francisco: Fun Things to Do, Top Hotels, Best Restaurants and More Visiting Tips

by Jill Loeffler  •

Updated: January 12, 2023
The Lower Nob Hill in San Francisco is full of fun things to do including concerts, theater shows, highly-rated restaurants, and several nightlife options. This district is just south of Nob Hill, north of the Tenderloin, and nearby Union Square.

Some of my top picks in this district include the Masonic Auditorium, the SF Playhouse, and the Top of the Mark. 

Disclaimer: I receive a small commission from some of the links on this page.

10 Top Things to Do & See

1. Masonic Auditorium

The Masonic Auditorium is home to some of the top concerts, comedians, and other shows all year long. It sits high on the hill on the very edge of the Lower Nob Hill in San Francisco district.
You will find dozens of shows here a year with performers such as Trevor Noah, Tove Lo, and Last Podcast on the Left. 1111 California St.

2. Custom Made & Unscripted Theaters

You will also find some great local theaters in this district. These two options are both in the same building. The Custom Made Theater opened in 1998 and focuses on plays about social issues. They offer about five or six shows a season. 414 Mason Street.
The Un-scripted Theater is all about improv. They start a show and advance it with audience suggestions. It's different every night, so you can go more than once if you enjoy it. Based on each suggestion, the show could turn funny, sad, or a little bit of both. 533 Sutter Street.
3. 620 Jones

This is one of my favorite bars in the Lower Nob Hill in San Francisco neighborhood. It's set on a hill, so you enter at street level, but the main bar is set a couple of stories above the street.
This place offers a large heated outdoor area with a small indoor area where you will find the bar. It's a wonderful place to hang out most nights in San Francisco.
In addition to their cocktail bar, they also serve some great happy hour food items, dinner, and a wonderful brunch on the weekends. 620 Jones St.

4. Alcazar Theater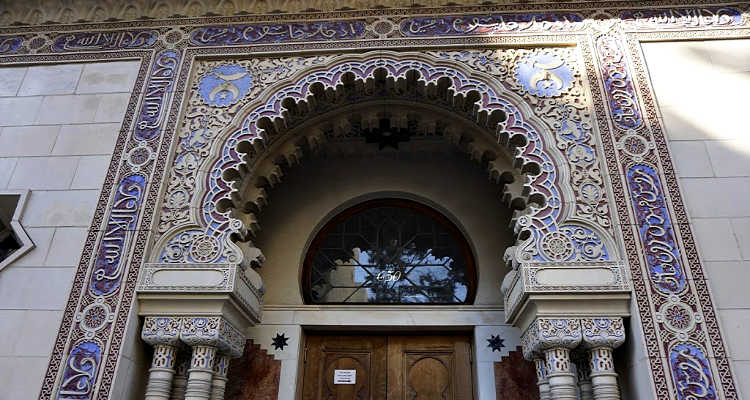 The Alcazar Theater features a variety of shows. Their movies range from the classics to current releases. It's also home to live theater performances, comedy specials, and other community events.
You will also find the Alcazar Improv Players on stage each season. Visit their site for a full list of upcoming events.

5. Blazing Saddles Bike Rental

Hop on a bike and explore all that San Francisco has to offer. Blazing Saddles offers both guided and self-guided tours. Their most popular tour is over the Golden Gate Bridge to Sausalito. Other options include a guided bike and brews tour, a Sonoma bike tour, and a twilight tour over the Golden Gate Bridge.
Their self-guided tours are also great. This will allow you to go at your own speed. You can either set off on your own path or follow one of their suggested routes. These include a tour around Angel Island, up the Marin Headlands, and over to Mount Tamalpais. You can also select from their standard bikes or an e-bike if you are feeling more chill and just want to enjoy yourself.
Here are a few of the top biking tours around the San Francisco Bay Area.
6. Art Galleries

You will find a variety of art galleries in Lower Nob Hill in San Francisco. My absolute favorite is the San Francisco Art Exchange. They have rare photographs from well known artists depicting top stars such as the Beatles, Marilyn Monroe, JFK, and so many others.
The owner and others that work there are super friendly and will tell you all about each piece. It's a dream for those that love this type of art.
You'll also love the c (792 Sutter Street). They feature contemporary pieces from both the US and Mexico.
Other art galleries in the district include Spoke Art (contemporary art), Hashimoto Contemporary, and Dennis Rae Fine Art.
7. SF Playhouse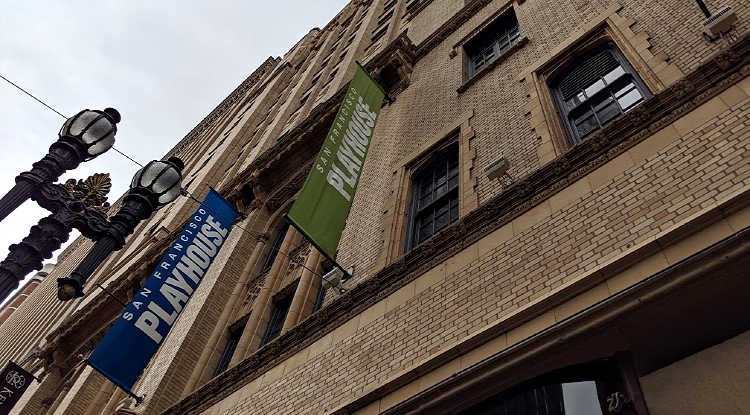 One of the best places to catch a theater performance in this neighborhood is at the San Francisco Playhouse. Set inside a gorgeous historic theater, the SF Playhouse features both plays and musicals. They also offer some shows you may be familiar with as well as some that are brand new.
The stage is on the second floor inside the Kensington Park Hotel. It's an intimate space with a great view from almost every seat. They usually offer shows throughout the year with brief intermissions as they change from one show to the next. 450 Post St.

8. Top of the Mark

If you want gorgeous views and tasty cocktails, head to the Top of the Mark on the top floor of the InterContinental Mark Hopkins. They offer 360 degree views of San Francisco including views of the Bay Bridge, the Golden Gate Bridge, Alcatraz, and beyond.
Their cocktails are pricey with most starting at around $16 each. You can also get a glass of bubbly or wine starting at about the same price.
They also feature small bites and a wonderful Sunday brunch. 999 California St.

9. Marines Memorial Theater

This is another theater in the district that features comedy, musical acts, and other events throughout the year. This historic space is also intimate, so you won't find a bad seat in the house.
It's set inside the Marines' Memorial Club & Hotel. You can also grab a nice meal at their high-end Leatherneck Steakhouse (open Tuesday through Saturday) or just grab a drink and some snacks at their casual bar right near the theater (Tuesday through Saturday). 609 Sutter St.

Here are a few of their top upcoming performances.
10. Hotel Vertigo

For fans of the movie Vertigo, this is a must stay and see place in San Francisco. It's the location where part of the movie was filmed and now the entire hotel's décor is based on the movie. You will remember this as the Empire Hotel which was Judy Barton's home. 940 Sutter Street. Find room rates on Booking.com to stay at the Hotel Vertigo.

Top Restaurants in Lower Nob Hill in San Francisco

Here are just a few of my favorite restaurants in the Lower Nob Hill in San Francisco.
Osso Steakhouse: The Osso Steakhouse is a high-end spot right on California Street. They feature dry-aged beef, hot Dungeness crab, and other entrees such as pork chops, salmon, and mushroom ravioli. Their prices are on the higher end with their steaks ranging from around $45 to $70 each. Their sides are separate and are usually in the range of $10 to $15 each. It's the perfect spot for a special occasion or if you plan to head next door to see a show at the Masonic Center. 1177 California Street
Rue Lepic French Restaurant: If you are in the mood for some traditional French cuisine, then head over to Rue Lepic Restaurant. Some of my favorites here include the Magret de Canard a L'Orange (duck in orange sauce), Le Poulet au Romarin (chicken breast with rosemary sauce), and the Le Filet Mignon au Poivre Vert (beef tenderloin with peppercorn sauce). They are open for dinner 7 nights a week from 5:30 pm to 10 pm. 900 Pine Street.
Sutter Pub & Restaurant: This cute spot offers class English dishes. It's a great place to sample dishes such as bangers and mash, beer battered fish and chips, and shepherds pie. You'll also find American dishes on the menu such as burgers, mac and cheese, and grilled salmon. They are open for breakfast, lunch, and dinner daily. 700 Sutter Street.
More Nightlife Ideas

These are just a few of my favorite local bars in this district.
Rye Cocktail Bar: Upscale cocktail bar, 688 Geary St.
ENO Wine Bar: Wines from around the world, plus some cheese and yummy chocolate on the menu, 320 Geary Street
Liquid Gold: A bottle shop and tap room with mostly local beers, 1040 Hyde Street
Pacific Cocktail Haven: Cocktails, punch bowls, wine and beer in a lively setting, 580 Sutter Street
>> Find additional top bars around SF
Where to Stay in Lower Nob Hill in San Francisco

You will find a great selection of hotels here. These are a few of my top recommendations.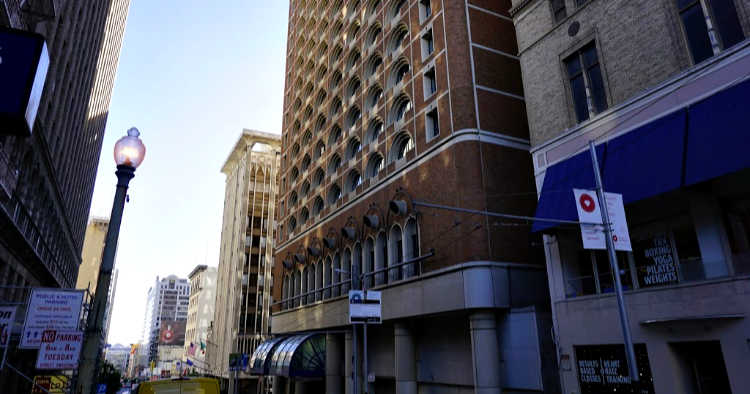 Westin St. Francis: Located right on Union Square, the Westin St. Francis is a 4-star historic hotel with the perfect location for your stay. Inside the rooms, you will find modern amenities. On site services include a fitness center, a couple of bars, restaurants, and a business center. 335 Powell Street. Visit Booking.com for recent guest reviews and booking details.
JW Marriott Union Square: The JW Marriott is a centrally located 4-star hotel. They have paid parking on site, luxurious rooms, and a breakfast buffet. You can easily walk to Chinatown and public transit from here. 515 Mason Street. Visit Booking.com for more details
Here are a few additional places to look for hotels nearby.
How to Get Here

The Lower Nob Hill in San Francisco district is easy to access by public transit, on foot or by car.
Cable Cars: All three cable cars are near this district. The California Line will take you to the top of the hill for places such as the Top of the Mark, the Masonic, and the Huntington Hotel. The Mason/Powell and the Hyde/Powell lines run on the eastern end of the district, so you can easily get to and from Fisherman's Wharf.
Market Street Transit: You will find several transit routes along Market Street. This is where you will find the light rail trains (underground), the F Streetcar, and several buses. Most transit is about four or five blocks away.
Driving: This area has high traffic and I don't recommend driving unless you need to have your car. You will find plenty of car rental places nearby too, so you can easily rent one for the day. However, if you do need to drive, you will find parking at Hotel G, under Union Square, and right next to the Masonic Center.
>> Learn more about getting around SF
Lower Nob Hill in San Francisco in the Movies

Here are just a few movies that were filmed in Lower Nob Hill in San Francisco.
The Game (1997): Several scenes were filmed in and around this district.
The Rock (1996): Several scenes were filmed nearby including at the Fairmont Hotel
Vertigo (1958): One of Hitchcock's famous filmed was shot on location in and around this district. As I mentioned above, the most famous location is Hotel Vertigo. You will find a great free walking tour with some of the movie's locations in and around this area as well as other Alfred Hitchcock film locations offered by SF City Guides (part of the public library). Here is their current schedule.
Doctor Doolittle (1998): Part of this film was shot on both Larkin and Hyde Streets.
Remington Steele: One of the shows from this popular series was shot here. The show is called Steele Trying (aired on May 7, 1985). Most of the show was shot in San Francisco with part of it filmed at the InterC
Fun Things to Do Nearby

Curran: Lower Nob Hill in San Francisco is also where you will find part of the theater district. Just across the street from this district is the Curran Theater. This historic venue has changed hands over time and now features long running shows from Broadway and London including Harry Potter and the Cursed Child. Find out more about the Curran.
Cityscape Bar & Lounge: For one of the best views of San Francisco, head up to the top of the Hilton Union Square to the Cityscape Bar and Lounge. It's set on the top of the building on the 46th Floor and offers 360 degree views of the city.
Union Square: Right nearby, you will also find one of our most popular districts, Union Square. This is the heart of the city with dozens of restaurants, shops, and a large concentration of hotels.
Nob Hill: The Nob Hill District sits just to the north of Lower Nob Hill. Here you will find Grace Cathedral, the Fairmont Hotel, and great views of the SF Bay. Learn more about visiting.