Hilton San Francisco Union Square: What to Expect from a Stay at the Hilton Near Union Square in SF
I recently had the chance to get an insider's look at the Hilton San Francisco Union Square. Here is a recap of my visit and what you can expect during your stay.

The first thing you will notice when you step inside this four-star Hilton hotel is that it is huge. The hotel offers more than 1,900 rooms, so this place is buzzing all day long.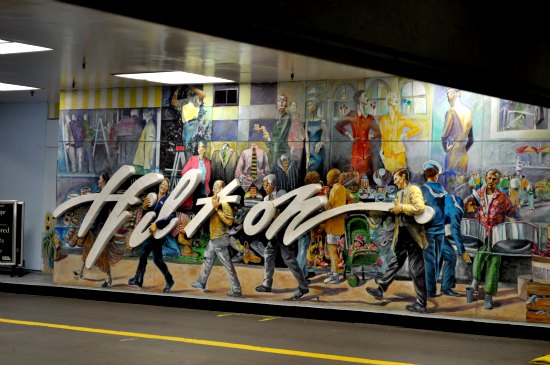 The hotel is at 333 O'Farrell Street, which is about three blocks from Union Square. Its central location and convenient access to public transportation makes it a favorite of both business and leisure travelers.

Disclaimer: I receive a small commission from some of the links on this page.

Rooms at this Hotel

Given the size of this hotel, you have several room options. They include:
Two Doubles
One Queen
Junior Suite
Standard King
You can also upgrade to a nicer room on a higher level. These include:

Two Doubles with a City View
One King with a City View
Tower King with a City View (includes Continental Breakfast)
City View Tower with Two Doubles (includes Continental Breakfast)
Most of the rooms in the hotel that I visited were a decent size and fairly standard for San Francisco. The rooms with two doubles had the tightest fit as they have to accommodate two beds. 
However, even these rooms offered plenty of space for a room in downtown San Francisco. Here is a look at a standard room with two double beds.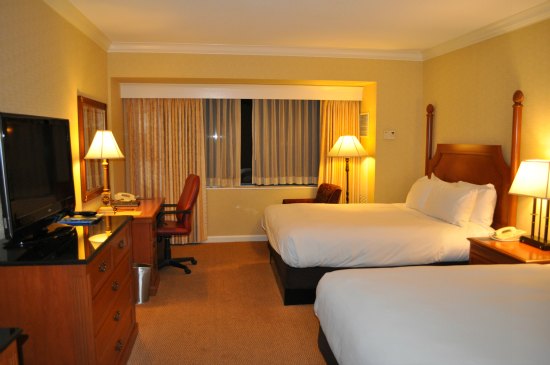 All of the rooms I visited included a desk with a comfortable chair, a flat screen TV and relaxing beds. Wifi and high speed wired internet are available in each room, but for an additional charge (around $12.50 a day). If you don't want to pay for internet, it is free in the lobby.
The bathrooms were also large with plenty of room to spread out. They were very clean, but some had older fixtures. Here are just a few pictures of the bathrooms from this room with two doubles.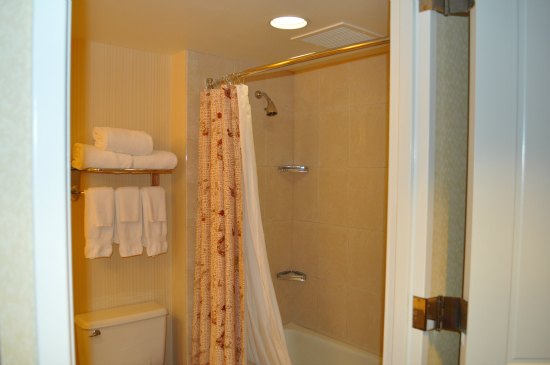 One of the things to note is that the doors to the bathroom, in some of the rooms, had two double doors. They swing out into the room. Make sure you either keep these all the way open or closed so it doesn't interfere with getting in and out of your hotel room.
If you are like me and enjoy traveling light, then you will be excited to see the high-end products. The Hilton San Francisco Union Square offers shampoo, conditioner and lotions from Peter Thomas Roth. 
TIP: The rooms in Tower 3 are the smallest. If you need a little more space, request a room in either Tower 1 or Tower 2.

Other Hotel Amenities

Some of their other amenities at the Hilton San Francisco Union Square include parking in the building; a heated outdoor pool and jacuzzi on the 16th floor; and a restaurant and coffee shop in the lobby.

Parking & Public Transit

SF parking is expensive and the parking here is right in line with other Union Square Hotels. They have a large parking garage near Tower 3. 
The cost to park on your own, per day, is around $55. You can have your car valet parked for around $60 per day. 
Unless you are driving outside of the city, there is no reason to rent a car. Public transit is great in this part of town. You can also easily find a cab, which will cost you less. You can also rent a car (right across the street from the hotel) for the day if you need to drive outside of the city.

The BART station and the cable car turnaround are only about three blocks away. Both will take you to a number of places in the city. 
You can also pick up a variety of buses and the street cars on Market Street which is also only about three blocks away.
Restaurant & Coffee Shop

Another one of the great amenities at the Hilton San Francisco Union Square is the Starbucks in the lobby. It's easy to wake up and head straight down for your morning cup of Joe. You might also get a free sample of something fun if you are working in the lobby in the afternoon!
Right next door, you will also find Urban Tavern. This gastropub offers breakfast, lunch and dinner every day. You will also find a great brunch on weekend mornings.
For lunch, you will find salads, burgers and a few sandwiches. For dinner, they serve up a larger variety of meals including fish & chips, roasted chicken and steak & fries. They also offer small plates such as steamed mussels, kale caesar, and vegetable bisque.

Location

This hotel is in a prime location. It's really close to public transit, Union Square and the theater district. You will find dozens of shops, restaurants and bars just steps from their front door. 
Here is a map of its location and a few important points nearby.
Black Star: Hilton Union Square
Blue Star: Union Square
Red Star: BART & Public Transit
Green Star: SF Museum of Modern Art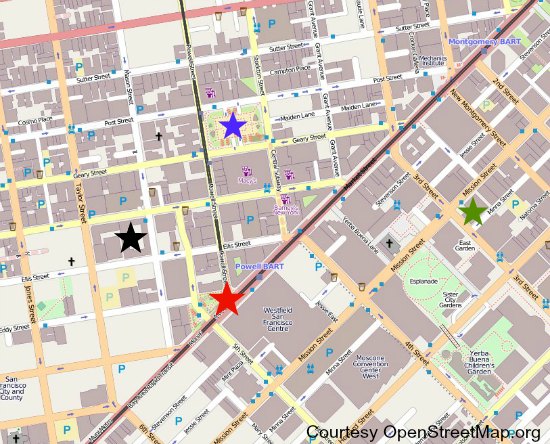 Book a Room

The rooms here are reasonably priced for a four-star hotel in downtown San Francisco. This price factors in its size, amenities and location. 
Overall, it's a great four-star find for the price. I'd rank it 4 out of 5 stars. 
Are you interested in booking a room? Find the best deal on TripAdvisor today!