Glen Park in San Francisco: Hiking, Views & Restaurant Recommendations
Glen Park in San Francisco is a wonderful district for outdoor activities. You will find some great parks for hiking and to admire the views all around San Francisco and beyond.

My top picks here include Glen Park Canyon. I also recommend stopping by Billy Goat Hill and Walter Haas Playground.
Read on for more tips on what to see here and where to grab something to eat or drink.
Disclaimer: I receive a small commission from some of the links on this page.

Things to See & Do in Glen Park in San Francisco

1. Glen Park Canyon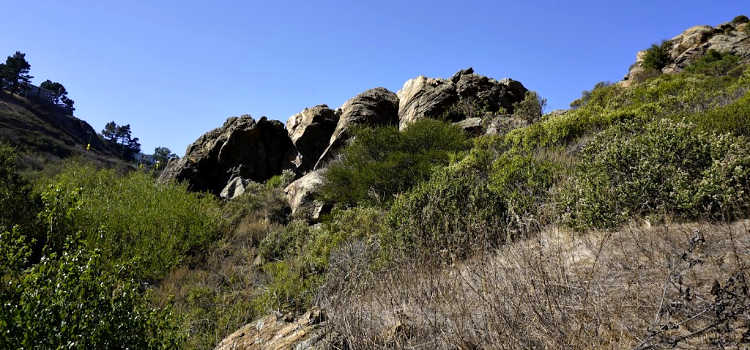 Glen Park Canyon is a great place for some urban hiking. It has almost 4 miles of trails with some great heart-pumping hills. This park also has a baseball field, tennis courts.
This canyon is part of the 77-acres here and you will see wildflowers, Eucalyptus trees, and lots of native plants. Some of the wildlife that lives here includes owls, hawks, and more. This park also gives excellent views of San Francisco. Elk Street & Chenery Street
>> More great urban hikes around SF
2. Glen Park Festival

This free one-day festival celebrates this neighborhood with a parade, games, live music, and loads of activities for kids of all ages. This festival focuses on being family friendly as there are two children's area that have jumpy houses, story times, and more.
The festival starts at 10 am and ends at 4:30 pm.
It usually occurs in April.

3. Billy Goat Hill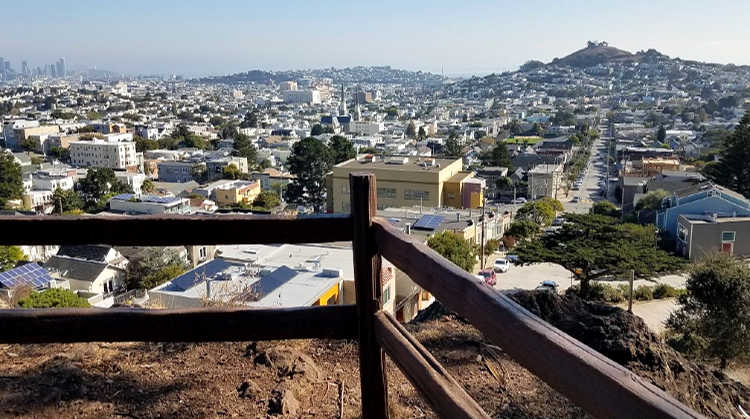 One of the most Instagrammed parks in San Francisco is Billy Goat Hill. This small park site high on a hill with some of the best views of the city. The best part is that it's fairly open grassland and clear of trees at the top, which gives your unobstructed views of downtown SF.
I love that there are a lot of birds that fly over your head as you walk around it. Being that it is a hill, you will have to climb a decent number of stairs which are reasonably steep, so take your time.
Many people come here to photograph the rope swing where you will feel as if you are flying out over the city when you ride it. Sometimes the swing isn't there, but the views are still worth your time. 2442 Castro Street
4. Walter Haas Playground

This is a perfect park for the whole family as it has a playground, basketball courts, play structures for kids, and a dog run for your furry friends. It is just above Billy Goat Hill, so you can easily visit both of them during the same trip while visiting Glen Park in San Francisco.
With lots of grass and open space, you can also just sit back and relax or bring along a picnic lunch.
Addison Street and Farnam Street

5. Fairmont Plaza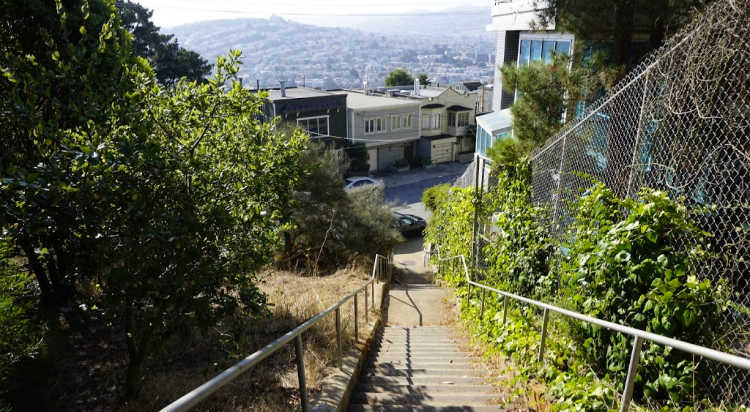 This small park also offers some great views of the city. I love climbing up the Amatista Lane stairs that take you up to this small park.
When you arrive at the top, you will see quite a few trees, but you can easily sneak in some great views between the tree trunks.

Glen Park Bars & Restaurants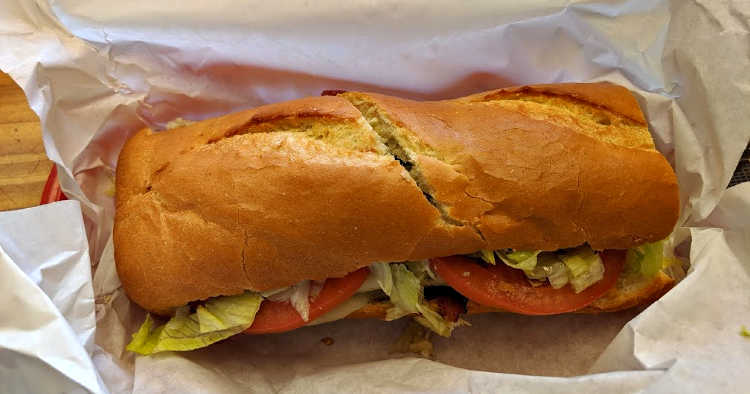 Glen Park Station: This is a great neighborhood bar if you just want to relax, have a few drinks, and watch some sports on tv. It has been around for decades and you can tell the moment you walk into it. They serve beer, wine, and mixed drinks and the bartenders and known to be so friendly, so you'll feel like you've been coming here forever. If you want to get outside for a bit, they have a patio in the back too. 2816 Diamond Street
Gialina Pizzeria: Known as one of the best pizza places in SF, this restaurant is that and so much more. I love that I can get a classic pizza or order one that is their own creation. They also have gluten free pizza crusts. Like most restaurants in Glen Park in San Francisco, it is on the smaller size so come early or make reservations. 2842 Diamond Street

Pebbles Cafe: If you are a coffee lover, you will definitely want to stop into Pebbles Cafe during your visit to Glen Park in San Francisco. This small family owned restaurant is known for their great sandwiches, empanadas, and authentic Brazilian acai bowls. It is the perfect place for breakfast or brunch. 2852 Diamond Street
Manzoni: Another great neighborhood spot is Manzoni. This Italian restaurant offers fresh dishes every Tuesday - Sunday. You'll find it at 2788 Diamond Street.
Top Activities & Tours in San Francisco

Glen Park in San Francisco Weather

The temperatures in Glen Park in San Francisco are mild all year long. The spring and summer months offer temperatures in the 60s with evening temps in the mid-50s. It warms up a bit in September and October with highs in the lower 70s.
Things cool off in the winter, which is also our rainy season. Expect highs in the low 60s to upper 50s most of this season. It will cool off into the 40s and 50s at night.
I recommend always bringing along layers. This will allow you to add and remove pieces as you move throughout the city and the temperatures increase and decrease.
You can also learn more about what to pack and what to expect from the weather by month.
How to Get Here

There are several ways to get to Glen Park in San Francisco.
If you are coming here from anywhere along Market Street including from Union Square, downtown SF or from the South of Market District, you can either take BART or the J-Church Muni light rail.
BART is the fastest option. It will take you from downtown SF to Glen Park in San Francisco in about 10 minutes. There are only a few stops on this route, so it's fast and easy.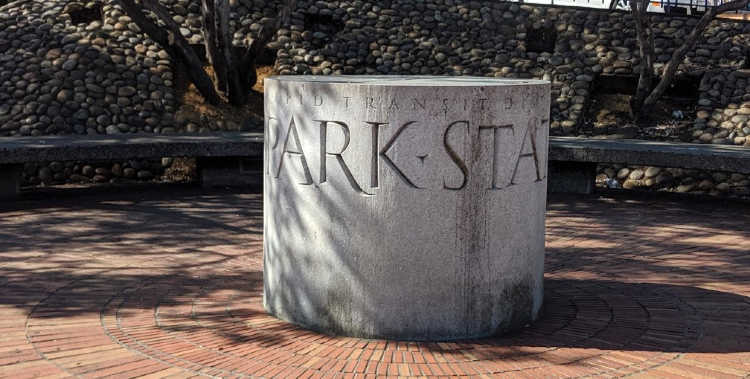 J-Church will take you along Market and through the Castro, Noe Valley and part of the Mission before you reach this district. It's a fun option if you aren't in a hurry or want to see more as you travel from these locations.
From Fisherman's Wharf, you can take the F Streetcar to the Embarcadero Station. This is where you can transfer to BART or the J-Church lines. Another option is to take a cable car from the Wharf to the Powell Street Station. At this stop, you can also pick up either BART or J-Church.
Hotel Deals All Around San Francisco

Things to See & Do Nearby

Mt. Davidson: At almost 1,000 feet tall, Mt. Davidson is the highest point anywhere in San Francisco. This park is also known for the massive 103-foot tall concrete cross at the very top of it. I enjoy going here because there are loads of trails and you can see a lot of animals and plants. At the top, you will also get some amazing views of San Francisco. 39 Dalewood Way
Mission District Murals: There are over 1,000 murals in San Francisco, but many consider the Mission District murals to be the best. Many of the murals depict important times in the city's political movements, cultures, and colorful history. They are scattered throughout the district, but some of the most famous ones are located on Balmy Street and Clarion Alley
Twin Peaks: Both of these hills are over 900 feet high and are the second tallest summits in the city. Being that there aren't any trees or buildings to block your view, you will be able to see 360-degrees around you at the top. However, if you don't want to climb all the way up, then you can just go to the parking lot and get a view of the Golden Gate Bridge, Alcatraz, the East Bay and downtown San Francisco. 501 Twin Peaks Boulevard. Find out more about visiting.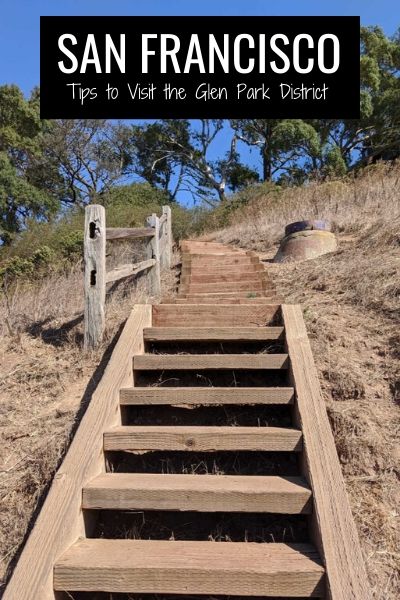 Comments? Questions? Suggestions?
I would love for you to join me in my private Facebook group! 
It's a great place to interact with me and others who know the area well.
You can ask questions, get advice for your upcoming stay, and then share your photos and advice with others when you return home. It's a great community and the fastest way to get answers to those nagging questions about your visit!