Fiesta on the Hill
Discover Family-Focused Fun at this Bernal Heights Street Fair
NOTE: On December 6, San Francisco (and a few surrounding counties) will once again be on a stay-at-home order. This will last indefinitely. Click here for more information.
Head over to the Bernal Heights District for the annual Fiesta on the Hill celebration. This street fair offers family-friendly fun on Sunday, October 27, 2019 from 10am to 4pm.
This San Francisco festival features live music, street artists, and gourmet food. Bring the kids along for pumpkin carving, petting zoos, and more.
All activities take place on Cortland Avenue. In addition to the activities mentioned above, you will also find more than 100 booths with arts, crafts, and information on local organizations.
There is also a costume parade with a marching band which starts at noon.
Admission is free, but they do request donations at the door. All proceeds will go to support the Bernal Heights Neighborhood Center.
Visit their site for a full line up of this year's performers.
How to Get to the Festival
I recommend that you either take the bus or drive to Fiesta on the Hill.
Bus: There are two Muni buses that will put you right in the heart of the action: the 24 and the 67. Both drop you off along Cortland Avenue and within a block of the festival. You can also take the 14 or the 49 and then transfer to the 24 at Mission Street and Cortland Avenue.
Driving: Another great option is to drive. The streets are steep in this district and parking can be tricky, but it's a good option if you are coming in from outside of San Francisco. This event attracts around 10,000 people from around the Bay every year, so parking will be tough right near the festival. I recommend heading five or six blocks away in order to find a good spot.
Other Fun Festivals this Fall
San Francisco's weather in the fall is perfect, which is why you will find almost a dozen street fairs in October. Here are just a few others that I think you will enjoy.
The Wharf Fest: This October head over to Fisherman's Wharf for this year's Wharf Fest. This annual event features live music, gourmet food, and tons of other activities. Other highlights include the chowder competition and the Segway obstacle course. Find festivals details here.
Potrero Hill Festival: Another fun event this month is the Potrero Hill annual festival. It includes food from dozens of local restaurants and cafes, live entertainment, a petting zoo, and more. Click here for full details.
Halloween: San Francisco is THE place to celebrate Halloween. This year, it will be even more fun with costume parties, cruises, and fun things to do with the entire family. Click here for a list of events and activities for Halloween.
More Fun SF Activities
50 Free Activities: Are you looking for something fun to do this weekend? If so, then check out my list of 50 free activities all around San Francisco. They range from a visit to the Cable Car Museum to catching three free innings of San Francisco Giants baseball. Click here to check out the entire list.
Walking Tours: If you love to learn more about San Francisco, then I recommend checking out some of it's well done walking tours. These tours range from free walks around SF's historic buildings to food walking tours around the Mission. Every time I go on a walk, I always learn something new about this amazing city. Click here to learn more.
Savings Tip: One of the best ways to save on activities in San Francisco is by buying your tickets through Goldstar. They offer dozens of tickets to SF's annual events, tours, cruises, and more. Check them out today!
Ghost Tours: San Francisco's ghost tours give you the opportunity to learn more about San Francisco's dark past. They range from Vampire Tours around Nob Hill to Segway Tours around Chinatown, North Beach, and Fisherman's Wharf. Some are offered year around, but many only run around Halloween. Check them all out today!
Additional Events in SF
---
Thanksgiving in SF: The holidays are just around the corner and it's time to start planning fun events for your entire family. On Thanksgiving Day, many museums are closed, but you will find a variety of tours and other fun activities. If you plan to eat out, you will also find some top recommendations for both lunch and dinner. Learn more here.
Film Festivals: I love the fact that San Francisco hosts more than 50 film festivals each year. They range from the Ocean Film Festival in March to the Dance Film Festival in November. All feature pieces from independent filmmakers from around the world. Click here to check out the full schedule of festivals.
The Perfect Day in the Haight Ashbury District: Spend some time getting to know the Haight Ashbury District on this low-key, self-guided walking tour. It will take you by all the hot spots in the district on any day that works for you. Click here for more details.

Follow SFTourismTips on Facebook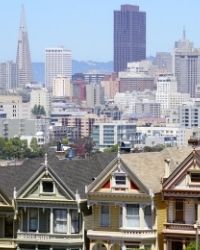 On my Facebook page, you will find more great information about planning your San Francisco vacation.
It includes tips, must see attractions, and other fun details.
Click the link below to check it out. If you enjoy the page, give us a like.