Eureka Valley in San Francisco: Things to Do & See

by Jill Loeffler  •

Updated: May 23, 2022
Eureka Valley in San Francisco is a large neighborhood that includes Corona Heights, the Castro, Dolores Heights, and the Duboce Triangle. Here you will find plenty of fun things to do including some heart-pounding hikes that lead you to views around the SF Bay, colorful restaurants, a lively nightlife and so much more.

Some of the top attractions in this district include the Castro Theater, Twin Peaks, and Kite Hill. You can also enjoy live music at Cafe du Nord or the Swedish American Music Hall.
Read on to learn more about what there is to see and do in this popular area.
Disclaimer: I receive a small commission from some of the links on this page.

10 Top Things to Do & See in Eureka Valley in San Francisco

1. Corona Heights Park

This is one of my favorite parks in Eureka Valley in San Francisco. Some of the other parks in the city give you great views, but this one gives you that and much more.
At its peak, you will get views that stretch from the Downtown San Francisco to the Marin Headlands to Oakland and Alameda. It is truly impressive.
As you climb up the stairs, you get the chance to see beautiful flowers and plants including the classic California poppy, Douglas Iris, and Johnny Jump-Ups (which is the only plant that can host the amazing Callippe Silverspot Butterfly)!
There are also lots of birds and other wildlife to see too. The climb only takes about 30 minutes and is worth the effort.

2. Randall Museum

Another fun stop in Corona Heights Park is this small, free kid's museum. It focuses on natural history, arts, and science and is fun for kids off all ages. There are loads of exhibits, including live animals (all rescues), and lots of hands on learning experiences.
If you plan to take public transit, take the Muni streetcar lines of K, L, M and then walk up the hill. It is well worth the visit and loads of fun for the whole family.
3. Mt. Olympus

Originally known as the physical center of San Francisco, the top of Mt. Olympus used to be a place of amazing views. You'll notice when you get to the top of it, there is only a strange looking pedestal.
It would seem like there should be a statue, and there was, but it was removed as it more buildings went up around it. 

It may not be as glamorous as it was back in the day, but I still love to climb the steps, relax for a bit there, and just check out all the beautiful trees and houses that are now all around Mt. Olympus.
Some of the nicest houses anywhere in San Francisco are here and when you walk up, or down to it, you'll see them.
4. The Swedish American Music Hall & Cafe du Nord

These two music venues are home to live music several nights a week. If you like feeling as if you've stepped back in time, then you need to make a stop here.
This building is known for the beauty of its entrance way, the bar, and all the other decor you'll see here. 
Some of the bands that have played here included Neil Young, The Kinks, Train, and many others from San Francisco and beyond. So, grab a seat, have a drink and a bite to eat, and enjoy great music all at the same time!
Here are just a few of their upcoming performances.
5. Castro Theater

If you want to see a current, classic, or movie that you can sing-along (yes, I really mean sing-along) to, then the best place in Eureka Valley in San Francisco is without a doubt the Castro Theater.
This theater is worth visiting even if you don't want to see a movie since it was built in 1922 and is a true movie palace in every way.
There really isn't anything quite like the Castro as it will transport you back in time with the gorgeous stairways, main floor, mezzanine and balcony seating, and a massive Wurlitzer organ for special occasions. If you are lucky, there may even be a movie festival going on when you visit here. 
>> Visit the Castro Theater site to learn more and to check their current calendar for upcoming movie and events
6. Rainbow Honor Walk

The Rainbow Honor Walk is unlike any sidewalk you'll see around the world. This walk, and the plaques that you'll find on it, is dedicated to the heroes of the LGBTQ movement who have helped change the world's view of humanity and how everyone should be treated with respect. 

Each of these plaques, which now cover several blocks, are made of bronze. They have a photo of the person, a description of what they accomplished during their battle for equality, and how they achieved their goals.
Some of the people that are memorialized here include the writer James Baldwin, the artist Frida Kahlo, and the British mathematician Alan Turing.
7. Kite Hill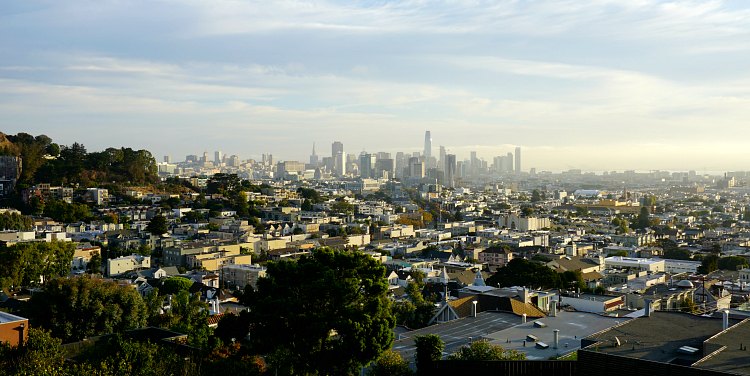 Another place to catch spectacular views all around San Francisco and the SF Bay is at the top of Kite Hill. This mini-park is about a half-mile from the heart of the Castro and Eureka Valley in San Francisco, but it's a heart-pumping walk to the top. 
It's only a couple of blocks long and wide but is bare at the top. This allows you to get unobstructed views all around. 

8. Seward Mini-Park

After your climb to the top of Kite Hill, don't miss your chance to feel like a kid again at the Seward Mini-Park. This is where you will find two concrete slides. They are a hidden gem just a few blocks away from the central business district of the Castro.
You will need some cardboard to slide down them, but you can often find some at the park. Others often share theirs too as everyone loves the thrill of going down or watching others go down the slides.
9. Twin Peaks

The second highest point in San Francisco (with only Mr. Davidson being taller) at 922 feet will give you incredible views of the whole Bay Area. Twin Peaks are two small peaks side-by-side in a 30+-acre park. The top is also bare, so you get unobstructed views all around.

You can see wildlife such as the endangered Mission Blue Butterfly, loads of birds such as the white crowned sparrow and other animals such as rabbits and coyotes. The easiest way to get there is to drive, but parking is usually difficult since there are only a few spots.
I love to take the bus and then climb to the top. Visit my Twin Peaks page for more tips on visiting this popular attraction.
10: GLBT Museum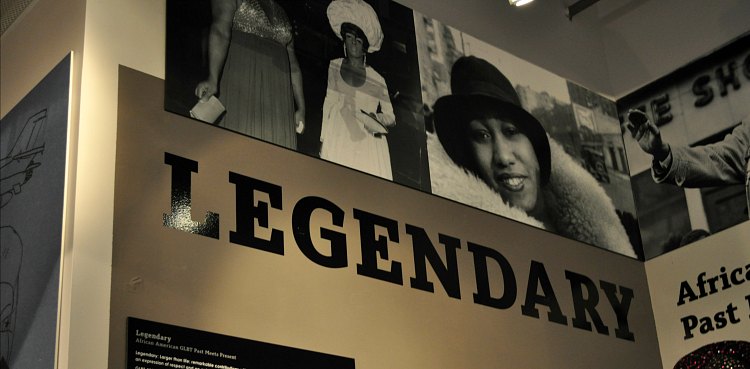 In case you don't know the meaning, GLBT means Gay, Lesbian, Bi-Sexual, and Transgender and this is a museum dedicated to showing the importance of GLBT community, their history, their struggles, and their ability to overcome adversity.
The museum houses three main gallery spaces which hold rotating exhibitions throughout the year.
In addition to the exhibits that you will see, there is also a special archive which has documents and information that you are welcome to access. They are by appointment only, and limited in time, so make sure to plan ahead and check to see if they have openings during your stay here. 
More on visiting this small, but powerful museum.

Bars & Restaurants at Eureka Valley in San Francisco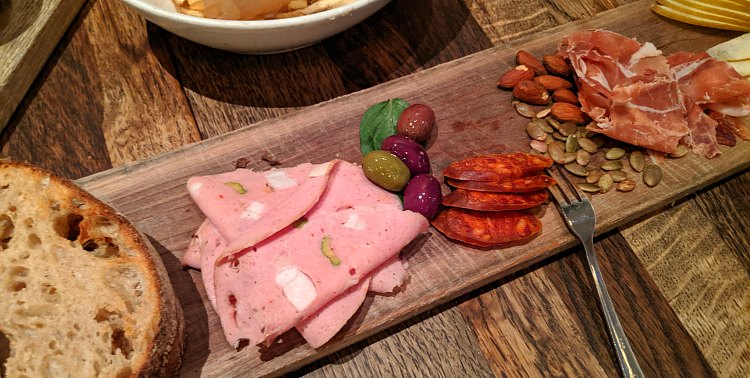 The charcuterie board we ordered during our last visit to Starbelly.
These are just a few of my favorite bars and restaurants in Eureka Valley in San Francisco.
Starbelly
If you are looking for some of the best food in this area, you will want to go to Starbelly. It has both indoor and outdoor seating, delicious meals, and won the 2015 Bib Gourmand award from the Michelin Guide, so you know it is amazing.
I highly recommend getting reservations as it is almost always packed.
3583 16th Street
The Lookout
The Lookout is always a great bar and restaurant to visit if you want to have some great bites, drinks, and watch over the lively area where 16th street, Noe Street, and Market Street all meet up.
I love this stop because you can see all the streetcars turn around here as well as the people having fun in the Castro District. There is an upper level outdoor deck which has amazing views.
3600 16th Street
Twin Peaks Tavern
Another one of my favorite bars is Twin Peaks. It's right on the corner of Castro and Market Streets. It's a great place for tasty cocktails and to people watch.
401 Castro Street
L'Ardoise Bistro
You may not think of San Francisco as a place for delicious French food, but you'd be wrong as L'Ardoise Bistro is one of the best you'll find anywhere.
It has a very quaint and classy atmosphere and it is known for great service and food. Some of their specialties include Coq au Vin, three grain mixed mushrooms and Parmesan risotto, and a to die for rack of lamb.
151 Noe Street
Eureka Valley Weather

The weather in Eureka Valley in San Francisco is mild all year round. It usually stays in the upper 50s and lower 60s from November to March. It then heats up to the mid-60s from April until August.
The only warm or hot times are usually in September and October when it is in the mid-70s.
During the winter you will get around 3-5 inches of rain each month, so it is mild. It is far enough away from the ocean that you won't get too much fog during the year.

Click the links for more details about the weather in San Francisco throughout the year and find tips on what to pack for your stay.

Where to Stay Nearby

Eureka Valley in San Francisco does not have any large hotels. However, they do have some small, more local hotels that are a great option. Here are a few recommendations.
Parker Guest House: This 3.5-star gems offers just 21 rooms. It's right in the heart of the district and offers on-site, secure parking (additional cost), free wifi, and an afternoon social. You will find it at 520 Church Street. Check recent reviews and availability here
Beck's Motor Lodge: This hotel is right on Market and an easy walk to everything you need in this district. It includes free parking, internet and a rooftop terrace. 2222 Market Street. Find out more here
In addition to these places, you will find it's easy to get here from other places around SF. Here are more hotel recommendations.

How to Get to Eureka Valley

The best way to get to Eureka Valley is by public transit. Parking in this neighborhood can be tough, but I've offered up some parking options below too.

Public Transit

Muni Light Rail Trains: Several of the Muni Light Rail trails stop at both the Church and Castro Street Stations. The K, L & M trains stop at both stops. You can also take the J-Church to the stop at Church and Market Street (above ground station). This is your best bet if you are coming over from Union Square, Downtown, the Financial District, or South of Market. It's also the best bet if you are transferring over from BART.
SF Streetcars: The Streetcar is a great way to get here if you love to take it a little slower and see your surroundings. These above the ground historic gems link Eureka Valley in San Francisco with stops along Market Street, those along the Embarcadero and stops in Fisherman's Wharf. The stop every couple of blocks, which is why they take a bit longer. However, they are fun to ride!
Buses: You will also find several buses in and out of this district. The most popular is the 24-Divisadero, which is a north-south bus that will take you from Bernal Heights and southern Mission over to the Castro and Market stop. You can also take it from the Divisadero Corridor, Alamo Square, and Pacific Heights.

>> More tips on getting around SF

Driving & Parking

Although parking can be a hassle here, but you will find a few places to park in Eureka Valley in San Francisco.
Castro Street Public Parking: The main entrance is off Castro a few doors down from the Castro Theater.
18th St/Collingwood Lot: This is a small, flat lot with just a few spots. It's official address is 4116 18th St.

2144 Market St: This is another small parking lot. The entrance is right past Lucky 13.

Medical Center Parking-Castro and Duboce: This parking garage is a little further away, but a great option if you are in a pinch. 
>> Find additional parking options around SF
Things to Do Nearby

Hayes Valley: To the east of this district, you will find Hayes Valley. This district offers a wonderful variety of food and plenty of nightlife. It's home to the SF Jazz, the Sydney Goldstein Theater, and the Rickshaw Stop.
Mission Murals: You are also a quick walk to the Mission District where you will find dozens of colorful murals. Many are political in nature and others showcase stories related to the local area. You will find a large concentration in Balmy Alley and Clarion Alley. See pictures and learn more here.
Haight-Ashbury: This district was the center of the activities in the 60s and the Summer of Love in 1967. Many artists during the time include the Grateful Dead, Janis Joplin and Jimi Hendrix as well as many others. Today, you will find an interesting neighborhood full of shops, restaurants, and interesting characters. Find out more here.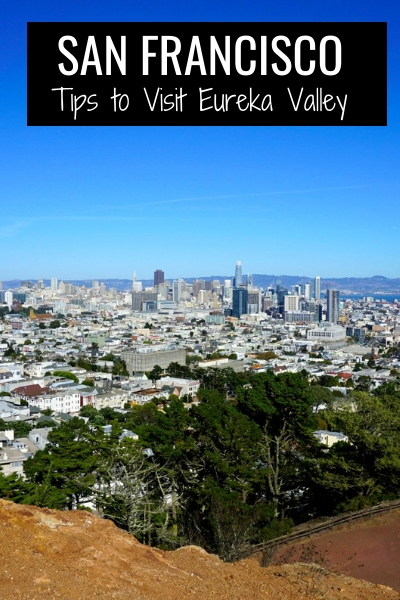 Comments? Questions? Suggestions?
I would love for you to join me in my private Facebook group! 
It's a great place to interact with me and others who know the area well.
You can ask questions, get advice for your upcoming stay, and then share your photos and advice with others when you return home. It's a great community and the fastest way to get answers to those nagging questions about your visit!