Duboce Triangle in San Francisco: Concerts, Nightlife, and Other Fun Things to Do

Duboce Triangle in San Francisco is a smaller, sub-district of the Castro. It's full of bars, restaurants and two great live music venues. It also has some colorful artwork and lovely Victorians that you will not want to miss.

This small area runs along Market Street from Duboce Avenue to Castro Street. It then forms a triangle and ends where these two streets meet.
Read on for more details about what there is to see and do in this neighborhood.
Disclaimer: I receive a small commission from some of the links on this page.

Things to Do & See in the Duboce Triangle in San Francisco

1. Duboce Park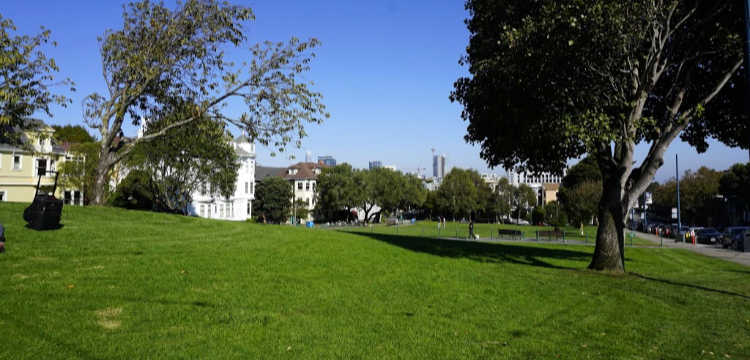 The green lawn at Duboce Park. This is looking north east toward downtown San Francisco.
Opened in 1900, this park is a favorite for locals and visitors alike. Recently updated, this park has a basketball court, a dog play area that is very popular, and play structures for young kids.
While you are in the area, check out the Scott Street Labyrinth near the park as it is a very cool way to spend a few minutes walking around it to escape the busyness of the city.

2. Swedish American Music Hall

This is a great place to grab a drink, listen to a band, and just have a great time overall. This main room holds up to 300 people, so you always have a great view of the musicians while being able to dance and enjoy the night.

The staff is known to be super friendly and service is incredible. The interior is gorgeous and very classy. Also, make sure to check the schedule as there are often lectures, readings, and other events going too.
3. Cafe du Nord

This is in the basement of the Swedish American Music Hall. It is a smaller venue than the upstairs, but still pulls in top musicians and talent.
The space is beautifully decorated, and you'll feel like you have stepped back in time. It is known as one of the best speakeasies in San Francisco.
Note: The entrance to Café du Nord is two doors down on Market Street from the Swedish American Music Hall.
>> More great concerts around SF
4. Willkommen Beer Garden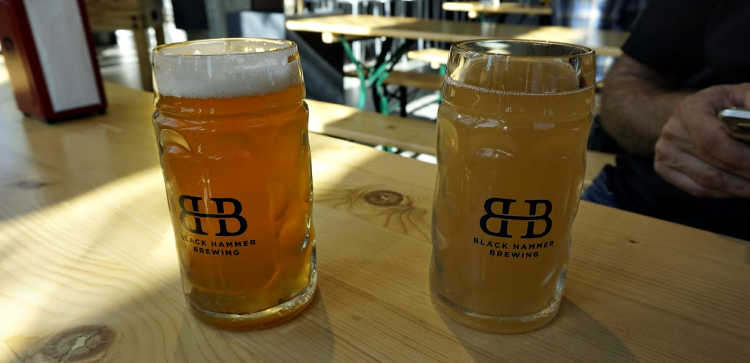 My husband and I enjoying a couple of beers at the beer garden!
This is the perfect brewery for all your German beer, and food, desires. Known for a large selection of beers, friendly and informative staff, and huge portions, you will definitely want to stop by here for a meal when you are in the Duboce Triangle in San Francisco.
Something I truly love is that their indoor beer garden has tall maple trees, and you can just hang out and enjoy the sun at the same time.
Note: They also have a vegetarian option if you don't eat meat.
>> More great breweries around SF
5. Duboce Park Cafe

Open for breakfast, lunch, and dinner, this is the perfect place to stop, choose from a wide variety of dishes, and even bring your doggie if you have one with you. This restaurant has one of the most diverse menus around so you'll be able to find something you will want to order.
If you are there during a warm day, check out their ice cream also. Since it is also close to the Duboce Park, you could even order your meal and then walk over there to eat it. They have gluten-free, vegetarian and vegan options.
6. Canela Bistro & Wine Bar

Spain has come to San Francisco in this cute family owned restaurant. As would be expected, they have tapas for you to enjoy. They also have other plates, such as portobello sliders, tempranillo braised beef, and octopus.
If you are vegetarian, you will find choices here, such as roasted seasonal vegetables and more. Last but not least, their wine and beer list is extensive and compliments each dish perfectly.
>> More great wine bars around SF
7. Bicycle Mural behind Safeway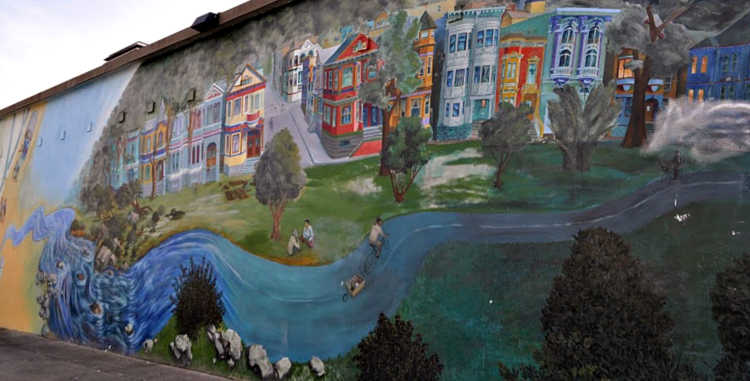 This is just a small section of this lovely mural.
The Duboce Triangle in San Francisco isn't as well-known as other districts for murals and that is one of the reasons that this is such a wonderful surprise.
This 6000 square foot (almost 400 feet long!) mural is dedicated to all things cycling and is located on the back of the Safeway.

The painting shows how bikes would cross the city, starting at the beach and then going all the way to the Bay. There is a bike lane, and sidewalks beside it so you can enjoy it all without cars buzzing by.
Lastly, it is just a few blocks from the numerous Muni lines and bus lines, so it is easy to find and enjoy.
>> More places to find murals around SF
8. Historic Houses

Another one of the things I love about the Duboce Triangle in San Francisco is the lovely homes along Noe and Sanchez Streets. Both feature some colorful historic homes and they are fun to check out.
You will find them on Noe between 15th and Duboce. You will also find more on Sanchez between 14th and Duboce.
>> Additional places to check out our famous Painted Ladies
Popular SF Tours & Activities

How to Get Here

The easiest way to get to Duboce Triangle in San Francisco is by taking the Muni light rail. You can take the J, K, L and M trains. The J will take you to an above ground station at Church and Market. The other three stop at the underground Church Street Station.
You can also take the F-Streetcar here. This is a bit slower but will allow you to watch the city go by as you travel to this neighborhood. It is also a great choice from Fisherman's Wharf as it originates in the heart of that district.
Things to See & Do Nearby

Castro: One of the most famous neighborhoods near the Duboce Triangle in San Francisco is the Castro. This district is known to be the center of LGBTQ life in San Francisco. I highly recommend going to the GLBT Museum to learn more about the continuing struggle for equal rights. This is also a place to find some of the best restaurants, murals, shows, and nightlife. It is a must visit for anyone coming to the City by the Bay. Visit my Castro page to learn more.
Mission: This district is known to be one of the most beautiful because of the diverse cultures, art, and people living here. This is home to many of the city's best murals and you will find them scattered throughout it. It is also home to the gorgeous Mission San Francisco de Asis, the Mission Dolores Park which affords both gorgeous views of the bay and lots of sunshine and loads of great Mexican and Latin restaurants. Learn more here.
Lower Haight: Home to some quaint Victorians, great bars, and lots of fun shopping, you will want to visit this lesser known district when you are close to the Duboce Triangle in San Francisco. Some of the most famous bars in SF are right here including the Noc Noc, Mad Dog in the Fog, and Toronado. There are lots of smaller and local places to shop, and you will find a few murals in this area also. Find out more here.
Haight & Ashbury: This is the area where you can admire incredible views of SF on top of Buena Vista Park, see gorgeous painted Victorian houses, and check out what was home to some of the most famous bands and hippie culture experiences in the city. There are also lots of great restaurants and loads of shopping with objects ranging from the 60s up to the most current and chic you will find anywhere. Find out more here.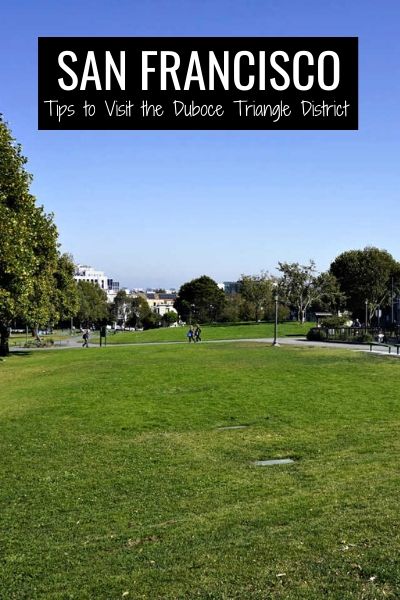 Comments? Questions? Suggestions?
I would love for you to join me in my private Facebook group! 
It's a great place to interact with me and others who know the area well.
You can ask questions, get advice for your upcoming stay, and then share your photos and advice with others when you return home. It's a great community and the fastest way to get answers to those nagging questions about your visit!