Divisadero Street in San Francisco: Fun Things to Do in this Thriving SF District

by Jill Loeffler  •

Updated: January 13, 2023
Divisadero Street in San Francisco is a wonderful stop for those looking for more of a local feel. This area of town has changed quite a bit over the last decade and it now offers dozens of nightlife options.

You will find a wide variety of bars from dives to higher end cocktail bars. You will also find some great restaurants that serve up everything from burgers to Thai food to Italian dishes.
The Independent is also a wonderful music venue. They feature independent bands and emerging acts. It's a great stop for those interested in a night out with live music.
Disclaimer: I receive a small commission from some of the links on this page.

Independent

This is one of the best places on Divisadero Street in San Francisco to see a live show. The Independent opened in 2004 and immediately became a favorite of locals and tourists alike.
One of the reasons this venue is so beloved is that it has a very diverse selection of bands and types of music. This includes rap, rock and roll, folk, country and pretty much anything else you can imagine.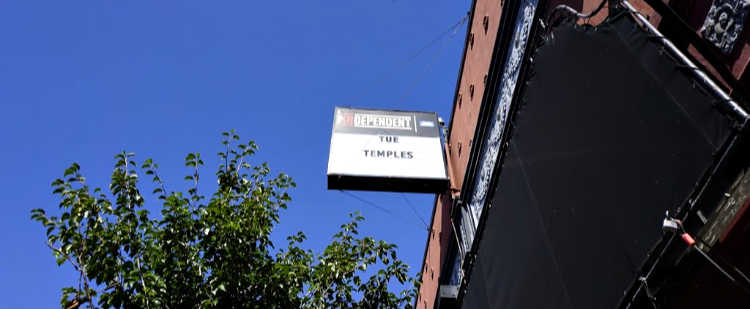 Another reason this venue is so respected in the city is that the sound system, and the sight lines to the stage, are some of the best anywhere in San Francisco. They are so good that many musicians have stated this is their favorite venue to play since they feel like they are able to connect with the audience in a way they can't anywhere else.
Being that the Independent is on Divisadero Street, there is some parking nearby, but it strongly suggested that you make use of the public transportation available to you.
Here are a few of their upcoming shows.
>> Additional live music shows around SF

Other Nightlife Options

This area is one of my favorite nightlife spots. Here are just a few of the places I love.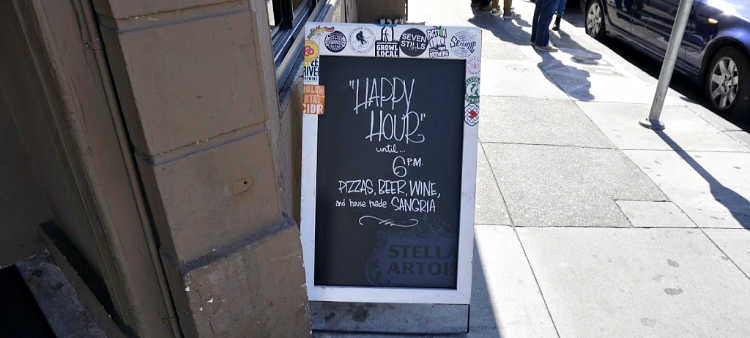 Fly Bar
This is one of my favorites here. They have an amazing happy hour, a great selection of beers on tap, and a decent sized menu. I also love their unique artwork.
If you are looking for a great local place, I highly recommend the Fly Bar.
762 Divisadero Street.
Fishbowl Bar & Grill
Known as the "Classiest Dive Bar in the West", the Fishbowl definitely lives up to its name. I love this place because they have some of the friendliest bartenders anywhere, the 4 flat screen TVs for sports, and the fun trivia nights.
You will find a younger crowd here most nights of the week. The Fishbowl is located right on Divisadero Street in San Francisco, so it is easy to find when you are walking around this district.
1854 Divisadero Street
Emporium SF - Arcade Bar Venue
I personally love this bar since I grew up playing video games, pinball, and all those other cool games of my childhood. You will all of them, and more, in this totally fun bar. The Emporium also has a great selection of beers, wines, and mixed drinks.
They don't have food on-site, but you are welcome to bring in food from restaurants around the area. If you want a really special experience, come in on Monday nights and check out the 50-foot projection screen where you can play all your favorite video games in a way you can't anywhere else.
616 Divisadero Street
Madrone Art Bar
This is one of the most original bars in San Francisco as it blends drinks, art, and music into a single experience. Pretty much anytime you enter the Madrone, you'll find new pieces of art on its walls.
The idea is that for patrons to become one with the bar and feel as if they are community members immediately. In addition to beers and wine they have some of the most original "artistic" drinks anywhere.
500 Divisadero Street
The Page
You will immediately get a cool yet dive bar feeling when you come to The Page. The bar has a large range of drinks and you'll enjoy the art and cool atmosphere here. They also have a pool table and a foosball table.
298 Divisadero Street

>> More of my favorite bars around SF
Top Restaurants on Divisadero Street in San Francisco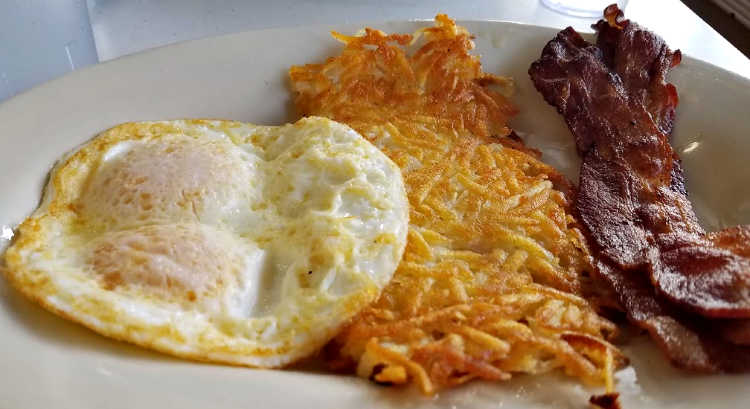 Eddie's Cafe
Get ready to step back in time and feel like you are in the 50s when you enter Eddie's Cafe on Divisadero Street in San Francisco. The meals are simple (as you can see from the picture above), but in the best way, as there are eggs, pancakes, bacon, hash browns, and the classics.
You are also going to be hard pressed to find a better meal deal in San Francisco in regard to price, quality and quantity.
They are only open for breakfast and lunch.
800 Divisadero Street
Little Star Pizza
This is my can't miss pizza place on Divisadero Street in San Francisco. They have so many choices that it is so hard for me to decide each time I'm there.
That being stated, I have my favorites, but I also make sure to try something new every once in a while. They have thin crust, but I love their deep-dish pizza, and the corn meal crust (try it!) is amazing.
They also have a nice selection of wines and beers.
846 Divisadero Street
Brenda's Meat and Three
You'll think you've been transported to the deep south when you come to Brenda's Meat and Three. You get to choose your main and also three side dishes and some of the choices are fried chicken, spareribs, and blackened catfish among others.
Hush puppies and gumbo give you an idea of the sides and you can always order beignets as dessert. They also serve vegetarian, gluten free, and vegan options.
919 Divisadero Street
Nopa
Locally sourced ingredients for Nopa's menu change as each chef contributes their own ideas each week. Known for the fantastic meals, delicious drinks, and superb service, this restaurant has become a favorite of upscale eateries in San Francisco.
Something I love is that you can sit at a table with your group, or if you want to make some new friends, try one of the communal tables.
560 Divisadero Street
The City Taqueria
San Francisco is known for its authentic Mexican food and this is one of my favorites in the city. You will enjoy their many choices including burritos, quesadillas, tacos, tortas, and more.
I like that they have meat, seafood and vegetarian options so you can be sure to find something for everyone in your group. They have agua fresca, soft drinks, beers and a few wines to drink also.
1836 Divisadero Street
Ragazza
Another one of my places to have some pizza, beers and wines inspired by Italian culture is Ragazza on Divisadero Street in San Francisco. Some of my favorites here are the Puttanesca pie, the Bianca, and if you are adventurous, try the Wild Nettles with La Quercia Pancetta.
They also have pastas, roasts, and delicious desserts. They have a nice selection of wines and beers.
311 Divisadero Street
Nopalito
I wrote about Nopa above, and Nopalito ("little Nopa"), is also one of my favorites. Something I love about Nopalito is that they change their menu daily so you will always find something new to try each day.
All of their ingredients are also locally sourced and of the highest quality. They also have an extensive list of beers, wines, and mixed drinks that are inspired by the Mexican culture.
306 Broderick

>> More top restaurants around SF
Metro Hotel

One of the only hotels along Divisadero Street in San Francisco is the Metro Hotel. It's the perfect budget-friendly choice for those that don't plan to spend much time in their rooms.
The hotel is clean, comfortable and offers your basic amenities including Wifi, private bathrooms and flat screen TVs. The hotel itself does not have many amenities which is why it's such a great value.
If you don't mind not having a fitness center or business center, then this might be just the right option for you. The staff is friendly, and you will feel right at home. The rooms are on the second and third floors and there is no elevator.
It's also right along the corridor of Divisadero Street in San Francisco, which makes it the perfect location. You are also near the Haight-Ashbury, the Lower Haight, Alamo Square, Corona Heights and the Castro.
>> Read recent reviews and more on the hotel here
How to Get to & Around Divisadero Street

You will find a variety of public transportation options near Divisadero Street in San Francisco. Here are a few of your best options.
Buses: Running east and west, you will find the 5-Fulton and the 7-Haight/Noriega. These are all great options if you are coming from downtown or Union Square. The 24-Divisadero runs north and south, making it easy to get from one end to the other.
If you are coming over from Fisherman's Wharf, your best route is to take the F-Streetcar to one of the stops where the 7 picks up on Market Street. You can then take it to the heart of the district.
Things to Do Nearby

Alamo Square: This area is most famous for the seven incredible painted Victorian houses that are called the "7 sisters" or "Painted Ladies of Alamo Square." You will know them immediately as these houses have been featured in shows like "Full House", "Dirty Harry", and others. Being that this is a pretty quiet neighborhood, after seeing them I like to spend some time in Alamo Square Park, which is just across the street and gives you an amazing view of the city. Learn more about visiting.
Golden Gate Park: One of the most famous areas in San Francisco, this is a must visit when you are here. This park is over 1,000 acres and is home to favorites such as the de Young Museum, the California Academy of Sciences, the Japanese Tea Garden and so much more. You could easily spend the whole day in this park alone and still not have come even close to seeing it all. Learn more about visiting Golden Gate Park.
Buena Vista Park: This park is a bit of a hike, and you'll get your heart beating, but it is totally worth it. This is a great park for you to see views of the downtown, the Golden Gate Bridge, and the San Francisco Bay. It usually takes about 25 minutes to 30-minutes to reach the summit. Since it is a pretty decent climb up, I suggest you are in relatively healthy so you can enjoy it and not get worn out.
Haight-Ashbury: Known as the home of "The Summer of Love", this is a can't miss neighborhood when you visit the City by the Bay. It still has some of the old feeling with murals of famous bands and artists that lived here during the hippie era while also being hip with fun stores, places to eat, and so much more. By the way, if you've stopped at Buena Vista Park, you can walk straight down to the Haight-Ashbury from it. Learn more about what there is to see and do during your visit.
Comments? Questions? Suggestions?
I would love for you to join me in my private Facebook group! 
It's a great place to interact with me and others who know the area well.
You can ask questions, get advice for your upcoming stay, and then share your photos and advice with others when you return home. It's a great community and the fastest way to get answers to those nagging questions about your visit!