China Basin in San Francisco: Things to Do in this Small SF Neighborhood

by Jill Loeffler  •

Updated: March 26, 2023
China Basin in San Francisco is a small neighborhood within the larger South of Market District (SoMa). It sits right along the SF Bay and is home to Oracle Park where the San Francisco Giants play their baseball games.

It's an old warehouse district that is now home to several waterfront apartment buildings, some great restaurants and a small, oval tree lined green space called South Park.
It's also the birthplace of author and journalist, Jack London.
The district is only about a half mile long and a half mile wide. Its borders are on 2nd and 4th Streets and Stillman Street and the China Basin waterway. You will find it just north of Mission Bay and west of the South Park district.
Disclaimer: I receive a small commission from some of the links on this page.

Oracle Park

The biggest attraction of China Basin in San Francisco is Oracle Park. It's home to the Major League Baseball team the San Francisco Giants.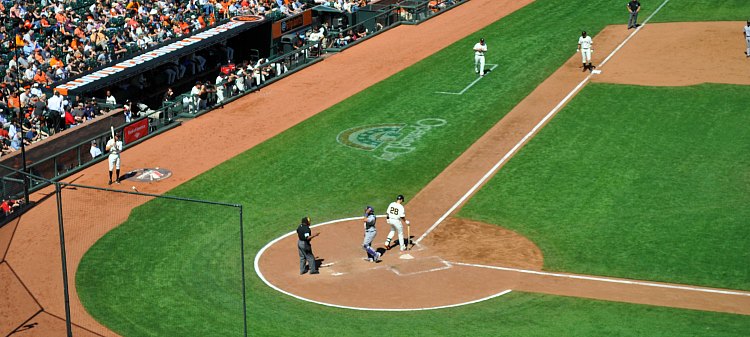 They also often have one SF Opera simulcast each fall and a couple of large concerts each year. Other fun events here each year include the SF Giants Fan Fest and Discovery Days (a free kid's hands on science fair).
Oracle Park opened for its first game on April 11, 2000. It cost $357 million to build and has a capacity of 41,915.
The SF Giants play here from April to late September/early October every year. They play around 80 games at home each season or around a dozen games each month.
Here is a schedule of upcoming games and events at Oracle Park.
Live Music in China Basin in San Francisco

You will also find some great live music at China Basin in San Francisco. The Hotel Utah offers indie acts most nights of the week. They also have some great burgers and beers at a decent price. The hotel offers some rooms if you want to spend the night here.
The Hotel Utah has been used as a hotel since the 1950s. In the late 1970s, the new owner built a stage for live entertainment. Whoopi Goldberg and Robin Williams are two of the early entertainers to grace its stage.
You will find the Hotel Utah at 504 4th Street. 
Find shows all around SF by month.
Jack London's Birthplace

Jack London was born in 1876 at 601 3rd Street in China Basin in San Francisco. The original house where he was born burned down in the 1906 Earthquake and Fire. The building that is in its place today honors this location by noting it as his birthplace using a plaque near the front door.
London was a famous author and one of the first to make a fortune from his writing. His two most famous works include The Call of the Wild (1903) and White Fang (1906). Some consider him the first to write in the genre that is now known as science fiction.
In addition to being a famous author, London was also an activist. He fought for workers' rights and supported both unions and socialism. He was part of a group of activists called "The Crowd."
London died in 1916 at the age of 40. To this day, his life and work continues to be celebrated all around the SF Bay Area.
Where to Stay in China Basin in San Francisco

You will find just a handful of places to stay in China Basin in San Francisco. These are a few of my favorites.
Hotel Utah
As I mentioned above, Hotel Utah is a locally owned hotel on the northwest end of the district. It's a small, European hotel that offers great prices and all rooms share a bathroom.
It's at 504 4th Street.
Check for room availability for the Hotel Utah
Hotel Via
This 4-star boutique hotel is located right across the street from Oracle Park. The hotel is highly rated by guests and the rooftop bar is one of the favorites.
From the roof, you get 360-degree views of Oracle, the SF Bay and the skyline.
It's located at 138 King Street.
Check the Hotel Via for availability.
Hyatt Place San Francisco/Downtown
Another highly rated hotel in China Basin in San Francisco is the Hyatt Place Downtown. It's a 3-star gem with great views from many of their rooms. It's at 701 3rd Street at Townsend. Check for room availability during your stay.

These are a few additional places to stay nearby.
Top Restaurants & Bars

The reason most people come to this district is for the great restaurants and bars. Here are a few to check out during your visit.
District
Style: Wine Bar
I love hanging out at this wine bar whenever I can. It offers high-end wines from around the world and also some great local selections.
I love the exposed brick walls and the warm atmosphere.
You will find them at 216 Townsend.
Momo's
Style: New American Restaurant
Momo's was one of the first restaurants in China Basin in San Francisco. I used to work just two blocks away from this restaurant and used to frequent it for lunch and after work.
They have a great happy hour (only offered on non-game days) and tasty pizzas. I also love the outdoor area on warm, sunny afternoons.
They are right across from Oracle Park at 760 Second Street (right on King Street).
Black Hammer Brewing
Style: Craft Brews
If you love sampling local beers, then check out Black Hammer Brewing Company. I love their sours, ales, and IPAs.
You will find them at 544 Bryant.
Garaje
Style: Mexican/Burgers
This casual restaurant is the perfect comfort food stop. Even though it's technically a Mexican restaurant (and their tacos are tasty), I often stop here for the burgers.
It's cash only and is the perfect place to relax and unwind for an hour as you refuel.
You will find it at 475 3rd Street.
Brickhouse Cafe - Bar & Grill
Style: American
The Brickhouse Cafe is another great stop in this SF District. They serve breakfast, lunch and dinner (brunch on the weekends).
It's my favorite place to grab a salad or sandwich when I'm in the area. They also have a large variety of tasty burgers.
At night, they add a few larger entrees to the menu (I LOVE their Wagyu Skirt Steak). You will find them at 426 Brannan Street.

>> Find additional restaurants by district and cuisines all around SF
How to Get to China Basin in San Francisco

It's easy to get to China Basin in San Francisco from most spots around town.
MUNI Light Rail: The K or T and the N light rail trains run from Market Street all the way to the ballpark. It's one option to get here from Union Square.

Buses: The 30 and 45 are three of the more popular buses that roll through this district. The 30 and the 45 offer a more direct route from Union Square.
Caltrain Station: The Caltrain Station at King Street is just across the street from this district. It's the perfect option if you are coming in from the Peninsula or the South Bay.
Comments? Questions? Suggestions?
I would love for you to join me in my private Facebook group! 
It's a great place to interact with me and others who know the area well.
You can ask questions, get advice for your upcoming stay, and then share your photos and advice with others when you return home. It's a great community and the fastest way to get answers to those nagging questions about your visit!