Best Restaurants in San Francisco
10 of My Favorite Places to Dine in the City
What are the best restaurants in San Francisco? This can be a challenging question to answer as there are more than 3,000 options in the city!
Even though I like to try new restaurants as often as possible, I also have a few staples that I return to all the time. These are just a few of the places where I know I'll get yummy food, attentive service and a great overall experience.
I hope you enjoy them too!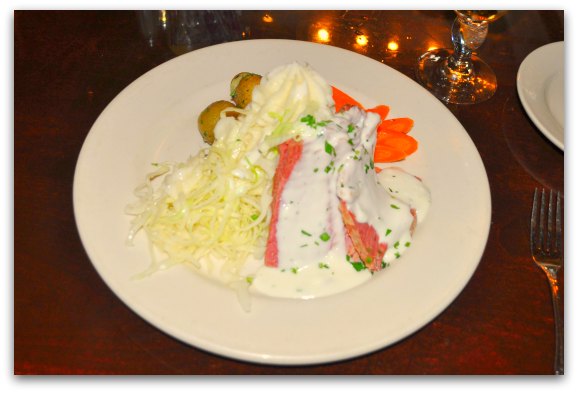 For some of the links on this page, I receive a small commission when you purchase. You don't pay more when you buy through me and it gives me the chance to offer you all this great content for free!
1. Dottie's True Blue Cafe
The thing I love about Dottie's True Blue Cafe is they consistently serve up one of the best breakfasts in San Francisco. The problem is, almost everyone knows about them now and the lines can be quite long. However, I still recommend them often because their food is so yummy.
Make sure to get there early or you'll have to wait! They serve up traditional American breakfast food, as well as, some great vegetarian options.
Average Price: Most dishes are around $12 to $15
Address: 28 6th Street
District: South of Market (SOMA)
Best For: Brunch, Breakfast
Learn More: Find Additional Brunch Spots in SF

2. Gary Danko
My favorite top-of-the-line restaurant in San Francisco is Gary Danko. I've only had the chance to eat here a couple of times, yet they do everything they can to make the occasion unforgettable. They use fresh, local ingredients and change their menu frequently. They offer several wonderful fish dishes as well as meat and game birds.
They also have an amazing selection of cheeses and some of the best desserts in the city. Make sure to check out their wine list too. The downside to Gary Danko is that you do need to call several weeks in advance to book your table.
Average Price: Usually a minimum of around $75 to $100 per person
Address: 800 North Point Street
District: Fisherman's Wharf
Best For: Special Occasion Dinners
Learn More: Find Other Fine Dining Spots in SF
3. Kokkari Estiatorio
Kokkari is a high-end restaurant in San Francisco's Financial District. This upscale restaurant offers mostly Mediterranean dishes. Their lamb chops are amazing and I love their Spanakotiropita (filo pie with spinach, feta, leeks, and dill). Other popular main dishes include the Pacific Halibut, the Lamb Burgers, and Moussaka.
They also offer a lunch special every weekday.
Average Price: For lunch, it's around $25 to $30 a person. For dinner, it will be around $35 to $55 per person
Address: 200 Jackson Street
District: Financial District
Best For: Dinner
Learn More: Find Additional Mediterranean Options

4. Little Star Pizza
If you love pizza, you are going to drool over the pizzas at Little Star. Their menu features both deep dish and thin crust options. You can either order one of their pre-planned pizzas or create your own. While their deep dish is AMAZING, I often order their Pesto Chicken or White Pie thin crust pizzas. Unlike most pizza crusts, theirs is made with cornmeal that has a totally different taste and texture, which I love.
They have two locations in San Francisco.

Average Price: Pizzas range from around $13 to $26 each
Best For: Dinner

Western Addition/NOPA Location
Address: 846 Divisadero Street

Mission District
Address: 400 Valencia
Learn More: Find Additional Top Pizza Spots
5. Rosamunde Sausage Grill
One of my favorite budget friendly options is Rosamunde Sausage Grill. They offer an interesting selection of sausages, as well as, some tasty side dishes. My favs include their chicken habanero and the cheddar brat. In addition to their basic sausages, they also offer specialty options including wild boar, duck, and lamb.
The lower Haight location only has a couple of seats, so it's perfect if you want to grab and go. If you want to sit down for a meal, I recommend heading to their Mission Street location.
Average Price: Sausages are $7 each
Best For: Casual lunch or a late afternoon snack

Lower Haight
Address: 545 Haight Street

Mission (this location also has a great beer selection with great happy hour specials)
Address: 2832 Mission Street
6. Shizen Vegan Sushi Bar and Izakaya
This fully vegan sushi bar is perfect for those who love the taste of sushi, but don't want to break their commitment to being vegan. This unique restaurant uses mountain yams, konjac (a root vegetable), soybean curd, and other vegan ingredients to make their vegan sushi delicacies. Some of my top picks for rolls include the Boddy & Soul, the Candlestick, and the Proud Peacock.
It's also fun to order their Surprise Ending dish which includes small servings and you never know which ones are spicy and which ones are cool and mild.

Average Price: Rolls are around $10 - 12 each
Address: 370 14th Street
District: Mission District
Best For: Dinner
Learn More: Find Other Great Vegan Options in SF
7. State Bird Provisions
State Bird Provisions opened in 2011, and from the minute they opened their doors, it's been one of the hottest restaurants in town. Their menu changes constantly, so you can always try something different and exciting. They serve a large variety of small plates as well as their specialty: CA State Bird with Provisions.
Some of my favorites include their Hog Island oysters, the pork belly citrus salad, and the grilled beef with maitake. If you plan to eat here, make sure you call well in advance to book your table.

Average Price: Tapas range from $3 to $12, Main dishes are around $9 to $22
Address: 1529 Fillmore Street
District: Western Addition
Best For: Dinner for two

8. The Codmother Fish & Chips
The Codmother Fish & Chips is an inexpensive permanent food truck that serves up traditional British Fish and Chips. The fish and chips are tasty and the prices are very reasonable (especially for San Francisco). I also love their Baja Fish Tacos. They are only around $6 for two hearty tacos.
It's also a great place to take the kids for lunch or an afternoon snack. It's also nicely located in Fisherman's Wharf next to many of SF's top attractions.

Average Price: $9.95 for the fish and chips, $5.95 for the Baja Tacos
Address: 2824 Jones Street
District: Fisherman's Wharf
Best For: Lunch on a Sunny Afternoon (Outdoor Seating Only)
Learn More: Find Additional Places to Grab Seafood During Your Visit

9. The House
The House is a small Asian Fusion restaurant tucked away in the North Beach District. The food here is amazing and the portion sizes are great for the price. Some of my favorite dishes are their rib-eye and the pork chop.
Everything I've tried here has been amazing, so don't hesitate to try something different. Also, make sure to check out their desserts before you leave. I have to admit that my fav is the crème brulee!

Average Price: Total price per person ends up around $30 to $50 (without drinks)
Address: 1230 Grant Avenue
District: North Beach
Best For: Romantic Dinners

10. The Italian Homemade Company
This cute place is the perfect spot for casual lunches or early dinners. It's another one of those real hidden gems in the North Beach District. The pasta here is fresh, since nothing is out of a box from these real Italians, and the service is always wonderful. I dream about their fresh ravioli with Bolognese sauce. I've had their lasagna and it's just as tasty.
The only thing I don't like is they serve their food on paper plates. I would prefer real plates, but I'll sacrifice that for this authentic Italian cuisine.
Average Price: Dishes are around $12 to $14 each
Address: 716 Columbus Avenue
District: North Beach
Best For: Lunch or an early dinner (they close at 9pm)
Learn More: Discover Other Great Italian Restaurants in SF
Save on Dining in SF (AD): A great place to look for restaurant discounts during your stay is on Groupon.com. You will find deals on a variety of places to eat. Click here to check out the current selection of restaurant deals in SF.

More Top San Francisco Restaurants
Other Pages Just for You