Wax Museum San Francisco: One of the Most Popular Fisherman's Wharf Attractions

by Jill Loeffler  •

Updated: January 13, 2023
The Wax Museum in San Francisco opened its doors in the summer of 2014. This new Madame Tussauds creation replaced the dark and dingy wax museum that had been in this location for years.

This wonderful addition to Fisherman's Wharf offers you the chance to take a very close look at famous athletes, entertainers, and local SF celebrities. Its open space allows you to easily stroll from statue to statue. You are also welcome to touch them if you want.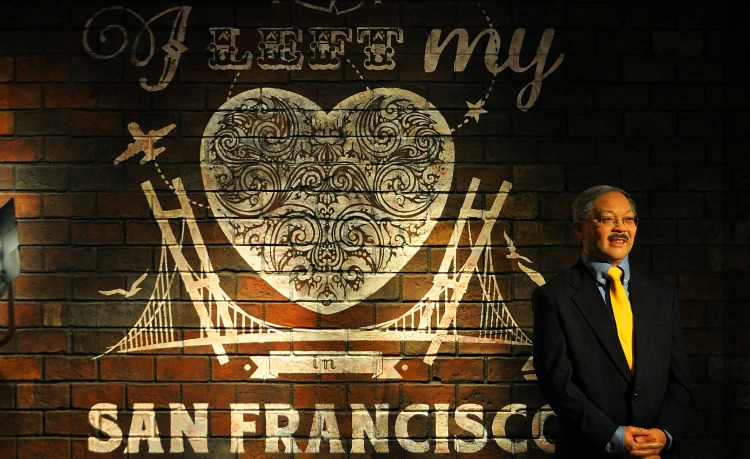 Disclaimer: I receive a small commission from some of the links on this page.

Madame Tussauds Wax Museum San Francisco Details

If you have never been to a Madame Tussauds before, then I recommend a visit. The life like sculptures are amazing. You get the chance to learn a little about each person from the plaques on the wall too.
You can also get some great pictures next to celebrities. Certain exhibits offer you the chance to throw on a few accessories for your photo shoot.
A visit to this Wax Museum in San Francisco will take you about an hour and a half to two hours. This will give you plenty of time to see it all. The tour is self-guided, so you can walk through faster or slower depending on how much detail you want to get about each statue.
Hours

The winter hours for the Wax Museum in San Francisco are 11 am to 5 pm on Mondays, Thursdays, and Sundays. They run from 11 am to 6 pm on Friday and Saturday. They vary their hours some days, but these are their standard hours. Last entry is 30 minutes before closing time.
Check the calendar on the day of your visit if you plan to visit first thing in the morning or closer to closing time.
Pricing and Tickets

These are the prices for tickets to the Wax Museum in San Francisco.
Adults: $26.99 per person for individuals 3 and older
>> Buy tickets just to the museum online in advance to save money.
Other Discount Ticket Options for the Wax Museum

In addition to buying discounted tickets online, you can also purchase them as part of a discount pass or combo tickets with other nearby attractions. Here are a few of the top options.
Go City: This discount pass by offers you admission for more than 25 location attractions and activities. They include the Wax Museum San Francisco, Aquarium of the Bay, the California Academy of Sciences, and the Exploratorium. You will also get a ticket for a 60-minute bay cruise as well as others.
You will purchase the pass for as many days as you want to use it. You can buy a one, two, three or five day pass. The savings with this one is up to 50%!
Madame Tussauds + SF Dungeon: The most popular combo pass is the one that include admission to both Madame Tussauds and the SF Dungeon. This combo ticket includes admission to both San Francisco museums for one low price.
Madame Tussauds + Ripley's Believe It or Not: This is another combo pass that people love since you get to go to Madame Tussauds and Ripley's Believe It or Not for a discounted price compared to buying them as a single ticket.
Location and Directions

The Wax Museum in San Francisco is at 145 Jefferson Street in Fisherman's Wharf.
You can walk here from any location in the Fisherman's Wharf District. From Union Square, you can either take the F Streetcar to Jefferson and Taylor or take the Powell/Hyde or Powell/Mason cable cars to the end of the line. All drop you within a few blocks of the museum.
Pictures & Exhibits: Wax Museum San Francisco

Your visit starts with a warm greeting by the man who left his heart in San Francisco, singer Tony Bennett.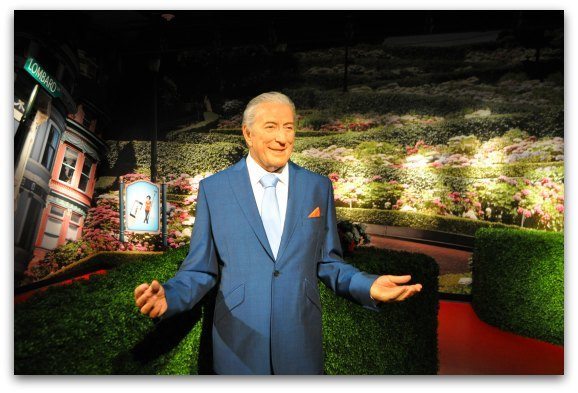 Your journey continues with a look at other famous people tied to SF such as Carlos Santana, Francis Ford Coppola, and Harvey Milk. At the end of the first gallery, you also get the chance to peek inside a recreation of Al Capone's cell on Alcatraz and get a good look at this famous gangster's face.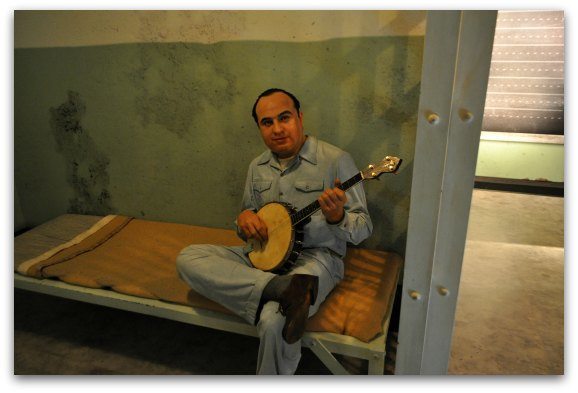 From here, you enter the Leaders and Legends gallery. This is where you will meet the British royalty, step inside the Oval Office of the President of the USA and be able to sit down beside Rosa Parks.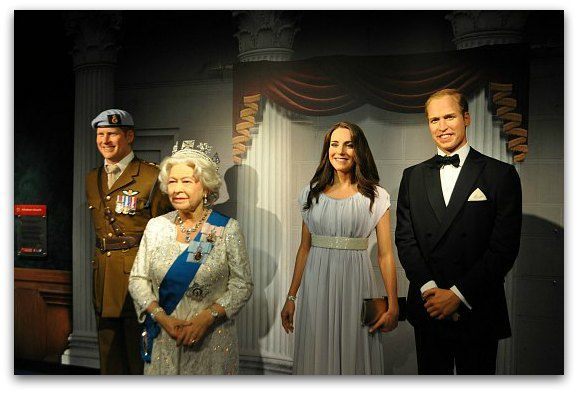 The wax figure making process is incredibly interesting and the third gallery gives you a behind the scenes look at how they do it. You see each step how they are made and the attention to detail needed to make them look so lifelike.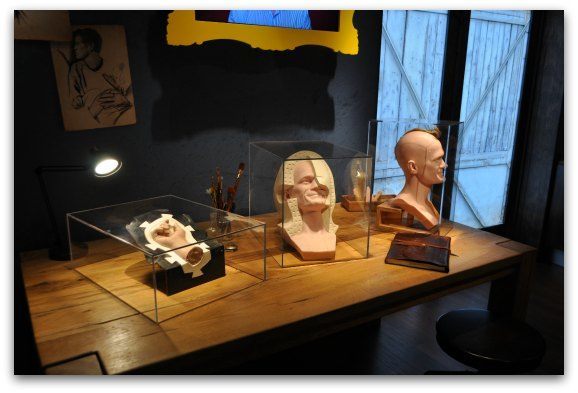 At this point, you head down a set of stairs and into the Sports Legends galley. This is where you will meet athletes such as Tiger Woods and San Francisco 49er legend Joe Montana.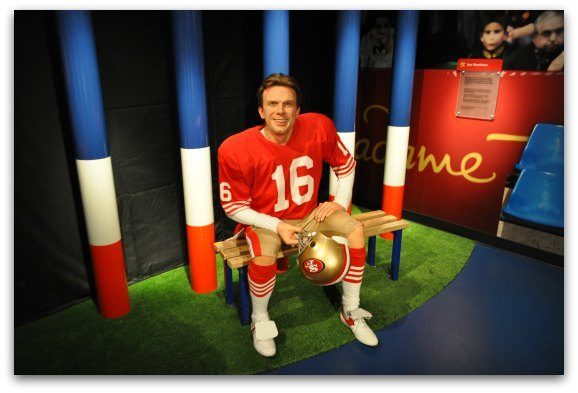 Your visit in the Wax Museum of San Francisco then takes you into the Music Gallery. You get a chance to sing on stage with Adele and see the Beatles walking across Abbey Road.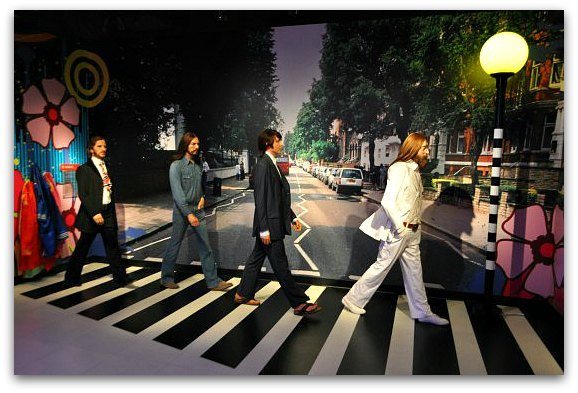 The Iconic Film Set is located in gallery 6. This includes stars such as Steven Spielberg, Whoopi Goldberg, and Marilyn Monroe.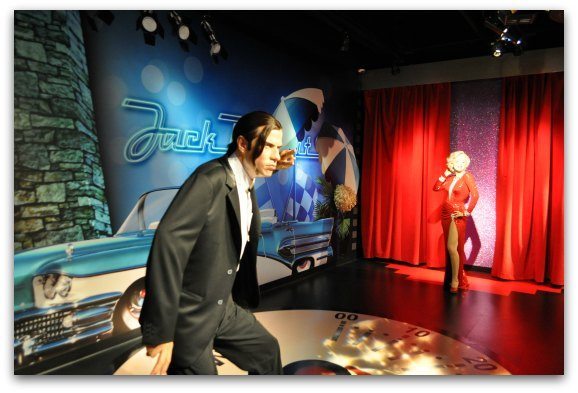 Your last stop is the A-List Party Gallery. It's the home of the wax statues of Jennifer Aniston, Johnny Depp, and Morgan Freeman. It is also where you will find my favorite statue of the museum, Betty White.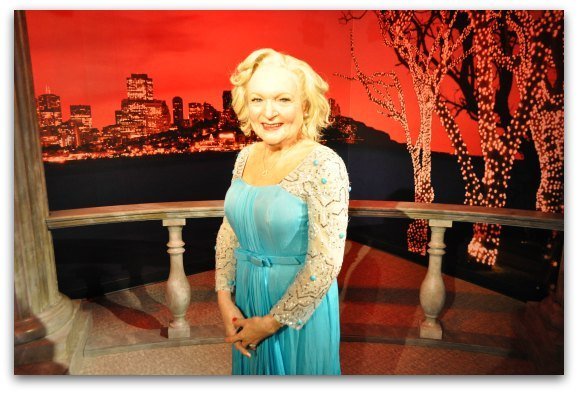 My Review of the Wax Museum San Francisco

Is visiting the Wax Museum in San Francisco worth it? If you have never been to a wax museum before, then I think it's worth a visit. This Madame Tussauds is really well done and it's fun to compare how real they look.
I also love that a few are out in the open where you can walk right up to them and get a good look at the talent of these wax statue artists. My favorite area is where they lay out the process to complete a statue. It gives you a great view of what it really takes to make this all happen.
I don't think it's worth it for the walk up price but wouldn't hesitate to visit at all for the online price. It also only takes a couple of hours to walk through it, so it's a good addition if you are waiting for a cruise or a trip to Alcatraz.
Other Things to Do In Fisherman's Wharf

Pier 39: On this pier, you will find dozens of shops, restaurants, and activities for the entire family. My favorites include The Aquarium of the Bay, the 7D Experience, and the sea lions. Click here for details on these and other fun things to do on Pier 39.
Hyde Street Pier: Head over to this pier to take a look at several unique, historic ships. You can walk along the pier for free or step aboard three of these beauties for a small fee. Click here to learn more.
Bay Cruise: A visit San Francisco is not complete without a cruise around the bay. Click here to learn about the top cruises and what you will see on your journey.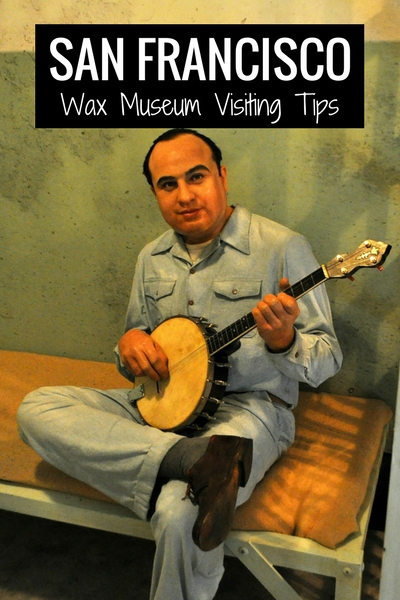 Comments? Questions? Suggestions?
I would love for you to join me in my private Facebook group! 
It's a great place to interact with me and others who know the area well.
You can ask questions, get advice for your upcoming stay, and then share your photos and advice with others when you return home. It's a great community and the fastest way to get answers to those nagging questions about your visit!