San Francisco Waterfront Segway Tour

The San Francisco Waterfront Segway Tour offers you the chance to visit two of SF's most famous neighborhoods in just a couple of hours. You will glide through both Fisherman's Wharf and North Beach while learning more about their most important attractions.

Are you not sure a Segway cruise is right for you? No problem. Keep reading to learn more about my tour and what you can expect during your three-hour journey.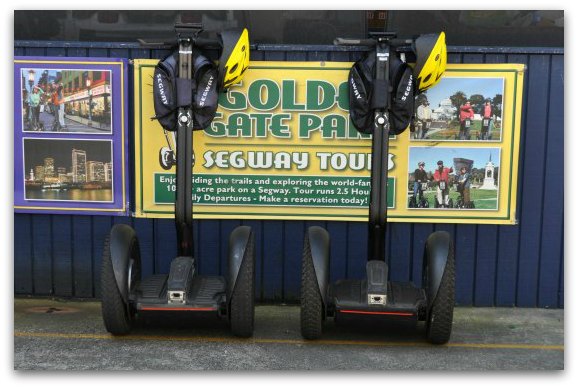 Segway Training

Your day starts with a 30-minute training session. During this session, you will learn everything you need to know to safely travel the streets of San Francisco on your Segway.
You will learn how to get on and off your Segway. You will also learn how to speed up, slow down and make an emergency stop. You will also get helpful tips on how to control it while heading up or down hills.
Each Segway is equipped with speed limiter technology. During training, you will only be able to go 5 miles an hour. Once you are done with training, they will increase this to only 10 miles an hour. This is a safety feature to keep everyone at a slow, steady pace.

While Segways are easy to ride, it does take some time to get used to them. Once it's powered up, the machine is constantly in motion. It also responds to very slight movements, so it's important to practice for a while before you hit the road.
This was my second time on a Segway, but I was nervous before I started my first training session. This is natural as you aren't sure what to expect. 
I can assure you that it's easy to learn and so much fun to ride once you hop on. Also, the trainers at the Electric Tour Company are exceptional and take great care in ensuring everyone is ready to go and comfortable before it starts.

The Journey

Once the training is complete, you will hit the road which is the official start to this San Francisco Waterfront Segway Tour. 
This one starts on the western side of Fisherman's Wharf. From here, you will head east down Beach Street - on your way to North Beach.
The first hour of it covers the most interesting attractions in this SF neighborhood. You will stop by the fields where Joe DiMaggio learned to play baseball, cruise past some world-famous restaurants and discover the history of this neighborhood.

You also get the chance to learn quite a bit about Coit Tower and the woman that donated the money to build it - Lillie Hitchcock Coit. She was quite the character and called the streets of North Beach her home.

After about 45 minutes, you will stop at Washington Square for a short break. Here you can grab a quick slice of pizza, walk around the park or talk to the guide more about this amazing neighborhood. You will spend about 15 minutes here.

The guide stays with the Segways during the break, so you can walk around for a while without worrying about them. Your guide will also point out other highlights and attractions near the park.

You will then hop back on your Segway and make your way to Fisherman's Wharf. During this part, you will learn more about the history of this colorful neighborhood. 
You will pass by Pier 39, ride through Fish Alley (where you can get inexpensive, but amazing fresh fish), and past the Cannery. You will also head down along the waterfront and learn more about the fisherman that gave this neighborhood its name.
During the San Francisco Waterfront Segway Tour, you will also ride all the way down to the end of Municipal Pier. At the end of the pier, you can get some great shots of both the Golden Gate Bridge and Alcatraz. 

Here are two of my photos from this stop.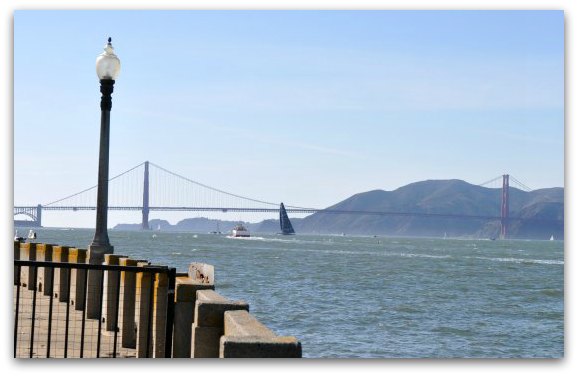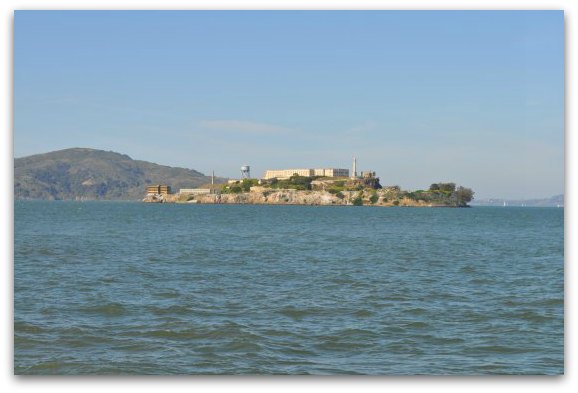 After another 15-minute break here, you will finish your San Francisco Waterfront Segway Tour back at your starting point.

More on this Trip

I can't tell you enough how much I enjoyed this one. Riding on a Segway is so much fun and the route gives a great overview of each of these districts.

Use of Your Camera or Cell Phone

As you will notice, I don't have any photos from the cruise. Because the Segways are so sensitive to movement, you are not allowed to use your phone or take any photos while you are driving one. 
However, your experienced guide will take several photos of you along the way. You can see them all on Facebook (and download them for free) a day or two after your trip.
Finding the Starting Point

This one starts in a parking lot on Beach Street between Hyde and Larkin. Here is a map showing the location (red star). I also added a star to Pier 39 so you can see how close it is to this pier.

This is both the check in area and the place where you will train before you begin.

Booking Your Adventure

The San Francisco Waterfront Segway Tour is with a small group of up to 8 people. This allows your guide to keep an eye on everyone along the way.
Although they do run a couple a day, I recommend booking in advance so you can secure your spot. You can book when you arrive, but these spots fill up quickly and they can't always guarantee you a spot.
It runs between 2.5 to 3 hours and is around $79 per person. Here is where you can book your spot online.

This company runs several great tours. Their advanced Lombard Street cruise is incredible, but you do need to take another one first. Here is where you can check out the other great tours offered by the Electric Tour Company.