San Francisco Water Activities: Cruises, Wine Tasting, Kayaking, & More

Discover the 10 best San Francisco water activities including cruises, ferry rides, and kayaking. With access to both the SF Bay and the Pacific Ocean, you will find a variety of water related things to do all around town.

Read on for more details on the best ways to enjoy your time on the water during your stay.

Disclaimer: I receive a small commission from some of the links on this page.

1. Daytime Cruises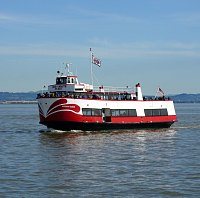 One of the most popular San Francisco water activities is a daytime cruise on the bay. If you're lucky you'll get to soak in some rays while viewing Alcatraz, the Golden Gate Bridge, and the SF city skyline from your boat's outdoor viewing deck.
>> Check ticket availability for all dates on GetYourGuide
Several tour companies run these cruises, and they vary in price and duration. All of them take you under the Golden Gate and close enough to the bay's islands to snap fantastic photos. This water activity is safe for the whole family, as there are also indoor seating and viewing areas available. Tours range from 1 to 2 hours, so you can still enjoy a full day of sightseeing or wandering around the city.
2. Dinner Cruises

If you enjoy going out for a night of dinner, drinks, and dancing, why not do it on a bay cruise? Take your romantic date night that extra step to include a sunset and views of the twinkling city lights. The dinner itself will be a four-course California-style meal made with fresh, local ingredients.
Your cruise will depart from Pier 3 with views of the Bay Bridge, then take you cruising past Alcatraz Island and out under the Golden Gate Bridge. After enjoying your gourmet dinner, dance away to a live band for the rest of your 2.5- to 3-hour tour.
>> Find out more about this popular evening tour
3. Sunset Cruises

In addition to the dinner cruises, you will also find a variety of sunset cruises on the water. Most are 2-hour cruises that take you under the Golden Gate Bridge and all around the SF Bay. Some include drinks or light snacks with your ticket. These cruises leave from Fisherman's Wharf once each night.
My favorite is the one offered by the Red & White Fleet. Their cruise leaves from Pier 43 1/2 each night. Each cruise also has hearty appetizers and one drink ticket (you can purchase more at the bar onboard). This casual cruise also offers both indoor and outdoor seating.
>> Find ticketing availability
>> Additional fun nighttime tours in SF
4. Ferries to Sausalito & Tiburon

Sausalito and Tiburon are both cute waterfront towns located across the bay to the north of San Francisco. They make for lovely day visits where you can do a little shopping and grab lunch by the water.
To board a ferry to Sausalito, head to Pier 41 in Fisherman's Wharf. The schedule changes by season, so check ahead for times. The ride is half an hour and takes you by Alcatraz Island and toward the Golden Gate Bridge.
The scenic ferry ride to Tiburon also leaves from Pier 41 and will take 30 to 45 minutes.
>> More about the ferries to Sausalito
>> More about the ferries to Tiburon
This route will bring you closer to Angel Island. Both destinations have a commuter ferry that leaves from the Ferry Building at Pier 1, it is a bit shorter of a ride, and offers earlier departure times than the tourist ferry.
>> More details about our most popular ferries around the bay
5. Kayaking

One of the more unique San Francisco water activities is to hit the bay in your own tiny vessel! With City Kayak, you can either rent a kayak or paddle board per hour, or join one of their group trips for beginner, intermediate, or advanced paddlers.
If you choose to rent, you'll head out onto the bay with recommended routes for where to go and what to see. If you join a trip, the guides will make sure you're comfortable with your paddling skills, then take you out to McCovey Cove, towards downtown, Treasure Island, or the Golden Gate Bridge, depending on your level.
City Kayak is located at Pier 40 in South Beach Harbor. Don't be fooled by the pier number--it is not close to Pier 39 in Fisherman's Wharf, but rather south of the Ferry Building near Oracle Park.
Strap on your water shoes and sports gear, and a windbreaker for afternoon rides, and enjoy your water adventure!
Where to Stay in San Francisco

If you plan to stay in San Francisco for a few nights, make sure to check out the deals. You will find a great selection of discounts on room rates, amenities, and more.
>> Find the best places to stay in San Francisco
>> Not sure where to stay? Check out my tips on selecting the right district for your stay.
6. Ferry to Visit Alcatraz

The only way to get to this world-famous San Francisco attraction is by boat. The 20-minute ride to Alcatraz Island is fun and scenic.
Once you disembark, you and your fellow passengers will receive a short introduction as a group, then walk up the hill to pick up your individual audio guides to start the self-paced tour.
Most visitors spend 2 to 3 hours exploring the prison and island, and once you're done, you can take any ferry back to SF.
>> Save on your tickets by buying the combo Alcatraz & Hop On Hop Off Bus Tour
All of the Alcatraz ferries leave from Pier 33 in Fisherman's Wharf. You'll want to book your ticket ahead of time, as this attraction is extremely popular. There's a good breeze on the water, so bundle up to enjoy the beautiful ride.
>> More about the day tour of Alcatraz
7. Whale Watching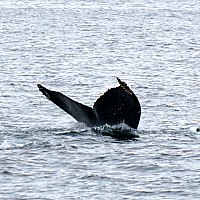 San Francisco is a fantastic place to go whale watching, as you'll find different species migrating just off the shore of its Pacific coast nearly all year long. The only time you may not see a lot of whales is from mid-November to mid-December.
Otherwise, depending on the season, you'll spot humpback, gray, sperm, killer, or blue whales coming up for air, to feed, or to play. In addition, dolphins, porpoises, sea otters, and sea lions can always be seen in these waters.
All whale watching tours leave from Fisherman's Wharf. The cruise will take you along SF's northern waterfront, then under the Golden Gate Bridge and out to the Pacific Ocean, where you will venture between 3 and 8 miles out looking for whales.

8. Paddle Boarding

On the other side of the bay, Sea Trek is another trusted company that offers hourly stand-up paddle board and kayak rentals, as well as guided tours. Their kayaking trips range from a couple of hours, to all day, to evening and overnight.
Their paddle board tours are half-day adventures that allow you to get some exercise and engage with nature in a fun way.
Sea Trek is located at the Bay Model in Sausalito, across the Golden Gate Bridge to the north of San Francisco. They will provide all the equipment, including life jackets, and professional instructors to help train beginners.
Children of any age can kayak together with an adult, and the company launches from a dock designed especially for kayak and paddle board access, so you can stay safe and dry.

>> Visit their site for additional details
9. Wine Tasting Cruise

One of the most relaxing San Francisco water activities is the wine tasting cruise. This is a fantastic way to enjoy SF views, a bit of nature, and Northern California wines all in one. While taking in the sights of the bay, you'll savor a wine flight that includes four tastings of regional red or white varietals, accompanied by snacks.
>> Check for ticket availability for this wine tasting cruise
This 1.5-hour tour departs from Fisherman's Wharf and typically takes you to the Golden Gate Bridge, around Alcatraz, and back along the city's waterfront to the Ferry Building. Enjoy the ride on a comfy seat in the climate-controlled cabin or on the covered outdoor deck.
>> More fun things to do for wine lovers visiting SF
10. Special Holiday Cruises

San Francisco hosts large, beautiful fireworks displays over the bay waters on both Fourth of July and New Year's Eve holidays. Boarding a bay cruise on those nights is one of the best ways to get front-row seats, and watching the colorful shows overhead is truly an unforgettable experience.
For either Fourth of July or New Year's Eve, you have several cruise options to choose from. A variety of companies, including the Hornblower, Blue and Gold, Red and White Fleet, and others, offer different packages.
Many include dinner and drinks, and DJs or live entertainment. Some are geared towards families, and others are black tie affairs. You decide how you want to spend your incredible night out on the water.
>> NYE cruises
Comments? Questions? Suggestions?
I would love for you to join me in my private Facebook group! 
It's a great place to interact with me and others who know the area well.
You can ask questions, get advice for your upcoming stay, and then share your photos and advice with others when you return home. It's a great community and the fastest way to get answers to those nagging questions about your visit!