San Francisco Maritime Museum: What to Expect When You Visit This Fisherman's Wharf Tourist Attraction

by Jill Loeffler  •

Updated: January 17, 2023
The San Francisco Maritime Museum is a popular attraction in the Fisherman's Wharf neighborhood. It's just one of the museums found in the San Francisco Maritime National Historic Park.

It's located inside the gorgeous, historic white bathhouse on Beach Street.
In addition to visiting this gem, make sure to stop by the Visitor's Center on Jefferson Street. Inside, you will discover the real story about those that made their living on the water here.
It includes educational exhibits on the history of the area. Some of the exhibits are hands on with additional videos and other interactive elements.
Another great thing about both of these attractions is that they are free to visit and open daily
Disclaimer: I receive a small commission from some of the links on this page.

San Francisco Maritime Museum

The official museum is in the old white Aquatic Park Bathhouse Building on Beach and Polk Streets. Step inside to check out their gorgeous WPA murals which were recently restored.
These murals were originally created in the 1930s by artists Sargent Johnson and Hilaire Hiler.
They also have a small collection of pieces. At times, they will also have some interesting temporary exhibits. A visit here will usually last about 30 minutes.
Here is just one of the exhibits that was on display during my last visit. In the background, you can also see their newly revived 1930's WPA murals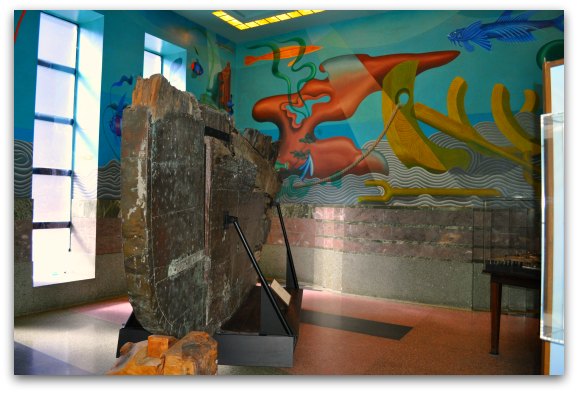 You'll also want to walk onto the outside deck in the back. Here you can get some great shots of Alcatraz Island...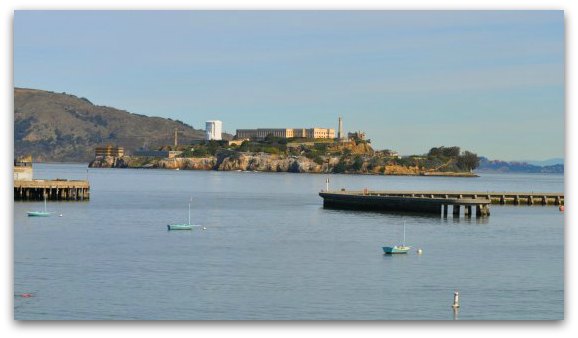 ...and the Hyde Street Pier.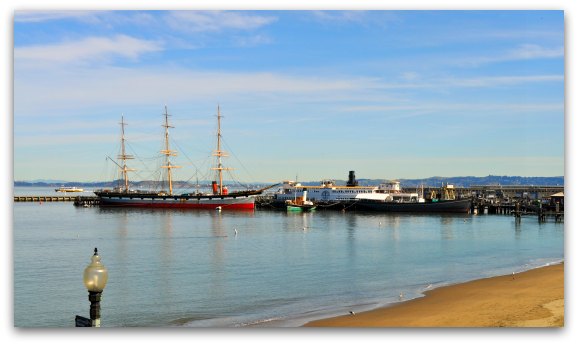 Stroll Through Aquatic Park

Once you are done with this part of the San Francisco Maritime Museum, take a stroll through Aquatic Park. Here you can snap a couple of photos of the water with the Golden Gate Bridge off in the distance...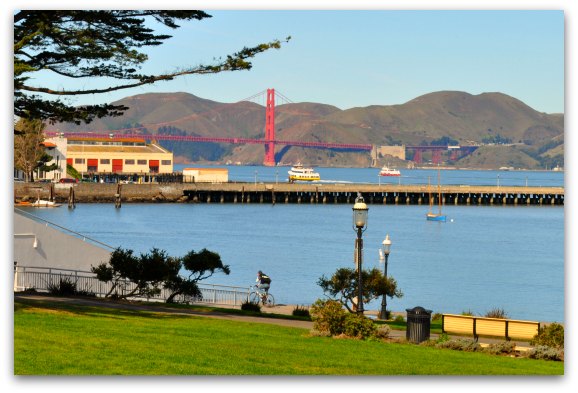 Visitor's Center

When you walk into the new Visitors Center - an extension of the San Francisco Maritime Museum - you will be greeted by this old lighthouse light. It's the only time I've seen one so close up.
It's fun to watch it spin around and to learn more about these amazing - but mysterious - lights.

After you are done in the entry way, you will move into the Waterfront Exhibits in the San Francisco Maritime Museum. This is where you learn even more about the men and women who worked on the waters along the San Francisco bay.

Here are a few other pictures from my visit.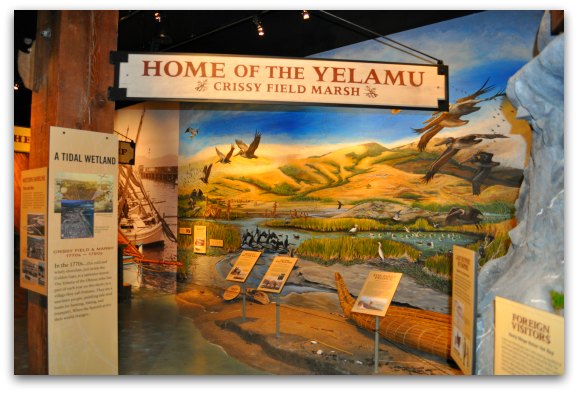 This is an early view on Crissy Field. It shows all of the original wildlife that lived here and a few important historical facts.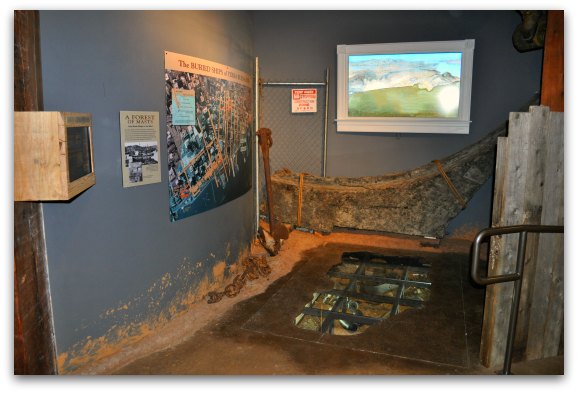 This exhibit showcases the history of some of the ships buried below the streets of San Francisco.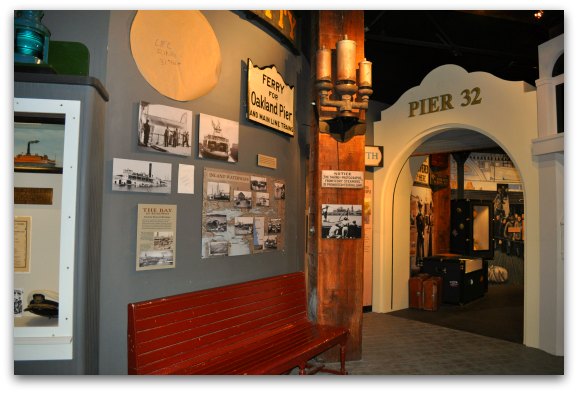 You can also see some great, old pictures of some of the boats and ferries that called San Francisco home.
Your entire visit to the San Francisco Maritime Museum will take around an hour to an hour and a half. This includes visiting both buildings and spending a little time taking pictures in Aquatic Park.
>> Find additional National Parks and site that are in Northern California
Hours of Operation

The San Francisco Maritime Museum (in the Aquatic Park Bathhouse Building) is located at 900 Beach Street. It is open from 10 am to 4 pm on Wednesday - Sunday.
The Visitor's Center is located at 499 Jefferson Street and the corner of Hyde Street. They are open Friday through Sunday from 10 am to 5 pm.
Both are free to visit.
San Francisco Maritime National Historical Park

As I mentioned above, the San Francisco Maritime Museum and the Visitor's Center are both part of the San Francisco Maritime National Historic Park. Other attractions that are part of this park include Aquatic Park, the Aquatic Park Pier, and the Hyde Street Pier.

More About the Hyde Street Pier

The historic vessels of the San Francisco Maritime National Historic Park sit in the water at the end of Hyde Street. You will find seven vessels here and three are still open to visitors.
You can either stroll along the Pier for free and check out the vessels from the pier or you can pay a small fee to see them on the inside.
The Hyde Street Pier is open daily and welcomes both paid and non-paid visitors.
>> Find out more about visiting the Hyde Street Pier
Parking Near the San Francisco Maritime Museum

You can easily walk from any location in Fisherman's Wharf over to the San Francisco Maritime Museum. If you plan to drive to the district, here are a few places you can park within just a block or two of both the museum and the visitor's center.
Note that parking rates can change at any time and will sometimes increase during special events. The pricing below is an estimate so you can get an idea on what it will cost to park near the San Francisco Maritime Museum.
Ghirardelli Square Parking: Right across the street from the old bathhouse is Ghirardelli Square. They have parking in a garage inside the building. 
Anchorage Square Garage: Just a couple of blocks away is Anchorage Square. It's open 24 hours a day and is at 500 Beach Street.
Fisherman's Wharf Parking: Another garage that is about three to four blocks away is the Fisherman's Wharf Parking Garage at 550 North Point.
>> More parking options around SF
More Things to See & Do in Fisherman's Wharf

In addition to visiting the San Francisco Maritime Museum, make sure to check out some of these other fun Fisherman's Wharf activities.
Pier 39: On the eastern side of The Wharf, you will find Pier 39. On this revitalized pier, you will find free entertainment, shops, restaurants, and several fun activities such as the 7D Experience and a mirror maze.
Bay Cruises: One of the top activities in Fisherman's Wharf is the 60-minute Bay Cruise. On this boat ride, you will cruise under the Golden Gate Bridge and around Alcatraz as you learn more about the history of both of them. 
Aquarium of the Bay: One of my favorite places to stop each time I'm near the San Francisco Maritime Museum is the Aquarium of the Bay. It's a lively aquarium with all the plants and animals that live in the SF Bay. Pick up tickets on GetYourGuide.com.
All Fisherman's Wharf Activities: In addition to these fun activities, you will find more than 50 other things to do here too! 
Best Fisherman's Wharf Hotels

Fisherman's Wharf is also one of the most popular neighborhoods for people to stay in when visiting San Francisco. Most hotels are close to the action. There is also plenty of public transportation, so you can easily get to other parts of the city.
Although there are plenty of hotels to choose from, there are a few that stand out. Read on to find some of my favorites.
Learn More: Fisherman's Wharf Hotels
Best Places to Eat in Fisherman's Wharf
You will find dozens of restaurants all around the Fisherman's Wharf area, but it can be daunting to figure out which ones to try. 
That's where my guide comes in! I created a list of the best places to eat all around the district.
Whether you are searching for a great brunch spot or a nice dinner place, you'll find some great recommendations on my list.
>> Best places to eat in Fisherman's Wharf
Comments? Questions? Suggestions?
I would love for you to join me in my private Facebook group! 
It's a great place to interact with me and others who know the area well.
You can ask questions, get advice for your upcoming stay, and then share your photos and advice with others when you return home. It's a great community and the fastest way to get answers to those nagging questions about your visit!