More San Francisco Cruise Options
Sail Along the Pacific Coast or Head to the South Pacific
NOTE: On December 6, San Francisco (and a few surrounding counties) will once again be on a stay-at-home order. This will last indefinitely. Click here for more information.
In addition to trips to Alaska, Hawaii, and Mexico, you will find several other cruise options with departures from San Francisco. The most popular is the California Coastal Cruise offered by Princess. During this journey, you will visit ports along the western US and make one stop in Mexico.
You can also hop aboard a ship and head toward the South Pacific and beyond. Cunard offers a cruise that starts in SF, takes you west, and allows you to end your cruise at almost any port before they arrive at their destination in Southampton, U.K. If you decide to go the entire way, it would be a 90+ day trip.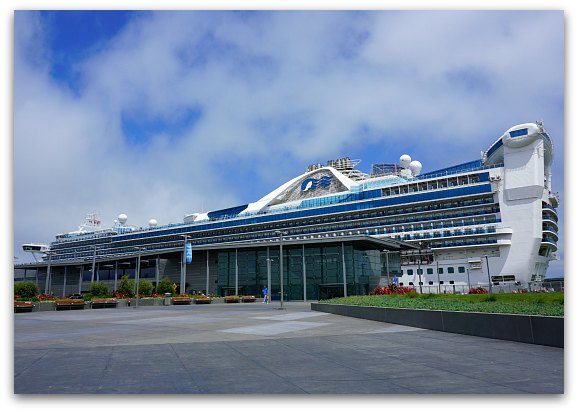 Princess also offers a South Pacific cruise, a 25-day adventure that starts in SF and ends in Sydney, Australia.
Read on for additional details on all three of these options.
California Coastal Cruise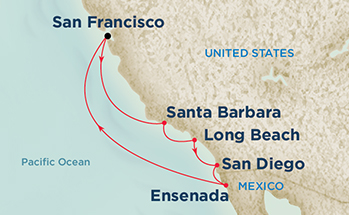 This 7-day journey starts and ends in SF. During your trip, you will make three stops in southern California and one stop in Baja, Mexico.
Your tour is on the Grand Princess, which has capacity for around 2,600 passengers. Onboard, you will find three main dining rooms, an Italian restaurant, a pizzeria, a casual grill that serves burgers and hot dogs, and an ice cream parlor. There is also a wine bar, cigar bar, shows every night in the theater, and several other lounges and bars.
Additional amenities on this San Francisco cruise include movies under the stars at the poolside theater, a spa and fitness center, and an internet cafe. You can also entertain yourself at the casino, shopping at the duty-free boutiques, or at the sports courts.
Your kids will enjoy the kids' and teens' centers and spending time at one of the four pools.
Itinerary
This is the usual route for this trip:
Day 1: Leave SF at 4pm
Day 2: At Sea
Day 3: Stop in Santa Barbara from 7am to 6pm
Day 4: Visit Los Angeles (Long Beach) from 7am to 6pm
Day 5: Stop in San Diego from 8am to 5pm
Day 6: Explore Ensenada, Mexico from 8am to 5pm (must have your passport to leave the ship)
Day 7: At Sea
Day 8: Arrive in SF at 7am
Book This Cruise: Click here to visit the Expedia website for dates, more details, and booking options for this California Coastal Cruise.
Circle Pacific - San Francisco to Sydney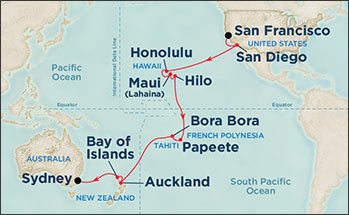 The Circle Pacific San Francisco cruise offers a one way trip from SF to Sydney, Australia. You will make 8 stops before your final one in Sydney.
This trips takes you south from SF for a quick stop in San Diego. You then head west to visit the Hawaiian Islands. From there, you head south to the French Polynesian Islands of Bora Bora and Tahiti. You will then make two stops in New Zealand and disembark in Sydney.
You will have 15 full days at sea without stops.
Your journey is aboard the Sun Princess, which holds around 2,000 passengers. It features two main dining rooms and several restaurants, including a steak house, Italian pizzeria, a sushi & seafood place, an ice cream bar, a grill that serves casual food such as burgers and hot dogs, and balcony dining. You can also order room service 24 hours a day.
During your days at sea, you can enjoy shows every night, movies under the stars near the pool, the spa and fitness center, and the casino. There is also an internet cafe onboard, kids' and teens' centers, duty free boutiques, and a library and writing room.
Itinerary
Here is the typical itinerary for this journey. It usually leaves SF once a year.
Day 1: Leave SF at 5pm
Day 2: At Sea
Day 3: Stop in San Diego from 7am to 4pm
Days 4 - 7: At Sea
Day 8: Stop in Honolulu from 9am to 11pm
Day 9: Stop in Maui from 7am to 6pm
Day 10: Stop in Hilo (Big Island) from 8am to 5pm
Days 11 - 15: At Sea
Day 16: Stop in Tahiti from 8am to 9pm
Day 17: Stop in Bora Bora from 7am to 5pm
Days 18 - 21: At Sea; on Day 19 you will cross the International Dateline
Day 22: Stop in Auckland, New Zealand from 10am to 10pm
Day 23: Stop in the Bay of Islands, New Zealand from 7am to 4pm
Days 24 & 25: At Sea
Day 26: You will reach Sydney, Australia at 7am. This completes this cruise.
Book This Trip: Visit the Expedia website to learn more about this journey and book your trip today!
Cunard World Cruise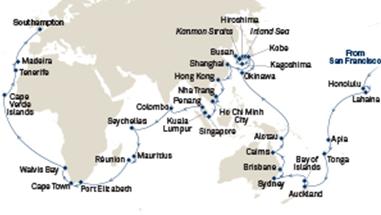 The longest and most spectacular San Francisco cruise is the one offered by Cunard. This cruise leaves SF and heads west into the Pacific Ocean. It makes many stops along the way, including Hawaii, New Zealand, and Australia. It then heads north and stops at several places in Japan and two places in China.
The journey continues to Southeast Asia, down the eastern coast of Africa, around the southern tip, and up the western coast of Africa, making a few final stops in European islands off the west coast of Africa and Europe. It ends in Southampton, United Kingdom.
While this might seem like an overwhelming cruise, the good news is you don't have to sign up for the whole thing. You can take it from San Francisco to Singapore, or you can stop earlier on in Australia. You can also pick it up in Hong Kong and stop in South Africa.
Below, I've laid out the entire schedule for this journey. Again, the entire trip is 90+ days and is quite pricey. Take a look and think about where you would like to start and stop.
Day 1: Leave SF
Days 2 - 5: At Sea
Day 6: Stop in Honolulu, Hawaii
Day 7: Stop in Lahaina, Maui, Hawaii
Day 8 - 12: At Sea; on day 10 you will cross the International Dateline
Day 13: Stop in Apia, Samoa
Day 14: At Sea
Day 15: Visit Nuku'Alofa, Tonga
Days 16 & 17: At Sea
Day 18: Explore Auckland, New Zealand
Day 19: Visit Bay of Islands, New Zealand
Days 20 & 21: At Sea
Days 22 & 23: Stop in Sydney, Australia for two days. (This is a popular jumping-on and jumping-off stop, so you will stay here for two days if you decide to continue on this trip.)
Day 24: At Sea
Day 25: Brisbane, Australia
Days 26 & 27: At Sea
Day 28: Cairns, Australia
Days 29 - 35: At Sea
Day 36: Okinawa, Japan
Day 37: At Sea
Day 38: Kobe, Japan
Day 39: Kagoshima, Japan
Day 40: Busan, Japan
Day 41: Cruise by Kanmon Strait
Days 42 & 43: Hiroshima, Japan
Day 44: Cruise by Inland Sea
Days 45 & 46: Kobe, Japan
Days 47 & 48: At Sea
Day 49: Shanghai, China
Days 50 & 51: At Sea
Day 52: Hong Kong
Day 53: At Sea
Day 54: Nha Trang, Vietnam
Day 55: Ho Chi Minh City, Vietnam
Day 56: At Sea
Day 57: Singapore
Day 58: Kuala Lumpur, Malaysia
Day 59: Penang, Malaysia
Days 60 & 61: At Sea
Day 62: Columbo, Sri Lanka
Day 63 - 65: At Sea
Day 66: Port Victoria, Seychelles
Days 67 & 68: At Sea
Day 69: Mauritius
Day 70: Reunion Island
Days 71 - 73: At Sea
Day 74: Port Elizabeth, South Africa
Day 75: At Sea
Days 76 & 77: Cape Town, South Africa
Day 78: At Sea
Day 79: Walvis Bay, Namibia
Days 80 - 86: At Sea
Day 87: Mindelo, Cape Verde
Days 88 - 89: At Sea
Day 90: Tenerife, Canary Islands, Spain
Day 91: Madeira, Portugal
Day 92 - 95: At Sea
Day 96: Arrive in Southampton, United Kingdom
Book Your Trip: Visit Expedia.com to learn more about this trip and the possible starting and stopping locations. You can also discover a list of bonuses for each booking option and grab your cabin today!

Follow SFTourismTips on Facebook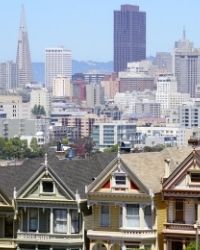 On my Facebook page, you will find more great information about planning your San Francisco vacation.
It includes tips, must see attractions, and other fun details.
Click the link below to check it out. If you enjoy the page, give us a like.

Additional Cruises You Might Enjoy