Outer Sunset in San Francisco: Best Things to Do


The Outer Sunset in San Francisco is a large district on the city's western side. It has a local and laid-back vibe and is a fun place to visit if you want to get to know more of what the city is about.

Its eastern border is 19th Avenue. It extends west all the way to the Pacific Ocean. It's northern border is Golden Gate Park and it extends all the way south to Riviera Street.
While you won't find as much to do here as some of the districts on the eastern edge, it's a great place to relax, unwind and escape the chaos of the city.
Disclaimer: I receive a small commission from some of the links on this page.

Ocean Beach

Ocean Beach sits on the western end of San Francisco along the Pacific Ocean. Here you can check out the ocean, go surfing or spend some time relaxing on the beach.

The weather on this end of the district is cool and windy. Make sure to bring along some warm items as it's rarely warm enough for a bathing suit. However, you will love the vibe and locals that frequent this part of the Outer Sunset in San Francisco.
At night, you will often find several groups with bonfires and small parties on the beach. It's a great way to meet some locals and enjoy the cool ocean breeze.
Beach Chalet & Park Chalet

Beach Chalet is an old school San Francisco restaurant. The restaurant is on the second floor of the Golden Gate Visitors Center with great views across the street to Ocean Beach. On a clear or partly cloudy day, you can watch the sunset over the Pacific Ocean.

They have a great selection of seafood, American dishes, and other local favorites. They also serve beer brewed on site. If you want to try all of their beers, make sure to try out their tasting menu.
Another reason to visit here is the beautiful Park Chalet. Known as "The Coastal Beer Garden", this restaurant is on the bottom floor of the Golden Gate Visitors Building.
It's a brew pub with burgers, sandwiches, and beers they brew on site. Unlike the upstairs Beach Chalet, the Park Chalet faces away from Ocean Beach and towards the nature of Golden Gate Park. 

Depending on the weather, you can sit inside the building, under their glass covered area, or outside on the lawn or picnic tables. The food is delicious, the brews are bountiful, and the views are amazing. 

Being that it is often chilly and can get quite foggy in the Outer Sunset in San Francisco, I highly suggest bringing a windbreaker and some pants along during the day and especially during the evening or at night (find some of packing tips here). 1000 Great Highway

Golden Gate Park

One of the best parts of the Outer Sunset in San Francisco is that you are on the far western edge of the Golden Gate Park. In this section of the park, you will find some lesser known attractions that are worth a visit.
Dutch (North) Windmill: The first one is the Dutch Windmill that is close to Ocean Beach and the Beach and Park Chalet building mentioned above on this page. The Dutch Windmill is a 75-foot tall windmill that was originally built to pump water for the surrounding areas.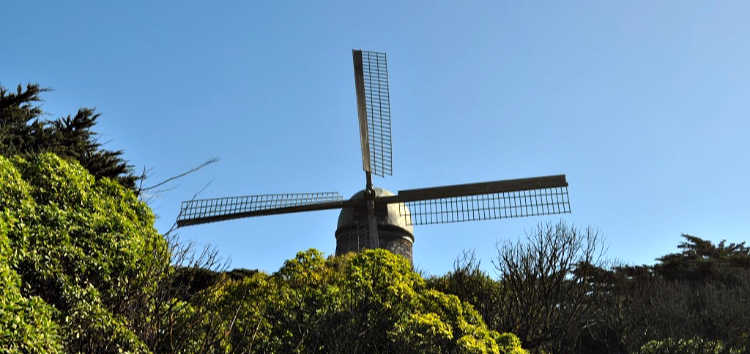 However, after restoration, the arms were locked and can no longer move. The windmill is impressive enough on its own, but if you venture closer to it, you'll see thousands of tulips all around it. You'll want to check and see if the tulips are blooming before your visit since they are seasonal plants and usually appear in April or May. 1691 John F. Kennedy Drive
Murphy (South) Windmill: The other windmill, which is lesser known, is the Murphy Windmill. It is actually larger than the Dutch Windmill. It stands 95-feet tall with the sails at 140-foot diameter reach. It is reported to be the largest windmill of its style anywhere in world! 
It recently was restored and is now a wonderful attraction to see.

Bison Paddock: Another hidden gem in Outer Sunset in San Francisco is the magnificent bison paddock. I know you are saying, "Bison in San Francisco? I would have never guessed that!" and you'd be right. 

This area used to be free-range with bears, goats, elk and many more species and in 1890 a male and female bison were brought to the park. As the herd of bison has continued to grow in size, the park has built a paddock to keep them enclosed and safe. 

Just so you know, bison are pretty solitary and calm animals. They probably won't do anything exciting other than roll on the ground, scratch themselves, or cruise slowly from place to place even though they are capable of running at speeds of 30 miles per hour! 
That being stated, they are still majestic creatures and worth a visit when you are in Golden Gate Park. The paddock is in the north and west corner of the park. 1237 John F. Kennedy Drive
Golden Gate Golf Course: As you would imagine, this is one of the most beautiful golf courses anywhere and it has been voted in the top 12 short golf courses in the USA according to Golf.com. This 9-hole par 3 course is situated in the middle of the massive Cyprus trees that line the course. 
Golfers will appreciate the challenging holes that can range from 100-yards to a maximum of 200-yards while enjoying nature and local wildlife. Another benefit of this course is that it is only about 100 yards from the two windmills, Ocean Beach, and the Beach and Park Chalet mentioned above which means you could do all of them in one day if you want to do that.
Again, since the Outer Sunset in San Francisco can get quite windy and foggy, you'll want to plan ahead and bring a windbreaker or longer clothes to stay warm. 970 47th Avenue
Other Attractions on the Eastern End of Golden Gate Park

In addition to the attractions on the western end of the park, here are a few more on the eastern end (officially in the Inner Sunset) that you might also enjoy visiting.

Conservatory of Flowers: One of the top highlights on the eastern end is the Conservatory of Flowers. Inside, you will find a variety of plants and flowers from four different climates. These include aquatic plants, highland, lowland, potted and other plants. If you are there at the right time, you can see and smell the Corpse Flower, which smells about as bad as the name suggests. 100 John F Kennedy Drive
California Academy of Sciences: The California Academy of Sciences is one of the most visited museums in SF. It's really four museums in one with a planetarium, 4-story rainforest, a natural history museum, and an aquarium. 
It is perfect for kids of all ages as there is something for everyone to see, explore, and try. A favorite is Claude, an incredibly rare white alligator. They have many new exhibits throughout the year so check ahead and see what interests you the most each time you visit it. You can also pick up skip the line tickets, so you don't have to wait in line. 55 Music Concourse Drive

Other attractions here include the Japanese Tea Gardens, de Young Museum, Stow Lake and others.

More Top Attractions & Tours in San Francisco

Lower Great Highway Trail

Located on the most western edge of the Outer Sunset in San Francisco is the Lower Great Highway Trail. This trail runs between the Cliff House and the SF Zoo along Ocean Beach. 
The trail is about 3.5 miles long and is mostly flat until you reach its northern edge where you climb up or walk down from the Cliff House. 
The trail is mostly sidewalk. On its path, you will see the Beach and Park Chalet building as well as the Windmills mentioned above. It's a great option if you want to do a little walking or running during your stay.

Festivals and Events Near the Outer Sunset in San Francisco

Outside Lands Music and Arts Festival: This 3-day festival in Golden Gate Park is held during the month of August. During the festival, you will get the chance to see top musicals as well as a few up-and-coming artists on stage. There is also special beer, wine, and mixed drink areas.
They also have a great selection of dishes from some of the best restaurants around the SF Bay Area. This often sells out quickly, so it is best to plan ahead.

Hardly Strictly Bluegrass: This massive music festival is free for all to attend and usually takes place the first weekend in October. It is located in the middle of Golden Gate Park and features many of the best musicians from around the world.
There is food and drinks available and you are welcome to bring your own too. Since this is such a beloved, and so many people come to this festival, numerous roads and streets in Golden Gate Park will be closed to cars.

Top Restaurants & Bars in the Outer Sunset in San Francisco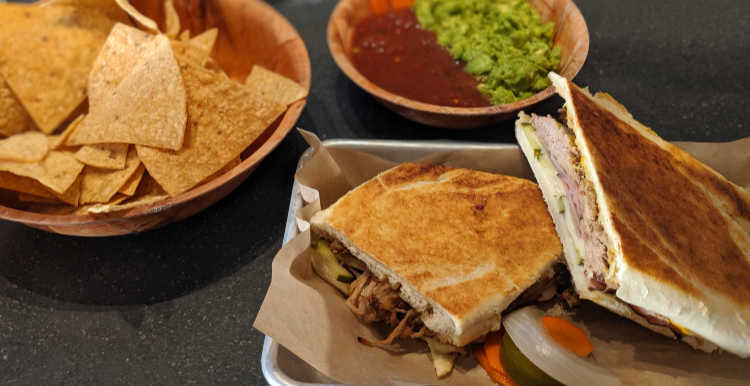 Irving Street: You will find a variety of food and drink options along Irving Street in the Outer Sunset in San Francisco. If you are looking for a place very close to Ocean Beach, you'll want to check out Hook Fish Co, which is a restaurant and bar featuring Mexican food and drinks. Jika Ramen is a good choice if you are looking for Japanese food. My favorite Irish Bar in this area is Durty Nelly's.
Noriega Street: This is the perfect street for you if you are looking diverse food choices. Some of my favorites include Pap Mak's Burgers, Sunset Reservoir Brewing Company, and La Playa Taqueria among others. A few fun bars on Noriega include Flanahan's Pub, Firefly Sports Bar, and The Pizza Place.
Judah Street: Some of the restaurants that I like to visit along Judah Street include The Pot's which serves Chinese hot pot, DamnFine Pizza, and the Sunset Cantina which is both a Mexican restaurant and a fun bar to visit. For those looking for vegetarian and vegan options, Judahlicious is a great option.

How to Get Here

The Outer Sunset in San Francisco is easily accessible via the N-Judah Muni light rail train. It's an easy way to get from Union Square, South of Market, and downtown SF. The train picks up along Market Street (underground). You can use the Powell Street or Montgomery Street Stations.
The easiest way to get here from Fisherman's Wharf is to take the 28 bus to the corner of 19th Avenue and Lincoln Way or 19th Avenue and Noriega. That will lead you right into this district. 
If you plan to continue on to the western end of the district, you can get off at 19th and Judah and transfer to the N-Judah light rail heading toward Ocean Beach.

Things to Do Nearby 

SF Zoo: If you want to take the kiddies and see some wildlife while in SF, this is a great place to visit. With over 2,000 animals, and 250 species, you will never be able to see everything here. And add to it the exhibits and interactive displays and you will want to spend all day here. Some of my favorites things to see here include the Primate Discovery Center, Outback Trail, and also watching the animals being fed by their trainers. More about visiting. Sloat Boulevard and Great Highway
16th Avenue Tiled Stairs: These magical stairs are entirely covered with colorful tiles all the way from the bottom to the top. There are 163 steps with themes on each flight of stairs. The designs include an ocean to stars theme with a sun, moon, and several water creatures. When you get to the top of them, you can turn around and see a fantastic view of the Pacific Ocean. 16th Avenue and Moraga Street
Hidden Garden Stairs: A lesser known set of stairs, these are one of my favorites because they are just as beautiful as the 16th Avenue ones, but much less visited so you will have time to explore them mostly on your own. These stairs are also broken into flights that have different motifs and styles to them with an overall garden theme. 16th Avenue at Kirkham

Comments? Questions? Suggestions?
I would love for you join me in my private Facebook group! 
It's a great place to interact with me and others that know the area well.
You can ask questions, get advice for your upcoming stay, and then share your photos and advice with others when you return home. It's a great community and the fastest way to get answers to those nagging questions about your visit!