Museum of Craft and Design
What to Expect When You Visit this Art Museum in San Francisco
The San Francisco Museum of Craft and Design is a non-collective in the historic Dog Patch neighborhood. This SF attraction originally opened in 2004 in the Union Square district.
From the spring of 2010 until the spring of 2013, it offered only pop-up exhibits. Now, they have a permanent home for their traveling displays.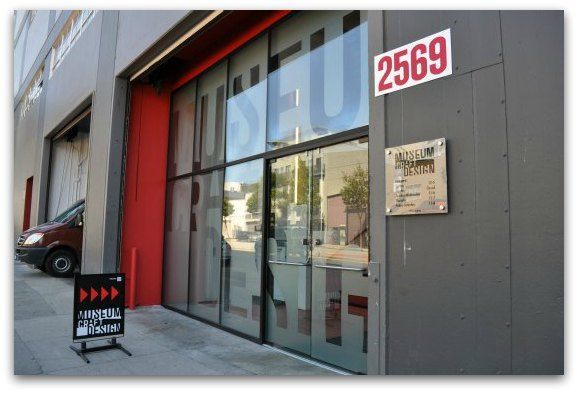 Their space is small, but houses two to four temporary exhibits at all times. As a non-collective, they do not offer a permanent collection.
The pieces shown here are modern and often use a variety of materials. They use items that range from wood to wire. Each piece is unique and unlike anything you will see in other museums in San Francisco.
Here are a few pictures from my last visit.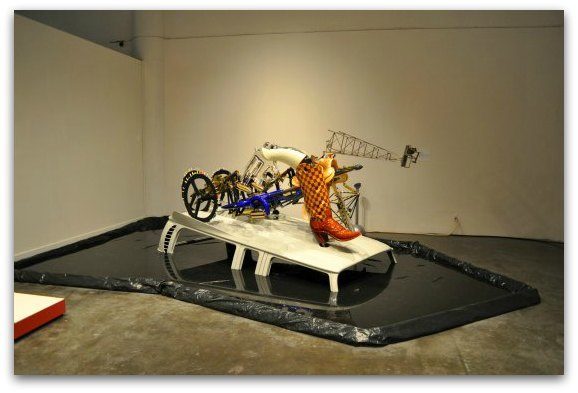 Both of these pictures display the works from Michael Cooper, a local Bay Area artist. They are part of his 'A Sculptural Odyssey' exhibit. This display showcases his life's work. He created them over the last four decades.
This is another interesting exhibit that was on display during my last visit.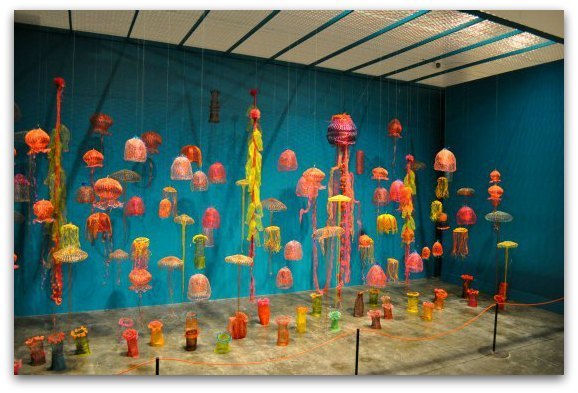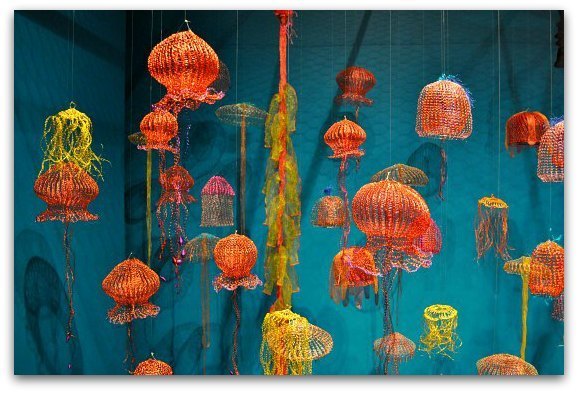 Both of the pictures above are from an exhibit called Creatures From The Deep by Arline Fisch. She is a renowned jewelry artist that used crocheted cooper wire to create this colorful display.
Gift Shop
In addition to the museum space, there is also a large gift shop near the entrance. Several unique items from small, local artists are for sale here.
You will also find several books and other craft related materials on sale.
Visiting the Museum
A visit to the Museum of Craft and Design will take between 30 minutes and an hour. even though the space is small, you can spend quite a bit of time soaking in the intricate details of each piece on display.
Hours
Tuesday - Saturday: 11am - 6pm
Sunday: 12pm - 5pm
Monday: Closed
Also closed on Easter, Memorial Day, July 4, Thanksgiving, Christmas, and New Year's Day.
The first Tuesday of every month is a FREE admission day.
Visit their site for current admission prices.
How to Get Here
The museum is at 2569 Third Street. Here is a map showing its location in relation to Union Square.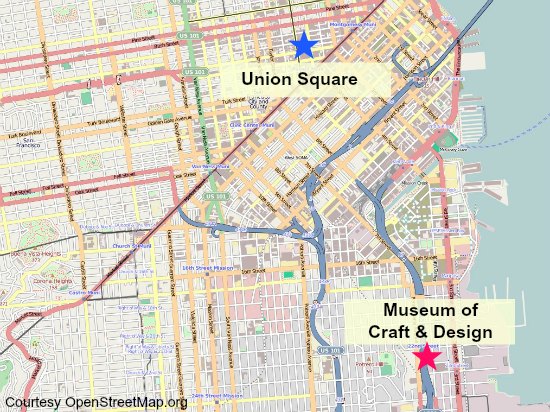 From Union Square
The easiest way to get here from Union Square is to take the light rail train. The K & T trains both drop off right in front of the building.
You can pick them both up at the underground station at Powell and 5th Streets. Take the inbound train to the 22nd street station.
From Fisherman's Wharf
If you are coming from Fisherman's Wharf, you will need to take the F Streetcar to the stop at Market and Drumm. From here, head to the underground MUNI station to catch the inbound K or T train. Take this train to the 22nd street station.
Other Top Attractions