Mexican Museum in San Francisco: What to Expect During Your Visit

by Jill Loeffler  •

Updated: January 12, 2023
This museum is temporarily closed as they prepare to move to their new location in the Yerba Buena Gardens. 

The Mexican Museum in San Francisco dedicates its space to significant pieces from the Mexican, Chicano and Latin cultures. Their collection includes more than 14,000 pieces from Pre-Hispanic works of the Mayan and Aztec societies to modern day, contemporary art.

They are affiliated with the Smithsonian Institute in Washington DC which means all items in this SF museum must be authenticated. This relationship allows them to display objects and exhibits from this world-class institution.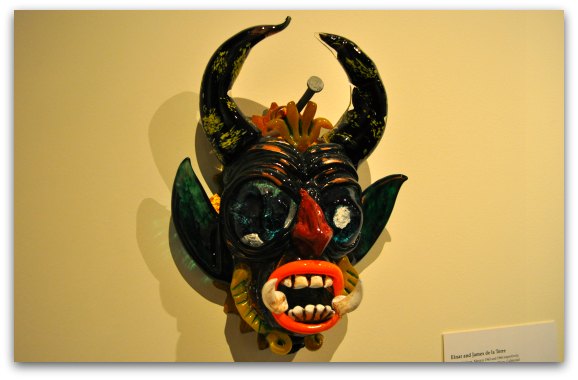 This is just one example of the types of pieces you will see at the museum. It is the Canberra Devil made from glass, metal and fabric flowers.
Disclaimer: I receive a small commission from some of the links on this page.

The Mexican Museum in San Francisco initially opened in 1975. It was the dream of artist Peter Rodriquez, who originally built it in SF's Mission District.
In 1982, they moved it to the Fort Mason Center after it outgrew their first facility.
In 2015, they announced that they will relocate to a new facility in SF's South of Market (SOMA) district. They were originally scheduled to move there in 2018, but the current estimate is that the new structure will be complete and they will reopen in this location at the end of 2020.
Their new facility will be at 3rd and Mission Streets right next to the Contemporary Jewish Art Museum, across the street from the Museum of African Diaspora and a block away from the SF Museum of Modern Art.
Hours & Pricing

A visit to the Mexican Museum in San Francisco is free, though donations are welcome. You can drop money into their donation box either before or after your visit.
I typically spend about an hour here, but you could spend a little more time if you want to take a closer look at all of their pieces of display.
They are open Thursday - Sunday from 12pm to 4pm.
They close on the following holidays:
New Year's Day, Martin Luther King, Jr. Day, Presidents Day, Memorial Day, July Fourth (and the Friday before), Labor Day, Columbus Day, Veterans Day, Thanksgiving Day, and Christmas Day
Mexican Museum in San Francisco: Permanent Collection

The museum collection covers just three rooms. This is where you can see the majority of their permanent collection. However, they have once again outgrown their current space, so can only show a portion of their pieces at any time.

Ancient Americas

The Ancient Americas gallery of the museum features artifacts from the Mayan, Zapotec, Aztec, Olmec and Incan civilizations. Items on display include tools and mythological figures from each tribe. There are more than 2,500 pieces in this collection that span over 2,500 years.

Colonial Art

This collection includes antique textiles, religious statues and intricately carved furnishings. Pieces in this gallery are from the 1400s to the early 1800s.

This piece is a new addition to their permanent collection. It's entitled 'Over the Rainbow' and was painted by Alfredo Arreguin.
Folk Art

This gallery of the Mexican Museum in San Francisco displays pieces from the Nelson A. Rockefeller Collection of Folk Art. These works of art were donated to them in 1986.

Modern Art

Here you will see paintings, sculptures and works on paper from well-known artists such as Diego Rivera, Carlos Merida and Miguel and Rosa Covarrubias.

These are just a few of the more modern works at the museum.
Mexican American/Chicano Contemporary Art

The final collection is from modern day artists such as Carmen Lomas Garza, Manuel Neri and Rupert Garcia. Their collection includes more than 1,000 pieces.

Location & How to Get Here

The Mexican Museum in San Francisco is at Fort Mason Center, Building D. Fort Mason is on the western side of Fisherman's Wharf.

From Fisherman's Wharf

Walk: The easiest way to get to Fort Mason from Fisherman's Wharf is to walk. There is a short cut along the waterfront. It's up a steep hill, but much faster than walking all the way around. Plus, this walk gives you some amazing views of the Golden Gate Bridge, Alcatraz and Fort Mason from above.
Walking Path: Walk along the waterfront at Aquatic Park and continue along the path toward the Pier. Before you reach the Pier, turn left and take the walking path up the hill. You will then walk along that path until you see the first set of stairs down into Fort Mason. It's about a 10 to 15-minute walk
From Union Square

Cable Car: The Hyde/Powell cable car line drops you off right in front of Aquatic Park. Once you arrive, use the walking map above to reach Fort Mason.
Streetcar: The F Streetcar will drop you off on Jefferson Street near Boudin Bakery. Walk west toward Aquatic Park and then follow the map above.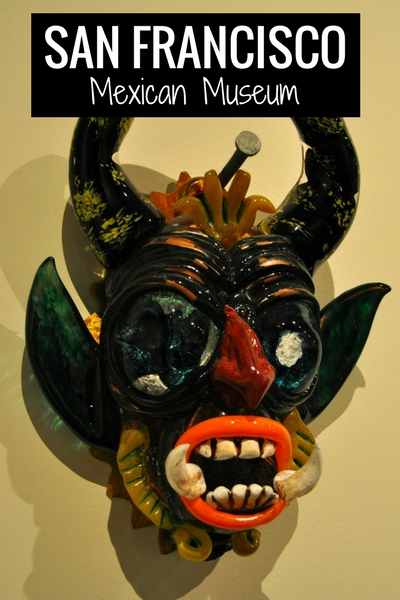 Other Museums You Might Enjoy

More Fun Pages

The Perfect Day in the Presidio: Do you love urban hikes? If so, then check out my 'perfect day' in SF's Presidio. This old army base offers a quite retreat away from the chaos. It's also home to Baker Beach, where you can get some amazing views of the Golden Gate Bridge and the Pacific Ocean.
The Perfect Day in the Haight Ashbury District: Another visitor favorite is the Haight Ashbury District. This neighborhood became famous in the 60s as people flocked here for the Summer of Love and other free concerts in the park. On this page, you will find a step by step itinerary of the district which includes stops by many famous locations from the 60s.
The Perfect Day in Golden Gate Park: One of my favorite places in the city is Golden Gate Park. This 1,000+ acre park has activities and attractions for everyone. You can explore the expansive Botanical Gardens or find some peace and quiet in the Japanese Tea Gardens. This itinerary offers you a chance to see it all in just one day!
Comments? Questions? Suggestions?
I would love for you to join me in my private Facebook group! 
It's a great place to interact with me and others who know the area well.
You can ask questions, get advice for your upcoming stay, and then share your photos and advice with others when you return home. It's a great community and the fastest way to get answers to those nagging questions about your visit!