Inner Sunset in San Francisco


The Inner Sunset in San Francisco is on the southern side of Golden Gate Park. You will find plenty to do here including several colorful staircases, parks with amazing views around SF, and fun bars and restaurants.

Some of my top picks include the 16th Avenue Stairs, the Hidden Garden Stairs, and Grandview Park. You can also spend some time grabbing a drink or some food along the Irving Street Corridor. 
Read on for my tips on what to see and do here as well as how to get here.
Disclaimer: I receive a small commission from some of the links on this page.

7 Fun Things to Do & See

1. Golden Gate Park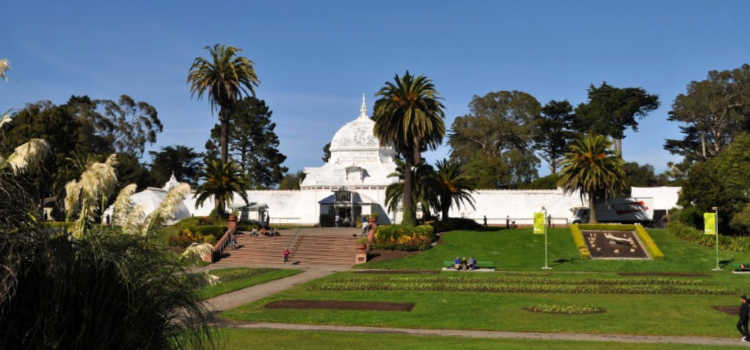 With over 1,000 acres of space, Golden Gate Park is home to several attractions. Top options include the Japanese Tea Garden, the de Young Museum, the California Academy of Sciences, the Conservatory of Flowers, and so much more. 
People love to listen to music or have a picnic at the concourse, walk around tranquil Stow Lake, or go down to the Beach Chalet for a bite or check out the Dutch Windmill when they want to see the Pacific Ocean. 
2. 16th Avenue Tiled Stairs
This famous stairway has 163 steps with mosaic that form stars, the sun, the moon, oceans, and so much more. Each set of stairs has a different motif and you will want to stop and enjoy each one.
Some of the tiles have been sponsored by corporations, but most are memorials to people who have passed away. This makes the stairs even more beautiful and incredibly touching. You will also want to turn around and see the views that face the Pacific Ocean while you are climbing the stairs.
Moraga Street between 15th & 16th Street
3. Grandview Park
I always visit here when I'm in the Inner Sunset in San Francisco. Depending on the weather, you can see out over the Pacific Ocean, the Golden Gate Bridge, Marin, and over downtown San Francisco to the East Bay.

My favorite way to get to this park is to walk up the 16th Avenue Stairs and then climb up the park's stairs to the top of it. You can drive to the bottom of the park, and still have a wonderful view, but you have to climb the wooden steps to get the amazing 360-degree views at the very top. You will find entrances at both Moraga & 15th Street and Moraga and 14th Avenue.
4. Hidden Garden Stairs
Not as famous as the 16th Avenue Stairs, the Hidden Garden Steps are a group of stairs is just as beautiful and full of artistically made tiles and designs. It is broken up in sets of almost a dozen stairways. They also feature mosaic tiles that create pictures of a massive ocean, forest, and other scenes. 
Some of the works span more than one level of steps and continue up the stairs. Make sure to turn around and take a view of the Inner Sunset in San Francisco below. 16th Avenue between Kirkham Street and Lawton Street
6. Golden Gate Heights Park
The name of this park says it all as it will give you a great view of the Golden Gate Bridge among other parts of SF. You will also have to get your heart pumping to get to the top as you have to climb a fairly big hill to its summit.
The park is pretty small, but the views are definitely worth it. One side of this park has a playground, picnic tables, and an area for dogs to run and play. The other side is a natural forest with dirt paths that go back-and-forth on the hill. 12th Avenue & Rockridge Drive
6. Inner Sunset Walking Tour
Although the Inner Sunset in San Francisco isn't as well-known as some of the other neighborhoods here, it is still one of my favorites because it has some great historic areas and a lot of hidden gems here. 

This area was originally just sand dunes and scrub land, but people moved here after the 1906 Earthquake because of its small-town feel. On this free walking tour, you will learn all about it. You guide will show you the best parts of this neighborhood and also give you information about the past, present and future.
The tour starts at Arguello Boulevard and Hugo Street.
Visit SF City Guides for details.
7. Mount Sutro Open Space Reserve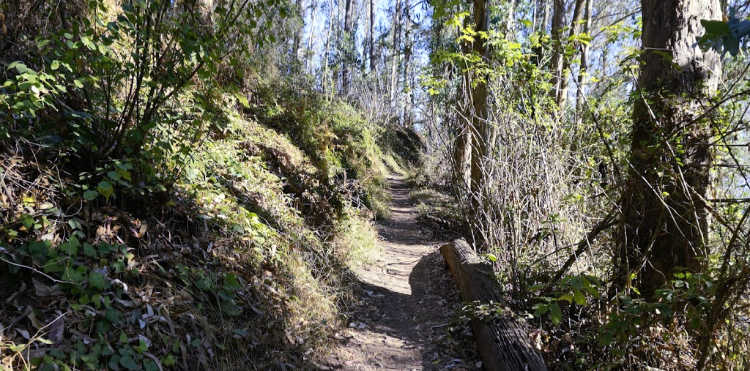 Situated on a 900-foot hill, with trees that are over 200-feet tall, is one of my favorite places to go when I want a little peace and quiet among natural beauty. I love that there is a massive eucalyptus forest here and the scent that these trees give off.
You can hike many beautiful trails while you enjoy your time here. It is a birder's paradise as there are almost 50 species of them here. If you are lucky, you'll see the goat herds that they use to control its vegetation. 106 Clarendon Avenue
Top Bars & Restaurants in the Inner Sunset in San Francisco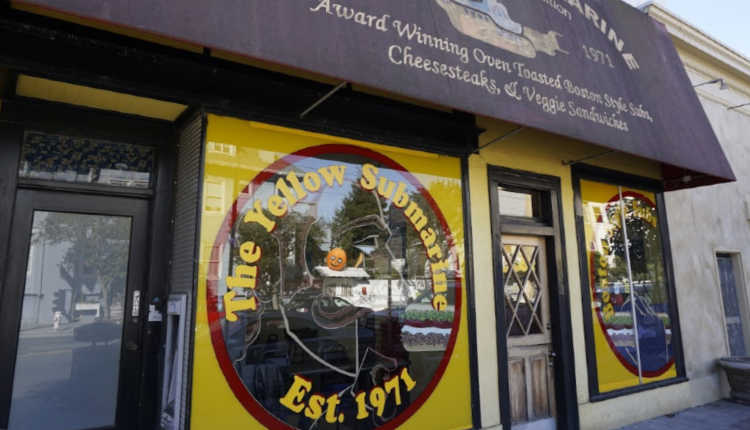 The Yellow Submarine: Opened in 1971, this Inner Sunset in San Francisco sandwich shop has become a landmark. They have some of the best sandwiches anywhere with their bread made from a secret recipe. The prices are still reasonable as many of the locals come here every day for lunch. Their motto is, "Quality ingredients, honesty in the preparation" and you will definitely experience both when you visit here for a meal. 503 Irving Street
Pasquale's Pizzeria: You'd guess that this restaurant has great pizza, and you'd be right, but they also have all kinds of incredible Italian food including spaghettis, penne pastas, tortellinis, and so much more. Their pizzas are known to be some of the best in all of SF and include everything from pepperoni, to broccoli, to shrimp! My personal favorite non-pizza dish is the Fettucine Alfredo with fresh cream and cheese. 700 Irving Street 

Art's Cafe: Simply stated, go try their Hashbrown Sandwich right now. It might sound strange for a restaurant that is known as a Korean-American food place, but you'll love it. As expected, Art's also has American classics like omelets, pancakes, and more while their Korean dishes include bi bim bop and tofu furn. This place is tiny, as there is a kitchen and about 14 seats total. The walls are covered with postcards from visitors all over the world, so bring one of your own and add it to the collection! 747 Irving Street

Yancy's Saloon: When you are ready for a break from your Inner Sunset in San Francisco sightseeing, this is the bar to go to for great drinks, some darts, and watching the game while away from home. It is known as a local hangout but also a place where tourists are welcome. People love Yancy's because it is decorated like a classic 1920's style location with beautiful glasses fixtures and hanging plants. BTW, you can bring your own food since they don't offer any here. 734 Irving Street

Mucky Duck: A fun neighborhood "dive" bar attitude is alive and well here with lots of people just relaxing, enjoying their drinks, and listening to music from the juke box in the back. If you've never been to a dive bar, it just means that it is some place that anyone, and everyone, is welcome without any pretention or attitude. Mucky Duck is a great place for that, watching sports on their tv, playing pool or a game of darts. Food isn't available but you can bring your own. 1315 9th Avenue

Top SF Attractions, Tours & Activities

How to Get Here

The best way to get to the Inner Sunset in San Francisco is on the N Judah light rail train. This train runs from the King Street Caltrain Station in China Basin, along the Embarcadero, down Market Street and all the way to this district (and then on to the Pacific Ocean). It stops in a few places in the district, so you can easily get to your destination.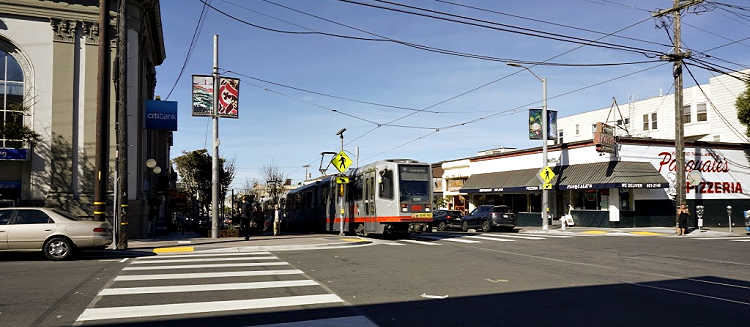 If you want something to eat or drink, get off at the 9th and Irving stop. That's also the best stop if you plan to visit Golden Gate Park.
If you want to climb the 16th Avenue Tiled Stairs or the Hidden Garden Stairs (or both!), then stay on until the 16th Avenue and Judah stop. If you plan to continue west to the Outer Sunset, you can just stay on the N-Judah.
Driving and Parking

You can also drive to this district. It's one of the few where you will find parking on the street. 
You may need to park a few blocks away from the core business district, but you can easily find spots within walking distance.
There aren't any really large garages here, but you should be able to find street parking.

Things to See & Do Nearby

California Academy of Sciences: Walk through a rainforest, see the sky in a planetarium, pretend you are swimming in the ocean at the aquarium, and so much more when you visit this magical place inside the Golden Gate Park. This is the perfect place for kids of all ages as there is something for everyone. My personal favorite thing to do is go watch the Academy's resident white alligator, Claude, as he hangs out and relaxes during the day. I never miss going here when I'm in the Inner Sunset in San Francisco district. More about visiting.
Haight-Ashbury: This is the district to visit when you want to experience SF in the 1960s and 70s when the hippies were alive and rocking the city. Even though this is now a much more commercial area with shops and restaurants, you will enjoy seeing all the beautiful murals here, seeing a free music shows at Amoeba Records, hiking to the top of Buena Vista Park or just enjoy your time as you take a walking or Magic Bus tour. Ps. If you are a Grateful Dead fan, they lived at 710 Ashbury Street and you will see paintings of them on the sidewalk in front of it. More about visiting the Haight-Ashbury District.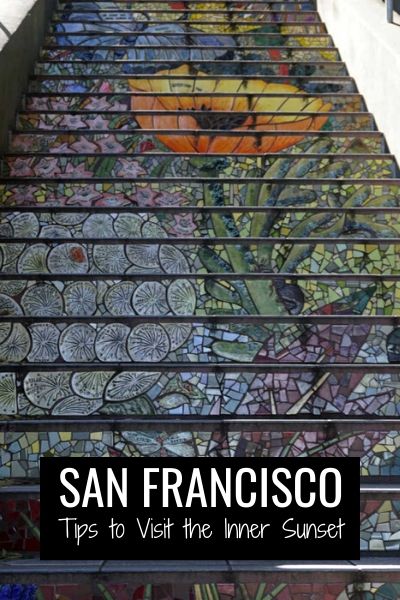 Comments? Questions? Suggestions?
I would love for you to join me in my private Facebook group! 
It's a great place to interact with me and others who know the area well.
You can ask questions, get advice for your upcoming stay, and then share your photos and advice with others when you return home. It's a great community and the fastest way to get answers to those nagging questions about your visit!