Cartoon Art Museum in San Francisco: Hours, Tickets, and Other Tips to Visit

by Jill Loeffler  •

Updated: April 26, 2023
The Cartoon Art Museum in San Francisco dedicates its galleries to the history and development of cartoon art. At this attraction, you will see an ongoing rotation of traveling exhibits. The museum is now open every day of the week except on Wednesdays. 
They dedicate their entire space to these exhibits and they often have two or three on display at any given time. There is also a small area in the front that is free to visit with a few interesting pieces.
It's the only one of its kind on the west coast and is now located in the Fisherman's Wharf District. It's located just one block from Ghirardelli Square, across the street from Aquatic Park, and a short walk away from the Powell/Hyde Cable Car line.
Disclaimer: I receive a small commission from some of the links on this page.

Cartoon Art Museum in San Francisco: Visiting Details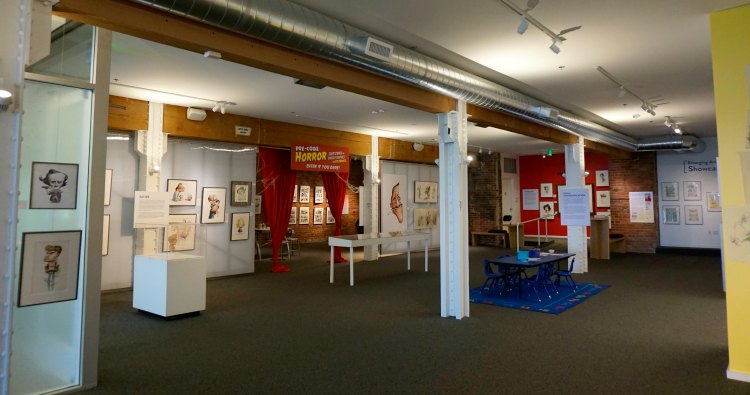 If you love cartoon art, you are going to love this museum. 
They do not have a permanent collection on display, but showcase several traveling exhibits each year. At anytime, they will have two to three traveling exhibits on display. They switch these out three to four times a year. 
This allows you to visit again and again to see their latest pieces on display. 
In my experience, I tend to spend at least a couple of hours at this museum each time I visit.
However, you can get lost in the exhibits for hours if you decide to stop and read each piece. It's so much fun to take some time to really examine how much work goes into these comics as well as getting the chance to see some original historic pieces.
If you love comics, you are going to LOVE this museum in San Francisco.
>> Visit my museums exhibit schedule to see what's currently on display here
Hours and Information

The Cartoon Museum in San Francisco is open Thursday to Tuesday and closed on Wednesday. Their hours are from 11 am to 5 pm.
The museum is closed on New Year's Day, Easter Sunday, Independence Day (July 4th), Thanksgiving Day and Christmas Day.
Ticket Prices

Adults: $10
San Francisco Resident: $7
Students/Senior/Military/Educator (with valid ID): $6
Kids (6-12): $4
Children (5 and Younger): FREE
Members: FREE
You can purchase your tickets at the door when you arrive.
Pay What You Wish Days

The Cartoon Museum in San Francisco does not offer free days, but they do offer Pay What You Wish Days. This offers everyone the chance to visit this Fisherman's Wharf museum at a discounted rate.
On the first Tuesday of the month, you can pay what you can afford. This art museum is open from 11 am to 5 pm and welcomes you to pay what you can all day long.
Visit their site for a calendar of upcoming Pay What You Wish Days.
Photography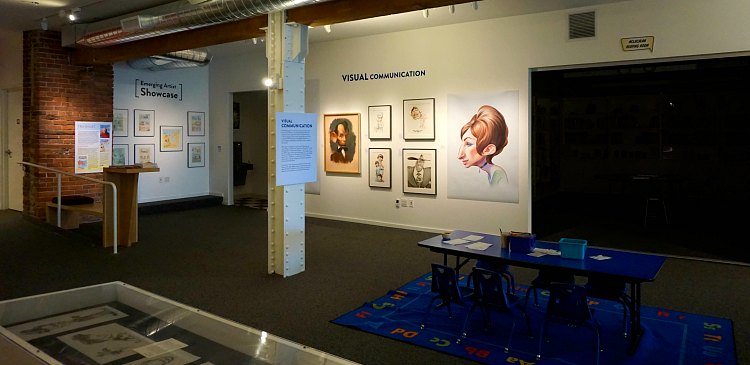 They recently changed their photography policy. You are allowed to take photos as long as you do not use a flash.
This policy can change again at any time though, so please ask about a staff member upon arrival to confirm that photography is still allowed.

History of the Cartoon Art Museum in San Francisco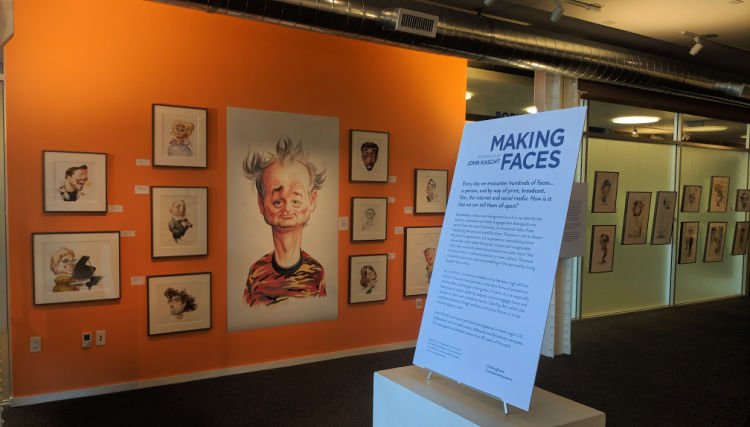 The concept for this museum started with a group of comic lovers and friends in 1984. They start organizing exhibits based on their personal collections.
They found a permanent home for their collections in 1987 in the South of Market (SOMA) district with an endowment by Charles M. Schulz, the creator of the Peanuts comic.
They moved around a few times in this district and in 2015 the museum closed due to a substantial increase in their rent. They search for a new home for a while and finally found a great space in the Fisherman's Wharf district.
They opened at 781 Beach Street on the western side of Fisherman's Wharf in the fall of 2017.
Research Library

The extensive research library here is open by appointment only. Here you will find more than 5,000 volumes of works.
The library has three sections: Graphic Novels & Books, Reference and Periodicals. They also have a small collection of DVDs and VHS tapes.
They recommend you call a few weeks in advance to book your time in the library. You can call them directly at 415.227.8666.
Special Events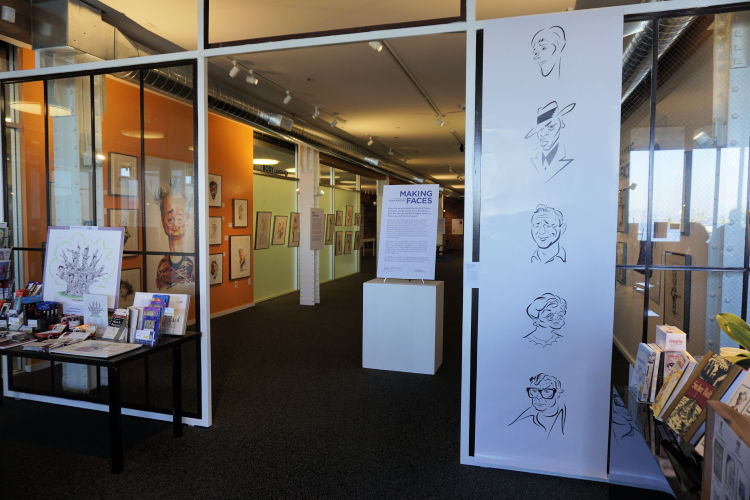 They also hosts a number of special events. Here is a little more about some of their most popular classes and events.
Saturday Cartooning Class
The Saturday Morning Cartooning class offers kids the chance to learn more about writing and designing their own cartoons. Topics include tips to create the perfect character and how to pull the story together in writing.
It's best for kids ages 7 - 13.
It runs once a month from 1 pm to 2:30 pm at the museum.
You can sign up for just one class or an entire season of classes. This is an introductory level class.
Saturday Cartooning Academy
Every summer, they offer a variety of in person classes. These are a little more advanced and are best for teens 14 - 17 and for adults. They run from 3 pm to 4:30 pm. 
These are offered in person at the museum.
Summer Cartoon Camp
They also offer week long Cartoon Camps in the summer. You can select from half day or all day camps. These five day camps are for those ages 10 - 15. 
It's a great way for young artist to improve their cartooning skills.
Getting Here

You will find them at 781 Beach Street in Fisherman's Wharf. It's located on the western side of the district near Buena Vista Cafe and Ghirardelli Square.
You can easily get here on foot from any location in Fisherman's Wharf.
You can also get here on public transportation by taking the Powell/Hyde Cable Car from Union Square. It's right across the street from the final stop on this route.
Parking Nearby

You will find several places to park with just a few blocks of the Cartoon Museum. These are a few of the best options nearby.
Ghirardelli Square Garage: The closest place to park is kat 900 Northpoint Boulevard in Ghirardelli Square. This lot starts at $5 an hour for the first hour and $8 for each additional hour. Rates are $35 for up to 12 hours and $40 for up to 24 hours.
Hyde Beach Garage: Another great option is at 655 Beach Street. This is about a block away from the Cartoon Art Museum in San Francisco. This indoor garage starts at $10 for the first hour and $8 for each additional hour. It's $42 for up to 12 hours and $46 for up to 24 hours.
Note: Parking rates can change any anytime. These will give you an estimate on rates for each location, but please confirm pricing for the day before you park.
Hotels Nearby

You will find several hotels within a short walk to the Cartoon Art Museum in San Francisco. Here are just a few of my top picks.
Argonaut Hotel: I love this hotel for a variety of reasons. Its seaside decor is fun and playful. This 4-star beauty also offers luxurious amenities and is in the heart of the Fisherman's Wharf action. 495 Jefferson Street. Read recent guest reviews about Argonaut Hotel.
Suites at Fisherman's Wharf: Just a couple of blocks away are the Suites at Fisherman's Wharf. This hotel offers 24 suites with kitchenettes, a roof top deck with amazing views, and a convenient location to all of the SF Wharf attractions. 2655 Hyde Street. Read guest reviews and find a room at Suites at Fisherman's Wharf.
Kimpton Alton Hotel: This option is about two blocks away and a more budget friendly option. It's a larger hotel with a heated indoor pool and walking distance to all that the Wharf has to offer. It's a 3.5-star hotel at 495 Beach Street. Click here to see reviews and find bookings at Kimpton Alton Hotel.
>> Find additional recommendations for hotels in Fisherman's Wharf
More Things to See & Do Nearby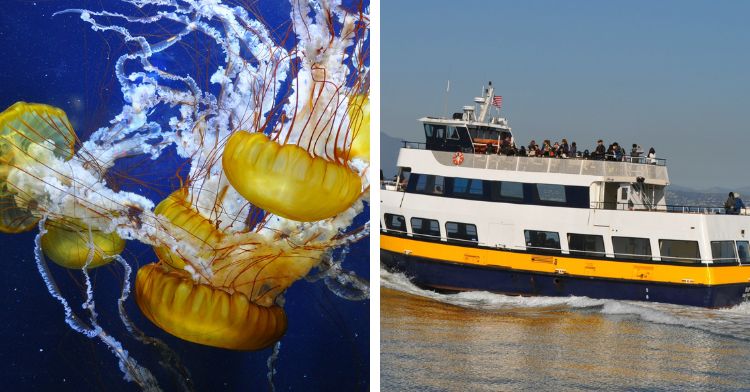 The Cartoon Art Museum in San Francisco is in a fantastic location. It's in the heart of one of our busiest districts and close by many top activities and attractions.
Here are a few recommendations to add to your itinerary that are nearby.
Pier 39
One of the top draws to this district is Pier 39. This renovated pier is home to attractions, shopping, restaurants and entertainment. Top options include the 7D Experience, checking out the sea lions in action, and the Players Arcade.
Aquarium of the Bay
This family-friendly attraction on Pier 39 offers several hours of fun. The aquarium features the plants and animals of the SF Bay. You can walk through two aquarium tunnels, spend time on the hands-on pond area, or get lost in the peacefully floating jellyfish.
Bay Cruises
Another popular option in this district is the bay cruises. You can head out during the day for a 60-minute cruise or a 2-hour evening cruise. All ride under the Golden Gate Bridge, around Alcatraz, and offer narrative so you can learn more.
>> Find out more about bay cruises here
Comments? Questions? Suggestions?
I would love for you to join me in my private Facebook group! 
It's a great place to interact with me and others who know the area well.
You can ask questions, get advice for your upcoming stay, and then share your photos and advice with others when you return home. It's a great community and the fastest way to get answers to those nagging questions about your visit!