Cartoon Art Museum in San Francisco
What to Expect from Your Visit to SF's Cartoon Museum
The Cartoon Art Museum in San Francisco dedicates its galleries to the history and development of cartoon art. At this attraction, you will see everything from popular Sunday comic strips to Saturday morning cartoons.
This space has a small, yet historically significant permanent collection on display. In addition, they also host ten major traveling exhibits every year.
It's the only one of its kind on the west coast and is now located in the Fisherman's Wharf District.
Permanent Collection
In the museum's permanent collection, you will find thousands of pieces of original works. They range from historical Peanuts comic strips to newer ones such as Calvin & Hobbs.
As you walk through their galleries, you will notice a wide range of ages on the comics. The oldest ones I could find in their permanent collection were two from 1913.
Their permanent gallery gives you a great sense of what it's like to create cartoon art. Throughout the collection, you will see varying stages of art work. Some of these are alongside the final piece.
You will also find a small area that continually runs cartoons.
Traveling Exhibits
The Cartoon Art Museum in San Francisco also hosts some of the most famous cartoon artists. During my last visit, they were showcasing hundreds of pieces of art from Chuck Jones.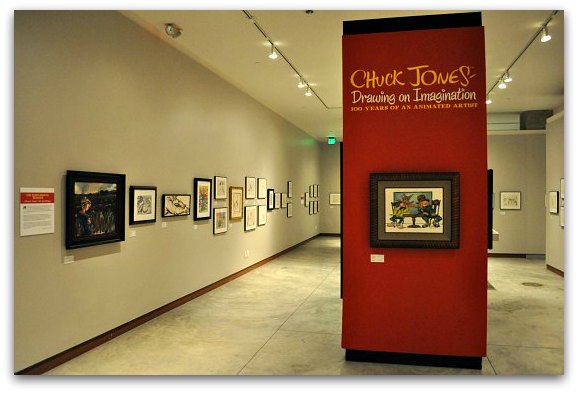 Jones was famous for his work with Warner Brothers Studios. He directed many of their animated films that included Bugs Bunny, Daffy Duck and the Roadrunner.
Other large traveling exhibits here in the past include MAD Comics, the Avengers and the Art of Dreamworks Puss and Boots.
They also have a small area called the Small Press Spotlight. It showcases creations of local artists.
Research Library
The extensive research library at the Cartoon Art Museum in San Francisco is open by appointment only. Here you will find more than 5,000 volumes of works.
The library has three sections: Graphic Novels & Books, Reference and Periodicals. They also have a small collection of DVDs and VHS tapes.
They recommend you call a few weeks in advance to book your time in the library. You can call them directly at 415.227.8666.
Special Events
The Cartoon Art Museum in San Francisco also hosts a number of special events. One of the most interesting is their Saturday Drop In Class. They host these once or twice a month between 1pm and 3pm on Saturday afternoon.
These drop in classes teach the fundamentals of cartooning and are for aspiring cartoon and anime artists between the ages of 8 to 14. These classes are first come, first served, but you can call ahead to book your seat in advance.
Contact them directly for their upcoming calendar and the cost for these special education sessions.
Who Should Visit
The displays here are geared toward adults and anyone wanting to see historically significant comic strips. It's also for those looking to learn more about the creative process.
Visiting Hours, Cost & Other Tips
The Cartoon Art Museum in San Francisco is open every Thursday - Tuesday from 11am to 5pm. They are closed on Wednesday and major holidays.
Ticket Prices
Prices are usually around $10 for adults with discounts for seniors, SF residents, and kids. Visit their site for the full pricing breakout.
If you are planning to visit a few museums and other attractions in SF, then you should check out the savings available through the Go San Francisco Card. This attraction discount pass offers savings of up to 50% off the full retail admission to several of the most popular attractions and museums including the Cartoon Art Museum.
Photography
The Cartoon Art Museum in San Francisco recently changed their photography policy. You are allowed to take photos as long as there is no flash. This policy can change again at anytime though, so please ask about their policy upon arrival to confirm that photography is still allowed.
Getting Here
You will find them at 781 Beach Street in Fisherman's Wharf. It's located on the western side of the district near Buena Vista Cafe and Ghirardelli Square.
Other Great Places to Visit
California Historical Society: Just across the street from the Cartoon Art Museum is the California Historical Society. This small museum does not have a permanent collection. Instead, they feature traveling displays from artists focusing on California and its history.
Contemporary Jewish Museum: The Jewish Museum in SF dedicates its space to the history and culture of the Jewish community. At this museum, you can listen to music performed by popular Jewish artists, learn more about this community's celebrations and visit their traveling exhibits.
Museum Exhibit Calendar: Are you interested in finding what traveling exhibits are on display each month? This helpful calendar offers a complete list of the top museum exhibits scheduled in SF each month including those at the Cartoon Art Museum, the de Young and the Legion of Honor.