California Historical Society
Details About This San Francisco Museum & Research Library
The California Historical Society is a non-collective museum. It's also home to one of the largest research libraries focusing on San Francisco and California history. You will find it in the South of Market (SOMA) District.
What is a non-collective? Non-collective museums do not own permanent collections. Instead, they make their gallery space available to traveling exhibits. This allows them to show only the most relevant and topical collections available today.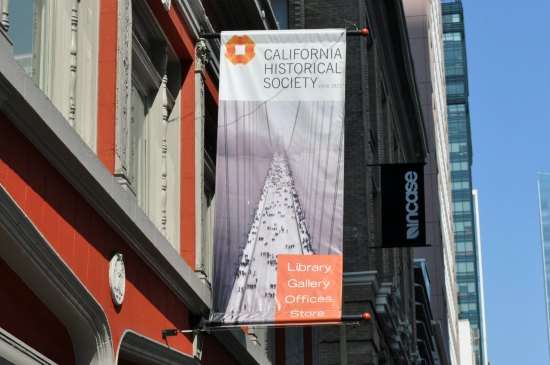 All of the displays here focus on the history of San Francisco and the State of California. Recent exhibits include A Wild Flight of Imagination: The Story of the Golden Gate Bridge and I See Beauty in This Life: A Photographer Looks at 100 Years of Rural California.
Before visiting this SF museum, make sure you look at their current and upcoming exhibit schedule. They usually only display one exhibit at a time, so you'll want to make sure it's interesting to you before you head over for a visit.
Click here to find a full schedule of current and upcoming exhibits for this and all SF museums.
For some of the links on this page, I receive a small commission when you purchase. You don't pay more when you buy through me and it gives me the chance to offer you all this great content for free!
Visiting The Exhibits
Admission to the gallery is usually around $5 per person, but free for members and children. Please visit their site to confirm current admission pricing as it can change from time to time.
Gallery Hours
Monday: Closed
Tuesday - Sunday: 11am - 5pm
Every 3rd Thursday of the month, the gallery is open until 8pm
Photography
Photography is not allowed in the gallery. This is due to the fact that they do not own any of the pieces of display.
Research Library
The main purpose of the California Historical Society is their research library. It's one of the most extensive research libraries focused on California history.
Here you will find more than 50,000 volumes of books and pamphlets, 4,000 manuscripts and 500,000 photographs. The library is also home to 5,000 works of art, including paintings, drawings, and lithographs.
You can research everything from Alcatraz to California's famous earthquakes. It's the perfect place to find facts for books, research papers, and other history projects about San Francisco or California.
You do not need to make an appointment to use the library. However, if you need their assistance, you can contact them ahead of time to discuss your project (415.357.1848).
Library Hours
Wednesday - Friday: 1pm - 5pm
Saturday - Tuesday: Closed
Getting Here
The California Historical Society is at 678 Mission Street. It's near the corner of 3rd and Mission about four blocks from Union Square.
From Union Square
Your best option from Union Square is to walk. As you can see, it's just a few blocks away and an easy (flat!) walk over to the gallery.
From Fisherman's Wharf
You will want to take the F Streetcar from Fisherman's Wharf to the 2nd or 3rd Street stop. From here, walk one block south (you will need to cross Market Street) to get to Mission. From either street, it's just a half a block away.
Other Museums Nearby
You will find several museums within just a block of this one. Here are some other great options you might enjoy.