Anchor Brewing Company: My Experience on the Tour of this History San Francisco Brewery

by Jill Loeffler  •

Updated: January 2, 2023
The Anchor Brewing Company first opened its doors in San Francisco in 1896. It's the first and oldest American craft brewery.

It was started when Ernst F. Baruth and his son in law Otto Schinkel, Jr. bought a small brewery from a German brewer by the name of Gottlieb Brekle. After they purchased the brewery on Pacific Avenue in SF, they renamed it Anchor.
Ownership has changed hands several times over the years. Today, they continue to brew their beer using a combination of traditional methods and state-of-the-art technology.
They are one of only a handful of breweries to still produce Steam Beer (also called California Common Beer).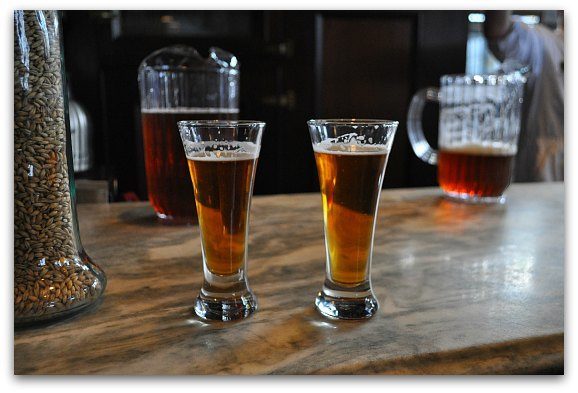 Every day, Anchor Brewing Company opens their doors to visitors. They offer two tours several days each week. 
The tour runs for 60-minutes and walks through their production facility. At the end, they offer a guided tasting of some of their top beers.

Disclaimer: I receive a small commission from some of the links on this page.

Our Tour of the Anchor Brewery Operations

When you first arrive, you will need to sign in at the front desk. You will then be taken to the tasting room, where you will wait until the start of the tour. Sometimes they offer you a beer before the tour starts.
The tasting room here is absolutely gorgeous. It's a fun place to see some of their old signs, as well as, a line-up of all of their Christmas Ales.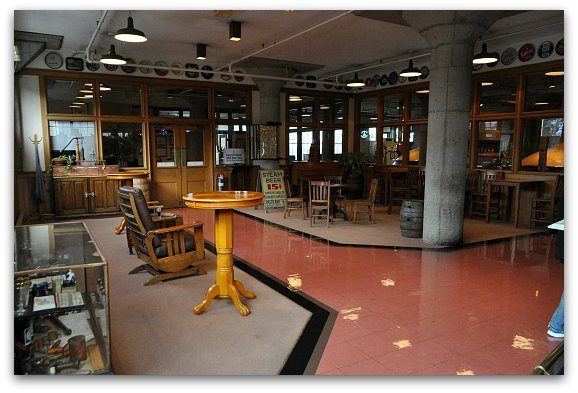 Your tour will start with a brief intro about the company in the tasting room. You will then step inside the first room, which is their traditional copper brew house. It's fascinating to get a close up look at these huge copper brewing machines.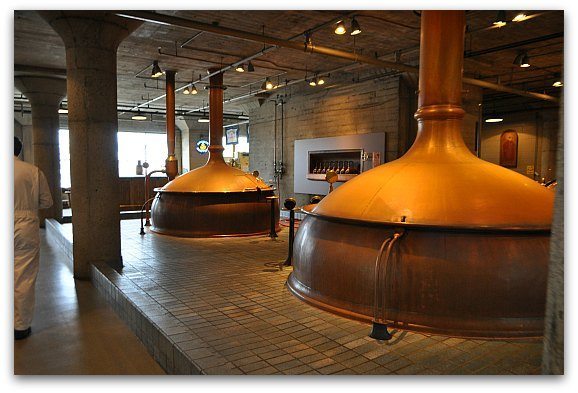 During your time in this room, you will learn more about how they produce and brew the beer. You will also see several people at work here and you will learn a lot about what it takes to make their tasty brews.
From here, you walk through the facilities that house the ingredients they use to make the beers. You will walk through several rooms and find out more about each item that goes into their flavorful beers.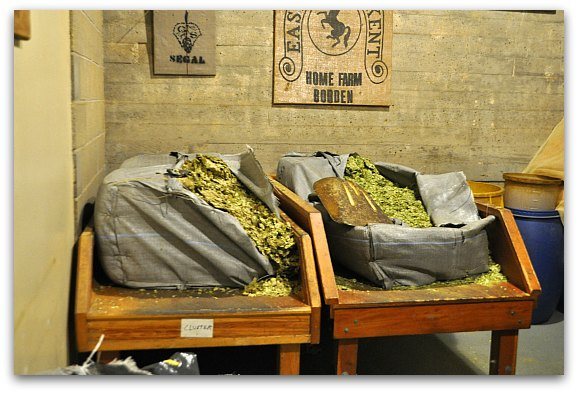 At this point, you will head down the stairs into the production facility. This is where they bottle and label the beers. For safety reasons, you are required to put all cameras, phones, etc. away.
Pictures are not allowed on this part of the tour.
You will spend about 10 minutes in this part of the facility. It's interesting to see the coordinated efforts of everyone and every machine on the line.
Everything is running in unison and so fast that you could watch it for hours and not get bored.
After you take a look at the production facility, you head back upstairs. You will learn a little more about the company and its history as you make your way back to the tasting room.
In the tasting room, the official walking tour of the facility is over. However, this is where you will start your guided tasting with unlimited pours of beer. The facility tour is interesting, but this is my favorite part of the experience!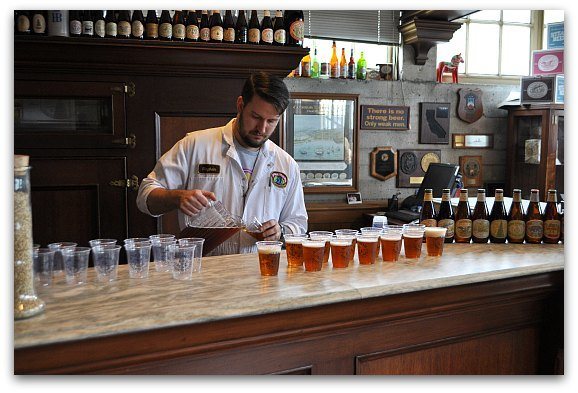 This is also a great time to ask any questions about the tour or their beers. You will also get the chance to spend more time checking out the collection of their Christmas Ales, which they started brewing in 1975.
Each year, they create a different label, so it's fun to see the entire collection lined up above the bar.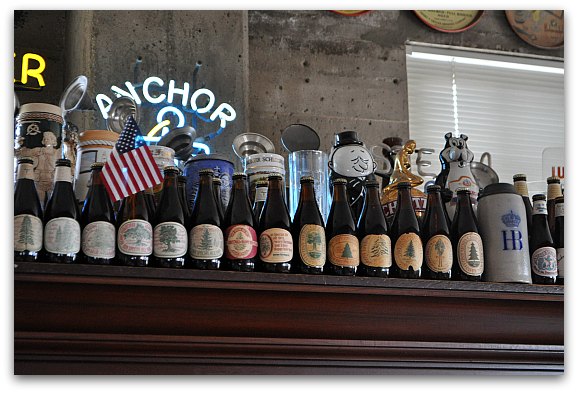 The entire tour is around 1 hour. This includes walking around the facility and time in the tasting room at the end.

Tour Details

It is currently running two to three times a day. This varies by season with more tours scheduled during the busier summer months. Tours are on the weekends and some weekdays.

They do not run tours on holidays.
You must make a reservation and pay in advance to go on the tour. 
The tour starts at $20 per person.
They take reservations about 3 months in advance and you can book your spots (and pay) online. Click here to reserve your spot(s).
The tour is all inclusive, so even if you don't plan to drink and are over 21, the cost is still $20.
Each tour includes anywhere from 1 to 25 people, which ensures that there are too many people on each tour.
How to Get to Anchor Brewing Company in San Francisco

The Anchor Brewing Company in San Francisco is located in the Potrero Hill District. This is just to the north of downtown and is easy to find.
The address is 1705 Mariposa St. The tour is in the building on the corner of Mariposa and De Haro.
The entrance for the tour is on De Haro Street in the building pictured below.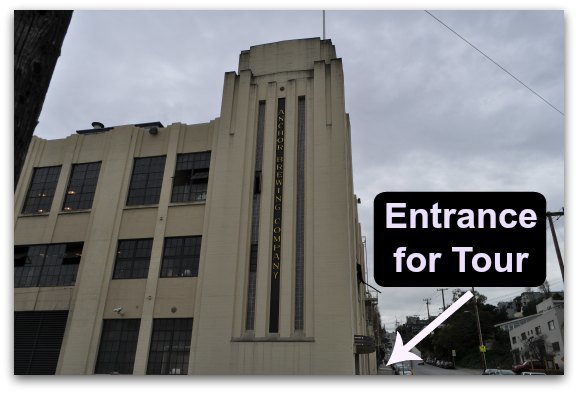 You can either take the bus, a taxi, or drive to the tour. The buses that stop nearby are the 19, and 22.
It would be about a $25 cab ride from downtown SF. You can also use Uber or Lyft, which is usually about the same cost.
More Hidden Gems in San Francisco

Columbarium
The Columbarium is the final resting place for hundreds of San Francisco residents. The building was originally built in 1895 using baroque and neoclassical elements.
It's lovely both inside and out.
You are welcome to walk around and admire all of the memorials on the main floor. You will need an appointment to visit those on the upper floors.
Diego Rivera Frescos
You will find three frescos from the controversial artist Diego Rivera in San Francisco. All three are open to the public during certain times each week or month.
Click here to find out more about this artist and where you will find his works in SF.
Hua Zang Si Buddhist Temple
Step inside a working Buddhist Temple in SF's Mission District. This temple is a converted Lutheran Church and is open to visitors almost every day of the week.
Stop by to see several large religious statues, as well as, to learn more about the religion.
More Hidden Gems
Find a list of my 25 favorite hidden gems. In addition to the three listed above, it also includes details on visiting the colorful Mission Murals, where to find the Octagon House, and tips to find several mosaic stairs around SF.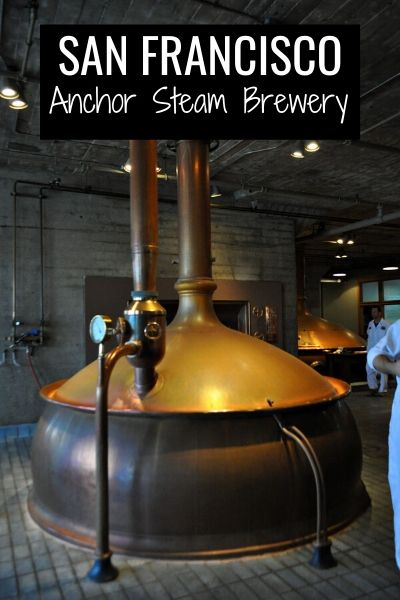 Comments? Questions? Suggestions?
I would love for you to join me in my private Facebook group! 
It's a great place to interact with me and others who know the area well.
You can ask questions, get advice for your upcoming stay, and then share your photos and advice with others when you return home. It's a great community and the fastest way to get answers to those nagging questions about your visit!