Alaska Inside Passage Cruise: Options Departing from San Francisco

by Jill Loeffler  •

Updated: September 28, 2023
The Alaska Inside Passage Cruise takes you through some of the most beautiful waterways of Alaska. The route includes hundreds of miles of shoreline and gorgeous coves and bays.
You will also get great views of snow-capped mountains, iceberg formations, and glacial fjords.

It's a trip of a lifetime for those who have always wanted to experience the beauty of this enchanting area.

Currently, Princess Cruises offers various options to visit the Inside Passage. Some include scenic cruising time within Glacier Bay National Park, others will instead take you through Endicott Arm and Dawes Glacier, and a less common option takes you through Tracy Arm Fjord.
These are all 11-night excursions that start and end in San Francisco, with the exception of one 22-night tour offered in June 2025.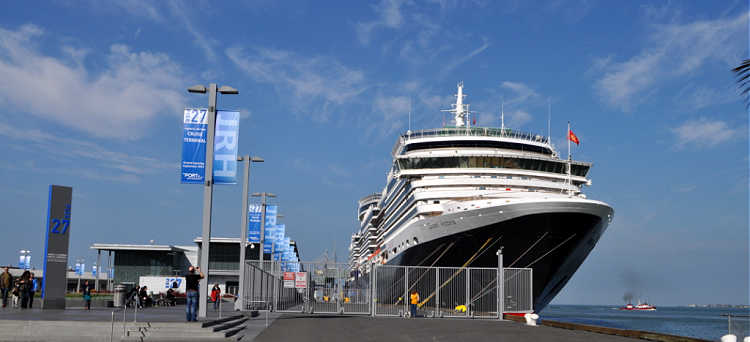 Disclaimer: I receive a small commission from some of the links on this page.

Upcoming Cruises for 2024 and 2025
11-Night Alaska Cruise with Princess Cruises
2024 Departure Dates with the Crown Princess Ship
May 4*, May 15*, May 26
June 6, June 17*, June 28
July 9*, July 20, July 31
August 11*, August 22
September 2*, September 13*
2025 Departure Dates with the Ruby Princess Ship
May 4*, May 15*, May 26*
June 6**, June 28
July 9, July 20*, July 31
August 11*, August 22
September 2
Dates without an asterisk are for the Inside Passage Tour with Endicott Arm and Dawes Glacier.
*Dates with an asterisk are for the Inside Passage Tour with Glacier Bay National Park. 
**In 2025, the June 6 departure date is a special 22-Night "Ultimate Alaska Solstice with Glacier Bay" tour.
Variations in Tours

From May to September each year, the many cruise options offered by Princess Cruises from San Francisco to Alaska differ not only in which main attraction they take you to, but also slightly in the order and timing of visits to the port cities.
For example, some have Ketchikan, Alaska as the first stop on Day 4, while others have it as the second-to-last stop on the way back down to San Francisco.
Some make a stop in Juneau before Skagway, while others have it the other way around. All of them make one last stop in Canada, but for some it's in Victoria and for others it's in Prince Rupert.
Regardless, your Alaska Inside Passage cruise options are all quite similar and all spectacular. If you choose one of these San Francisco-based tours in 2024, you will enjoy the Crown Princess ship; if you go in 2025, you'll be on the Ruby Princess. 
Below you'll find a sample itinerary of an 11-night cruise with Glacier Bay. When signing up for your cruise, make sure to double-check the particular itinerary for your chosen dates, as it will most likely vary slightly from this one.
11-Night Alaska Inside Passage with Glacier Bay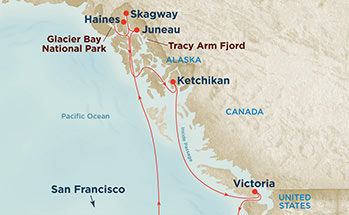 Glacier Bay is a gem inside Alaska's Inside Passage. As you cruise around this national park, you will see magnificent fjords, beautiful coastline, and larger than life glaciers. Your visit to the park is on Day 7 of your journey.

This Alaska Inside Passage Cruise also includes stops in Ketchikan, Juneau, Skagway, and Victoria, British Columbia, as well as five full days at sea.
The map shows the planned route for this cruise. Here is the full planned itinerary for this journey:
Day 1: Your journey begins when the ship departs San Francisco at 4 pm on Day 1.
Days 2 & 3: On these two days, you will be at sea as you cruise north from San Francisco toward Alaska.
Day 4: This is your exciting first port stop, from 7 am to 2 pm in Ketchikan, Alaska. This waterfront town of around 8,200 people offers several fun activities, from visiting the White Pass Summit to spending the day in an old Gold Rush camp and trying your hand at panning gold. Click here to learn more.
Day 5: Today you arrive in Juneau, Alaska at 8 am. You will have until around 9 pm to explore this lovely city. You can enhance your stop here by signing up for one of these shore excursions.
Day 6: You will arrive in Skagway, Alaska around 7 am and be docked there until 8:30 pm. This cute port town is home to only around 1,000 people. It also offers several fun shore excursions. Click here to learn more. 
Day 7: This day is the highlight of the trip. Your cruise arrives in Glacier Bay Park around 6 am. All day long, you get the chance to admire the gorgeous landscape of this national park. You will spend all day here, aboard the ship, as you cruise around and learn more about the area. The ship will leave the park around 3 pm.
Day 8: The next day, you will be at sea, continuing south through the Inside Passage.
Day 9: Your final port of call on this trip is Victoria, British Columbia, where you will arrive at around 2 pm. You will have until 10 pm to to explore this gorgeous city, giving you plenty of time to enjoy a shore excursion. Click here to learn more about the activities available in Victoria.
Days 10 & 11: On the final days of your journey, you will cruise through the Pacific Ocean as you head south to San Francisco. 
Day 12: You will arrive in San Francisco at 7 am on the morning of Day 12. 
Note: This is the typical itinerary, but it can change at anytime. Make sure to double check your itinerary before booking to ensure it includes everything you want to see.
Find a list of all 12-day cruises to Alaska from San Francisco. This includes all of those that stop in Glacier Bay and several others that don't, so make sure to check the dates and itinerary before booking.

Other Attractions
Endicott Arm and Dawes Glacier
This narrow inlet of sparkling water is about 30 miles long, and located just southeast of Juneau.
During the summer months when your cruise will visit, you'll observe the glacier calving and glide past icebergs that range from just a few inches to three stories wide.
The rich wildlife includes black and brown bears, deer, wolves, harbor seals, mountain goats and a variety of seabirds. See if you can spot them while you cruise by the lush forest where waterfalls cascade down in front of snowcapped mountains.

Tracy Arm Fjord
This glistening narrow fjord was named after the Civil War general Benjamin Franklin Tracy, and offers mostly the same features as Endicott Arm.
This one is located about 20 miles farther south of Juneau, and contains some of Alaska's largest glaciers, including the twin Sawyer glaciers.
The Cruise Ships
Crown Princess (2024 Cruises)
This large ship has capacity for 3,080 guests. It has 19 decks with four pools and seven whirlpool spas.

On board, you will find a main dining room, specialty restaurants, several self-serve and casual food options, an ice cream cafe, and 24-hour room service and pool-side service.

There is plenty of entertainment onboard—in the showrooms/lounges, at the movie theater, inside the casino, working out in their fitness center, and so much more.
The Crown Princess also features a unique over-the-ocean glass walkway and a kids' center full of activities and games.
Ruby Princess (2025 Cruises)
This ship boasts a collection of over 20 bars and restaurants, including the Crown Grill, the Crab Shack, the Salty Dog pub, and a six-course fine dining experience, in addition to the main dining rooms and the top-deck casual options which offer pizza and coffee. 

You can pamper yourself at the Sanctuary, the adults-only top-deck retreat, or at Lotus Spa, the full-service spa and fitness center. You'll also find a variety of pools and hot tubs, and amenities throughout the ship like unlimited Wifi.
Entertain yourself with nightly shows at the theater and lounges, or enjoy a night of dancing at the Skywalker Nightclub. You can also visit Movies under the Stars, the art gallery, and the casino.
For families with children, there are three designated play areas for different ages. 
Tips to Enjoy Your Port-of-Call Stops on these Cruises

Here are some of your top options for enjoying the stops on these Alaska Inside Passage cruises.

Juneau, Alaska

Juneau is Alaska's capital and is home to around 30,000 people. This remote town is only accessible by boat or plane. It's a very popular stop for cruise ships, so you will find several activities available for you during your stop.
One of the highlights here is the Mount Roberts Tramway. It takes you 1,800 feet above the city where you will get amazing views of the surrounding area. It's also the perfect spot for some hiking. At the top tram station is where you will find the Juneau Raptor Center, which is a wonderful place to learn about local birds.
For those seeking adventure, you will have the opportunity to go ziplining, enjoy a glacier trek/climb, or glide through the snow on a dogsledding tour. You can also head back out on the water to go whale watching, take a tour of a local brewery, or try your hand at panning for gold.

Click here to visit Viator and learn more about all of the shore excursions for Juneau, Alaska.

Skagway, Alaska

Skagway, Alaska is a small waterfront town with about 1,000 people. It's small, but it's packed with fun activities.
During your stop here, you can go panning for gold, visit one of their museums to learn more about this historic town, or stop by one of its gorgeous gardens. You can also head out for a hike on the Chilkoot trail, enjoy a scenic journey by train on the White Pass Rail, or relax on a scenic river float tour. 
Click here to visit Viator and discover all the fun shore excursions in Skagway, Alaska.

Ketchikan, Alaska

Ketchikan is another small town along the waters on Alaska's Inside Passage. It's home to around 8,000 people.
This small town offers several adventure shore excursions, such as an off-road jeep & canoe safari tour, ziplining, and the Eagle Island kayaking tour. It also offers a self-guided history walking tour, three informative museums, and a heritage center with a world renowned collection of totem poles.
Click here to visit Viator and find out more about these shore excursions in Ketchikan, Alaska.

Victoria, British Columbia

Victoria, British Columbia is a lovely place to enjoy some outdoor activities. It boasts a mild climate and is the perfect place to set out on foot.
You can explore the town itself or visit the Craigdarroch Castle. You can also have some fun ziplining, whale watching, or taking a city tour.
Click here for additional details on shore excursions in Victoria, British Columbia. 

Prince Rupert, British Columbia

If your cruise doesn't stop in Victoria, it'll most likely take you to Prince Rupert, nicknamed the "City of Rainbows" for the 220 average days of rain per year, which leave the place lush and teeming with wildlife. 
Some of its attractions include the Khutzeymateen Grizzly Bear Sanctuary, the Kwinitsa Railway Station Museum, the Museum of Northern British Columbia, and the historic North Pacific Cannery compound. 
Sitka, Alaska

This historic city was once the capital of Russian America until the U.S. purchased Alaska in 1867. The town sits across from picturesque Mt. Edgecumbe and is known for fishing, its summer classical-music festival, and several historical sites.
Fun fact: the population may only be 9,000, but this is actually the largest city in the U.S. in terms of total area, which spreads out to about four times the size of Rhode Island. 
Haines, Alaska

Only a handful of the 2024 and 2025 Alaska Inside Passage cruises visit Haines, Alaska, but if it is on your itinerary, you are in for a treat.
This beautiful little port town is located between two rivers and is home to the Chilkat Bald Eagle Preserve, where about 4,000 bald eagles gather each fall to feast on spawning salmon. 
Places to Stay in SF Before You Depart or Upon Your Return
Pier 27 is where the majority of the cruise ships now dock. This new terminal is located just steps from Fisherman's Wharf. If you plan to stay either before or after your cruise, I recommend finding a hotel in this district. It's where you will find Pier 39, the ferries to Alcatraz, and Ghirardelli Square.
Here are a few recommendations for your stay:
Other Tips for Your Journey

What to Wear

The Alaska Inside Passage Cruises run between May and September. Even though it's summer, you will find it cool and breezy. Most days, it will be in the 50s or lower 60s. 
I recommend packing layers. Bring along your summer clothes, but pair them with some light sweaters or jackets. This way, you can add and remove clothing as the weather allows. 
Camera Recommendations

Make sure you also pack your best camera for this occasion. You will find so many picture-perfect moments during each of these trips. If you love animal watching, I also recommend checking out some lenses that will allow you to get in a little closer. Some of the best views during these journeys will be from the cruise ship, so you will need to investigate camera lenses that get you the shot you want.
I recently purchased a new camera that I love. My old DSLR camera had been around San Francisco and the world one too many times and needed to be replaced. Instead of buying another heavy DSLR, I opted for a smaller mirrorless camera. 
After quite a bit of research, I selected the Sony Alpha a6000. It's a more compact camera, yet has what it takes to capture amazing shots. I use both the kit lens and the Sony E 55 -210. The kit lens is great for closer-up shots and the second lens is able to grab clear shots from farther away.

Click here to visit Amazon to read reviews and compare prices for the Sony Alpha a6000. 

Comments? Questions? Suggestions?
I would love for you to join me in my private Facebook group! 
It's a great place to interact with me and others who know the area well.
You can ask questions, get advice for your upcoming stay, and then share your photos and advice with others when you return home. It's a great community and the fastest way to get answers to those nagging questions about your visit!