Museum of the African Diaspora (MOAD): Tips to Visit this African American Museum in San Francisco

by Jill Loeffler  •

Updated: April 26, 2023
The Museum of the African Diaspora (MOAD), sometimes referred to as the African American Museum in San Francisco, is one of our newer SF attractions. This fantastic museum opened in December of 2005 with fully interactive displays.

You won't find historic artifacts or other such displays in their permanent collection. This modern exhibit teaches the story of the African Diaspora through videos, audio performances, and other interactive displays.

Since there are many definitions of the "African Diaspora," the museum focuses on the following:
1. The original African Diaspora of all people out of Africa
2. The African Diaspora of more recent times (starting around the 16th century)
3. Today's contemporary African Diaspora
The building that houses the exhibits is three stories tall. On the first story you will find the entrance, ticket counter, and gift shop. After paying your admission, you can either walk up the stairs or take the elevator to the top two floors.
Disclaimer: I receive a small commission from some of the links on this page.

Museum of African Diaspora Exhibits

The 2nd floor houses the permanent exhibits. It includes three galleries as well as some interactive displays.

Celebration Circle

The first gallery is called the Celebration Circle. It's a circular theater with seating around the outside.
Here, you can watch an interesting film about celebrations that runs on a continual loop. It includes a series of interviews that touch on faith, births, and weddings, and how each interviewee traditionally celebrates important events.
The film is really well done with colorful imagery. It lasts about 10 minutes. It's also a great introduction to the rest of the museum.
Interactive Displays

When you step out of the Celebration Circle, you will enter a small area with about 10 interactive displays. One area focuses on food, a second on music, and a third on clothing.
The food exhibit is a culinary journey of Africa and its people. It talks about everything from vegetables to coffee. There are three monitors with different themes, where you can press the button to activate a short video explaining the topic.
The clothing area showcases a number of traditional and modern styles. It's all electronic, so the display continually changes showing different pieces.
The final set of interactive displays are about music. You will find three screens with different types of music. Press a type of music to learn more. You can also press another button to hear a snippet of the music they are describing.
Freedom Theater

The Freedom Theater is a small room where you can watch documentaries about African American history. It's unlike anything I've seen before.
When you walk in, there is a TV monitor with a selection of 12 documentaries. You can scroll through the options and choose the one you want to watch. The films range in length from 5 to 85 minutes. They cover everything from slavery to segregation.
If you walk in and another movie is playing, check to see if anyone else is in the room. If no one is watching the current film, you can stop the movie in progress, review your options, and start the one you want to see.
This was a highlight of the visit to me. All the films are informational and interesting to watch. I spent a couple of hours in this theater during my visit.
Slavery Narratives Gallery

The last gallery on the 2nd floor is the gallery where you can listen to Slavery Narratives. This is also well done and so different from any other exhibit I've visited.
The Slavery Narratives Gallery is where you can hear 10 slavery narratives about how people's lives were impacted by slavery. The stories come from books, movies, and journals written by slaves in the United States.
Each one is introduced by Maya Angelou, but read by other people. The stories are very powerful.
The atmosphere also engages you in the stories. The gallery is a dimly lit theater with seating on the outside. You walk in, take a seat, and listen to the audio recordings with few disruptions from the other people in the gallery.
The audio loops, so you can come and go as you please. The entire set of narratives takes about 30 minutes.
From here, you will walk straight out of the hall and through another theater to head to the third floor.
MOAD Museum's Visiting Exhibits - 3rd Floor

The third floor gallery offers a more traditional museum feel. This is where they showcase their traveling exhibits. If they don't have a traveling exhibit, then this area is closed.
Click here for a list of upcoming exhibits at this museum.
Tickets, Hours & Other Visiting Tips

Even though the African American Museum in San Francisco is small, you could spend two to three hours here. The films are engaging, the interactive displays are very well done, and the traveling exhibits are usually really interesting.
Tickets
You can get your tickets on the first floor before you enter the exhibits.
Adults: $12
Seniors (65 and over): $6
Students and Educators (w/ID card): $6
MOAD Members: Free
Children (12 and under): Free
Free the Second Saturday of each month, thanks for Kaiser Permanente
They are closed on the following holidays: Christmas Eve & Day, New Year's Eve & Day, Memorial Day, Fourth of July, Labor Day, and Thanksgiving and the Friday after.
Hours & Location

You will find this museum at 685 Mission Street (blue star on the map). This is just a few blocks from Union Square (red star on the map) and one block south of Market and 3rd Streets.

It's open Wednesday through Sunday. It is closed on both Monday and Tuesday. Here are their hours:
Sunday: 12 pm - 5 pm
Wednesday - Saturday: 11 am - 6 pm
Other Visiting Tips

Before or after you visit, make sure you head across the street to take a look at the photograph displayed behind the staircase. It's an image of a little girl that was created with more than 2,000 photographs.
You can take a close look at it once you are inside, but can only get the full view from the outside. The best time to take a look is when it's starting to get dark outside. This is when they put on the lights to illuminate the image.
Parking Near the MOAD

The African American Museum in San Francisco is located in the Yerba Buena Arts Area in the South of Market District (SOMA). You will find plenty of places to park nearby. It's also close to several other top museums in San Francisco including the SF Museum of Modern Art, and the Contemporary Jewish Museum.
Here are a few of the best places to find parking nearby. Parking rates can vary based on special events. The rates below are estimates to give you an idea on what it costs to park nearby.
Jessie Square Garage: Just a block away is the Jessie Square Parking Garage at 223 Stevenson Street. Rates start at $5 per hour, $25 up to 12 hours, and $35 up to 24 hours.
Museum of Modern Art Garage: This parking garage is also close to the MOAD. You will find it just behind the SF Museum of Modern Art at 147 Minna Street. Parking rates here start at $4 per 30 minutes, $26 for up to 10 hours, and $35 for up to 24 hours.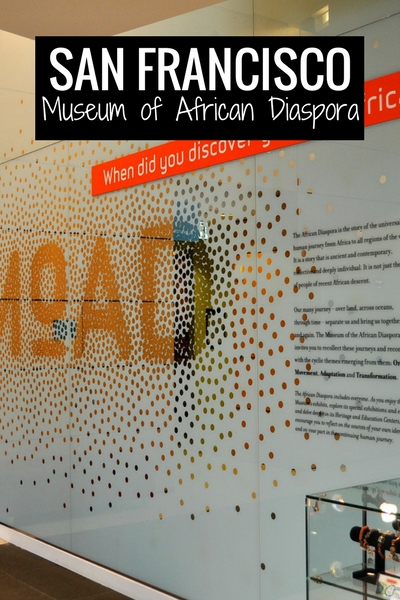 Other Popular Museums

Fun Tours
Comments? Questions? Suggestions?
I would love for you to join me in my private Facebook group! 
It's a great place to interact with me and others who know the area well.
You can ask questions, get advice for your upcoming stay, and then share your photos and advice with others when you return home. It's a great community and the fastest way to get answers to those nagging questions about your visit!