Golden Gate Bridge Tour Options
Walk, Bike, Drive, or Cruise Under this Amazing SF Attraction
The Golden Gate Bridge is the crown jewel of the San Francisco Bay. A trip here wouldn't be complete without taking a Golden Gate Bridge tour.
You can walk, bike, or drive over the bridge. You can also fly over or cruise under it, for a slightly different experience. All of these tour options include excellent and unique views of this San Francisco icon.
Disclaimer: I recieve a small commission from some of the links on this page.
Golden Gate Bridge Walking Tours
One of my favorite ways to experience this gem is on foot. This way, you get the chance to really see what this masterpiece is all about.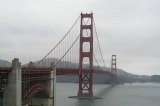 The best walking tour is the one provided free of charge by the San Francisco Public Library. It's offered once a week by a local SF guide. On this walking tour, you will learn all about the bridge, including those who fought for it, built it, and even lost their lives creating it.
You will get the chance to walk over the bridge as your guide tells you even more about what it took to complete this amazing and colorful attraction.

Tour Start Time: Every Thursday at 11am, no reservations needed, just show up a little before 11 at the Strauss Statue in the Visitors Plaza on the San Francisco side
Estimated Cost: Free!
Learn More: Click here for more details on this and other free walking tours in San Francisco

How long is the Golden Gate Bridge? The bridge is 1.7 miles from one end to the other, so make sure you wear comfy shoes for your walking tour!
Bike Tours
Another way to see Goldie up close up is by bike. You can either go with a small group or on a self-guided visit. Both allow you plenty of time to take in the Golden Gate Bridge.
San Francisco Golden Gate Bridge Bike Tour
Your guided bike adventure starts in Fisherman's Wharf. After a ride along the waterfront, you will head up the hill to the Golden Gate Bridge. You will then slowly bike it as you learn about its history and what it took to build it. You will also get the chance to take some pictures of the amazing landscape and SF Bay attractions.
You then continue on to Sausalito, a small coastal community just across the bay from San Francisco. This part of the journey takes you up and down a few hills, but nothing too steep. The guided portion of your ride ends here, so you have the rest of the day to explore Sausalito, grab some lunch, and do a little shopping on your own.
You can then either bike back to San Francisco or take the Sausalito Ferry. Your ticket back on the ferry is included with this package. I highly recommend taking advantage of the ferry ride back. The Sausalito Ferry is considered one of the most beautiful ferry rides in the world. You will get the chance to see the Golden Gate Bridge from afar, cruise past Alcatraz Island, and end up less than a mile from where you started.
This package also includes the bike, helmet, and other biking essentials (such as a lock for your bike while you are visiting Sausalito).
Tour Length: 3 hours
Start Time(s): 10 am or 1 pm
Estimated Cost: $55
Find dates and times for this Golden Gate Bridge tour on Viator.
---
San Francisco Day Bike Rental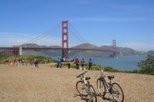 If you prefer to bike at your own pace, your other option is to rent a bike for the day. This way you can come and go as you want. You can spend a little time biking around the city first, or just head straight over to the Golden Gate Bridge.
The bike rental company will provide you with some guidance and maps so you don't get lost. Many people bike the Golden Gate Bridge every day and the route is well defined, so there is little chance that you will get lost along the way (even though getting lost is fun too!).
Your all-day bike rental includes a mountain bike, helmet, handlebar bag, and lock. You can pick up your bike anytime after the bike shop opens (usually around 8am) and drop it off no later than 15 minutes before closing (usually around 6pm). This gives you almost 10 hours to explore the city, the Golden Gate Bridge, and Sausalito.
Tour Length: 1 day, bikes need to be returned no later than 15 minutes before closing (usually 6pm, but sometimes later during the summer--confirm closing time before you leave for the day)
Start Time(s): Anytime after 8am
Estimated Cost: $32
Book your all day bike rental on Viator today!
Driving Tours
Walking or biking over the bridge is an amazing experience, but getting a ride across it is just as memorable. Here are some of the tours that drive you over the Golden Gate. All include stops at one of the two main viewing areas so you can get some great photos.
Fire Engine Tour
The Fire Engine Tour is the most unique Golden Gate Bridge tour. On this expedition, you (and up to 12 other people) will enjoy the day on a big red shiny Mack Fire Engine. This open-air tour starts at The Cannery in Fisherman's Wharf.
The first part of your journey is a cruise through the beautiful and scenic San Francisco Presidio. From the Presidio, you will make your way over the Golden Gate Bridge. Your tour then continues on to Sausalito.
On the way back to San Francisco, you will stop at the Fort Baker lookout point. Here you will get some amazing views of the Golden Gate Bridge, the San Francisco skyline, and Alcatraz. After this stop, you will drive back over the bridge.
This tour includes access to authentic firefighter gear so you can stay warm on those chilly San Francisco days.
Tour Length: Less than 2 hours
Start Time(s): 1pm and 3pm
Estimated Cost: $55 per person
Find out more about the Fire Engine Tour and book your tickets on Viator.
---
Hop On/Hop Off Bus Tour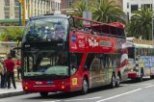 If you prefer to have a little flexibility with your Golden Gate Bridge tour, then you might want to consider the Hop On/Hop Off Bus. This narrated cruise is a great way to get around to all of the major San Francisco attractions. The difference is that you get to decide which stops interest you. You also get to go at your own pace.
The Hop On/Hop Off Bus includes around 13 stops throughout the city. You can get off and back on at any stop along the way. You can also spend as much time as you want at each stop. Not only does this tour take you to the San Francisco side of the Golden Gate (Stop #3), but it also takes you to Golden Gate Park, Union Square, and Fisherman's Wharf.
Your ticket lasts all day, so you can wander around at each stop, or just hit the highlights. You can even just stay on the bus for the entire route. The flexibility of this one is great for those who like to do some exploring on their own.
Tour Length: 1 day
Start Time(s): Anytime after 9am
Estimated Cost: $25
Find out more about the Hop On/Hop Off Tour and book your seat today!
Over and Under the Bridge
Another way to get a great look at the iconic San Francisco Golden Gate is by going over or under it. Here are a few alternatives to walking, biking, and driving.
Golden Gate Bay Cruise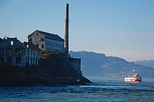 This is one of the most popular cruises in San Francisco because it offers some amazing views. It starts by riding past the SF waterfront on a journey toward the Golden Gate.
As you approach the bridge, you are at the perfect vantage point to appreciate how large this beautiful structure is and the artistry of it. You will pass under the bridge not once, but twice.
You will then head east past Sausalito, Alcatraz Island, and Angel Island. Along the way, you will learn more about all of the attractions you pass including quite a bit of information about the bridge.
This 60-minute cruise starts and ends at Pier 43 in Fisherman's Wharf. The tour leaves several times each day. Both indoor and outdoor seating is available.
Tickets for this cruise are flexible in terms of date. They are valid for 90 days after you book, so you can set off on your cruise on the most beautiful day of your visit.
Tour Length: 60 minutes
Start Time(s): 10 or 11 times a day starting at 10am, times vary by season
Estimated Cost: $30
Book a ticket for the famous San Francisco Golden Gate Bay Cruise today!
Savings Tip: Most of the year, you will also find a limited number of tickets for this cruise at up to half-off on Goldstar.com. Click here to check if it is offered at this price during your visit.
---
Helicopter Tour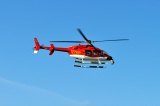 Are you looking for something a little more adventurous? Wouldn't it be cool to see the Golden Gate Bridge from above?
If you love a thrill and are looking for a once in a lifetime experience, then consider a San Francisco helicopter tour. This magical experience starts with a shuttle from one of three central locations in San Francisco. Once you arrive at the helicopter, you will immediately board and get started on the amazing journey.
Your helicopter ride includes 30 minutes of flight time. It takes you on a 55 mile (90 kilometer) cruise around the San Francisco Bay Area. The flight is choreographed to music with spontaneous narration by your professionally trained pilot.
Not only will you see the Golden Gate from above--this Golden Gate Bridge tour actually flies under it as well. It's an experience you will never forget!
Tour Length: 25 - 30 minutes for flight (plus another hour or more for transportation to and from the helicopter take off and landing sight)
Start Time(s): 10am pick-up (10:30am flight); 12:30pm pick-up (1pm flight); 3pm pick-up (3:30pm flight)
Estimated Cost: $250
Read what other visitors had to say about their amazing helicopter adventure above San Francisco.
Other Top Attractions