Transgender Film Festival
Discover the 2019 Event Schedule & Other Details
NOTE: On December 6, San Francisco (and a few surrounding counties) will once again be on a stay-at-home order. This will last indefinitely. Click here for more information.
The 2019 Transgender Film Festival in San Francisco is November 8-10. This annual event features films all about the transgender community.
Films are selected from independent filmmakers from all around the world. The award-winning pieces shown during this event help raise awareness of the the talents of this community.
During the three days, the festival offers five programs. Each program includes four to seven films.
The cost for each program ranges from $12 to $15 per person. You can also purchase a festival pass for all Friday and Saturday shows for $50 per person.
Most films will show at the Roxie Theater in San Francisco's Mission District at 3117 16th Street. Some films will be at the Castro Theater on Castro Street just south of Market.
Click here for a schedule of this year's films and events.
Tickets
You can buy tickets online in advance or at the door. Tickets start at $12 to $15 per session and are on a sliding scale.
If you would prefer to attend several films, then I recommend the Festival Pass for $65 per person.
Click here to learn more and buy your tickets today.
How to Get to the Roxie Theater
The Roxie Theater is in San Francisco's Mission District. You will find it at 3117 16th Street. It's close to many transit options. Since parking is tight in this district, I recommend taking the bus or BART to reach the festival.
BART: Take the BART train to the 16th Street Mission Station. When you exit, head west on 16th Street. You will find the theater about two blocks away.
Bus: Muni is also a great option. The 14, 22, 33, and 49 all drop within a block or two of the theater.
Other Fun Events in November
Thanksgiving: Kick off the holiday season on Thanksgiving in San Francisco. In my Insider's Guide to this popular holiday, you will find recommendations on where to eat, sleep, and explore SF. It also includes information about tours, top events, and other activities on both Thanksgiving Day and Weekend. Click here for details.
Savings Tip: Save on your visit through Goldstar. This online retailer offers dozens of tickets for tours, events, and other activities at up to 50% off. I use them all the time for Bay Cruises, Theater Performances and more. Click here to check out their current selection.
Tree Lighting Events & Celebrations: Light up your holidays during this year's tree lighting events and celebrations. Stop by Union Square, enjoy a celebration at Pier 39, and more. Click here for the full calendar of events.
Theater: Head over to one of SF's live theater performances this month. You can catch Broadway award-winning musicals, top rated plays, and so much more. Find a full schedule of performances this month.
More Event Calendars for this Month
Additional Film Festivals You Might Enjoy
Noir City: This annual festival showcases films from the 1940s and 1950s. All are film noir and they show two of the best films from this genre from a variety of countries such as France, Argentina, and the United States. This festival is every January.
International Film Festival: The largest film festival each year is the International Film Festival in April and May. For two weeks, you get the chance to see some of the best independent films in the world. They include documentaries, shorts, and full length features. Each year, they show more than 150 films.
Human Rights Film Festival: One of my favorites each year is put on the University of San Francisco. This festival offers stories about human rights struggles and issues all around the world. Most films are free to watch and the event lasts for three days in April.
Click here for a full calendar of film festivals each year in San Francisco.

Follow SFTourismTips on Facebook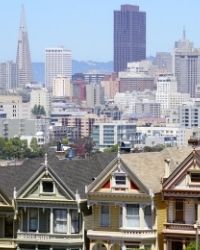 On my Facebook page, you will find more great information about planning your San Francisco vacation.
It includes tips, must see attractions, and other fun details.
Click the link below to check it out. If you enjoy the page, give us a like.