Cruises from San Francisco: Details on Departures from SF's Pier 27

by Jill Loeffler  •

Updated: May 17, 2022
Hop aboard one of these cruises from San Francisco and enjoy the ultimate vacation experience. From Pier 27 in SF, you will find trips with destinations to Alaska, Mexico, and Hawaii. 

You can also enjoy a longer cruise through the Panama Canal or over to the South Pacific. In addition, you will also find some shorter cruises to the ports on the western coast of the US.

There are several cruises that leave SF each month. Many of them offer round trip service to your destination and back. However, the longer options usually end in a secondary location.
Read on to learn more about the various journeys that start in SF.
Disclaimer: I receive a small commission from some of the links on this page.

Alaska Inside Passage Cruises

The most popular cruises from San Francisco take visitors through the Alaska Inside Passage. This journey offers you a chance to see the wild beauty of Alaska up close. Most have three stops in Alaska as well as one in Canada. 
The highlight of these cruises is the journey through either Tracy Arms Fjord or Glacier Bay. While you don't dock on these days, you do spend a number of hours cruising around these amazing places. 
>> Read more about the Alaska Inside Passage cruises that leave from SF

Hawaii Cruises

San Francisco offers two wonderful cruises to the Hawaiian Islands. They both stop at four places among the islands, including Honolulu, Maui, and Hilo.
These cruises also make a short evening stop at the waterfront town of Ensenada, Mexico.
>> Find out more about both of the Hawaiian cruises from SF
Mexico Cruises

Enjoy a 10-night cruise from San Francisco to the Mexican Riviera. This lively trip offers you the chance to visit several ports of call on Mexico's western coast.
You will stop in places such as Puerto Vallarta, Mazatlán, and Cabo San Lucas.
>> Find details on these fun cruises to Mexico
Panama Canal Cruises 

Head south on the Pacific and through the Panama Canal. These tours stop in several locations on the way, including Mexico, Costa Rica, and Guatemala or Nicaragua.
For one full day, you get the chance to enjoy the beauty of the Panama Canal. You will then continue your journey and stop in locations such as Columbia, the Bahamas, or Aruba. 
Most of these cruises end their adventure in Fort Lauderdale, Florida.
>> Read more about the three most popular Panama Canal cruise options

3 Most Popular Cruises from San Francisco

Here are more details about the three most popular cruises from San Francisco.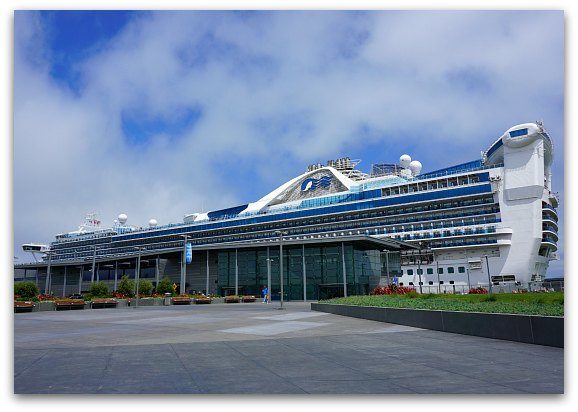 7-Night Mexico Cruise with Princess Cruises
This 7-day journey starts and ends in SF. During your trip, you will make three stops in southern California and one stop in Baja, Mexico.
Your tour is on the Royal Princess, which has capacity for around 3,560 passengers. Onboard, you will find several places to eat, bars, and shows every night in the theater.
The cruise starts in San Francisco, stops in Santa Barbara, San Diego, and in Ensenada, Mexico. It will then head back north with a stop in Los Angeles and its final stop in San Francisco.
>> Find out more about this and other Mexico cruises from San Francisco
10-Night Alaska Cruise with Carnival

During the Summer months, you will find a variety of Alaska cruises from San Francisco. Many of them are about 10 nights and you'll see everything from the Tracy Arm Fjord to stops in Juneau.
Each cruise offers a slightly different route, so make sure to check the full itinerary before you book if you there is a certain place you want to stop.
This cruise with Carnival is a popular one. It's aboard the Carnival Miracle which has room for 2,124 passengers. It features 12 decks with plenty of things to see and do on those nights you are at sea. 
On this cruise, you will be on the sea for three days. On Day 4, you will see Tracy Arms Fjord. Day 5 is a stop in Skagway and day 6 is a stop in Juneau. You'll continue on with stops in both Ketchikan and Victoria, British Columbia before returning to San Francisco on day 11.
>> More about this and other Alaska cruises
15-Night Hawaii Cruises

The Hawaii cruises are also very popular. You will find the ones from Princess Cruises as the one that most people choose.
You typically spend about 7 or 8 nights at sea as it takes about four days to cruise to Hawaii from SF. They usually stop at around 4 to 5 ports once you arrive at the islands.
These cruises stop in several ports such as Honolulu, Hilo, and Maui. 
>> Find out more about these popular Hawaii cruises from SF
Cruise Deals

The best place to start the booking process is by checking out the deals being offered. You will find some deals directly on the cruise companies' websites as well as through third party booking agencies.
Here are links to a few of the sites where you can discover the best deals for cruises from San Francisco (and beyond!):

Luggage Storage Options

Do you need to store your luggage for a few hours or all day in SF? Here are a few places that allow you to store your luggage.
Stasher Luggage Storage: The best way to find a spot for your luggage is to head over to the Stasher Luggage Storage website. Here you can find locations for storage and book a spot ahead of time. They charge just $6 per day, which includes insurance up to $1000. Visit their site for details.
SFO: You can also store your luggage at the Airport Travel Agency in the International Terminal at SFO. They charge by the day. If you only leave it for a few hours, they will still charge the daily rate. They do scan all luggage that is set to be stored before they accept it. They are open daily from 7 am to 11 pm and you will find them near the Departures/Ticketing area.

Local Hotels: Many of the local hotels will allow you to store your luggage with their concierge. Your best bet is to call them ahead of time, tell them your story, and they will tell you if they allow it or not.
I would contact the larger chains such as Marriott or Hyatt as you have a better chance of them offering this service than others. These hotels will often take your name and ask when you will be arriving.
Most of the time, you do not need to be a hotel guest to receive this service. However, please be courteous and leave them a nice tip for this service.

Cruise Lines from SF

With the opening of Pier 27 a couple of years ago, San Francisco now offers several cruise options from eight cruise lines. Some of the most popular that originate trips from SF include Celebrity, Holland America, and Norwegian. In addition, you will find a large number of trips offered by Princess Cruises.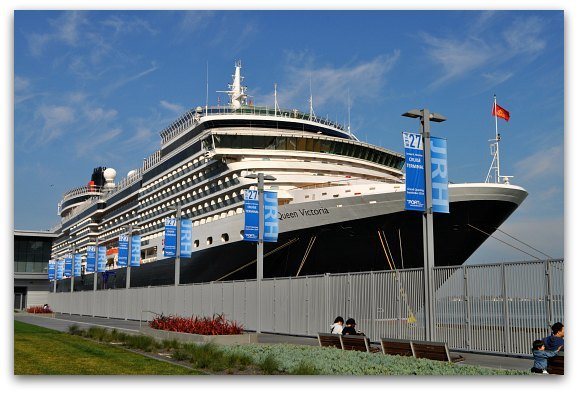 Celebrity Cruises: Celebrity Cruises offers three standard cruises from San Francisco. The first is a west coast cruise with four stops in the US and one in Mexico. The second two cruises take you south through the Panama Canal and end in Fort Lauderdale. Each cruise is offered a few times a year. All tours are onboard the Celebrity Infinity, which has the capacity for 1,270 guests.
Crystal Cruises: Crystal Cruises offers three standard cruises from San Francisco. Two of their cruises head north along the western shoreline and end in Vancouver, Canada. They also offer a 16-day Hawaiian cruise that stops in Hawaii and Mexico. All Crystal Cruises from San Francisco are on the Crystal Serenity, which holds 1,070 passengers.
Cunard Line: Cunard offers luxury cruises all around the world. It's perfect for those who love to dress up each day for their adventures, dining, and other activities. The great thing about this cruise line is that you are allowed to start and stop your cruise at many destinations throughout the world. This offers you the chance to make your cruise as short or as long as you'd like. 
The cruise that leaves San Francisco heads toward Hawaii, then on to New Zealand and Australia, up through Southeast Asia, along the eastern African coast down to South Africa, back up the western side of Africa, to the Canary Islands, and then finishes in Southampton, England.
All tours are on the Queen Victoria, which offers room for up to 2,000 passengers.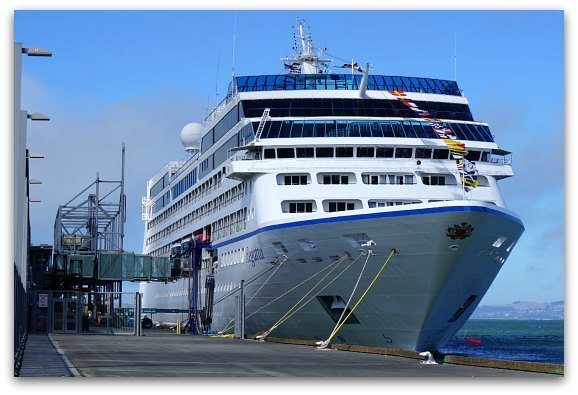 Holland America Line: The Holland America Line offers two cruise options from San Francisco. The first takes you around the South Pacific in 47 days. The second is a cruise down to and through the Panama Canal.
Norweigian Cruise Line: Norweigian offers two standard cruises that originate in San Francisco. The first is a cruise to Hawaii. The second is a cruise through the Panama Canal.
Oceania Cruises: Oceania has two cruises from San Francisco. The first is called the Norwest Wonders and includes stops along the west coast. The second is their Panama Canal trip which includes stops in Mexico, Costa Rica, Panama, and Columbia. Both journies are on their ship called Regatta. It holds up to 684 passengers.

Princess Cruises: Princess Cruises offers the largest number of cruises leaving from SF. They offer 8 cruises with destinations around California, Hawaii, Alaska, Mexico, and the Panama Canal.

Regent Seven Seas Cruises: Regency Seven Seas is the final company that originates cruises from San Francisco. Their options include a 10 night trip north to Alaska and several Panama Canal tours.

Shore Excursions in San Francisco

Are you planning a visit to SF during your cruise? If so, you will find a wide variety of shore excursions for your stop. You can also check out some of my self-guided tours that will help you quickly and easily get to as many different attractions in one day as possible.
Fun Things to Do While You Are in SF
About Pier 27, SF's New Cruise Terminal

How to Get Here

The best way to get to Pier 27 is by public transit. As you can see from the picture above, you will find a streetcar stop right across the street from the pier. 

You can take this streetcar south from Fisherman's Wharf or north from Market Street. Your stop is Greenwich. You can also ask the driver to alert you when you arrive at this stop.

Parking

If you plan to drive, there are a few parking options nearby. I do have to warn you that parking is VERY expensive (up to $30 or more a day) in San Francisco and I only recommend this if you do not have any other options. 
Here are a few parking garage options within walking distance:
Lombard and Sansome
Lombard near Montgomery
Chestnut and Montgomery
Before you leave your car, make sure to review their regulations. These change frequently, as well as the pricing, so confirm that they offer 24-hour parking and what the daily rate is before you leave your car.

Hotels Nearby

Most people taking cruises from San Francisco enjoy staying a night or two before or after their visit. There are quite a few fun activities and attractions here, so, if you can, I recommend extending your visit out a little to explore SF.
Also, it's best to stay in Fisherman's Wharf. It's an easy walk, cab ride, or streetcar ride to Pier 27. Here are a few of the best options.
Comments? Questions? Suggestions?
I would love for you to join me in my private Facebook group! 
It's a great place to interact with me and others who know the area well.
You can ask questions, get advice for your upcoming stay, and then share your photos and advice with others when you return home. It's a great community and the fastest way to get answers to those nagging questions about your visit!