Chinese Historical Society of America


by Jill Loeffler  •

Updated: January 9, 2023
A visit to the Chinese Historical Society of America offers a look into the history of the Chinese in the United States.
Inside, you will find personal and historical narratives of the immigration challenges that faced this group as well as rotating exhibits featuring Chinese American artists.

This museum first opened in 1963. It moved to its current location, a beautiful historic Julia Morgan building (the old Chinatown YMCA), in 2001.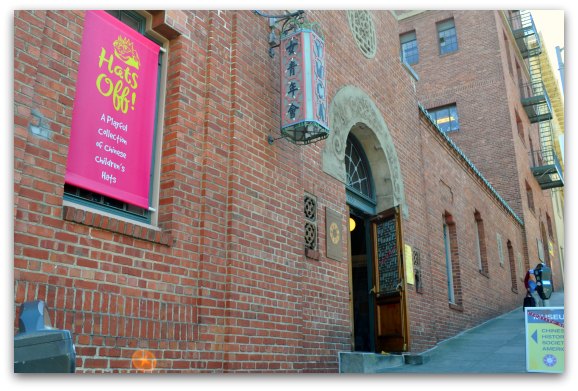 The entrance to the Chinese Historical Society in SF's Chinatown
Your visit begins the minute you step inside this SF museum. During my last visit, the lobby included an exhibit about the impact of the 1906 Earthquake on the Chinatown District. 
You will often find at least one exhibit in this area.
Disclaimer: I receive a small commission from some of the links on this page.

Main Gallery

After you are done in the lobby, you will head to your left, into the main gallery. This is the heart of this Chinatown attraction.
The main gallery starts with the 'Crossing the Pacific' exhibit. This is where you can learn what it was like to take the journey from China to America.
From here, you then walk through the area that explains how the Chinese American's built their homes. It also takes you through the history of some of their early communities.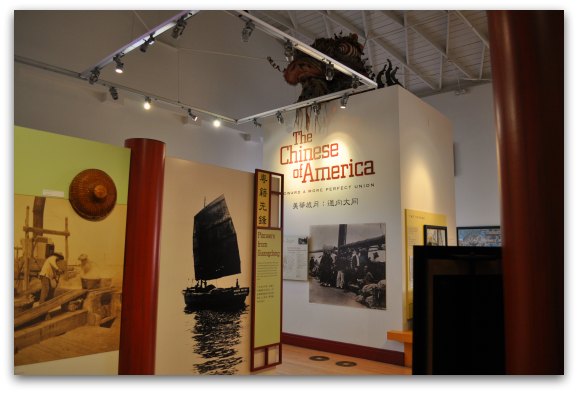 My favorite part of this gallery is the display explaining the impact of the Chinese Exclusion Act of 1882. It was one of the most restrictive immigration laws ever. It mainly targeted Chinese laborers trying to come to the US. 
It also affected Chinese immigrants that were already in the country. It made it very difficult for them to visit their families in China and then return to the US. 
It's one of the only places where you can hear personal stories about those impacted by the act. You can also learn more about what their families went through, on both sides of the Pacific, after the act passed in the US.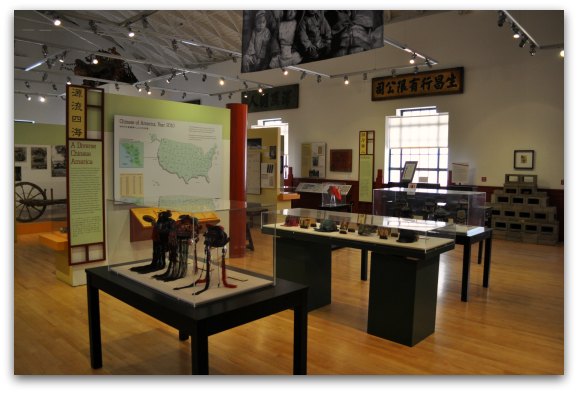 The final part of this gallery includes traveling exhibits. Items on display range from modern day Chinese American art to historical pieces.

Other Things to See Here

The Courtyard

The courtyard is a small, outdoor space next to the main gallery. There aren't any exhibits out here, but it does offer some seating where you can relax and unwind during your visit.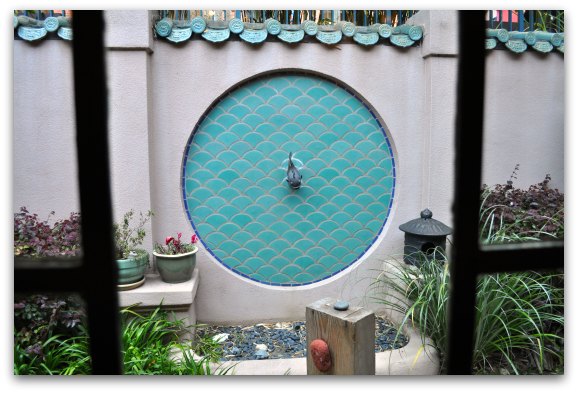 Circle and Square

The Circle and Square exhibit is part of the Chinese Historical Society of America's creative spaces project. This exhibit is by Leon Sun.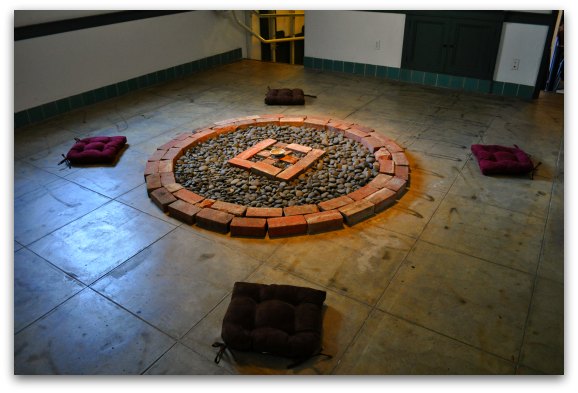 According to Sun, the circle and square together represent heaven and earth. The configuration you see in the picture above spells the Chinese character 'Tian', which means 'Field'. It represents human activities and presence on the land.
It's a replica of the one he created in his personal garden.
You are welcome to sit down and experience the Circle and Square exhibit during your visit.

Admission, Hours & Tips to Get Here 

Hours

This SF museum is open the following days and hours:

Wednesday - Sunday from 11 a.m. to 4 p.m.
Closed Monday and Tuesday
Admission Prices & Tickets

You can either visit on your own or on a docent tour. 
$10 General Admission
$15 for Docent Lead Tour
You can pick up your tickets at the entrance to the Chinese Historical Society of America entrance.

The museum is also part of the California Discover and Go Program. Contact your local California Library for information on getting free tickets to this museum.

They are also part of the Blue Star Museum. This offers free admission to active military members and their families from Memorial Day to Labor Day. Please present your current ID upon arrival for free tickets.

Location & Tips to Get Here

The museum is at 965 Clay Street, which is between Stockton and Powell Streets in Chinatown. Here is a map showing its location.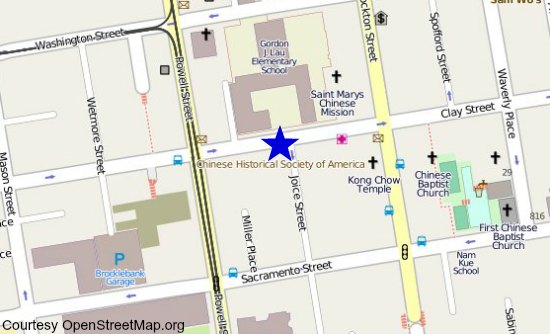 From Union Square:
Walking: If you love walking, this is the best way to get from Union Square to the museum. It is half a mile (about 6.5 city blocks) from the heart of the square.
30 Stockton: Another option is to take the 30-Stockton bus. This bus picks up along Sutter Street. It turns at Stockton to head north into Chinatown. It's a busy bus and runs often. Take the bus to the Clay and Stockton stop and walk a half block up Clay Street to the museum.
From Fisherman's Wharf:

Powell-Mason Cable Car: The easiest way to get here from Fisherman's Wharf is by taking the Powell-Mason Cable Car line. Pick it up at Bay and Taylor Streets. Take it all the way to the Powell and Clay Street stop. Walk down the hill a half a block to the museum. 
Where to Eat Nearby
House of Nanking:  This family-owned restaurant has been around since 1988 and is known for having classics, such as Nanking sesame chicken, fried pot stickers with peanut sauce, shrimp packets with peanut sauce and more. However, if you are interested in trying something else, they also have a menu that they change often, so you will always have something new no matter how many times you eat here.
They also have outside dining with heat lamps. They have vegetarian, vegan, and gluten free options. You know you will only get the best Chinese food here as they have been featured in SF Gate, Conde Nast and Huffington Post. It is only about an 8-minute walk from the Chinese Historical Society of America Museum 919 Kearny Street
Hang Ah Tea Room: Since you are in Chinatown, you'll want to try some Dim Sum and Hang Ah is the perfect restaurant for you. Hang Ah opened originally in 1920 and is the oldest dim sum restaurant in the whole USA! That alone gives you an idea of how delicious their dim sum is and why you will want to stop here if you want to try some. If you want something other than dim sum, they have soups, clay pot stews, and special gourmet dinners.
They have loads of options and they also have vegetarian and vegan options. Something kids will love is that they have a gong in the restaurant to get attention of the staff if it is busy. They also have outside seating. It is about a 5-minute walk to the Chinese Historical Society of America Museum. 1 Pagoda Place
New Fortune Restaurant: One of the newer restaurants in Chinatown, opening in January of 2018, this restaurant has quickly gained a very loyal following. Their meals are very reasonably priced, and the servings are plentiful, so you will definitely not leave hungry.
It is hard to recommend anything specific since they are well-known for pretty much everything they make. So, if you are looking for a place with lots of options, and want a cool and relaxed atmosphere, they you check out New Fortune. They offer vegetarian and vegan options.
It is a small place, so make sure you don't walk by it and it. It is about a 5-minute walk to the Chinese Historical Society of America Museum. 815 Stockton Street
Other Fun Things to Do Around Chinatown
Chinese Temples: Chinatown is famous for its temples, and we've put together a list of our favorites. One of these is the Kong Chow Temple, which has some of the oldest Chinese relics in the USA. The second is the Tin How Temple. It is the oldest of all the temples in San Francisco and was built in the 1850s. The wood carvings inside are a must see. The third of our suggestions is the Ma Tsu Temple. This temple is newer than the other two but is still worth the visit as it has colorful statues and altars. If you want to learn more about these temples, and how to visit them, please click here.
Golden Gate Fortune Cookie Factory: Do you want to know what the future holds for you? If so, then you'll want to stop by this factory. It is so small that, even though it is called a factory, it is very easy to miss it and you could easily walk right by it. We love stopping here as we can see the fortune cookies being prepared in person. The Golden Gate Fortune Cookie Factory is so famous, and their cookies so beloved, that they are sold all over the world. Click here to learn more about the Golden Gate Fortune Cookie Factory. 
Shopping: You can't really say you truly experienced the real Chinatown unless you do some shopping. This is especially true since there are so many fun and interesting things for sale throughout it. There are also great bargains to be had if you take your time looking for them. There are three main areas, with Grant Avenue being the busiest and most well-known, while Waverly Place and Stockton Street are where more of the locals tend to shop. Going to any of the three will give you a feeling of what it is really like to be in Chinatown and experience their culture. Click here to learn more about shopping in Chinatown.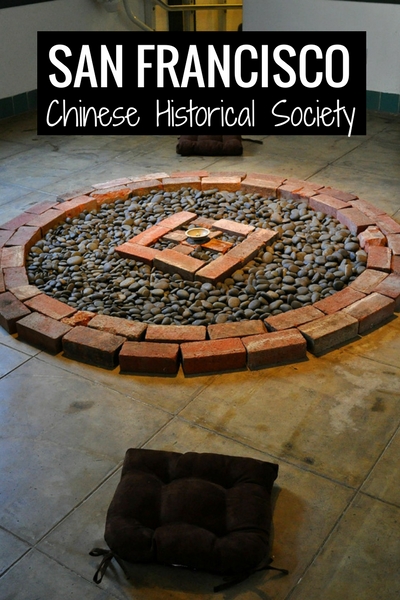 Comments? Questions? Suggestions?
I would love for you to join me in my private Facebook group! 
It's a great place to interact with me and others who know the area well.
You can ask questions, get advice for your upcoming stay, and then share your photos and advice with others when you return home. It's a great community and the fastest way to get answers to those nagging questions about your visit!