Vegan Restaurants in San Francisco: 10 of the Best Options for Vegans
You will find several wonderful vegan restaurants in San Francisco. The city has more than 3,000 places to grab a bite to eat and several of them have vegan dishes.

On this list, you will find some of my favorite places and all have a large selection of dishes.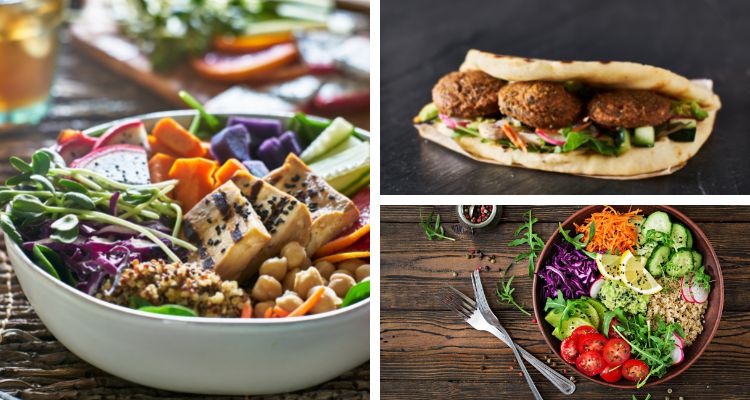 Disclaimer: I receive a small commission from some of the links on this page.

1. Gracias Madre

Gracias Madre is a Mexican restaurant that focuses on local, organic vegan cuisine. Their food is delicious and includes everything starting with the best guacamole in town to their delicious enchiladas con mole.
They are open for both lunch and dinner. Their prices are also reasonable with dishes ranging from $8 to $18 a piece.
Average Price: $8 to $18
Address: 2211 Mission Street
District: Mission
2. Indochine Vegan

This Asian fusion, vegan restaurant is another great find. They serve up a large selection of dishes for dinner every night of the week.
Many of their dishes include organic tofu or soy protein in addition to fresh, local veggies. Their eggplant tofu is amazing, and I also recommend trying their basil mushroom dish.
Average Price: $8.95 to $13.95 for each main dish
Address: 508 Valencia Street
District: Mission
3. Ananda Fuara

Ananda Fuara is another one of the best vegan restaurants in San Francisco that you will find in the Civic Center district. They serve salads, sandwiches, and dinner plates (served all day long). Almost everything on their menu is listed as vegetarian but can be turned into a vegan dish.
I love their Chicken Pesto Wrap and I also often order their Neatloaf Dinner. They are open from 11am to 8pm from Tuesday to Saturday and from 11am to 3pm on Sunday.
Average Price: $8 to $15 a meal
Address: 1298 Market St
District: Civic Center
4. Shizen Vegan Sushi Bar and Izakaya

This fully vegan sushi bar is perfect for those that love the taste of sushi and want to keep their commitment to being vegan. How do they make their dishes vegan? They use mountain yams, konjac (a root vegetable), soybean curd, and other vegan ingredients. This is what makes it one of the top vegan restaurants in San Francisco.
You must check out their rolls including the Boddy & Soul, the Candlestick, and the Proud Peacock. I also love to order their dish called Surprise Ending. It includes a single plate, with pieces of sushi that look exactly alike. However, some are hot, and some are mild. Each time you sample one, you will be surprised at the ending.
Average Price: Rolls are around $10 - 12 each
Address: 370 14th Street
District: Mission District
5. The Flying Falafel

The Flying Falafel is a pop-up food stand near the Civic Center district. Their menu is small, just falafel-based dishes, but the food is delicious. All meals are vegan since there isn't any meat or meat products on their menu at all.
Their Pocket Falafel is the most popular and offers enough food for a filling lunch. I like the Plate Me, which is served as a plate of falafels instead of in a pita. Their hummus is yummy too. They don't offer seating, but it's a perfect place for those on the go or on a tight budget.
Average Price: The Pocket Sandwich is just over $5, the Plate Me is around $7.50
Address: 1051 Market Street
District: Civic Center
Additional Top Vegan Restaurants in San Francisco

6. Golden Era Vegan Restaurant: Civic Center, 395 Golden Gate Avenue, $6 to $14.95 per plate
7. Loving Hut: Union Square, 865 Market Street, $4.50 to $9 a plate
8. Enjoy Vegetarian Restaurant: Chinatown, 839 Kearny Street, $5 to $18 a plate
9. Chisme Cantina: Lower Nob Hill, 882 Sutter St, $9 to $13 per plate
10. Cha-Ya: Mission, 762 Mission, $5 to $12 per plate
Other Fun Places to Eat

More Pages to Explore

Alcatraz Prison Tours: One of the top tours in San Francisco is the visit to Alcatraz Island. Set just over a mile from shore, this historic attraction offers you an inside look at what it was like to be a prisoner here. You will hear stories, on your self-guided audio tour, from both prisoners and guards. You can also walk around the island on your own once you are done with the audio tour to learn more.
Monthly Calendars: Each month, you will find a variety of fun things to do in San Francisco. They range from wine festivals to theater productions. I've organized the events by month, so you can quickly find what's happening during your stay.
Myths About San Francisco: SF has a deep history that lends itself to a variety of made up stories. This list offers you the true information about 10 common myths on SF. They range from escapes to Alcatraz to a famous quote by Mark Twain.