Vegan Restaurants in San Francisco: 11 of the Best Options for Vegans

by Jill Loeffler  •

Updated: September 7, 2023
San Francisco has more than 3,000 places to grab a bite to eat, and a large number of them offer vegan dishes. You will also find several wonderful exclusively vegan restaurants in San Francisco. 

On this list, you will find some of my favorite vegan places, all of which have a large selection of dishes. 

Disclaimer: I receive a small commission from some of the links on this page.

1. Greens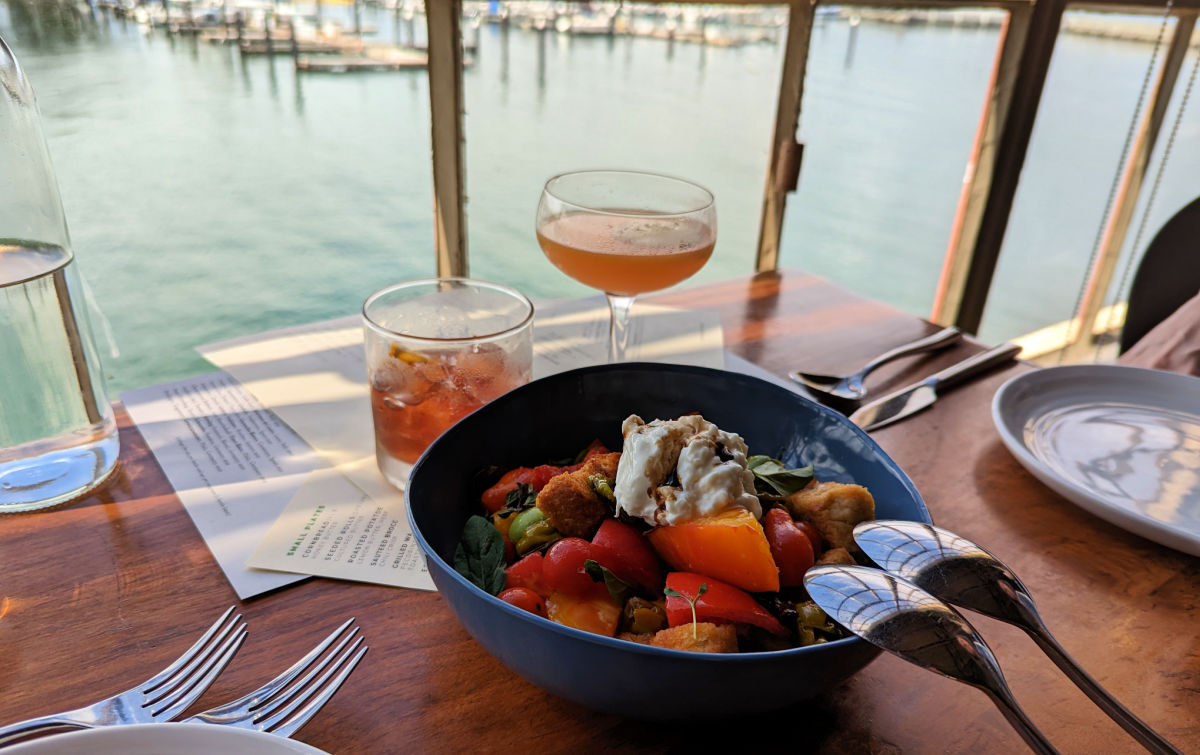 Greens is without a doubt our favorite upscale vegan restaurant in San Francisco. Chef Deborah Madison started it in 1979 with the plan to feature local ingredients and create dishes that surpassed any meal in the world.
My husband and I love going here since we know that we will have great food, tasty drinks, incredible service and some of the best views of the bay and the Golden Gate Bridge all at the same time.
Most of the dishes here are vegetarian, but you'll notice on the menu which ones can be converted to vegan. During our last visit, I'd estimate more than half of the menu items can easily be turned into vegan dishes.
Some of our favorites include Empanadas Salvadorenos, Green Gulch Little Gem Wedge Salad, and Szechuan Braised Tofu.
With their fantastic service, views, and fresh dishes, there is no question why this is my favorite place for a tasty vegan meal.
Average price: $6 - $15 for small plates; $11 - $18 for first course; $21 - $32 for main course
Address: Building A, 2 Marina Blvd in the Fort Mason Center for Arts & Culture
District: Marina
2. Peña Pachamama

If you are looking for not only a fantastic culinary experience in the world of plant-based creations, but also a cultural experience with incredible music and ambiance, Peña Pachamama in the Russian Hill District is worth a visit.
The yucca fries and kale chips are the perfect snack to go with your drinks. For main dishes, the Salteña Plate (Bolivian empanadas) and Aji de Fideo (spicy pasta) are both very tasty and uniquely Latin American. Other delicious items include corn tacos and zucchini pasta. 
In 1991, two Andean musicians founded this "underground club" in a historic speakeasy once frequented by Joe DiMaggio and Marilyn Monroe. It's fun just to look around, but the live music is really the icing on the cake.
Average Price: $10 to $20
Address: 1630 Powell Street
District: Russian Hill
3. Indochine Vegan

This Asian-fusion vegan restaurant is another great find in the Mission District. They serve up a large selection os dishes, including Chinese, Thai, Vietnamese, and Japanese-inspired cuisine.
Many of their dishes include organic tofu or soy protein in addition to fresh, local veggies. Their eggplant tofu is amazing, and I also recommend trying their basil mushroom dish.
Indochine Vegan is open every day except Monday, for lunch from 12 pm to 3 pm, and for dinner from 5 pm to 10 pm. Check out their daily specials.
Average Price: $11 - $20
Address: 508 Valencia Street
District: Mission
4. Wildseed

Wildseed is another one of the best vegan restaurants in San Francisco.  It is a newer one as it opened in 2019, and you will find this one in the Cow Hollow District.
They serve a great range of different cuisine, including Mediterranean food, burgers, bowls, pizzas and more.
I love their "Spicy Sausage Pizza." You might asking how can they be vegan if they have "Spicy Sausage?" Well, it is because the sausage is made out of jackfruit, but you wont be able to tell the difference!
They are open for lunch Monday thru Friday from 11:30 am to 3 pm. They have two different dinner times: On Sunday thru Thursday they are open from 5 pm to 9:30 pm. On Friday and Saturday, they are open from 5 pm to 10:30 pm.
They also offer a special brunch menu on Saturday and Sunday mornings from 11 am to 3 pm.
Average Price: $11 to $14
Address: 2000 Union Street
District: Cow Hollow
5. Shizen Vegan Sushi Bar and Izakaya

This fully vegan sushi bar is perfect for those who love the taste of sushi and want to keep their commitment to being vegan.
How do they make their dishes vegan? They use mountain yams, konjac (a root vegetable), soybean curd, and other vegan ingredients. The art they create is what makes it one of the top vegan restaurants in San Francisco.
You must check out their original rolls, including the Boddy & Soul, the Candlestick, and the Proud Peacock. I also love to order their dish called Surprise Ending. It includes a single plate, with pieces of sushi that look exactly alike. However, some are hot, and some are mild. Each time you sample one, you will be surprised at the ending.
Shizen is open every day for dinner, from 5 pm to 9:30 pm every Monday - Thursday, 4 pm to 9:30 pm on Friday and Saturday, and 4 pm to 9 pm on Sundays. Reservations are required.
Average Price: Rolls range from $6 - 18 
Address: 370 14th Street
District: Mission District
6. Golden Era Vegan Restaurant

Not only is this one of the more affordable vegan restaurants in San Francisco, it's great Vietnamese food. None of the fresh, herby flavors of traditional Vietnamese dishes are compromised by featuring vegan ingredients.

Check out their amazing take on spring rolls, spicy noodle soup, and lemongrass "chicken." They've also got plenty of gluten-free options. 
Open every day from 11 am to 7:30 pm.
Average Price: $10 - $17 per plate
Address: 395 Golden Gate Avenue 
District: Civic Center
7. Loving Hut

The Loving Hut in San Francisco is part of the largest chain of vegan restaurants in the world, but this franchise is family-owned and offers a menu that varies from other Loving Huts in other major cities. 
The focus here really is the food and not the atmosphere, although its location in the Inner Sunset makes for the perfect hearty vegan meal after wandering around Golden Gate Park.
Open every day except Tuesday from 11 am to 9 pm.

Average Price: $14 - $16 for rice plates, $15 - $20 for main dishes
Address: 524 Irving Street
District: Inner Sunset
8. Enjoy Vegetarian Restaurant
This local family-owned favorite introduced vegan food to Chinatown and has since opened a second location. They draw their inspiration from Buddhist roots.
The extremely varied menu offers more than 100 delicious dishes to choose from, mostly vegan and some vegetarian. They manage to achieve authentic Chinese flavors with absolutely no onion, garlic, or MSG in any of their food.
Average Price: $14 - $18 for main dishes

Locations:
839 Kearny Street (Chinatown)
754 Kirkham Street (Sunset)

9. Chisme Cantina
This delightful, colorful gem in the heart of the city is not strictly vegan, as they do serve some dishes with meat. However, they are really known for their amazing vegan tacos. 
Choose from fried jackfruit, eggplant, or plantain. Any of these is a winner. They also serve up some nice side dishes that can be made vegan and/or gluten free.
Open every day except Sundays from 11:30 am to 9 pm.
Average Price: $15 to $16 for a plate of two vegan tacos
Address: 882 Sutter Street
District: Lower Nob Hill
10. Cha-Ya
Cha-Ya, one of the best vegan restaurants in San Francisco, specializes in contemporary Japanese cuisine. Based on a Zen Buddhist diet, everything they serve here tastes fresh and healthy.
Apart from their vegan sushi rolls, they are known for their stuffed eggplant tempura, sukiyaki, and noodle soups.
They are closed on Mondays and Tuesdays, but open Wednesday through Friday from Noon to 2:30 pm and 5 pm to 8:30 pm, and on weekends from 12 noon to 8:30 pm. 
Average Price: $15 - $24 
Address: 762 Valencia Street
District: Mission District
11. BAIA
If you didn't think a completely plant-based menu could satisfy your cravings for that classic creamy Italian pasta, or a perfectly baked pizza with cheese, think again. 
BAIA is one of the more chic, upscale vegan restaurants in San Francisco. While it is pricier than the other places on this list, they've successfully reinvented Italian comfort food, and it's really worth it for a special treat and a fun night out.
Open Sunday - Thursday for dinner from 5 pm to 10 pm, and on Friday and Saturday from 5 pm to 11 pm.
Average Price: Pastas and pizzas starting at $21
Address: 300 Grove Street
District: Hayes Valley
Other Fun Places to Eat

More Pages to Explore

Alcatraz Prison Tours: One of the top tours in San Francisco is the visit to Alcatraz Island. Set just over a mile from shore, this historic attraction offers you an inside look at what it was like to be a prisoner here. You will hear stories, on your self-guided audio tour, from both prisoners and guards. You can also walk around the island on your own once you are done with the audio tour to learn more.
Monthly Calendars: Each month, you will find a variety of fun things to do in San Francisco. They range from wine festivals to theater productions. I've organized the events by month, so you can quickly find what's happening during your stay.
Myths About San Francisco: SF has a deep history that lends itself to a variety of made up stories. This list offers you the true information about 10 common myths on SF. They range from escapes to Alcatraz to a famous quote by Mark Twain.
Comments? Questions? Suggestions?
I would love for you to join me in my private Facebook group! 
It's a great place to interact with me and others who know the area well.
You can ask questions, get advice for your upcoming stay, and then share your photos and advice with others when you return home. It's a great community and the fastest way to get answers to those nagging questions about your visit!