Thai Restaurants in San Francisco: The Ten Best Places to Sample Thai Food in SF


by Jill Loeffler  •

Updated: February 27, 2022
Below I've listed my favorite Thai restaurants in San Francisco. If you've never tried Thai cuisine, you are in for a treat. You will enjoy its combination of spices and balanced flavors.

It seems as if there is a new Thai restaurant popping up in San Francisco almost every week. You will find lots of them throughout the city, but there are a few that really stand out.

Many dishes include fresh vegetables and are served with noodles or rice. Most people opt for the chicken, beef, or vegetarian dishes. However, if you are a little more adventurous, you can also find some that feature frog or quail.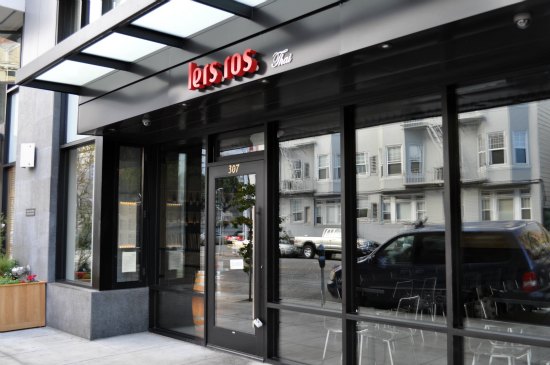 Disclaimer: I receive a small commission from some of the links on this page.

1. Lers Ros

Lers Ros is one of my favorite places in the city for Thai food. The name means "excellent tastes," and the diverse menu offers just that. 
This is one of the Thai restaurants in San Francisco that serves more exotic dishes, including alligator, eel, frog legs, and rabbit. No matter what you order, you'll get those beautiful authentic flavors of chiles, basil, and more.
The original restaurant is located in the Tenderloin district, but it was so small and became so popular that they have opened two more locations. 

Popular Dishes: Chicken satay, pork belly, and pad-see-ew
Average Price: $15 - $35 per dish, to share family-style
Locations: 730 Larkin Street (Tenderloin), 307 Hayes Street (Hayes Valley), 3189 16th Street (Mission District)
2. Farmhouse Kitchen Thai Cuisine
This delicious Mission District restaurant has lots of character and offers up some of the best Thai dishes around.
From traditional street food like fried grasshoppers to modern entrees like the hat yai chicken with fun blue rice, the plates are as colorful and playful as the atmosphere.
The prices here may be a little higher than at other restaurants, but they use fresh, organic, local and seasonal ingredients, and the portions are large enough to share.

Popular Dishes: Pad thai with prawns, hat yai fried chicken, and sticky rice with ice cream
Average Price: $18 - $50
Location: 710 Florida Street (Mission)
3. Chabaa Thai Cuisine

This is one of the more affordable Thai restaurants in San Francisco. The food is very authentic with just the right touch of spicy and sweet.
They have moved locations, and operate with delivery and pick-up under current conditions. They also make it very convenient to order a combination lunch box with one or two entrees, soup, and salad. 
Popular Dishes: Pad Thai, green curry
Average Price: Lunch specials for $14, each main plate $12 - $15 
Location: 60 Morris Street (south of SOMA)
4. Jitlada Thai Cuisine

One of the best places to grab Thai food in Japantown is Jitlada Thai. This small, locally owned restaurant takes great care with their dishes.
The food is delicious, though many of the sauces are a little sweeter than at most Thai restaurants in San Francisco.

Popular Dishes: Chef Pai's BBQ chicken, Livia's special noodles (pad-see-ew), and fresh summer spring rolls
Average Price: $14 - $19 for main dishes
Location: 1826 Buchanan Street (Japantown)
5. House of Thai

This Nob Hill restaurant is a great, affordable option for a hot, tasty meal when you're craving Thai flavors.
If you're not afraid of spice, they pack in a powerful kick, but if you can't handle too much burn, definitely specify that you want your dish mild.
The House of Thai is located at Larkin and Geary, and the service is friendly and quick.

Popular Dishes: Kao soy (curry noodles), kao pad (Thai fried rice), and tom yum noodle soup
Average Price: $14 - $20 for main dishes 
Location: 901 Larkin Street (Nob Hill)
6. Nari

For a more upscale, intimate dining experience with Thai cuisine, I recommend trying Nari, which offers an elegant menu and a wine bar. It's pricey, but the portions and flavors are excellent.

Nari is one of the most unique Thai restaurants in San Francisco. The name means "women," paying tribute to traditional Thai flavors and techniques, while adding a fresh California twist.
They are only open for dinner, and the Chef's Pick multi-course meal is very popular. 
Popular Dishes: Squid and pork jowl, gaeng rawaeng muan (Cornish game hen in a creamy coconut curry)
Average Price: $35 - $50 per dish, or Chef's Pick fixed menu for $100 per person

Location: 1625 Post Street (Japantown)

7. Marnee Thai

Marnee Thai has been serving up delicious Thai food in San Francisco since 1986. They've got a bit more variety in their menu than other Thai restaurants, including the northern style Tea Leaf Salad and fried roti with peanut sauce.
This is a homey place with a warm, bamboo interior and friendly service. 
Popular Dishes: Mango fried rice, coconut stir-fried rice noodles
Average Price: $14 - $20 for main dishes

Location: 2225 Irving Street (Outer Sunset), 1243 9th Avenue (Inner Sunset)

8. Basil Thai Restaurant & Bar

Basil Thai Restaurant and Bar in SOMA offers excellent Thai dishes in a cool, urban setting. Their curry sauces will have you licking your lips.
This space was put together in 1995 by a group of Thai artists who wanted to capture "Bangkok in a bite," and they did. Enjoy the modern bar scene, good music, and casual atmosphere for a nice lunch or a simple date night. 
Popular Dishes: Spicy catfish, stuffed eggplant, sticky rice
Average Price: $15 - $20 for main dishes

Location: 1175 Folsom St (SOMA)

9. Ben Thai Cafe

Making a name for itself since 2015 in the popular Nob Hill bar and restaurant area, Ben Thai Cafe offers consistently good food, service, and ambiance.
They serve a variety of dishes that you won't necessarily find at other Thai restaurants in San Francisco.
Their house specialties include Northern Thai dishes like the khao soi egg noodles in yellow coconut curry sauce, and the Chinese pork palo, which is fatty pork belly in a slow-cooked five-spice stew. 
Popular Dishes: Khao soi, pork palo, ka-ree roti
Average Price: $13 - $20 for main dishes

Location: 1331 Polk Street (Nob Hill)

10. Saap Ver

Saap Ver specializes in lesser known regional dishes and country-style Thai street food. They do this so well that when you walk into their colorful restaurant with all the right aromas, you feel as if you're in a Thai market.
The walls are covered in 1970s Thai film posters, which make for a fun atmosphere. They also offer a full bar. 
Popular Dishes: Som tum (papaya salad), num tok (beef larb)
Average Price: $16 - $24 for main dishes

Location: 88 Division Street (SOMA)

Other Top Restaurants in San Francisco

Union Square Restaurants: There is a great selection of restaurants all around Union Square. They range from simple diners to some of the most expensive dinners in the world. These are just some of my favorites.
Buena Vista Cafe: If you enjoy Irish coffee, then you must stop by this famous SF cafe. It was the bar that introduced this drink to US patrons. Although some people think it originated here, it didn't (I'm sure it won't be shocking to most of you that it originated in Ireland!). However, they were the first and continue to serve up the best Irish coffee in the city.
French Restaurants: I love, love, love French food and SF has a number of great places to enjoy this cuisine. Some of my favorites include Zazzie and Cafe Claude. Click the link above for even more of my favorite French restaurants in the city!
Irish Food: You will also find an amazing selection of Irish restaurants in the city. Many of them offer a great Irish bar scene with typical drinks and a large selection of beers.

Comments? Questions? Suggestions?
I would love for you to join me in my private Facebook group! 
It's a great place to interact with me and others who know the area well.
You can ask questions, get advice for your upcoming stay, and then share your photos and advice with others when you return home. It's a great community and the fastest way to get answers to those nagging questions about your visit!